What To Wear Under (And Over) A Romper Or Jumpsuit
We only feature products that we hope you will love. We may earn a commission if you decide to make a purchase through our links, at no cost to you.
Rompers and jumpsuits are great to wear on their own, but you can also dress them up with other garments for a cute, chic look. Check out our guide to what to wear under a romper or jumpsuit, as well as our favorite pieces to wear over it!
Every woman should own at least one romper or jumpsuit, if not more. These one-piece wonders can be worn to a variety of occasions and are extremely versatile, making them a must-have for any fashion girl.
But, like with any other outfit you wear, you need to know what garments to wear under and over them in order to truly make the most out of your look — especially if you're planning on wearing your romper or jumpsuit during the colder months when you need to layer up.
Regardless of what season you're styling your romper for, check out our favorite piece to wear both under and over a romper and jumpsuit below!

What To Wear Under A Romper Or Jumpsuit
1. T-Shirts
One of the best garments to wear under your jumpsuit or romper is a tee, whether that's in a plain t-shirt style or a more elaborate design. It's an easy way to add a casual element to your look and protect your shoulders if you're on a beach holiday.
The easiest way to recreate this casual outfit is to opt for a white tee, but if you're feeling daring, consider bright colors to add an eye-catching twist. Pair this look with flat sandals, your favorite designer beach bag, and a wide-brim hat or baseball cap for added sun protection.
2. A Long-Sleeve Blouse
For a dressier vibe, a long-sleeve top is a great way to add a little extra coverage. This is a great option if you're looking to wear your jumpsuit to the office, and want it to be work appropriate.
However, if you're going somewhere more relaxed, then a casual romper paired with and a plain long-sleeve top will do the trick. Wear your outfit with a pair of shoes that has a similar vibe to your look; something simple but elegant like a pair of ballet flats or sandals is always. a safe bet.
3. Contrasting Tops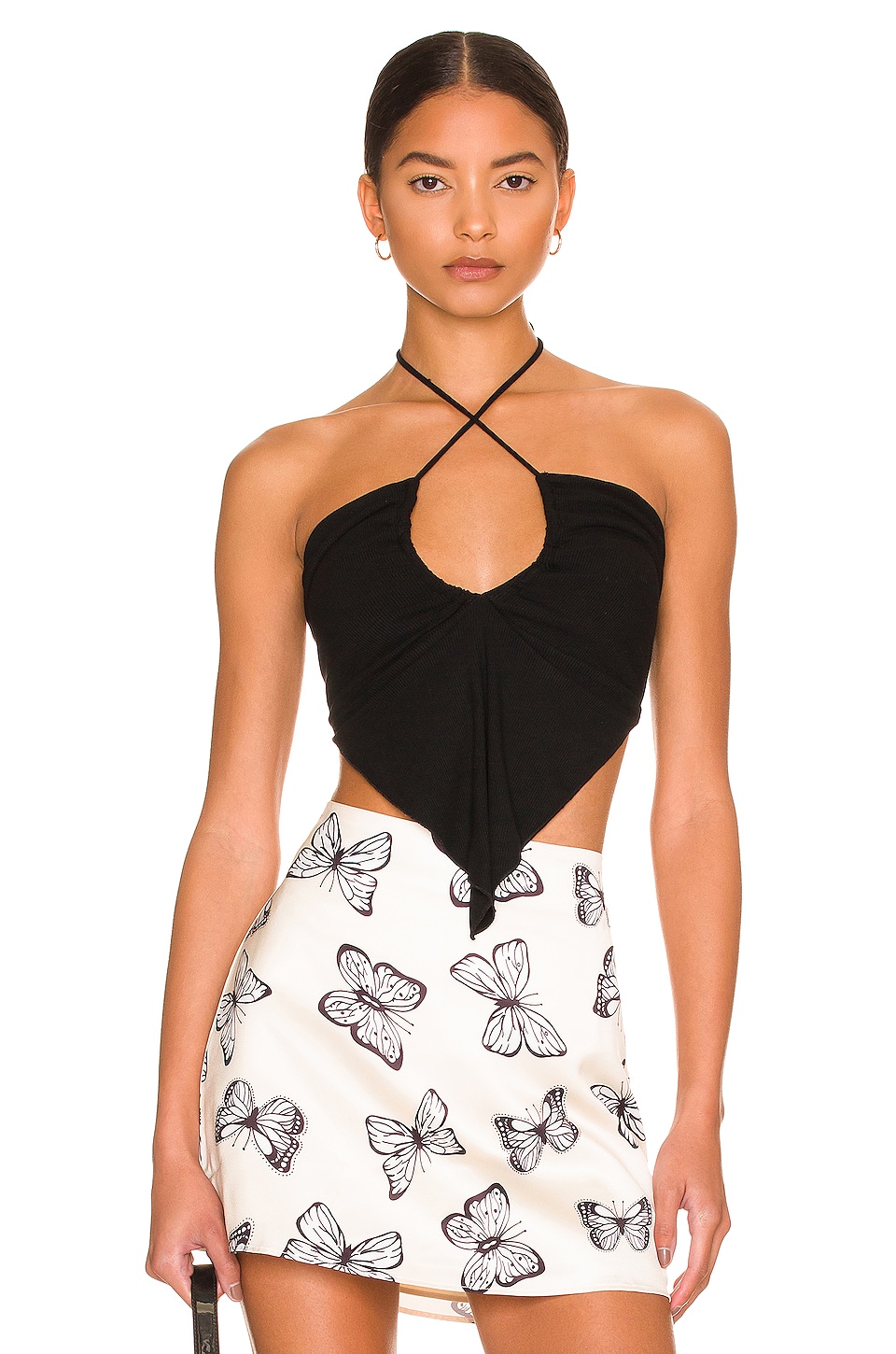 Instead of wearing jewelry, consider wearing a contrasting top underneath your romper or jumpsuit to create a statement look, like in the outfit featured above.
The top that you choose to wear underneath can be anything from a halter style to an asymmetric one and should be in a color that complements your overall outfit.
4. Turtleneck Sweaters
A turtleneck sweater is great to add a layer of warmth and texture to a romper or jumpsuit. This can be especially helpful in cooler weather, as it allows you to wear your favorite jumpsuit even when the temperatures drop.
Additionally, the texture of the sweater can create a visually interesting contrast, as well as a touch of sophistication to an otherwise casual look. Your best options are to stick to neutral-colored bodysuit sweaters, as they don't look bulky.
5. Turtleneck Bodysuits
If it's too warm to wear a turtleneck sweater, opt for a sleeveless knit with the same high-neck detail instead.
Turtleneck tops tend to be universally flattering, so whatever body shape you have, this garment can add a few style points to your look.
Our Favorite Pieces To Wear Over A Romper
While there are numerous ways to wear a garment under your romper or jumpsuit, if the weather is unpredictable, you may want to layer with a piece over your outfit instead. Here are some of our favorite options.
1. Blazers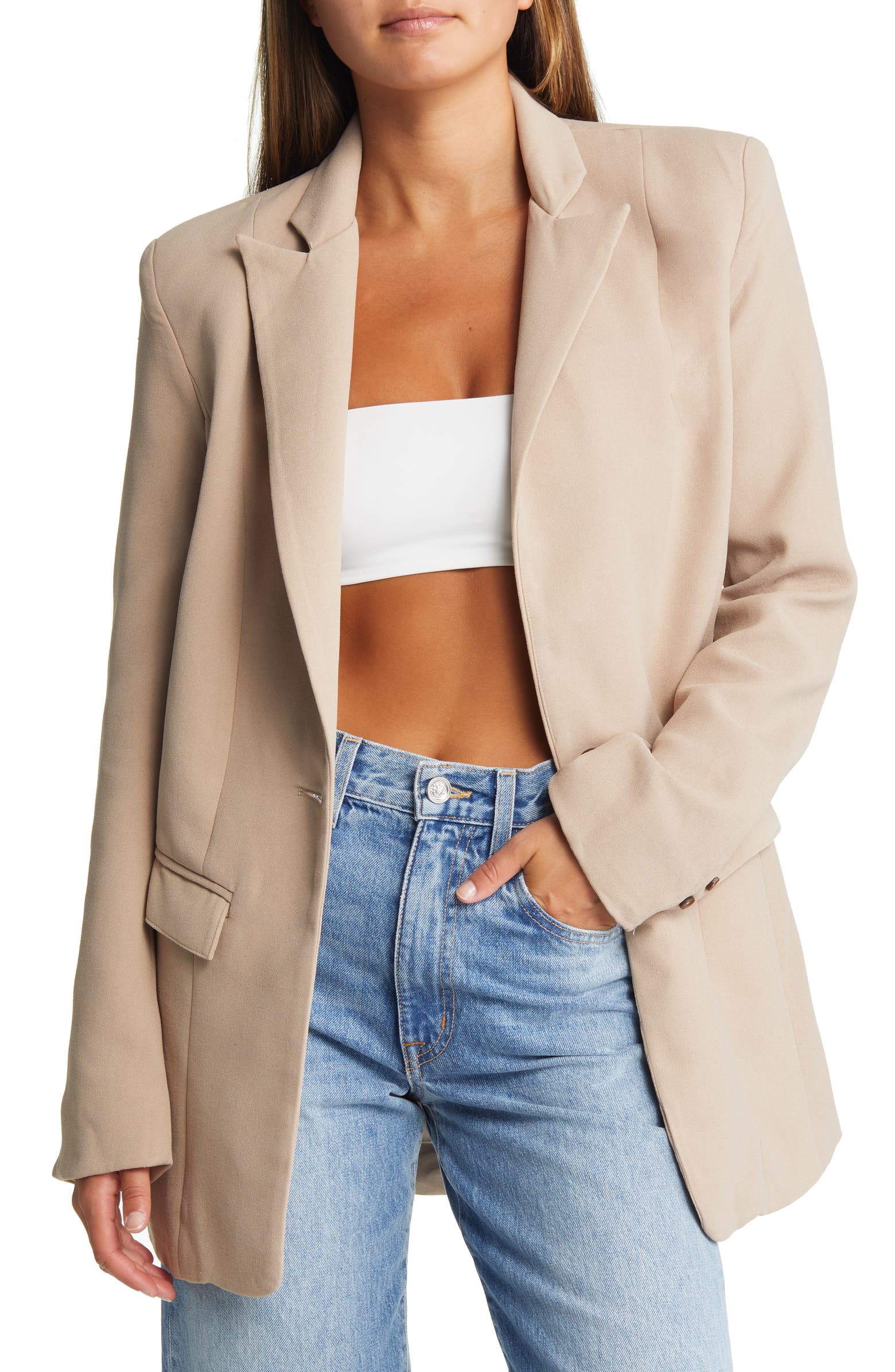 A blazer looks fantastic over anything, we dare you to prove otherwise. Rompers and jumpsuits are no different –just choose your favorite oversized blazer and wear it with confidence anywhere from a cocktail party, to brunch, to even the office.
As you can see from the featured outfit above, you don't necessarily need to pair this look with an overly sophisticated pair of shoes – choose a style that feels authentic to you, whether that means a pair of loafers, flats, wedges, or yes, even cowboy boots.
2. Denim Jackets
A denim jacket is a great way to wear a romper when you're going from outdoors to indoors in warmer weather.
Plus, when worn on their own, rompers can sometimes look a little revealing, and adding a denim jacket can balance out that aspect of your outfit. Denim is also a versatile color that complements many different colors and prints, making them the ideal option to throw over your romper or jumpsuit on a casual day.
Alternatively, you can also wear a chambray shirt, if a denim jacket feels too heavy for the outfit in question.
For shoes, we recommend opting for comfortable ankle boots with a heel, or a pair of white sneakers for an everyday look.
3. Duster/Shawl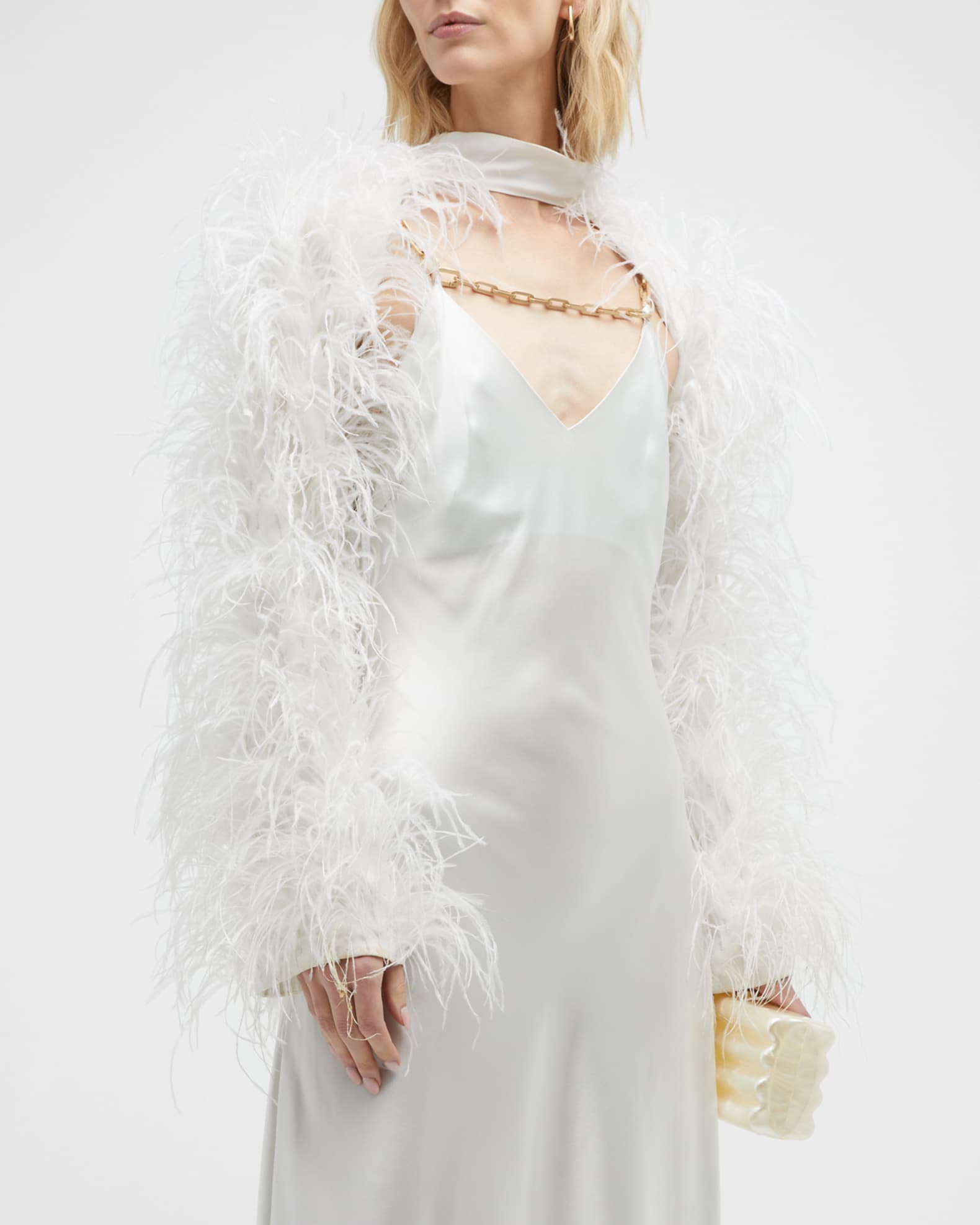 If you're looking to create a glamorous, eye-catching look for a party, you consider wearing a duster or a shawl over your jumpsuit to add to the elegant look.
Recently, partywear with feather trims has become increasingly popular, so why not add a feather bolero or shawl to your wardrobe? To style add your favorite pair of high heels and a chic designer clutch to your look.
4. Leather Jackets
For something a bit more edgy, add a classic black leather jacket to your look. The contrast between the soft, flowy fabric of a romper or jumpsuit and the structured, sleek leather creates a visually appealing balance.
It can make the overall look feel more modern and chic, while also providing an extra layer of warmth.
5. Chunky Knit Cardigans
For relaxed fits, you can opt for a long cardigan. This is a great option to wear over if you're just planning to stay home, or attend casual outings.
It's also one of the easiest ways to layer your outfit— cardigans can be worn all year round, which gives you an excuse to wear it during every season.
And there you have it! We hope you found this style guide about styling rompers and jumpsuits helpful. If you're looking for more fashion tips and inspiration, check the articles below.
Get More Fashion Ideas
10 Best Shoe Styles To Wear With A Romper (Formal & Casual Looks)
What To Wear In Miami: 10 Cute Outfit Ideas
15 Best Shoes To Wear With A Midi Dress For The Chicest Outfits