50 Creative Halloween Makeup Ideas To Try This Year
We only feature products that we hope you will love. We may earn a commission if you decide to make a purchase through our links, at no cost to you.
Are you looking for inspiring Halloween makeup looks that you can replicate this year to go with your costume? If so, this article is perfect for you!
Whether you're looking for cute or scary looks, these amazing makeup ideas are going to blow you away with how creative they are! From creepy clown makeup to playful cartoon looks and everything in between, there's something to go with everyone's Halloween costume.
Many of these looks are easy enough to recreate even if you feel like you don't have the makeup skills of NikkieTutorials. However, there are also some looks that will be a little bit more challenging to reproduce. So, we have gone ahead and made sure to include a lot of step-by-step tutorials in this article, too.
Whatever your skill level, the important bit is to have fun with your makeup and get inspired from these looks – perfection isn't necessary!
Now, let's jump right into the looks!

50 Incredible Halloween Makeup Looks:
1. Cruella De Vil
If you are dressing up as Cruella De Vil this year, then you need to finish off this Halloween costume with this incredible Cruella makeup look. This makeup with quite detailed, with Dalmatian spots on one side of the face and across the shoulders, and an exaggerated green eye look, but this YouTube tutorial will help you recreate the look at home!
2. Barbie
via @alicedickson
Grab all your gemstones and dramatic fake eyelashes to recreate this gorgeous Barbie makeup. This glamorous and striking makeup look, with blue eyeshadow, winged liner, and pink lips, is the perfect way to finish your all-pink Barbie outfit.
3. Maleficent
Get these cheek prosthetics on Etsy
Maleficent is one of our favorite Halloween costumes and this incredible makeup look is just what you need to complete the costume. These cheek prosthetics are available on Etsy, so just opt for a dusty white base, grey eye makeup, and a red lip.
4. Glam Chucky Doll
The striped top and dungarees may not look that scary on their own, which is why you need this Chucky makeup, complete with scratches and scars all over the face, to complete the spooky Halloween look.
5. Medusa
via @Mochlath / Tutorial on YouTube
Go all out on your Medusa look with this snake makeup! The shimmering green eye makeup look is paired with a green-tinged lip and snake scales reaching up the forehead. You can then finish with white contact lenses for a super eerie look.
6. Glam Pennywise
Add a little glamour to your Pennywise Clown costume with this stunning makeup look. The ashy white face features a deep red lip and lines stretching from the corners of the lip, up past the eye to finish in points on the forehead. A shimmering red nose dark red eyes and fake eyelashes finishes this Pennywise look.
7. Glow In The Dark
via @Muamafia2
This glow in the dark makeup look is super striking and eye-catching, and is actually much easier to create than you may think! Begin with your usual foundation routine then add white lines to the face and then surround these lines with neon pink face paint or eyeshadow to give that glowing look.
8. The Joker
This Joker makeup is just incredible and so realistic. The white base features creases on the forehead and around the eyes, and then a smudged black eye look and a red lip that curves up the cheeks.
9. Princess Jasmine
If you are going for a pretty Princess Jasmine costume for this year's Halloween party, then this gorgeous makeup look is exactly what you need. The glowy base is paired with shimmering eyes, lined with thick black winged liner, and framed by fake eyelashes.
10. Botched Filler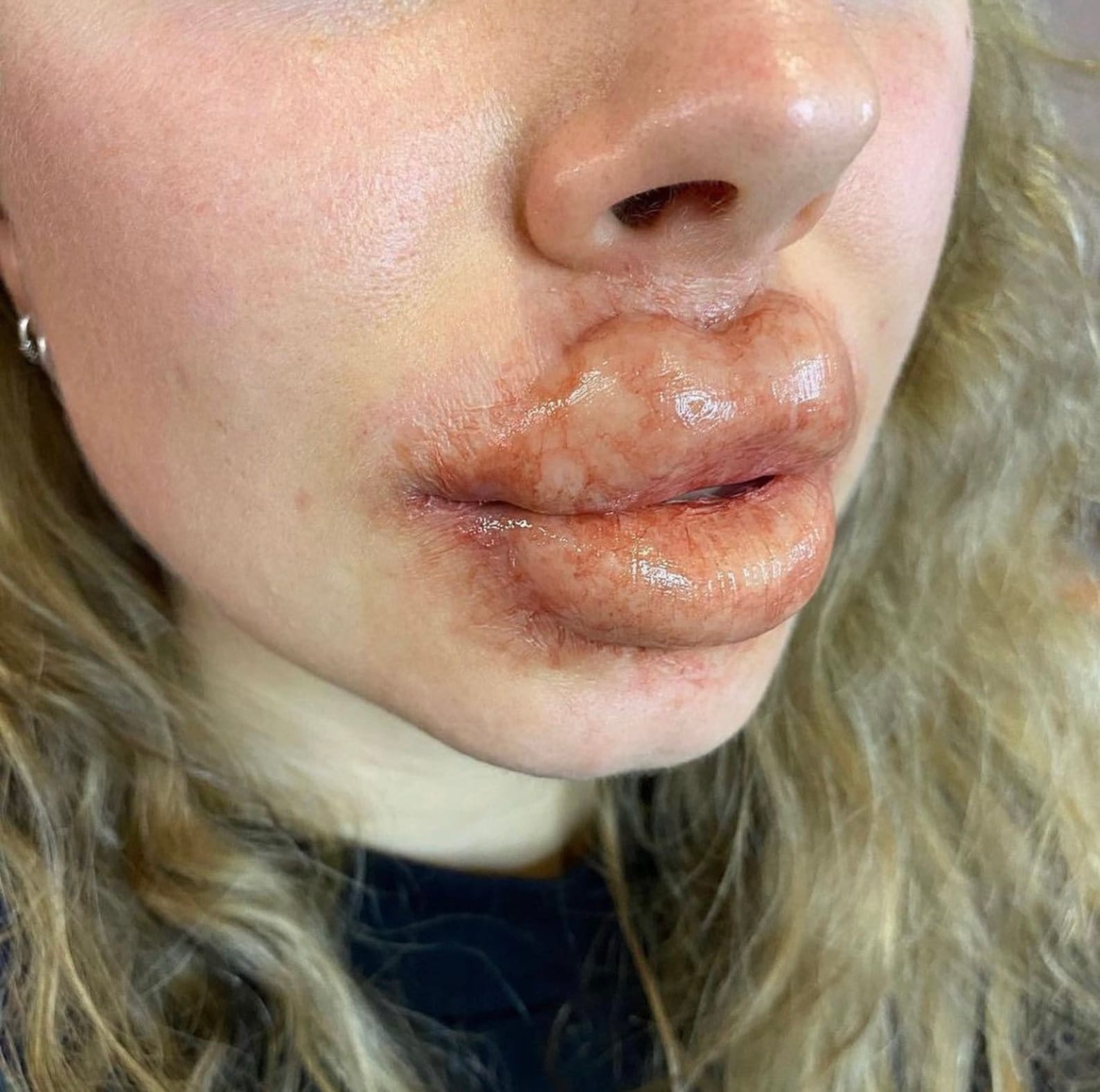 Get the prosthetics for this on Etsy
You may have seen botched Botox Halloween costumes online, and this botched lip filler is the perfect makeup to pair with this costume. The prosthetics to create these exaggerated lips are available on Etsy then finish with red and yellow-tinged makeup.
11. Electric Goddess
via @ByBrookelle
This electric goddess makeup is just incredible but is one of the more challenging makeup looks to recreate at home. Half the face and one of the hands have a dark, smoky look, while the other half of the face features an incredible red and gold cut crease and smoky eye look.
12. Cleopatra
Cleopatra is always an excellent Halloween costume to opt for, but you can really elevate the look with this Cleopatra makeup. This tutorial guides you through the gold and green cut crease eye, glowy base, and black accents surrounding the eye.
13. Hit By Lightning
via @TijerarayeMUA
You can keep your costume simple with this detailed, hit by lightning makeup look. A range of blue eyeshadows has been used to create a night sky look across the eye and down to the nose, then white lines have been added to create the lightning to finish this incredible makeup.
14. Third Eye
This Third Eye makeup look is a stunning, attention-grabbing look that is perfect for your next Halloween party. The smoky green eye makeup continued into the third eye on the forehead, while a skeletal cheekbone and lip look was created with smudged black eyeshadow.
15. Cheshire Cat
Any of the Alice in Wonderland characters make excellent Halloween costumes, especially the Cheshire cat! Pair your striped Cheshire Cat outfit with this striking makeup look to properly recreate this iconic character.
16. Forest Nymph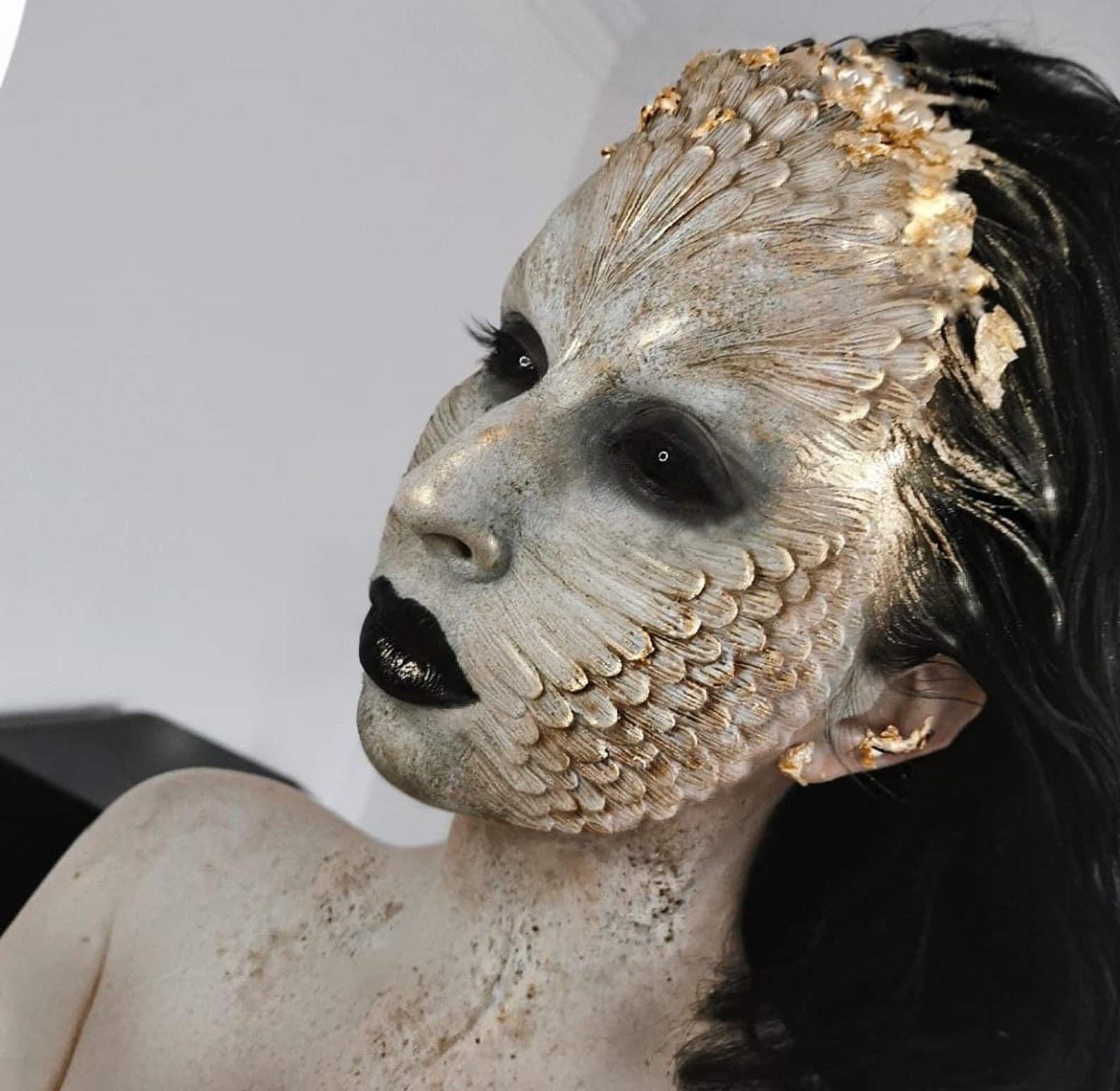 Get the SFX prosthetics for this look on Etsy
If you want to go for something unique and incredibly details, this forest nymph look is just perfect for you! The grey base features smoky black eye makeup, black contacts, a black lip, and plenty of prosthetics, which are available from Etsy so you look like you have just emerged from the forest.
17. Beetlejuice
via @SarahMcGonagall
This Beetlejuice makeup really makes a statement but is actually not too difficult to recreate. Begin with an ashy white base, then add smoky purple eyeshadow around the eye and green smudges around the hairline, below the cheekbones, and around the lip.
18. Dead Bride
via @Ellie35x
This Dead Bride look is just gorgeous! Start with a bronzy makeup look, with a white smoky eye and winged liner, then add white details around the eye, contouring the cheekbone and across the lips to create the deathly look.
19. Red Hot Devil
A devil costume is a classic Halloween look, but take it to the next level with this red Devil makeup! Red face paint is a must, then add a black winged eye makeup look and a black lip too. The contouring is key in this look to create that sharp, hot devil look.
20. Nightmare Before Christmas
via @Elektra_Amber
The Nightmare Before Christmas is one of the best Halloween films and this makeup look recreates Sally from the film. The blue base is decorated with black stitches across the forehead and around the lips, while the wide, circular eyes have been created with white eyeshadow and lots of fake eyelashes.
21. Scar From Lion King
Scar is one of the all-time classic Disney villains and a perfect Halloween costume! Finish your Scar outfit with this makeup look, complete an orange-toned base, whiskers, and the scar that runs through Scar's eyebrow. Finish with green contact lenses.
22. Pretty Scarecrow
via @BangTsikiTsiki
If you don't want to go for the super spooky look for your Scarecrow costume, then this makeup look is just what you need. The dramatic black lip and black smoky eyes are paired with bright blush and a smattering of freckles to add a super cute touch.
23. Spider Illusion Makeup
Pair this spider with a simple, all-black outfit to create a stunning yet easy Halloween look! Go for a smoky black eye, adding black spider legs with white details, but the most important part is the shadows of the spider legs to give that illusion look!
24. Shiny Alien
via @AbbyRoberts
Pull out all your shimmering and iridescent eyeshadows to create this beautiful alien makeup look. Shiny eyeshadows in pink, purple, and blue tones have been added to the high points for the face to create the extra-terrestrial alien look, then the look is finished with black lips and black winged liner.
25. Dead Bride
via @ByBrookelle
Begin with a glowy base, sparkling gold eye makeup look, and a red lip for this Dead Bride makeup, then add red smudges around the lips, red liner pouring from the eyes, and fake blood running down the neck. Gold foil adds a glam touch to this makeup look.
26. Pulled-Up Skin
We love illusion makeup like this incredible pulled-up skin look! This makeup look may look complex, but the tutorial walks you through step by step how to create this eye-catching illusion makeup.
27. Fortuneteller
via @ByBrookelle
Add a spooky touch to your fortune-teller costume with this dark makeup look. The dark, purple-toned eye makeup and rich plum lips give a stunning Halloween look to this fortune-teller costume. Add sequins and gemstones around the eye for an opulent finish.
28. Cute Vampire
via @SarinaNexie
This dazzling makeup look will really elevate your vampire costume this Halloween. The black eye shadow is surrounded by red, veiny makeup for a bruised and bloodshot look. For the lips go for dark red or purple-toned lipstick and add a little trickle of fake blood falling from the mouth, down the chin.
29. Zendaya-Inspired Zombie Princess
Zendaya has had some incredible Halloween looks over the years, including this gorgeous zombie princess look. Stitches, fake blood, and lightning strikes add an eerie Halloween touch to your zombie princess costume.
30. Broken Doll
A Doll costume is an excellent Halloween look, but this broken doll makeup adds a creepy touch to take your look to the next level. Black cracks along the skin and fake blood pouring from the eye guarantees a super scary look for your next Halloween party.
31. Half Dead
via @GiaMarieWaits
We love these contrasting, half-and-half Halloween makeup looks, especially this half-dead one where the skin looks as though it is pouring down the face. Pull out all your black and grey eye shadows and face paints to create the half-dead side of this makeup, adding light and shadows for a more realistic finish.
32. Corpse Bride
Pair your Corpse Bride Halloween outfit with this striking makeup look to perfectly complete the costume. The tutorial walks you through how to recreate this makeup, with the blue-tinged base, sculpted cheekbone, spidery eyelashes, and dark eyebrows.
33. Pop Art Wonderwoman
This pop art-inspired Wonder Woman makeup gives such a fun and unique twist to a classic Wonder Woman costume. Have your black liner and eye shadow at the ready to add the lines and details to transform this makeup into a pop art look.
34. Evil Queen
via @ByBrookelle
This evil queen makeup works with so many different costumes, including a range of Disney Princess villains as well as the Queen of Hearts from Alice in Wonderland. The red and burgundy shadow blended out towards the temple and down to the cheek, and the black tears running from the eyes added a gloomy touch to this makeup look.
35. Violet Beauregarde
via @EllieAddis
This Violet Beauregarde makeup look is easy to recreate at home, just make sure to have plenty of purple and blue-toned eyeshadows on hand! The shimmering pink eyes and pink lipstick work so well with the shimmery purple nose, blended out across the cheeks, to look as though you are about to turn into a blueberry!
36. Easy Skull Makeup (Tattoo)
Get this temporary tattoo on Etsy
If you are looking for a spooky Halloween makeup look that is easy and quick, then this temporary tattoo skull look is just perfect for you! You just need to do your usual foundation routine and a winged eyeliner, then add this skull temporary tattoo from Etsy across your mouth to complete the look.
37. Black Swan
Black Swan makes a fantastic Halloween costume, but you really need the makeup from the film to finish the look. This tutorial takes you through how to create the dramatic eye makeup look you see in the film, just make sure to have some small gemstones on hand to add a glam touch.
38. Werewolf
Elevate your werewolf costume with this incredible makeup look! The sculpted contour, bronzy tones, and dramatic winged eye makeup look stunning, but the scratches on the neck really make this werewolf look stand out.
39. Mime
via @GiaMarieWaits
This mime illusion makeup is amazing and you can just go for a simple outfit to really let the makeup shine. Half the face has a stunning pink glitter eye makeup look, while the other half has been made up to look like a piece of paper with features drawn on it in black – incredible!
40. Avatar
An avatar costume is always a great idea and this is the tutorial you need to recreate the blue avatar face. Make sure to have lots of blue face paints and eye shadow at the ready, then you can finish the look with green contact too if you want!
41. Bratz Doll
We have seen lots of fantastic Bratz Halloween costumes online for groups of friends and this makeup look is just what you need to finish these super cute outfits. The look includes matte skin, bronze-toned eyes with winged liner, fake eyelashes, and glossy pink lips.
42. Old Lady
This old lady makeup look is marvellous and you don't need any prosthetics either! This tutorial teaches you how to add authentic-looking wrinkles to your face to finish off your old lady Halloween costume.
43. Carved Pumpkin
Go for a dramatic, eye-catching look with this incredible carved pumpkin makeup look. Grab orange face paint to create the base of the pumpkin makeup, then add lots of smudge black lines to add dimension, and then an exaggerated black eye and lip that looks as though they have been carved out. The other eye features a black and orange-toned smoky eye.
44. Marilyn Monroe
Transform yourself into Marilyn Monroe this Halloween. This tutorial will walk you through how to create Marilyn Monroe's stunning makeup, with a red lip, winged liner, and fake eyelashes. You just need a white dress to finish the costume.
45. Colorful Clown
We love the fun and colorful, quirky clown makeup! This rainbow clown features multicolored eyes, pink lips, sequins around the hairline, and a rainbow running down the neck.
46. Mad Hatter
If you are planning on dressing up as the Mad Hatter for Halloween this year, then you need this makeup tutorial to complete the look. Begin with a white base, then add purple eyeshadow to one eye and blue eyeshadow to the other, and finish with a red lip.
47. Wounded
Get these SFX prosthetics on Etsy
This wounded makeup look can be paired with a whole range of costumes if you want to add a spooky and eerie touch to your cheerleader or cowgirl looks, for example. This look includes SFX prosthetics which are available on Etsy to help you create this makeup look.
48. Poison Ivy
Finish your Poison Ivy Halloween costume with this Poison Ivy makeup look. This super helpful tutorial takes you through exactly how to create this beautiful makeup look, with pink accents and ivy blooming from the corner of the eyes.
49. Button-Eyed Doll
via @rebeccaseals
Perhaps you are planning on dressing up as Coraline for Halloween this year, in which case you need this makeup look to complete the costume. The makeup is actually quite simple, with shadowy lines pulling out the corners of the mouth, freckles across the cheeks, and big black button eyes.
50. Glamorous Skull Statue
via @Ellie35x
Elevate your usual skull makeup with this striking, glamorous skull makeup. The white, shadowy base creates the skull look, while shimmering gold eye shadow and plenty of gemstones add a glam and opulent finish to this makeup look.
Which of these was your favorite? We hope you found at least one good idea to try this Halloween, and that the makeup tutorials are useful for you to achieve that!
Read this next: 25 Deathly Stunning Day Of The Dead Makeup Ideas