10 Best Brands Like Canada Goose To Buy In 2023
We only feature products that we hope you will love. We may earn a commission if you decide to make a purchase through our links, at no cost to you.
Looking for affordable brands like Canada Goose that keep you equally warm? If so, check out these stylish Canada Goose alternatives!
If you've stumbled upon this article, you probably know that Canada Goose requires no introduction. They offer some of the warmest coats suited for extreme weather, whether that be skiing or just getting by in a cold climate.
And not only that, Canada Goose is possibly the most famous 'parka brand' thanks to celebrity endorsements from the likes of Jennifer Lopez, Emma Stone, Daniel Craig and many more.
The most publicized celebrity endorsement for the brand might have been when bombshell Kate Upton posed in Canada Goose for her famous Arctic bikini shoot with Sports Illustrated, but other celebrities have had their famous moments with the brand too. For example, Lil Uzi Vert went as far as releasing a song titled 'Canada Goose' for his mixtape in 2016.


The brand is without a doubt world-renowned for its superior quality when it comes to arctic apparel design. However, there are many other Canada Goose alternatives that are made with equally impressive materials, quality and design.
Below, you'll find a list of the 10 best brands like Canada Goose that are fit for all different price points, so that you can choose one that's best for your unique needs.

The Best Brands Like Canada Goose:
1. Mackage
Mackage is a celebrity favorite – this brand has been spotted on countless celebrities including Madonna, Blake Lively, Olivia Culpo and Hayden Panettiere. The brand is rather new in the industry; Mackage was born in 1999 to bridge the gap between functional, warm outerwear, and fashion. So far it has succeeded incredibly well in its mission.
While Mackage is definitely a luxury brand, its prices are slightly more affordable than Canada Goose. For example, a typical Canada Goose parka would set you back by about $1,500, while a similar one from Mackage would only cost around $1,000.
Check out the latest collection at Nordstrom | Saks Fifth | Neiman Marcus | Harrods
2. Moncler
Moncler is an Italian luxury lifestyle brand most known for its down jackets and sportswear. The name 'Moncler' originates from a small alpine town, Monestier-de-Clermont an Alpine town near Grenoble, France, which abbreviates to Moncler.
Their puffers and parkas are one of the most notable on the list as they truly exude a luxury vibe. However, these luxury parkas do come with a hefty price tag – one will typically set you back by about $1,500-$2,000.
Check out the latest collection at Nordstrom | Neiman Marcus | Harrods | Selfridges
3. The North Face
The North Face offers a wide variety of outerwear products including coats, parkas, fleeces, but also backpacks, tents, and sleeping packs – perfect for campers and outdoor enthusiasts!
The company caters mostly to college students, climbers, mountaineers and people with an active lifestyle. Not only that, they sponsor over 50 professional athletes, including Johnny Collinson, Jez Bragg and Fernanda Maciel.
If you're not interested in buying a luxury parka, The North Face is a perfect option for you, as their coats and jackets retail around $200-$300.
Check out the latest collection at Nordstrom | Neiman Marcus
4. Moose Knuckles
Moose Knuckles was established based on the belief that it could make the leanest, toughest and most luxurious sportswear in the world. The brand is proudly Canadian and even goes by the motto "We build Canadian know-how, grit and heritage into every fibre, stitch and zipper."
Much like Canada Goose, these coats and parkas are primarily made for extreme weather conditions in North America, but they are fashionable enough to wear in big cities too. Much like Canada Goose, the price point of Moose Knuckles' coats is quite high, a typical coat will set you back by about $1,200.
Check out the latest collection at Nordstrom | Bloomingdales | Selfridges
5. Lululemon
While you may not immediately think of parkas and puffer coats when you hear the word lululemon, this brand actually offers multiple stylish, high-quality winter wear options that are worth your consideration.
The prices of lululemon coats and jackets are also quite reasonable, especially when compared to Canada Goose; long coats retail for $300-$500, whereas shorter jackets will set you back by just $200-$300.
Check out the latest collection at lululemon
6. Parajumpers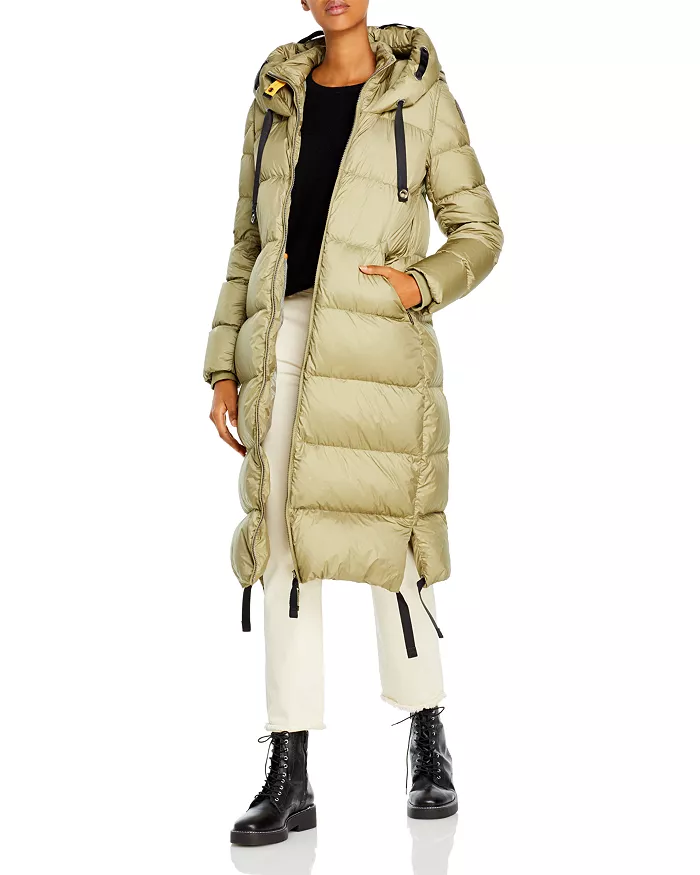 Parajumpers is a lesser-known Italian brand that does amazing parkas suited for the Alps starting at just $500.
The brand offers many amazing color options for those who are not willing to compromise on fashion while looking for insulated coats.
Check out the latest collection at Nordstrom | Bloomingdale's
7. Napapijri
Fun fact, "Napapiiri" is Finnish for polar circle, although the brand closely affiliates itself with a Norwegian flag. Despite this, Napapijri is actually an Italian brand. Confused much? Us too.
In any case, Napapijri makes excellent parkas, coats and street style attire for those who want a fully functional warm jacket in the midranges (think $300-$400), but don't warn to compromise on fashion.
Check out the latest collection at ASOS | Bloomingdales
8. Uniqlo
Uniqlo has to be the cheapest Canada Goose alternative on this list, with prices starting as low as $100, which is amazing considering the fact that they are fully insulated and come in multiple different colors.
Uniqlo offer coats and parkas for both men and women, and as they are a popular retailer, you should have no problem finding a store near you, in case you wanted to try on the coat before purchasing.
Check out the latest collection at Uniqlo
9. Columbia
Columbia is a rather affordable outerwear brand that has designs from $300 and up to keep you warm. Hailing from Portland, Oregon, Columbia has been making outdoor gear for more than 70 years. What's remarkable about Columbia is that even though it has a reputation of being a global company, it's still a family business.
The brand's headquarter are still based in Portland, where it continues creating no-nonsense apparel and footwear to keep its customers warm, dry and protected.
Check out the latest collection at Columbia's Website
10. Fjallraven
You might know Fjallraven brand by its extremely popular Kanken backpack, but did you know that the brand also produces a plethora of other equipment and clothing related to the outdoors?
Their parkas start at a reasonable $300, so you can rest assured that you're not overpaying for weather protection.
Check out the latest collection at Nordstrom
Conclusion
So, there you have it, 10 brands like Canada Goose at all different price points! What is your stance on the situation – are you going to invest in one of these Canada Goose alternatives, or will you invest in the OG brand? Let us know in the comments!
Browse More Winter Fashion Ideas
Canada Goose Vs Moose Knuckles: Which Is The Better Brand?
25 Best Designer Puffer Coats And Jackets To Keep You Cozy
Moncler Vs Canada Goose: Which Is The Better Brand For You?