Canada Goose Vs Moose Knuckles: Which Is The Better Brand?
We only feature products that we hope you will love. We may earn a commission if you decide to make a purchase through our links, at no cost to you.
Preparing for your incoming ski trip? It pays to invest in good winter wear. Here's an in-depth guide on Canada Goose vs Moose Knuckles, so you'll be more informed about your next purchase.
If Canadians know one thing, it's cold weather clothing and accessories as they live in freezing temperatures for half of the year. So it makes perfect sense to shop at Canadian companies when you need to bulk up your coat, vest, and beanie collections.
But just because you live in a destination where the average temperature is below freezing, doesn't mean that you need to forget about fashion. Multiple cold-weather clothing designers have popped up to help fashionistas look chic while staying warm.


If you're living somewhere that's always cold or if you're planning a trip to Alaska, it's definitely wise to invest in a thick, long parka.
This is because parkas provide insulation and warmth over a larger area, making them much warmer than jackets or fleece shells. For those who are really sensitive to cold temperatures, try to find a style that's designed for extreme conditions.
Before splurging on a down-filled parka or vest, pay attention to the fabrics and materials used as this can be an indication of how well it's made. It's also important to consider just how warm your parka or puffer has to be.
If it's only really cold for a few weeks each year, you probably don't need a heavy-duty jacket as opposed to a more lightweight down-filled jacket.
However, if it's freezing for months on end, you'll need something that was meant for extreme conditions. Plus, if you're going to be wearing it every day for extended periods of time, it makes sense to splurge on a parka or puffer that's top-quality.
Both Canada Goose and Moose Knuckles are luxury brands that have the reputation of being a go-to store when it comes to jackets that will keep you warm and well-insulated. But even though they sell similar items, they both have different price points and styles.
In order to help you make the right choice between purchasing a jacket or cold weather accessories from either brand, we've done some research on their differences and rounded up our favorite items.

Canada Goose Vs Moose Knuckles:
A brief history of Canada Goose
The luxury brand Canada Goose was founded in Toronto, Canada, by a man named Sam Tick back in 1957. Originally, the clothing company was known as Metro Sportswear Ltd. but upon Sam's son-in-law joining the label, its business model and name changed.
Sam's son-in-law, David Reiss, brought the invention of the down-filling machine to the company and renamed it Canada Goose after it expanded into the European market.
David felt that the name change was ever so appropriate as they were using goose down to insulate its jackets and vests. While Canada Goose started by offering a small selection of raincoats and wool vests, the designer brand is now famous for its down-filled puffer jackets, winter coats,vests, parkas, and other cold-weather accessories.


Since goose down isn't an overly available or affordable material, Canada Goose does charge a pretty penny for all of their filled jackets. But those who have been wronged by synthetic insulation understand just how warm goose down keeps you, which is why Canada Goose can get away with its price point.
When it comes to the brand's recognizable style, it's no-fuss, utilitarian, and straightforward, giving fashionistas an uncomplicated look that won't go out of style quickly. Canada Goose jackets can be easily recognized by their unique logo that features the shape of Canada in a circle with the words "Canada Goose Arctic Club" encircled in mini red maple leaves.
Over the years, some people have criticized the brand for its overly simple designs but those who own a Canada Goose parka really love their parka.
Because their designs are on the simple side, you don't need to worry about your new jacket going out of style by the time next winter rolls around. Canada Goose carries all of the neutral colors plus some brighter options for those who like to stand out.
A brief history of Moose Knuckles
We love the edgy, streetwear-inspired aesthetic of Moose Knuckles, elevating outerwear and parkas to a whole other level and making the piece you need to complete your outfit in the winter months.


Surprisingly enough, the Canadian company Moose Knuckles dates back 36 years before Canada Goose was even launched. The brand was established in 1921, initially as a luxury sportswear brand, just like Canada Goose.
Now, the designer clothing company offers a collection of luxury parkas and winter jackets that are made from high-quality fabrics and materials. This brand wanted to create the toughest yet most luxurious sportswear and winter outerwear, making use of their Canadian knowledge, know-how and grit to craft pieces that are essential during cold winters.
This expensive brand prides itself on clothing, sportswear, outerwear, and accessories that not only make a fashion statement but are made from ethically sourced materials and have been expertly tailored to really stand the test of time.
In addition to finding a selection of luxury jackets and coats at Moose Knuckles, you'll also find lighter water-resistant jackets, knitwear, and shirts – so no matter what you need for your next cold climate adventure, you are bound to find it a Moose Knuckles.
To this day, its products are designed and manufactured in Canada and the brand now has flagship stores in New York, London, and Toronto.
Since Moose Knuckles is a luxury clothing brand, it only uses the highest quality materials and fabrics to create its incomparable pieces.
The company mainly uses a blend of cotton and nylon, which ensures that its jackets last for many years. This combination of materials, plus grey duck down, will keep you warm in temperatures as low as -40 degrees.
Every jacket sold by Moose Knuckles is coated in a water-repellent material that keeps it dry for long periods of time, along with preventing the down-filled interior from getting wet. This is incredibly important because goose or duck down loses all of its insulating capabilities when wet.
In terms of pricing, Moose Knuckles is definitely not considered cheap but you're paying for its quality. Most of the jackets sold in-store and online are upwards of $1,000.
Like Canada Goose, all of the jackets at Moose Knuckles adorn the brand's logo. You'll find the Moose Knuckles logo on the outer arm of its jackets in either silver or gold hardware. It's a small detail that really elevates the look of the jacket.

Differences Between Canada Goose Vs Moose Knuckles
1. Sales
If we're being completely honest, both brands are quite similar in terms of product offering, style, and their hefty price tags. However, the one key difference is that Moose Knuckles has better sales than Canada Goose – you can typically find products discounted for 30% off around typical sale times, like after Christmas, or Black Friday.
On the contrary, Canada Goose typically doesn't participate in sales at large, but you can still find some of their products at a discount from online outlets like the Outnet. With this said, scoring discounted Canada Goose parkas from Neiman or Nordstrom is definitely not the norm – we have never seen the latest Canada Goose coats from the current season in the sale.
If you don't mind which brand you are buying from, and simply want a durable down jacket, start by looking at Moose Knuckles coats around sale times. If you can't find anything you love, expand your search to include Canada Goose.
2. Aesthetic
Moose Knuckles provides stylish and one-of-a-kind designs that will keep you warm for years to come, which justifies their expensive price tag. We would say Moose Knuckles parkas and jackets are slightly more trendy and fashion-forward than those made by Canada Goose.
Moose Knuckles, unlike Canada Goose, isn't a hyper-Canadian brand so if you're not living in Canada, you might not want something that dons its patriotic logo. Moose Knuckles' designs and styles don't scream "Canadian!", making it a better option for some people.


While Canada Goose jackets are a great option for those living in cold areas, they are also very fashionable in their own way. They have fewer designs and are a little more understated and minimalist in their aesthetic but they're still very stylish.
So, the brand that you choose to go with really depends on what you're looking for. If you're wanting to choose from a larger variety of colors and designs, we suggest going for Moose Knuckles.
But if you're seeking a jacket that's heavy-duty and has years of cold weather experience behind its designs, Canada Goose is a great option.

Our Top Picks From Canada Goose Vs Moose Knuckles
1. Mid-length jackets
If you're finding yourself in freezing temperatures with wind, rain, and snow, a mid-length parka or puffer jacket will keep the tops of your legs warm as well.
But since some longer jackets can restrict your leg movement, be sure to try it on and move a little before handing your credit card over to the sales associate.

The Alliston 750 Fill Power Down Long Hooded Parka from Canada Goose comes in white, light grey, and shadow grey, and will hit mid-calf. The jacket, available at Nordstrom for $1,150, is filled with goose down and has cuffs with a thumbhole, so no snow, rain, or cold air creeps up the arms.
While we love all of Canada Goose's down-filled coats, the Long Alliston Parka is a particularly stylish option that comes with all the practical elements of your typical Canada Goose jackets; there's a D-ring for gloves, a vent in the front for mobility, multiple pockets, and backpack-like carrying straps. Plus, it's lightweight!
The Moose Knuckles Flightweight Belle Cote Parka is sure to keep you cozy and warm during the winter season, with thick quilted channels filled with a down and feather filling. The knee-length hem and removable hood provide extra warmth and are perfect for when it's windy, raining, or snowing.
The classic black luxury parka is fitted with side zip pockets, so your phone is always within easy reach, and a drawcord waist for a cinched-in look and to protect you from any windy drafts. This chic parka is a must-have in any cold weather and retails for just $995.
2. Shorter jackets
Sometimes a heavy-duty, knee-length parka isn't necessary and these shorter jackets are perfect for those occasions: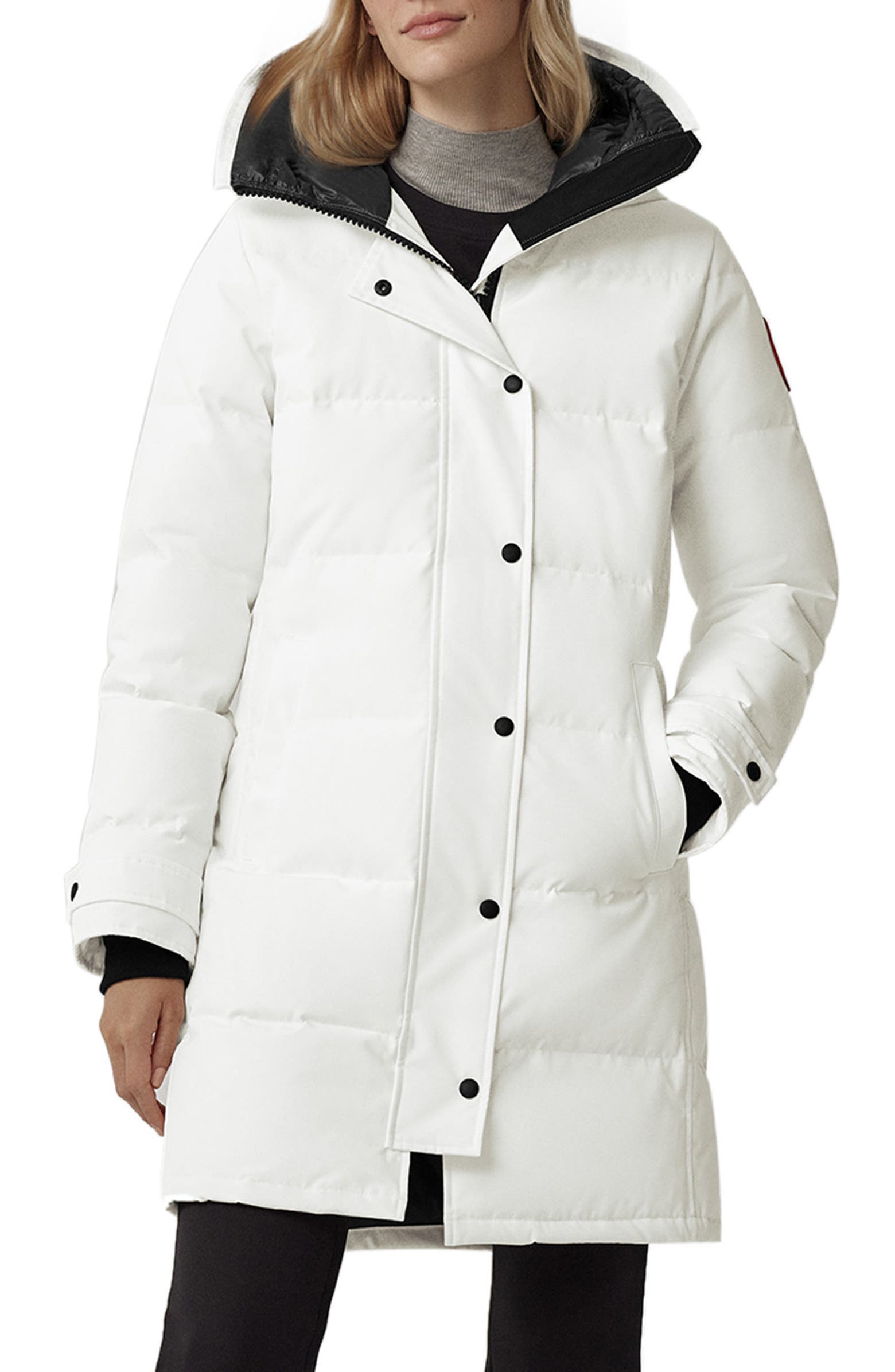 The Shelburne Water Resistant 625 Fill Power Down Parka from Canada Goose will keep you warm with its down-filling and fleece-lined pockets. It also features a detachable hood and a two-way zipper to ensure comfort. It can be purchased at Nordstrom for $1,295. If white is not your color, this practical winter coat also comes in navy and black.
The Maspeth Sport Cropped Puffer Jacket from Moose Knuckles ($1195) is bright white, with a contrasting glossy black trim, and will have you feeling equally fashionable and warm. We love the cropped silhouette of this Moose Knuckles jacket, with a relaxed fit that finishes at the hip.
The fluffy shearling pom poms that hang from the collar are super stylish additions! It features a cozy down and feather interior and a removable hood should you need it. The side slip pockets will always come in handy while the elastic cuffs and hem protect you from the wind.
3. Vests
Vests are literally the best thing to wear on days where the weather is mild. Toss it over a long-sleeved top or knit sweater for an effortless, sporty look. 
The Cypress Puffer Vest from Canada Goose comes in black, pink, and emerald green and is filled with 90/10 duck down/feather fill. In terms of special features, the vest is lightweight and packs into itself, making it perfect for travel. It also has cozy side-zip pockets and the shell is made with recycled nylon. This vest can be purchased for $525 at Neiman Marcus.
This Moose Knuckles Gold Cambria Puffer Vest has a chic and trendy look, with a striking white color paired with gold hardware for a glam touch. The vest has been quilted and filled with down and feathers to make sure you keep warm.
The hip-length silhouette and sleeveless finish mean this vest is ideal for layering over hoodies or underneath bigger coats for extra warmth. There are a couple of zipper pockets, to hold your winter essentials, a stand collar, and a snap placket for extra wind protection. This Puffer Vest retails for just $794.
Conclusion
Overall, we absolutely adore both of these brands, but the one that's right for you depends on your personal style. If you prefer eye-catching and trendier pieces of clothing, we recommend choosing Moose Knuckles.
But if you like the classic look of a down-filled parka and don't need any bells and whistles, Canada Goose's parkas will definitely get the job done! Plus, Canada Goose is definitely the more popular and recognizable brand of the two, so if logos are important to you, opt for Canada Goose over Moose Knuckles.
We hope you enjoyed our analysis of Canada Goose vs Moose Knuckles! For more similar articles, make sure to check out the posts below.
Get More Winter Fashion Ideas
25 Cute Winter Coats & Jackets For Women To Keep You Cozy
25 Chic Winter Outfits Perfect For Cold Weather
What to Wear Under a Poncho: 5 Ways To Style This Winter Staple