10 Best Elie Saab Perfumes For Women
We only feature products that we hope you will love. We may earn a commission if you decide to make a purchase through our links, at no cost to you.
Although Elie Saab started out as a luxury fashion designer, the brand may now be best known for its luxurious line of perfumes. Here are the 10 best Elie Saab perfumes for women that you should consider adding to your collection!
Since 2011, Lebanese designer Elie Saab has released over 30 vibrant and unique scents onto the market –– with the latest signature set to be released in 2022.
Always a favorite of the sophisticated woman, Elie Saab's fragrances typically have light, floral and fruity scents and feature collaborations with renowned perfumers like Maïa Lernout, Jerome Di Marino, Francis Kurkdjian, and Sophie Labbe. Without further ado, let's get right into the best fragrances of the brand.
Note: Some of these fragrances have been limited-edition or otherwise discontinued, but you can still find them from niche perfume sites linked below!

The Best Elie Saab Perfumes
1. ELIE SAAB Le Parfum Eau de Parfum Spray
Released in 2011, this debut scent, often referred to as the original Elie Saab, is a popular and timeless blend that is considered to be the best-selling product in Elie Saab's extensive line of perfumes.
Featuring top notes of African orange blossom, with a mellifluous heart of invigorating floral notes of jasmine that sits comfortably atop a solid base of Virginia cedar, patchouli, and rose honey, Elie Saab Le Parfum is ultra-feminine and fresh.
Adding to its iconic stature, Le Parfum comes in a glass bottle, designed in Baroque style by Sylvie de France.
2. ELIE SAAB L'Eau Couture
Inspired by and promoted as a continuation of Saab's 2014 Spring-Summer Ready-to-Wear collection, L'Eau Couture is rooted in nature –– specifically the burgeoning blossoms of springtime.
Light and highly wearable throughout the warmer season, L'Eau Couture features a curious aura and accord of fresh florals, with citrus notes of bergamot and creamy sweet magnolia at the top, and middle notes of orange blossom and vanilla and green almond at its base.
Bottled in a facetted, crystalline green vessel, L'Eau Couture is spring freshness and sophistication personified.  
3. ELIE SAAB Girl of Now Eau de Parfum Spray
The youthful freshness of the modern woman is captured in Girl of Now, a lilting floral fragrance from Elie Saab, in collaboration with Dominique Ropion and Sophie Labbé, first released in 2017.
Exuberant and playful, this popular scent has been a hit with consumers, spawning several variants –– but nothing quite competes with the original's distinct top notes of Mandarin orange, pistachio, and pear, plus magnolia and orange blossom in the middle, finished off with tonka bean, almond milk, and base of patchouli.
A truly enriching and effervescent creation, Girl of Now is undoubtedly for the girl of now.
4. ELIE SAAB Girl of Now Shine Eau de Parfum Spray
An utterly unique take on the original Girl of Now, Shine is Saab's second fragrance in the line and features a charming top-note mix of pear, pineapple, and pistachio, followed by jasmine and bitter almond in the middle with hints of vanilla and iris at its base.
5. ELIE SAAB Nuit Noor Eau de Parfum Spray
Proclaimed a scent of contrast by Saab and collaborator Francis Kurkdjian, Nuit Noor lives somewhere in the middle of darkness and the light and includes amber accords of woodsy rose flower and Madagascar ylang-ylang.
Vibrant and intoxicating, it is a nod to the vibrant Middle East with its textural top notes of warm spice and patchouli, with middle notes of sweet amber and rose, finished off with a base of balsamic and yellow floral. 
6. ELIE SAAB Essence No. 1 Rose Eau de Parfum Spray
This is one of the four scents in the Elie Saab's original Essence fragrance collection –– and undoubtedly the best.
It has a delicate air of understated subtlety permeating the room when the Essence woman enters wearing the magnificent creation that is No1. Rose, leaving lingering notes of the Bulgarian, Damask, Turkish and Centifolia rose in its path.
7. ELIE SAAB Le Parfum Lumière Eau de Parfum Spray
Launched in 2021, this new fragrance from within the Le Parfum collection features top notes of ylang-ylang and orange, middle notes of jasmine and gardenia, and musk, patchouli, and amber at its base.
A fabulously fresh and smokier take on this iconic line.
8. ELIE SAAB Girl of Now Lovely Eau de Parfum Spray
The latest Girl of Now fragrance, Lovely, was launched in 2022 to much fanfare.
Embracing the same attitudes and ethos of the original line of scent, Saab's newest and most exclusive creation features similar base notes (Tonka bean, amber, and patchouli), but is layered with top notes of mint, rosemary, galbanum, and black currant blossom, plus middle notes of anise, almond and rose.
9. ELIE SAAB Le Parfum Resort Collection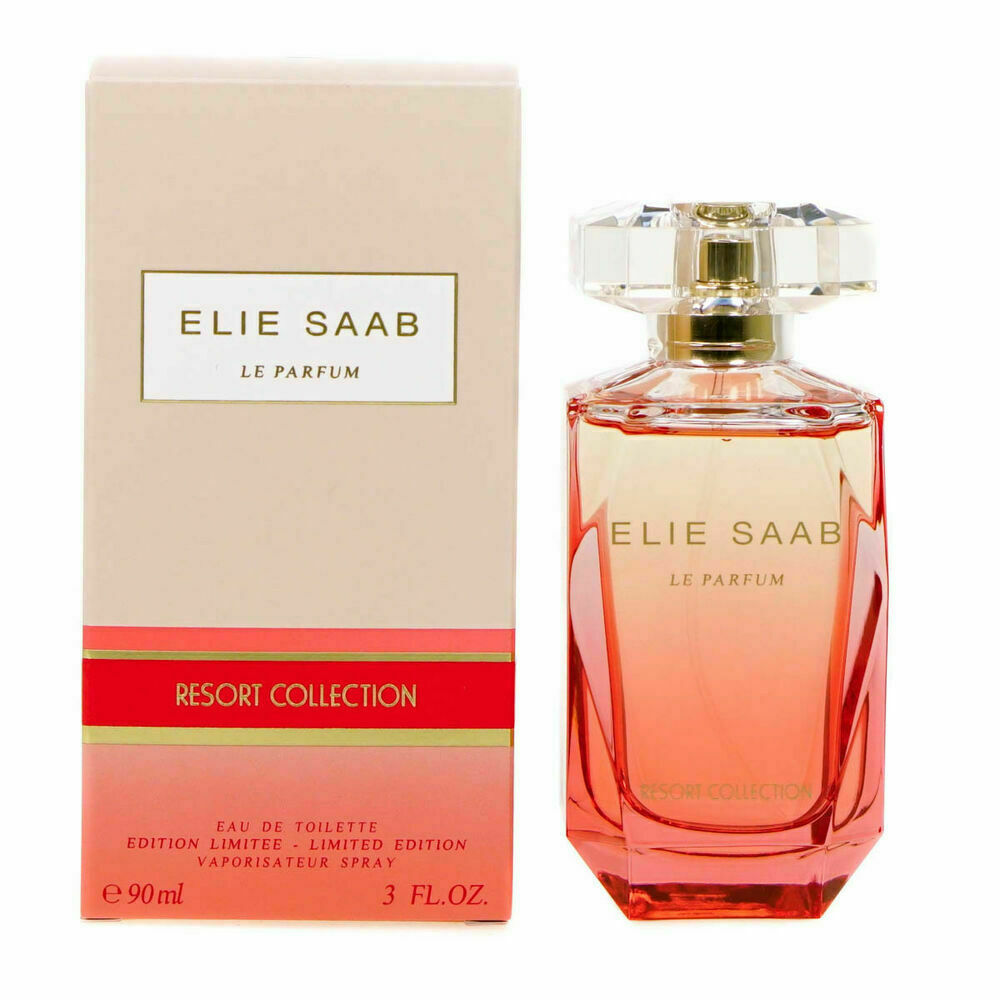 Launched in 2015 as another collaboration with Francis Kurkdjian, this fragrance was both fruity and floral –– two hallmarks of Saab's scented line.
With typically fresh orange notes at the top, melded beautifully with middle notes of frangipani and jasmine and cedar wood and amber at the base, Le Parfum Resort was the first limited edition product from the iconic Le Parfum range and evokes the summertime sun setting beneath the water –– a playful nod to Saab's 2015 Summer Couture collection.
10. ELIE SAAB Le Parfum Intense Eau de Parfum Spray
A bracing take on the iconic Le Parfum, Elie Saab's Le Parfum Intense is just as feminine and light, but with a subtle sensuality lingering just beneath the surface.
Reminiscent of its sister scent, with signature orange blossom at the top, Intense also boasts of a rich and intoxicating blend of ylang-ylang and rose honey in the middle and a smoky patchouli and amber base.
Another successful collaboration between Saab and perfumer Francis Kurkdjian, Intense is the embodiment of the enchanting and alluring woman who enters the room with confidence and intent on leaving behind an unforgettable trail in her slinky wake.
We hope you enjoyed this line-up of the best Elie Saab perfumes for women and found a few new additions to your perfume collection! Did we miss anything? Let us know in the comments below!
Get More Perfume Ideas
20 Best Michael Kors Perfumes That Keep You Smelling Amazing
25 Best Amouage Perfumes That Smell Divine
15 Best Versace Perfumes That'll Enchant Everyone Around You
*Pin it*