10 Parfums De Marly Fragrances For Every Kind Of Occasion
We only feature products that we hope you will love. We may earn a commission if you decide to make a purchase through our links, at no cost to you.
If you're looking to splurge on a high-quality niche perfume, one of these 10 best Parfums de Marly fragrances for her is bound to win your heart.
Known for its sumptuous line of contemporary higher-end fragrances that evoke the royal splendor of the French courts, Parfums de Marly features some truly unforgettable scents among its impressive repertoire for men and women.
But which ones from this incredibly popular, up-and-coming house can be called some of the absolute best? We're here to clear the air. Here is our list of the 10 best Parfums de Marly fragrances for her.

The Best Parfums De Marly, Ranked
1. Delina Eau de Parfum
This ultra-feminine, pretty-in-pink floral Eau de Parfum is sure to warm your heart, while drawing the attention of every nose in the room –– especially the men. It builds around its rose note, giving it a unique effervescent, bright, and juicy character with some tartness in the best possible way.
Originally launched in 2017, as the creation of perfumer Quentin Bisch, the wildly popular Delina scent is the original of three Delina variants, owing to the immense popularity of this floral line.
It's flirty, fresh, fun, youthful and dewy, yet sophisticated enough for those special occasions. Its top notes include litchi, raspberry, pear, and bergamot; middle notes of peony and Turkish rose sit atop a base of white musk and Haitian vetiver. The result is a completely unique girly scent that is worth every penny.
2. Delina Exclusif Eau de Parfum
No, you're not seeing double – the Delina Exclusif flanker, though much alike in its name and notes, is so different from its original version that it attracts a completely different fan base.
Embodying the full quintessence of its flirty predecessor, the heavenly Delina Exclusif Eau de Parfum builds around the same rose notes but does it in a much creamier and woodier way.
While it still opens with juicy top notes, the main body of the fragrance is powdery instead of tart, with noticeable vanilla and woody notes that give the fragrance a superb richness with complex layers. Compared to the original Delina, it's also smoother, more rounded, and soft – it definitely stands in a league of its own.
Its top notes include litchi, pear, and bergamot; middle notes of incense, oud, and Turkish rose, on a base of woody notes, including amber and vanilla, creating a result which is a more mature, sophisticated and voluptuous rose compared to the original Delina.
3. Oriana Eau de Parfum
This fruity, floral gourmand fragrance, created by perfumers Nathalie Lorson and Hamid Merati-Kashani and launched in 2021, is one of the newest scents from the House of Marly.
Balancing rich layers of sweet gourmand and citrus, Oriana is playful, warm, and romantic – perfect for the woman on the go, or the woman headed out for a night on the town. Its top notes include bergamot, grapefruit, and Mandarin orange, with mid-notes of black currant, raspberry, and orange blossom, followed by a creamy base of marshmallow, whipped cream and musk.
While you may be turned off by the sweet accords of marshmallow and whipped cream, don't write this fragrance off before smelling it – while it definitely leans more toward sweet notes, it's been done in a very subtle way.
4. Cassili Eau de Parfum
Upon its release in 2019, Cassili became a favorite within the Parfums de Marly line of scents. And it's easy to see (or smell) why. It's an absolutely sublime blend of tropical, fruity aromas that manage to balance delicately and discretely on the skin's surface, leaving a lasting impression that is ideal for day-to-day wear, particularly in the spring and summer.
This amber floral fragrance opens with red currant and floral notes, including Bulgarian rose, at the top, while middle notes of mimosa, plum, and frangipani dance playfully atop base notes of sandalwood, Tonka bean, and vanilla. The result is juicy, peachy, and fresh – just delicious.
5. Meliora Eau de Parfum
Embodying the epic grandeur of the Palace of Versailles, Parfums de Marly Meliora is a beautiful fresh, green and fruity fragrance with a strong berry DNA that is both contemporary and classic; chic and refined.
The fragrance opens with noticeable red berries, black currant, and cassis notes, which are then developed with middle notes of rose, jasmine tea and ylang-ylang, and finally finished on a base of musk, cedarwood and vanilla.
Meliora has been a lovely and much-loved title in the brand's feminine line of perfumes since it was first launched in 2013, and with Versailles serving as its inspiration, we wouldn't expect anything less grand.
6. Delina La Rosée Eau de Parfum
The latest Delina Eau de Parfum flanker, the Delina La Rosée is another gift from perfumer Quentin Bisch, who created the ultra-rosy counterpart before in 2021. Compared to the original Delina, this version is much more aquatic, fresh, green and ethereal, making it the perfect scent for everyday wear.
Playful and exuberant without the tartness of Delina, Delina La Rosée lingers on your skin for the entire day, which you may not expect as it's so light and watery. What better way to celebrate the emerging spring season?
Discover top notes of litchi, pear, and bergamot; water and floral mid-notes, including peony and Turkish rose; and woodsy base notes of Haitian vetiver and musk.
If you love sporty, light and refreshing fragrances, this one is definitely worth trying. We also adore the translucent perfume bottle – it's so beautiful.
7. Safanad Eau de Parfum
Master perfumer Fabrice Pellegrin envisioned something sparkling and bold for his creation for Parfums de Marly. And in 2013, he delivered. Safanad is a captivating sweet, warm, powdery and floral fragrance born from a vastly inspiring ancestry.
According to legend, the regal Queen of Sheba gifted a wild mare horse, the mother of all Arabian horses, to King Solomon the Wise –– a horse named Safanad, which loosely translates to "pure of spirit." As the myth continued, Safanad was fashioned from the four forces of the varying sides of the earth: imbued with the soul of the north, the strength of the south, the speed of the east, and the wisdom of the west.
As a result, it's easy to see how this compelling fragrance body works to capture all of the above using a curious blend of notes, including top notes of pear and orange; middle notes of ylang-ylang and iris; and a base of sandalwood, amber, and vanilla.
8. Darcy Eau de Parfum
In 2014, Parfums de Marly unveiled two new intoxicating scents, one of which was the ultra-luxe Darcy, a wildly feminine and floral fragrance with a compelling pedigree that harkens back to the early courts of King Louis XV.
A true, royal feat of ingenuity, this powerfully rich Eau de Parfum is equally alluring –– thanks to top citrusy notes of orange and lemon –– and yet starkly simplistic, with a subtle nose that leaves revelers eager for more. This regal body is finished with middle notes of rose and jasmine, and sweet and woodsy base notes, including white musk and patchouli.
These combined elements make for a sparkling blend that is perfect for a majestic lady of regal taste.
9. Athalia Eau de Parfum
Athalia is one of the more unique eau de parfums from the House of Marly. Launched in 2016, it has captivated women far and wide for its truly unique take on earthy musk that melds softly and subtly with sweet florals to create a one-of-a-kind body.
It opens with a curious curl of smokey incense that seems to dance with the underlying citrus, while warmer and sophisticated heart tones of amber and vanilla beckon forward with a richness that is yet strong and staid, and yet still unmistakably feminine.
Top notes of orange blossom are abundant and forward, while middle notes of iris create an enticing allure –– both of which are finished off with white musk and amber at the base.
10. Sedbury Eau de Parfum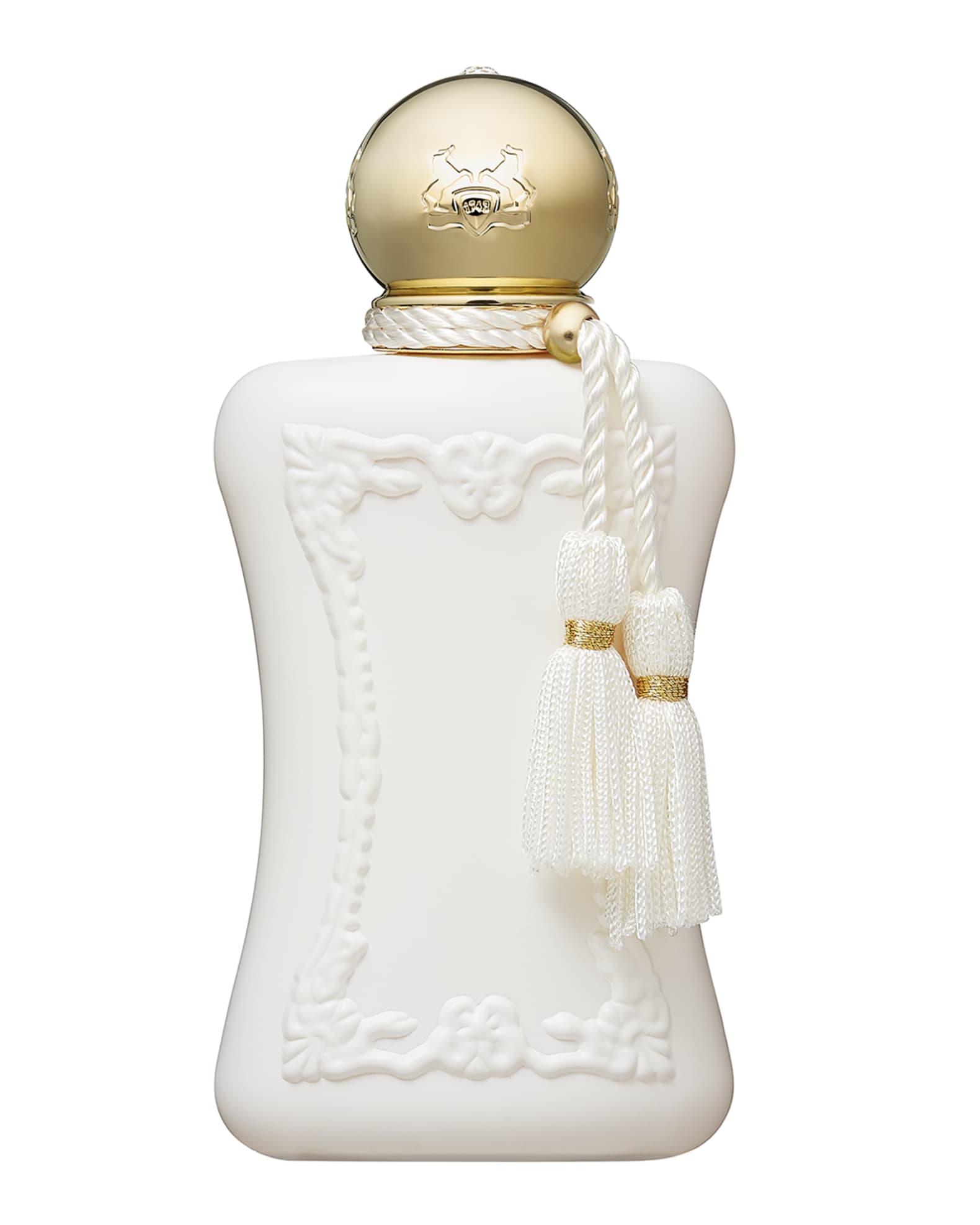 Another title in Parfums de Marly's lineage that pays homage to the raw and enigmatic power of the horse, Sedbury –– according to legend, the fastest, most exquisite physical example of any steed in his day –– delivers a modern, Chypre floral fragrance that embodies the value of the beauty, fine shape, and form.
Contemporary notes blend with classic elements to give the wearer a mysterious air of confident cool and ultra-femininity. Released in 2015, it remains one of Marly's most steadfast and compelling compositions, perfect for the woman who prefers to wear her strong-willed power on the outside, and on the inside.
Its top notes here include tangerine, fresh bergamot, lavender, and clary sage; middle notes include powdery iris, tuberose, and jasmine –– all of which sit atop base notes of patchouli, vetiver, ambergris, vanilla, and benzoin.
We hope you enjoyed our top picks of the best Parfums de Marly perfumes! If you're still looking for a signature scent after reading this, make sure to check out our other similar articles listed below.
Get More Perfume Ideas
10 Best Kayali Perfumes For A Luxurious Scent Experience
15 Best Chloé Perfumes For A Stunning Feminine Scent
15 Best Dior Perfumes For Women, Hands Down