What To Wear In Paris: 15 Must-Have Items To Dress Like A Local
We only feature products that we hope you will love. We may earn a commission if you decide to make a purchase through our links, at no cost to you.
Are you heading to Paris and wondering how to blend in like a local? Check out our guide on what to wear in Paris for chic, effortless looks.
Every year, millions of visitors from all corners of the planet flock to Paris in hopes of experiencing its culture and charm. Not only is this French capital known for its majestic monuments and incredible cuisine, but it's also famous for its fashion.
If you're looking for tips about how to dress like a Parisian, you've come to the right place!
The first thing to keep top of mind is comfort, so your time spent in the city of lights can be as pleasant as possible. Parisian fashion thrives on mixing simple styles in a chic, effortless way: no outrageously extravagant outfits (don't take dressing tips from Emily in Paris), but also no LA-style casual wear.


You will see people who wear impeccably tailored suits and well-coordinated outfits walking the streets, which can make you feel out of place if you're visiting from a more casual corner of the world. While it may seem daunting at first glance (especially if you're coming from anywhere in the US), dressing well in Paris is easier than you think if you follow the simple tips outlined in this packing guide.
We hope that by reading this article on what to wear in Paris, you will be able to start dressing like a Parisian today!

What To Wear In Paris To Look Like A Local
1. Oversized Blazers
Parisian style is sleek, clean, and minimalistic. One way to add instant class and elegance to your look is by throwing on a neutral-colored blazer to keep you warm. While you can wear these blazers with almost anything in your wardrobe, style them with straight-leg jeans in the fall, or structured shorts in the summer for that chic Parisian look.
As for your top, opt for something simple – anything from a minimalist tee, to a bodysuit will look fantastic. To accessorize, choose your favorite pair of mules, loafers, smart sneakers or high heels, depending on where your going – and don't forget your dainty gold jewelry.
2. Plain Tee
As we mentioned above, plain tees are a staple piece that looks effortless under a blazer. However, you don't need to wear your plain tee just with a blazer – they look great on their own or underneath a long coat as well.
We recommend going for a laid-back, loosely fitting T-shirt that's made from 100% cotton to really nail the cool girl look.
3. Trench Coats & Wool Coats
If you're going to be in Paris during the cold season, it's worthwhile to invest in a stylish trench or wool coat. These two items are timeless wardrobe staples that will last you through the years and can be worn in many ways: with jeans or a dress, and with heels or flats.
However, if you're looking for a trendier, Parisian-approved take on a winter coat, why not check out Toteme's best selling scarf-coat?
Lastly, while it rarely snows in Paris, the temperatures do drop pretty low in the winter, so make sure to accessorize with a warm hat and scarf, or go all out with a Moncler jacket to brace the wind and rainy days.
4. Stripes
Yes, they're a cliche. Yes, they're predictable. Say what you will, but stripes are a classic Parisian style staple that pairs well with almost anything. They come in many variations and can be found in every color, though neutral colors like white, beige, black, and grey are the most common and most suited for your French vacation.
Your shirts and sweaters can have horizontal, vertical or diagonal stripes – it's up to personal preference, or the occasion you are dressing for.
Alternatively, if you're looking for a trendy way to wear this classic staple, wear a button-down shirt, blazer, or a simple t-shirt and put your striped sweater around your shoulders, like Ambre Deveaux – so chic!
5. Classic Button-Down Shirts
A classic white button-down shirt is great for a casual day out on the streets of Paris. Remember that less is more; you really don't need to wear anything extravagant or flashy; no need for bold prints and all that jazz.
A button-down shirt tucked into a pair of jeans or pants would be one of the easiest, most effortless ways to embody the Parisian vibe. All that is needed is a great designer handbag, preferably from a French luxury house, and a chic pair of shoes that reflect your personal style.
Think of this outfit combination as a blank canvas for you to mix and match different accessories. You can go for a pair of cute statement earrings and a cute designer purse, or you can even tie a sweater over your shoulders, as per the latest trends.
6. The Perfect Pair Of Jeans
Whether you prefer light-wash or dark-wash jeans, make sure to pack one or two pairs in your suitcase to create versatile looks whilst you're in Paris.
French ladies tend to prefer straight-leg jeans that are easy to style and give off an effortless vibe. As you can see from the pictures above, these are often styled with other Paris style staples like trench coats and ankle boots.
If blue jeans aren't your style, you're in luck – French women can often be seen in white or black jeans as well, so pack a pair if you have one. They will always look good wandering Parisian cobblestone streets or lounging at a cafe with wine and cheese on hand.
7. Comfortable Flats
In Paris, you should wear comfortable shoes. This may sound obvious, but it's important to remember that comfort is key in any city when you're walking (or e-scooting) everywhere.
Depending on your personal style, we recommend opting for a chic pair of loafers, ballet flats, sneakers, mules, or flat sandals.
Loafers are one of the comfiest year-round shoes that always look stylish. They are the perfect items to pack with you, as they can be worn in any situation, from a casual day out to fancy dinners with friends.
Ballet flats, sandals and sneakers are other great options for walking around Paris that will go with a multitude of outfits. Like loafers, they are super easy to walk in. If you want to look chic while avoiding the blistering heat of stilettos, ballet flats are a good option for you.
8. Classic Crossbody Bag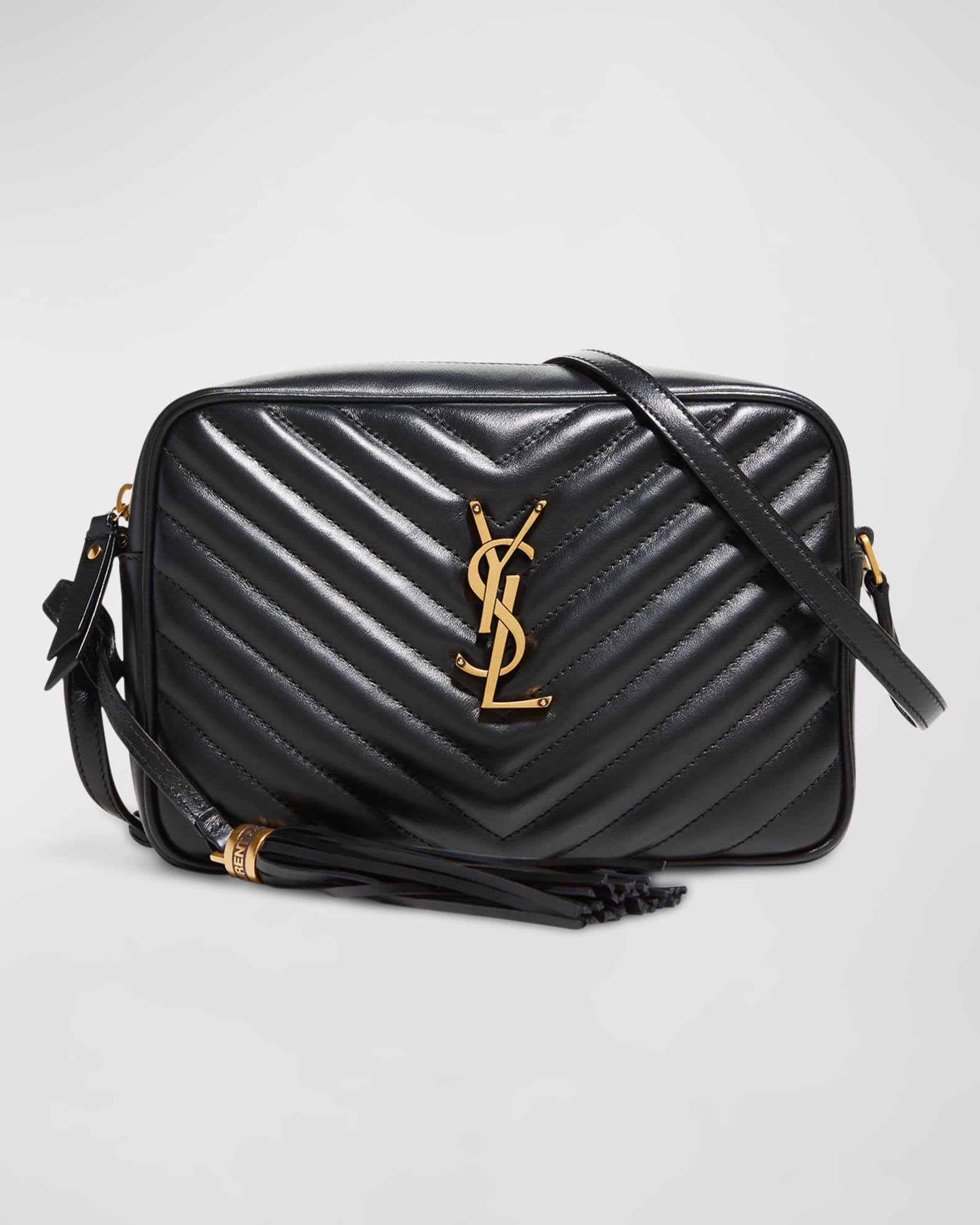 If you're planning to stay out the entire day, a light crossbody bag that fits all your essentials in your best choice. As we've discussed already, Parisian women love a minimalist look, but they also love a bit of logo, especially if it's from a French fashion house.
If you're looking to up your style game, add a timeless designer crossbody bag to your arsenal. The Celine Triomphe, featured above, is especially trendy at the moment and with its classic, minimalist appeal, is sure to stay an it-bag for years to come.
9. Comfy Knits & Cardigans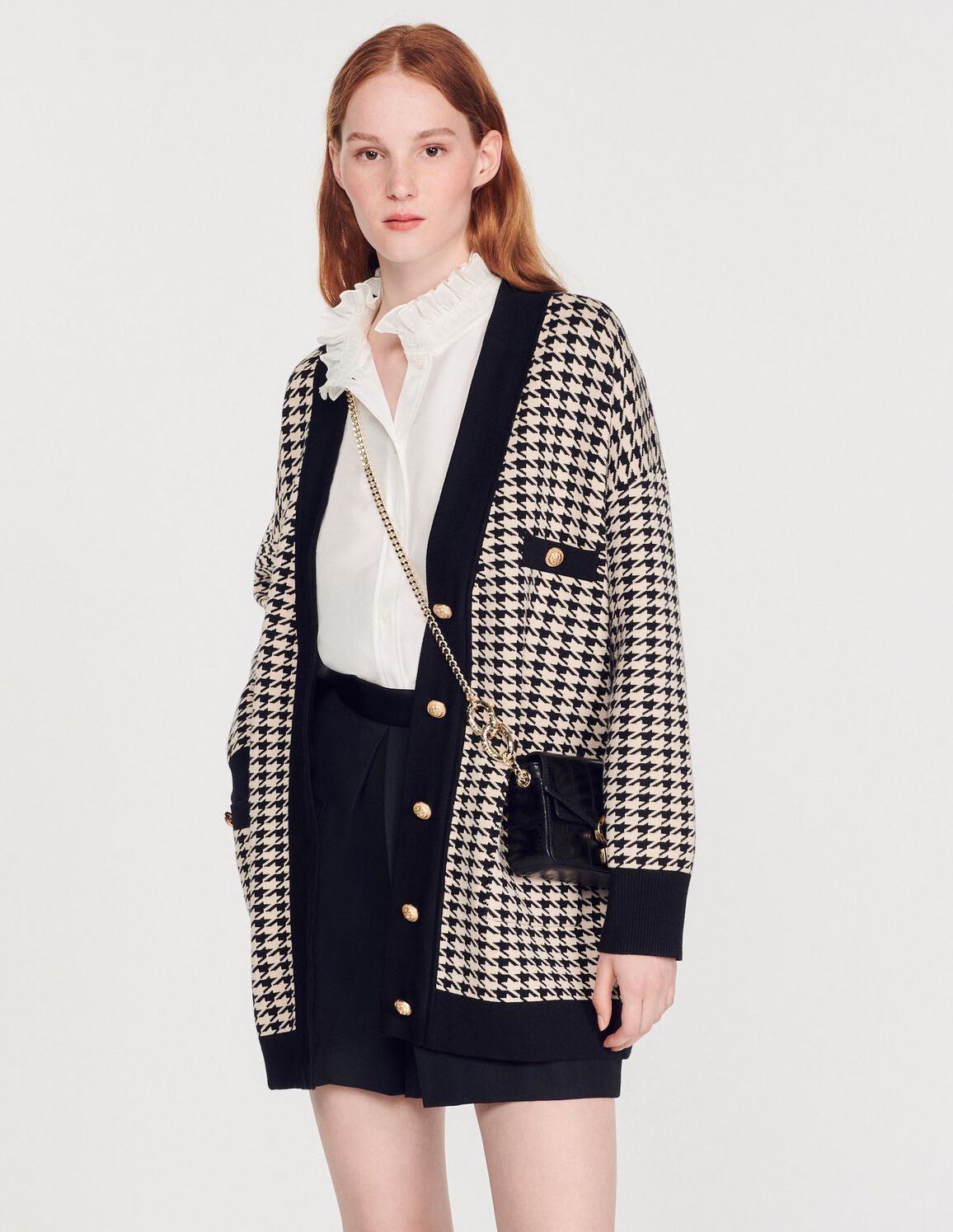 Whether it's a knitted turtleneck, an oversized warm sweater, or a chic sweater vest, you absolutely need to add a few cozy knits to your Paris outfits! Comfortable sweaters are a great way to keep warm during the winter months.
Or when it's ever so slightly breezy, you can also wear a sweater vest instead. You can pair this with jeans, trousers, and you can even wear a button-down shirt or a dress underneath this. For extra style points, style your outfit with a chic pair of designer flats, like the Chanel ballet slippers featured above.
10. Flowy Dresses
If you're looking to dress in a way that is both stylish and comfortable, flowy dresses are your best bet. They will keep you cool and comfortable during the summer months in Paris, which can get quite hot and stuffy.
In our opinion, polka dot dresses are especially pretty, and work wonderfully when worn with a pair of block heels. If you want something more ditsy and feminine, opt for a floral dress with dainty floral patterns. If possible, choose a dress that only has 1-2 colors on it, to keep your look more s
A flowy, breezy dress can be paired with a cardigan, blazer or coat for a fall-time look, or left alone for a more casual feel. It can be worn with flats, white sneakers or heels—just make sure they're not too high if you're walking around all day!
11. Straight & Wide-Leg Trousers
While a pair of trousers may seem a little formal to bring on your Paris trip, this stylish garment can be seen everywhere in Paris.
Your safest bet is to opt for a dark grey or black pair of straight-leg trousers and wear them with other staples mentioned on this list, but you can also choose to go for a completely neutral, ivory look – this is such an elegant option for winter!
To style, simply wear your favorite pair of sneakers, loafers, ballet flats or heeled ankle boots to add some height.
12. Chic Pair Of Boots
One cannot simply go to Paris without visiting the iconic tourist spots: the Eiffel Tower, Arc De Triomphe, the Louvre… and it involves a lot of walking. Like, a lot.
Your feet will thank you if you wear a comfortable pair of ankle boots, whether they have a slight heel or not. You can wear them with almost anything and come across stylish.
If you're looking to up your style game a little, opt for a chic pair of combat or Chelsea boots, like the ones featured above, or perhaps even a pair from Chanel to give your outfit a trendy twist.
These will add a slightly edgy vibe which is perfect if you want to look casual and chic at the same time.
Alternatively, if you're planning on wearing a lot of dresses and skirts during your visit, add a pair of knee-high boots to your suitcase – not only will they keep you warm, they will look incredible in the streets of Paris!
13. All Black
When in doubt, go all black and let your accessories do the talking. Whether you're going for a little black dress or simply wearing your favorite pair of black jeans with a cardigan, an all-black look is an easy way to look super chic.
Accessorize with a chic designer shoulder bag and a pair of heels if you're going out, or opt for comfortable boots if you're stepping out during the daytime.
14. Long-sleeve bodysuits
Long-sleeve bodysuits are a great option for when you want to wear something that's not quite a sweater, but can still keep your arms covered. Bodysuits also hug your figure, so they're a chic option to wear with your wide-leg jeans or trousers.
They are versatile, comfortable and fashionable at the same time, which is exactly why French girls love wearing them!
15. Breezy Blouses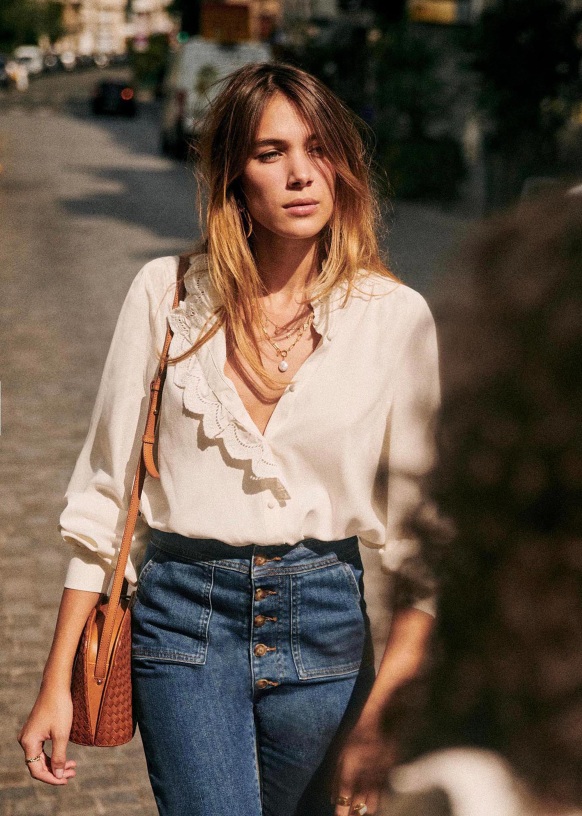 Feminine blouses are a good choice for summer, spring or fall. They're light and airy in the summertime but can also be layered under a light jacket or a trench coat during colder months.
We especially love blouses with polka dot prints and floral prints, as they give off that effortless Parisian vibe without being too formal.

Style Tips To Remember
1. Neutral Color Palette
The basic color palette in Paris is neutral with black, grey, brown and white as the foundation. French people are known for their impeccable style and timeless taste, so this means going for neutrals, with an optional dash of brighter colors here or there.
These colors will help you appear more put together even if your outfit isn't perfect. You can either choose to wear one neutral color on top along with a pair of jeans or go for a more simple look by pairing your trousers with a plain t-shirt and sneakers or boots depending on the season.
A good rule of thumb when it comes to dressing for Paris is to stick with the basics. The key is not to overdo it by wearing clothes that are too revealing, tight-fitting or extravagant à la Emily In Paris when walking around town.
2. Prints
Parisians also love a bit of print, whether that's in the form of an oversized houndstooth coat, a silk scarf with an intricate print, or the ever-popular polka dots and stripes.
While there's no need to buy new clothing with these prints, if you already own a piece that fits the bill, bring it with you on your French getaway.
3. Clothing To Avoid
Avoid wearing berets – these are a cliché that locals tend to steer clear of, and only tourists sport when wandering around Paris.
Also, avoid overly casual clothing, such as flip flops – these are best worn on the French Riviera.
Similarly, while a denim jacket, yoga pants and even leggings are staples in the US, locals don't tend to wear them as much.
Conclusion
We hope that now you have a better understanding of how Parisians dress and what clothes to wear in Paris. The key is to be comfortable, but also try not to look like a tourist by blending in with the locals.
While our fashion tips include the basics you should try to incorporate into your wardrobe, it's a good idea to inject some personal style into your look too, whether that means wearing a specific color that suits your completion, or opting for more outfits with a leather jacket, or skirts and tailored shorts, that we left out in this particular list (but are always a welcome addition, particularly for spring and summer days).
Get More Fashion Ideas
How To Create The Perfect Minimalist French Capsule Wardrobe
20 Best Chloé Bags To Add A Parisian Touch To Your Wardrobe
10 Chic Brands Like Sezane For An Effortless Parisian Vibe