Tiffany & Co Vs Pandora: Which Jewelry Brand Is Best?
We only feature products that we hope you will love. We may earn a commission if you decide to make a purchase through our links, at no cost to you.
Tiffany & Co and Pandora are among top luxury jewelry brands, with stunning necklaces, bracelets, and earrings, but which brand is better for you? Find out in this Tiffany vs Pandora article.
Both Tiffany and Pandora are two brands that are very well known for their beautiful jewelry collections, loved by customers all over the world. If you are looking for a gorgeous pair of earrings or a striking necklace, then Tiffany and Pandora are among the best brands to go for.
On the surface, it may appear that these brands are quite similar, but if you look closely, there are some significant differences that will help decide which brand is right for you.
This article will take a look at the history of each brand, the differences between them, and some of the best-selling pieces, before coming to a conclusion on Tiffany vs Pandora so you can figure out where you should buy your next pair of earrings or bracelet!

tiffany vs Pandora
The history of Tiffany
Tiffany & Co was founded in 1837 by Charles Lewis Tiffany and John B. Young in Brooklyn, Connecticut, initially as a stationery and fancy goods store. The brand began to focus on just jewelry in 1853, then Charles Tiffany took control of the brand.
To advertise, Tiffany produced their first mail order catalog in 1845, known as the 'Blue Book' which is still in production today.


During the Gilded Age of the 1870s, Tiffany also bought one of the largest yellow diamonds in the world, which became known as the Tiffany diamond. This diamond has only ever been worn by four people, and it firmly established Tiffany as a diamond jewelry brand.
In 1902, Charles Tiffany's son, Louis Comfort Tiffany took over and became the brand's first official design director helping to grow the brand to become the high-end jewelry brand that it is today. In 1998, the Tiffany blue color was trademarked, then in 2001, the house of Tiffany partnered with Pantone to officially name the color 1837 blue, establishing Tiffany blue as the worldwide recognized shade that it is now.
For decades, Tiffany has been producing luxury jewelry in contemporary that is sold not only across North America, but also all over the world. There are 93 Tiffany & Co stores across the United States and 321 stores across the world, offering the full product range of Tiffany jewelry, china, stationery, watches, accessories, and leather goods.
The history of Pandora
Pandora is a Danish jewelry brand, founded in 1982, that began as a family-run jewelry store in Copenhagen. The company was founded by husband and wife duo, Per Enevoldsen, who was a goldsmith, and Winnie Enevoldsen.
Pandora was initially a store that sold imported jewelry, until 1989 when the Enevoldsen's hired in-house designers so they could create their own pieces that were then manufactured in Thailand. The production costs were low and this meant Pandora could offer hand-finished jewelry at an affordable price that would appeal to a wide range of customers.


In 2000, the iconic Pandora charm bracelets and a wide range of uniquely designed charms were added to the collection and quickly became a success. Pandora's stylish yet affordable jewelry was popular all over the world and the brand became the third largest jewelry company, in terms of sales, just behind Cartier and Tiffany & Co.
In 2011, it was calculated that, on average, one piece of Pandora jewelry was sold every second.
In an effort to become more sustainable, it was announced in May 2021 that the Pandora brand would no longer use mined diamonds, instead opting for laboratory-grown diamonds, which are much kinder to the planet.
Pandora jewelry is now sold all across the world – across 100 continents there are 6,700 points of sale, with 2,400 of these being concept stores. In 2011, the online store was launched, available across Europe, before it was expanded to cover the whole world.
The Differences between tiffany Vs Pandora
Let's take a look at the differences between Tiffany and Pandora to help decide which brand is right for you!
1. Price range
Firstly, the price range of each luxury brand is different and will play a big part in determining which brand fits your budget and is right for you. Tiffany products are significantly more expensive than Pandora items. for example, a Tiffany necklace will sell for between $185 and $225,000, while a Pandora necklace is available for between $40 and $1,950.
If you are looking at high-end bracelets, Tiffany has a wide range on offer for between $195 and $90,000, while Pandora bracelets sit in the price range of $85 to $2,895. There are lots of stunning rings available from Tiffany, including some incredible engagement rings, all of which are available for between $175 and $27,000; at Pandora, rings are sold for anywhere between $30 and $4,450.
For one, singular earring from Tiffany you could pay $185, while the most expensive pair is $56,500, meanwhile, at Pandora, a single earring will cost you $20, while the most expensive pair available will cost you $1,550.
2. Brand styles
Tiffany and Pandora have very different styles of jewelry, and one brand may have a style that better suits your look.
Tiffany has more of a paired back, minimalist aesthetic with exquisite craftsmanship that really shows off the glittering diamonds. There are also many iconic Tiffany collections that are a must-have in your jewelry boxes, such as the Tiffany T, Return To Tiffany, Tiffany Knot, and Elsa Peretti collections.
Pandora often has more playful designs, with lots of heart, star, and infinity motifs, often decorated with sparkling cubic zirconia. There are also lots of Pandora collaborations, with Harry Potter, Star Wars, Marvel, and Disney so there really is something for everyone.
Best selling items from Tiffany And pandora
There are so many incredible pieces available from Tiffany and Pandora, so we have picked a couple of best-selling items that we think you will love and will give you an idea of the prices and style of Tiffany and Pandora Jewellery.
1. necklaces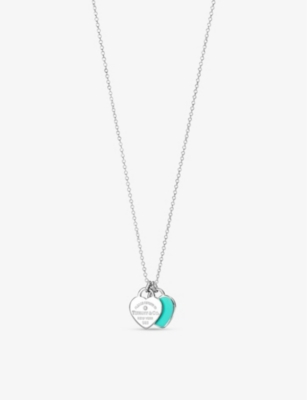 This classic Return To Tiffany Necklace is a must-have piece, that will really stand the test of time. The delicate chain features a sterling silver heart-shaped tag with a Tiffany blue heart tag, that has been inscribed with the recognizable "return to Tiffany" slogan.
This Pandora Sparkling Infinity Collier Necklace is a gorgeous, timeless piece that you can wear every day. Crafted from sterling silver, the pendant is in the shape of an infinity symbol to represent an eternal bond and then decorated with cubic zirconia for an added touch of sparkle.
2. bracelets
Tiffany offers a wide range of simple, minimalist bracelets such as this sophisticated and versatile HardWear sterling-silver link bracelet. This chunky bracelet is among Tiffany's best-selling jewelry and will fit well into any silver-loving person's jewelry cabinet due to its chic and striking look.
Pandora is well known for its charm bracelets, from which there are hundreds of different Pandora charms to choose from. This Pandora ME Link Chain Bracelet is a stunning bracelet on its own, but would look incredible decorated with a diverse collection of charms, plus is available in different metals to suit your style.
3. Earrings
These Tiffany Victoria platinum and marquise diamond stud earrings are part of Tiffany & Co's fine jewelry collection, and while their price is high, they're just so beautiful! The delicate little flowers are crafted from platinum and then embellished with marquise-cut diamonds to add dazzle – just so irresistible.
We love the classic look of these Pandora Square Sparkle Halo Stud Earrings, that you can adapt to suit your jewelry style. Available in silver or rose gold, with a clear or blue cubic zirconia stone, these earrings will guarantee an elegant and chic look.
conclusion
There are so many beautiful pieces of jewelry available from Tiffany and Pandora that it is difficult to choose between these two brands. However, if you take into account your budget and personal style, you can find the right brand for you.
If you have a little more money to spend and want a classic piece made with luxurious materials, then Tiffany is the brand for you – there are so many timeless items that you will treasure for years to come.
If you are on a tighter budget and more of a playful, statement piece, then Pandora is the brand for you – there is a wide range of pieces in different styles so you are guaranteed to find something you love at an affordable price.
We hope you found this article analyzing Tiffany vs Pandora helpful! For more luxury fashion content, check out the links below.
get more luxury fashion ideas
Pandora Vs James Avery: Which Jewellery Brand Is Better?
25 Best Designer Jewelry Brands You Will Love
David Yurman Vs Tiffany & Co: Which Jewelry Brand Should You Go For?