Is Coach A Luxury Brand? All The Details You Need To Know
We only feature products that we hope you will love. We may earn a commission if you decide to make a purchase through our links, at no cost to you.
American brand Coach is known for its stunning fashion collections and beautiful handbags – but can we consider Coach a luxury brand?
Coach has been a staple in the American fashion and leather goods market for years thanks to its high-quality items and sleek, modern designs. The brand always delivers on utterly irresistible handbags, but can we add Coach to the list of designer and luxury brands in the fashion industry?
Coach's contemporary, stylish designs, made with good-quality materials, as well as the brand's long history, mean that some may consider it to be a luxury brand.
However, the price point of Coach purses and handbags is not the same as other luxury and high-end fashion brands such as Louis Vuitton or Gucci, so others may not view Coach as being a true luxury brand.
This article is going to consider the history of Coach, the quality of its products, and some of the top Coach items before coming to a conclusion on the question, is Coach a luxury brand?

Is Coach a Luxury brand?
The history of Coach
The Coach brand was founded in 1941 and initially began as a family business and workshop in Manhattan, named Coach New York.
The workshop encompassed six leather workers and the company began by making wallets, all of which were made by hand. The workshop was transformed into a brand of its own in 1946, when husband and wife duo, Miles and Lillian Cahn joined Coach and bought their knowledge of leatherworks and businesses with them.


In 1962, the Cahn's hired Bonnie Cashin and named her as the first head designer – she refreshed the colors and proportions of designs and added her own element of individuality, all of which reflected the mood of 1960s New York City.
Coach focused their attention on not only improving the quality of their products and the materials used but also their community in Manhattan. The designer brand took inspiration from New York City, whilst imbuing the company with an ethos of care and love for the community and workers around them.
Miles Cahn wanted to improve the leather used to make Coach products, so he began to process the leather used in baseball gloves, and incorporated it into his luxury goods as it was stronger, yet more flexible and softer than typical leather used at the time. Lillian Cahn suggested including women's handbags into their collection, making use of the same leather – the brand's cowhide handbags became an instant success.
In 1965, Richard Rose joined the fashion brand and ensured that Coach products were stocked in department stores all across America. The brand changed again in 1985 when the Cahn's sold Coach to the Sara Lee Corporation and Lew Frankfort took over as the president of Coach.
In 1996, Frankfort named Reed Krakoff as creative director. He focused his attention on creating luxury goods that were both functional and stylish. This approach meant that Coach grew into the world-famous brand that we know it as today, with retail stores around the globe.
Krakoff remained at Coach until 2014 when Stuart Vevers took over as creative director. As the previous creative director of Mulberry and Loewe, Vevers had lots of previous experience and was the perfect person to take over the role of leading Coach.
The commitment and care of their community that has been a key aspect of the Coach brand since its origins were brought to the forefront in 2008 when the Coach foundation was established. The aim of this foundation was to support charities and organizations that educate and empower women and children all across the world.
Now, Coach is a top fashion house that creates luxury handbags, accessories, and a ready-to-wear collection, with Jennifer Lopez as the global face of the company.
The Quality of Coach
To determine whether Coach is a luxury brand, we need to consider the quality of Coach products. To do this, we are going to take a closer look at the price range of Coach bags, the craftsmanship, and the materials used in their production.
1. Price Range & Sales
If you are looking to buy a Coach handbag, then you will be expecting to spend between $150 and $795. A smaller bag made from a material such as a coated canvas will be much more affordable than a larger leather bag.
If you compare this price range to other luxury brands, it is significantly less – the majority of Louis Vuitton bags, for example, retail for well over $1,000, while all Coach bags are available for less than $1,000.
Coach is also sold in outlets across America as well as online, and regularly has sales on their main website. While some luxury brands do have outlets like Burberry in the UK and Gucci in Italy, this isn't common place in the world of luxury fashion. Furthermore, most true luxury brands do not discount their products, unless it's through a retail partner like Net-A-Porter or Bloomingdale's.
2. Materials
There is a wide variety of materials used in Coach items, so there is bound to be an option to suit every personal choice. For leather, Coach lists smooth leather, Nappa leather, natural leather, and pebbled leather as the different types used in their handbags.
All of these high-quality leathers ensure Coach bags have a luxurious finish and are also durable, so you know you can get years of wear from your new Coach bag. Coach handbags are also available in canvas, cotton, nylon, and suede so there is an option for everyone and every budget, especially those who are not interested in leather bags.
Many luxury brands use cowhide leather, canvas, and suede as Coach does in the production of their luxury handbags.
However, you will often find that high-end fashion brands will use a variety of more expensive leathers, too. For example, Chanel and Gucci both make use of lambskin, calfskin, and exotic leathers in their bags to guarantee the most luxurious of finishes.
3. Craftsmanship
In terms of craftsmanship, Coach women's handbags are made by leather goods specialists in Cambodia, Vietnam, and the Philippines to create great quality handbags that will really stand the test of time and look incredible for years to come.
However, most true luxury fashion houses have craftsmen and women close to their headquarters in Europe. For example, Gucci often produces their bags in Italy, while Dior bags are made in Spain or Italy. This does mean that the production of Coach bags is not at the exact same standard as these other luxury brands.
Top Items from Coach
There are lots of different Coach bags available online, so you are guaranteed to find something that suits your personal style and that fits within your budget.
We've picked a few of our favorite Coach bags to inspire you, and perhaps you will see one you love and want to add to your shopping basket!
1. Coach Pillow Tabby 26 Leather Shoulder Bag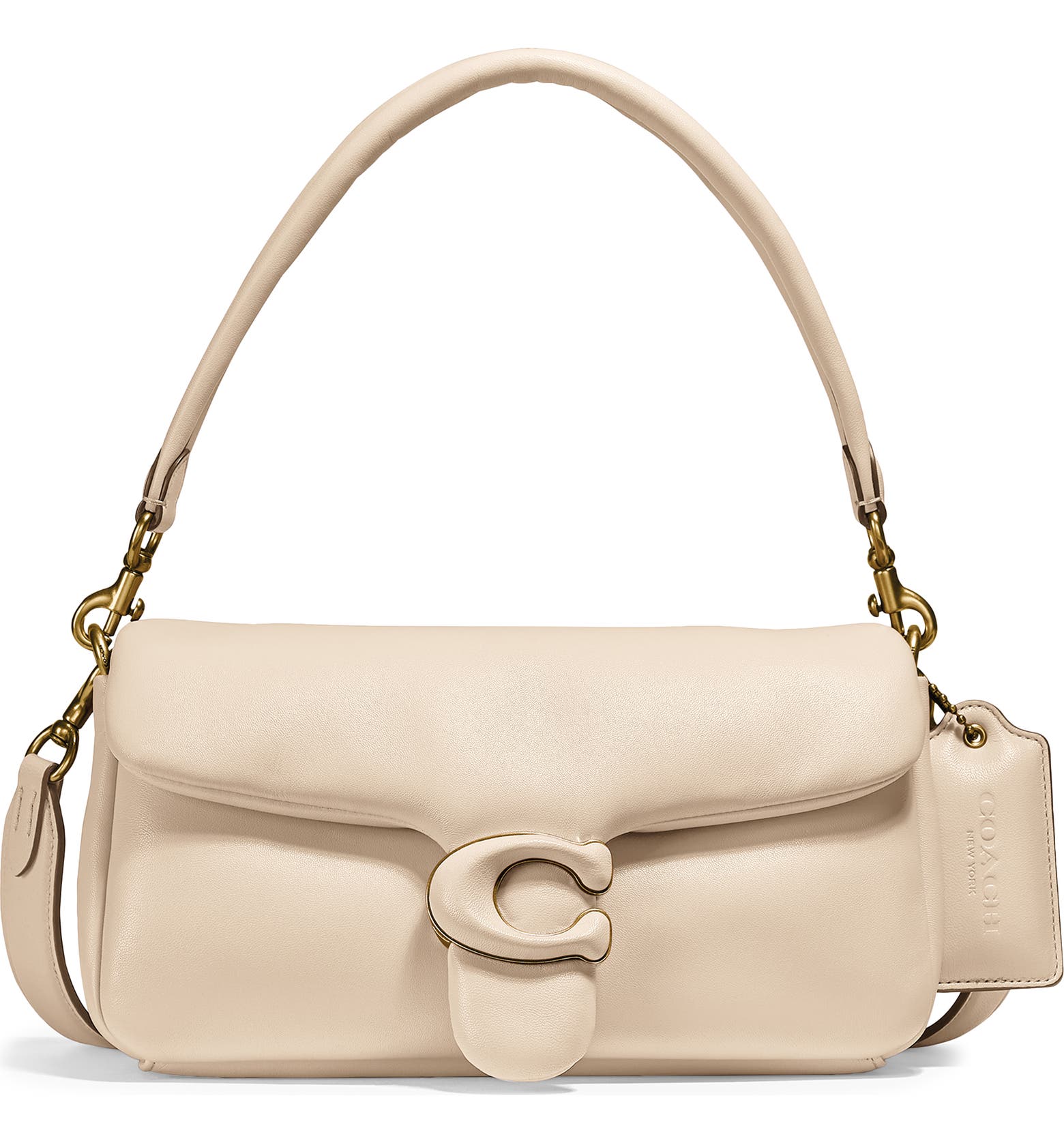 A shoulder bag can be dressed up or down, making it an essential bag to have in your collections – and we absolutely love the Pillow Tabby 26 Leather Shoulder Bag.
Available in a smaller size too, this pillowy shoulder bag is crafted from sumptuously padded leather for a smooth, plush finish that is totally unique. The C Coach logo sits front and center on the front flap, in the same shade as the leather for a tonal aesthetic.
Coach has ensured lots of styling options with the addition of detachable handles and straps, meaning the bag can be carried as a clutch or worn as a shoulder or crossbody bag – perfect!
2. Coach Field 22 Colorblock Leather Tote Bag
A tote bag is a very versatile piece to have in your wardrobe – whether you are having a relaxing weekend or are heading off to work, a tote is the ideal go-to bag.
We love the bold color blocking on this Coach Field 22 Colorblock Leather Tote Bag, the combination of white, tan and navy makes for a gorgeous luxury handbag.
This tote has sleek top handles and comes with a detachable, adjustable shoulder strap guaranteeing endless versatility. The open-top means easy access to the spacious interior, that is fitted with a zip pocket for complete practicality.
3. Coach Pebbled Leather Camera Crossbody Bag
A crossbody camera bag is the ideal compact option that you can just throw on, whatever the occasion. Coach has some fabulous crossbody bags, but our favorite is the Soft Pebble Leather Camera Crossbody Bag.
The textured leather not only looks incredible but also means the bag is really durable. The minimalist design of this bag ensures a sophisticated, polished look, with the only decoration being the gleaming gold turn lock on the front of the bag.
This Coach bag comes with a detachable leather strap for hands-free carrying. Get your hands on this handbag for just $295!
4. Coach Willow Leather Bucket Bag
Bucket bags are so popular at the moment for their stylish nature and practicality – as shown in the Coach Willow Leather Bucket Bag.
The black pebbled leather bucket bag has a sleek look, as well as versatility with the option of a shoulder strap or longer crossbody strap. The sparkling silver hardware, of the C logo and turn-lock, adds a little glistening element to this paired bag back.
Inside, you will find an exquisitely organized interior, fitted with a central zip compartment that splits the bag in half – meaning you can always remain organized and find everything you need!
Conclusion
After considering all these details and important factors about the Coach brand, we see Coach as a mid-range, accessible luxury brand, not a true luxury brand in the upper echelon of premium brands.
The price range and materials used show that Coach produces good-quality products but they are not as high quality as the top luxury fashion and handbag brands.
Coach is an all-American brand that is around about the same level as Michael Kors, Tory Burch, Kate Spade New York, and Marc Jacobs with a mid-range price point, stylish and contemporary designs, made from plush fabrics and materials.
If you are just starting your luxury handbag collection, Coach is a great brand to start with, thanks to the more affordable price yet modern and trendy silhouettes. Or, if you are looking for a durable bag that would be ideal for everyday use that you won't have to worry about scratching or scuffing, then any of Coach's pebbled leather or coated canvas bags would be perfect for you.
If you are after a mid-range luxury handbag, then Coach is definitely one of the best brands to head to along with Tory Burch.
We hope you found this analysis of whether Coach is a luxury brand interesting! For more luxury fashion content, check out the links below.
Get more luxury fashion ideas
Guess vs Guess Factory: What's The Difference?
20 Best Designer Beach Bags For Your Summer Vacation
Hugo Boss Vs BOSS: What's The Difference?