The 12 Best Prada Perfumes For Women, Ranked
We only feature products that we hope you will love. We may earn a commission if you decide to make a purchase through our links, at no cost to you.
Looking for a new delicious scent that reflects your mood? Prada has great options to check out – here are the 12 best Prada perfumes for women.
We all know and love Prada – it's an iconic fashion brand that has been at the forefront of global fashion for decades. The Italian luxury fashion house has been creating highly-coveted luxury products since 1931, and added its line of fragrances to its collection in 1990.


With their carefully-curated scents, sleek packaging, and distinctively feminine aroma profile, Prada fragrances are perfect for any woman who wants to smell exquisite.

The Best Prada Perfumes For Women
1. Prada Candy Eau de Parfum
First on the list is the ultra-popular Prada Candy perfume. Candy EDP is a grown-up version of your favorite toffee — with prominent notes of caramel, benzoin and vanilla, it's a warm caramel fragrance that you wish you could eat.
At the heart of the perfume, you'll also find powdery notes and musk, making the perfume smell a little like makeup in the best way possible. This also adds a bit of a grown-up vibe – while its still definitely young and girly, it's not as youthful as you may think just by looking at its gourmand notes.
As Candy EDP is warm, we recommend it for fall and winter wear – it's so cozy and delicious.
2. Les Infusions Iris Eau de Parfum
Les Infusions Iris Eau de Parfum is part of Prada's Infusion collection, which was brought to the market in 2007 as a set of limited edition perfumes, but was brought back in 2015 as permanent addition to the brand's fragrance line.
Les Infusions Iris Eau de Parfum is centered around the iris note and is one of the best-sellers from the line. Iris notes are typically powdery, and expensive smelling but also sometimes a little old-school by themselves; however, this fragrance truly brings out the best of iris without overshadowing it with other notes.
The perfume opens with a gorgeous soft mix of iris with fresh, citrusy top notes of orange and mandarin orange, as well as African orange flower and neroli. At the heart, galbanum adds a touch of greenery, which then turns woody and slightly smokey from the base notes of vetiver, incense and cedar. You may also notice benzoin in the base, which adds a warm, sweet amber touch to the iris fragrance.
It's the perfect perfume for a confidence, elegant woman who is looking for an expensive-smelling fragrance that is a modern classic. Of course, you will have to love iris to fully appreciate this perfume! As the fragrance is quite light, it's best reserved for daytime wear, and works wonderfully for spring and summer months.
3. La Femme Eau de Parfum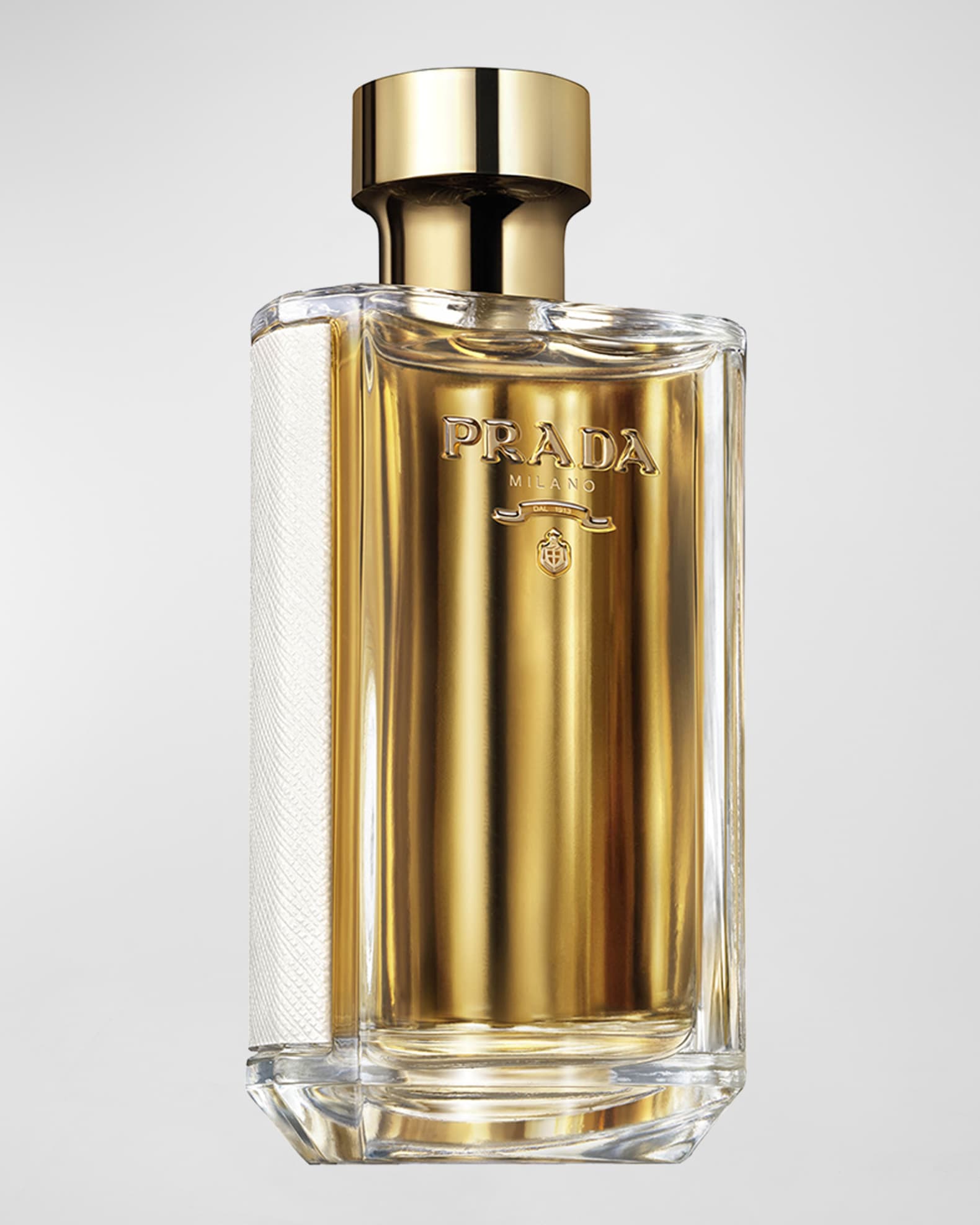 If you love white floral fragrances, Prada La Femme EDP is for you. This tropical fragrance can instantly transport you to a beach in Hawaii, dressed to the nines with flowers in your hair.
While the perfume contains a bouquet of different florals, its keynote is sweet, creamy frangipani that is mixed with a rare note of beeswax, which mellows out the composition and brings a waxy, balanced and calm vibe to the perfume.
Other prominent notes include tuberose, delicious ylang-ylang, vanilla, iris and vetiver, which adds a beautiful grassy undertone to the perfume. You may also notice a hint of spice, which separates it from your typical floral perfume.
The result is a very beautiful perfume that is the perfect balance of tropical notes with white and yellow florals. It's not overpowering at all, which makes it a great perfume for daytime wear.
4. Amber Eau de Parfum
If you're looking for a perfume with an elegant take on unisex scents, you'll definitely want to check out the Amber Eau de Parfum. This fragrance combines amber, patchouli and woody notes to create a classy, sophisticated scent that will make you feel like a million bucks.
It's strong and spicy, perfect for the woman who knows how to carry herself. While it opens with citrusy tops notes of mandarin and bergamot, the DNA of the perfume lies in its base and middle notes of patchouli, benzoin, labdanum, and sandalwood. You may also pick up on notes of pink pepper and rose at the heart.
As this is a strong, warm fragrance, it's the perfect scent for colder weather when you're looking to add some sophistication to your look.
5. Prada Paradoxe Eau De Parfum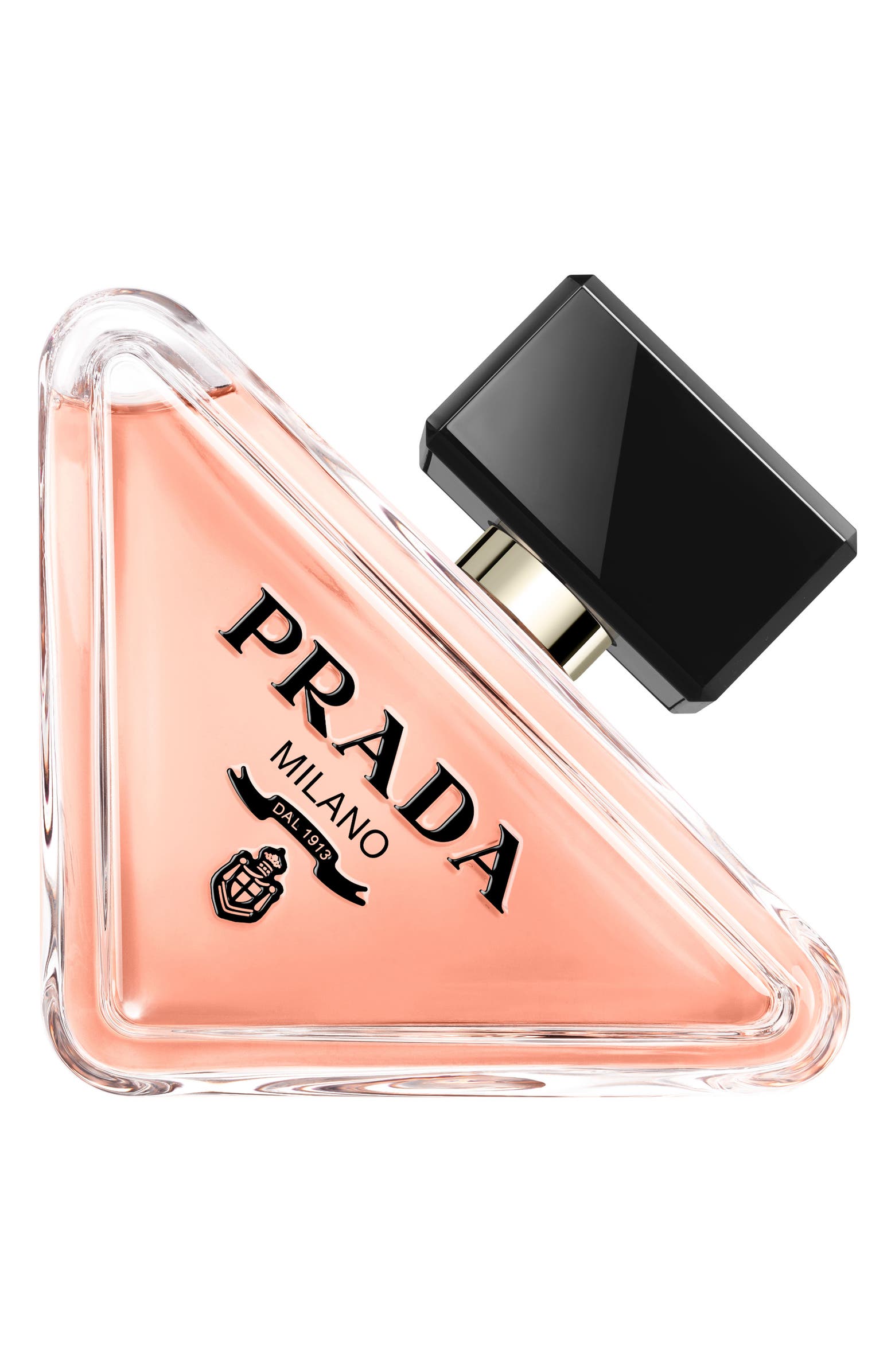 Prada Paradoxe EDP is the brand's latest fragrance release, riding on the very popular trend of sweet, white floral fragrances. It's a somewhat familiar scent, which is very fresh, clean and likeable, perfectly safe for the office.
The perfume's most prominent notes are white flowers like orange blossom, neroli and jasmine, which are mixed with addictive bourbon vanilla, warm amber, and sweet benzoin to create a cozy, slightly boozy blend that's perfect to take you from day to night during the fall and winter.
You may also notice fruity top notes of bergamot, pear and tangerine, which add a freshness to the scent, as well as an undertone of white musk at the base, which enhances the clean vibe of the perfume.
All in all, while Prada Paradoxe EDP is definitely likeable, it's not original. As we said before, it's a very familiar scent, and there are multiple other scents like it on the market. This can be a good thing or a bad thing, depending on what you are looking to wear in your everyday.
6. Les Infusions Rose Eau de Parfum
As its name would imply, Les Infusions de Rose Eau de Parfum is an utterly feminine blend of Turkish and Bulgarian rose, with fragrant mandarin orange, airy neroli and green galbanum.
It is a classic, refined rose fragrance with a hint of orange, so you'll definitely have to love straightforward rose fragrances to appreciate this blend. It's light, it's fresh, and it's floral – almost reminiscent of a rose water.
Use this in the daytime, preferably during the spring or summer to get the most enjoyment out of the fragrance.
7. Prada Candy Kiss Eau de Parfum
While Prada Candy Kiss EDP is a flanker of the original Candy line, it's quite different in its scent composition. Instead of being a caramel fragrance, you'll find musk throughout the blend, all the way from the perfume's top notes, to middle notes, to base notes.
This gives the fragrance a definite clean-girl vibe; while orange blossom in the middle and vanilla at the base create an overall feminine, flirty and sweet combination, the perfume is also definitely reminiscent of lotion and shampoo thanks to its strong musk presence.
Overall, while it is still a sweet fragrance, it's also very clean and youthful, making it perfect for everyday wear throughout the year.
8. Soleil Au Zenithe Eau de Parfum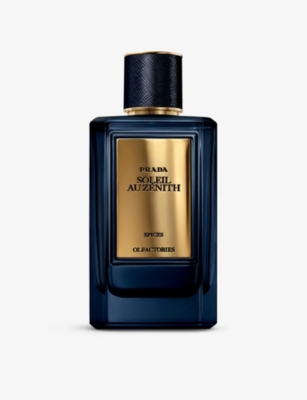 Prada's Soleil Au Zenith EDP is part of the brand's Olfactories Mirages collection that is centered around scents inspired by the orient. This particular blend is focused on oriental spices such as nutmeg, cinnamon, pimento, and cumin, which create a warm base that defines this intoxicating fall-winter perfume.
You'll also notice sweet notes of peach and ylang-ylang at the top, sandalwood in the middle, and vanilla at the base. Together, these notes create an incredibly smooth, full bodied creamy fragrance that has a milky element to it.
If you love spicy fragrances, this high-quality blend is a timeless option that is ideal for nighttime wear.
9. Candy Night Eau De Parfum
As its name implies, Candy Night EDP is a date night version of the original Prada Candy EDP. It's the more sophisticated, sultry sister of the two, and has a slightly more mature gourmand vibe to it – it's not as sweet, but it's equally delicous.
The perfume's most prominent notes are vanilla, chocolate, and tonka bean, which create an addictive combination that you'll want to keep smelling on your arm. At the opening, you may also be able to catch notes of neroli, iris and bitter orange, which enhance the sweetness of the perfume, but add a floral twist to the overall composition.
At the base, you may also catch a whiff of patchouli, which adds to the longevity of the scent. Overall, the blend is a huge dose of sweet, chocolate-y notes, that work perfectly as a nighttime scent, especially during the cooler fall and winter months.
10. Infusion de Vanille Eau de Parfum
Introduced in 2022, Infusion de Vanille is one of Prada's latest high-end releases. It's an interesting take on vanilla; while typically feminine-leaning, the vanilla in Infusion de Vanille is very unisex – it's not sweet, heavy or overpowering per se.
One of the more interesting supporting notes in this fragrance is smoke, which gives the vanilla a mysterious, dark and woody undertone, keeping it completely gender-neutral. You'll also notice sparkling top notes of bergamot, as well as middle notes of neroli and angelica, which add freshness to the scent composition.
If you're looking for a warm, sweet vanilla fragrance, this is not it. Instead, Infusion de Vanille isa rather light, dry take on smoky vanilla with citrus that is suitable for year-round wear – try it when you can!
11. Infusion Mandarine Eau de Parfum
Imagine having breakfast by the sea in Italy; the sun is rising over the horizon, and you catch a whiff of nearby sweet citrus trees as you sip your coffee and ease into the morning.
This is what Infusion Mandarine Eau de Parfum is reminiscent of. Centered around the sweet scent of mandarin orange, this sparkling citrus blend aims to recreate the fruit's uplifting and vibrant character.
In addition to having notes of mandrin, orange, green mandarin and orange peel, you'll also notice beautiful white florals like neroli and orange blossom that add a feminine flair to the pretty scent composition. At the dry down, you'll also notice the sweet, soft, and powdery smell of opopnax at the base.
The result is a realistic mandarine scent with a bright and uplifting opening, that then turns slightly more floral and powdery at the dry down. It's great for spring or summer, as it's light, and fresh.
12. Mirages Desert Serenade Eau de Parfum
If you're feeling adventurous and you want to experiment outside the usual fragrances in your comfort zone, Mirages Desert Serenade EDP may be the right one for you. Part of Prada's oriental-inspired fragrances, this perfume is a mix of sweet honey and leather, making it an excellent choice for both women and men.
While these two notes are the most prominent ones in the fragrance, you will also notice other orient-inspired notes, such as cumin and saffron that add a spicy opening to this dark and elegant fragrance. There is also prominent cypress at the base, which adds a welcoming woody wyality to the entire scent journey.
Desert Serenade EDP has a dark sophistication to it that makes it perfect for evening wear or special occasions when you want to feel like royalty. It's rich, thick, and luxurious, with the honey note being particularly sticky and raw.
As the honey note is so prominent, the fragrance is incredibly unisex – it's the perfect balance of feminine and masculine notes, and up for personal interpretation.
Wear this during the night, particularly winter and fall to get the most enjoyment out of it.
And there you have it! Our top picks from the house of Prada that you can add to your fragrance collection. If you're still looking for more beauty and fragrance ideas, check the posts down below.
Get More Perfume Ideas
The 12 Best Lancôme Perfumes That Are Elegant & Feminine
8 Best Smelling Mugler Perfumes, Ranked
The 10 Best Perfumes For Teens Who Want To Smell Divine