10 Best Le Labo Perfumes That Are Oh, So Unique
We only feature products that we hope you will love. We may earn a commission if you decide to make a purchase through our links, at no cost to you.
Are you on the hunt for a unique scent that can't be found elsewhere? Check out this list of the best Le Labo perfumes for women!
Le Labo is a brand that specializes in luxury unisex scents in minimalist, apothecary-style packaging. The New York-based company was founded in 2006 by Edouard Roschi and Fabrice Penot, who wanted to create perfumes solely focused on craftsmanship, without added preservatives, colorants, or animal products.
The company's name is French for "the laboratory," and the brand uses a standard naming convention for each of its scents. If you are confused about the names, they are actually very straightforward.
Each Le Labo fragrance is labeled after the main scent note, and the number beside it is a reference to the total number of fragrance notes in the composition. However, it's important to note that the fragrances don't always smell like their main note – keep your mind open when exploring the perfumes!


Today, Le Labo is one of the most popular fragrance companies and its scents are among the most desirable on the market. If you're looking for an elegant and sophisticated scent that makes everyone around you wonder what you are wearing, then this list of the best Le Labo scents is perfect for you.

The Best Le Labo Perfumes For Women
1. AnOther 13 Eau de Parfum
AnOther 13 is one of Le Labo's most unique best-selling scent, second to just the famed Santal 33.
As you can notice by its name, no particular fragrance note has been specified in its name, as this perfume started out as a collaboration between Le Labo and AnOther Magazine, which lended its name to the fragrance. At first, it was only sold in colette, a Paris-based store, but after its bankrupcy in 2017, AnOther 13 was added to Le Labo's permanent collection of fragrances.
This pefume's most prominent note is ambroxyde, which is a synthetic animal musk with an addictivie, hypnotizing quality, which defines the perfume. While the overall scent is a mixture of musky, woody and ambery notes, you will also notice a fruity opening with top notes of pear, apple and green citruses.
As the scent develops, it becomes warmer and more sensual with the emergence of musk mallow, amyl salicylate, moss and jasmine in the middle notes, all laid on a base of ambroxyde and amber-like notes.
The final result is completely unique, beautiful and so versatile. Be prepared to get compliments whenever you wear it! The perfume is very much a skin scent that seems to come and go throughout the day, sometimes being more prominent to your own nose, and at other times, more prominent to the people around you. With this said, it lasts incedibly long, mainly due to the prominent ambroxan note.
Whether you're running errands or enjoying a summer day, Another 13 will be the perfect companion for your day.
2. Lys 41 Eau de Parfum
Lys 41 by Le Labo is an ode to strong white florals, centering around the lily, which is also what lys translates to. Instead of being a delicate perfume, you're getting an overdose of white flowres in a way that is completely addicting and creamy.
The perfume opens with tiare flower, which creates a tropical and slightly sweet vibe, while the lily, tuberose, and jasmine middle notes add an intense floral dimension. These heart notes, especially tuberose and lily, are what define the fragrance, but you can also catch a whiff of subtle vanilla, woodsy notes and musk at the base when as the fragrance settles.
While it's not groundbreaking or revolutionary, Lys 41 is utterly beautiful, classic and elegant with excellent lasting power of 8-9 hours. As a floral perfume, we would recommend it for daytime wear, especially in the spring and summer.
3. Fleur d'Oranger 27 Eau de Parfum
The inspiration behind Fleur d'Oranger 27 was to capture the essence of orange trees, complete with its blossoms, branches, twigs and leaves, and they've done exactly that. Smelling this fragrance will transport you straight to walking in orange tree gardens when the flowers are in full bloom, with a bit of warm wind hitting your face.
The fragrance's most prominent note is, of course, orange blossom, followed by petitgrain, bergamot and lemon, all laid on a clean bed of musk. This creates a delicate mix of white flowers and citrus with a touch of green – it's incredibly fresh and feminine without being sweet.
This perfume is perfect to wear to the office or for any other daytime occasion, and should last you half a day.
4. Rose 31 Eau de Parfum
Rose 31 by Le Labo is a rose scent like no other. The classic, feminine Grasse Rose has been deepened into a green, freshly spiced rose scent with a prominent woody backbone. It's the perfect unisex fragrance for those who love the smell of roses, but want something more complex and mysterious than just a simple floral note.
When you first spray this perfume on your skin, you'll be struck by aromatic notes of cumin mixed with the rose, but as the fragrance develops, the scent becomes earthier and woodier with the addition of vetiver, cedar, musk, guaiac wood, and oud in the middle and base notes. Mixed together, the fragrance becomes a sexy, dirty rose scent with a bit of smokiness, perfect for men and women alike.
This perfume is very versatile: you can wear it for any occasion, and any season, adding a touch of elegance and sophistication whenever you want to do so.
5. Bergamote 22 Eau de Parfum
Bergamote 22 EDP is a fresh, citrusy fragrance with a zesty and invigorating scent profile. The inspiration behind the scent was to capture the essence of the bergamot fruit, a type of citrus commonly used in perfumery for its bright and refreshing aroma – and they have managed to do just that. This scent is as close to an authentic bergamot essence as you can get.
At the opening of the perfume, the bergamot and grapefruit notes create a bright and fizzy scent. The scent then develops with the introduction of vetiver, which is quietly ever present throughout the fragrance but gets more prominent in the dry down.
You may also notice supporting notes of floral orange blossom, green petitgrain, and cedarwood, which round up the perfume while still keeping the limelight on bergamot.
All in all, as a citrus fragrance, the result is very happy, uplifting, and juicy, making this the perfect perfume for everyday wear during the warmer months. Unfortunately, like with many citrus fragrances, the lasting power isn't amazing – a few hours, give or take. If this is of concern to you, we recommend keeping a small vial in your purse so that you can top up the fragrance whenever you need to.
6. Santal 33 Eau de Parfum
Santal 33 is without a doubt the best-known fragrance from Le Labo, but it's not for every woman. This unisex fragrance leans somewhat on the masculine with its woody-aromatic notes and leather accord and can be somewhat polarizing.
Evoking the spirit of the freedom-loving man from Marlborough ads, sitting down by a crackling fire with his horse, the fragrance centers around creamy, dry sandalwood. It opens with a burst of violet, iris and cardamom, which somehow blend with the deeper notes to create a scent that is reminiscent of pickled cucumber – very unique and intriguing.
As the scent develops, the smokiness of the sandalwood comes to the forefront, complimented beautifully by smooth leather, blending together to create a luxurious dry wood aroma. Depending on your nose, you may also notice papyrus, cedar, ambrox in the middle and base notes.
Santal 33 is great for all four seasons, whether you're using it as a daytime or nighttime scent. It also has incredible projection and longevity, so you're definitely getting bang for your buck.
7. Thé Noir 29 Eau de Parfum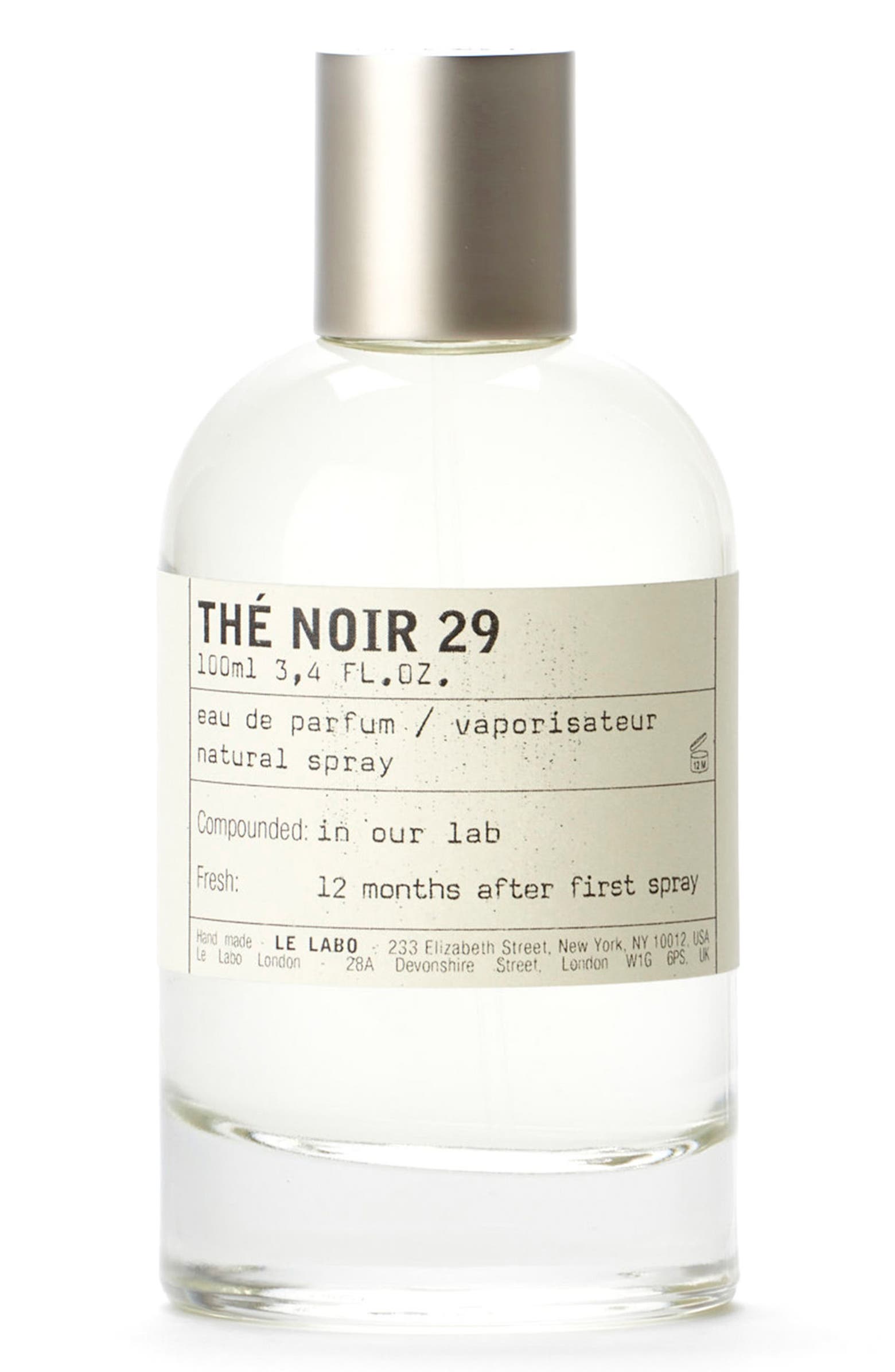 Thé Noir 29 Eau de Parfum is an ode to black tea, transforming it into a mysterious and alluring scent.
While the main note and name of the fragrance is indeed black tea, this note actually takes somewhat of a backseat. It's definitely there with its smoky character, but you'll notice that the perfume's fig note is definitely more prominent. Here' the fig is woody, herbal and dry, which combines wonderfully with the perfume's other dry and woody notes, mainly bay leaf, cedar, vetiver, and hay.
You'll also notice a prominent tobacco note, which adds to the smokiness of the vetiver and black tea.
The result is a very beautiful, unique blend that evokes the mood of a dark and cozy lounge, where one can relax and escape from the outside world. It's dry and smoky, but very fresh, light and airy at the same time – it's not a heavy fragrance by any means.
This perfume is great for both daytime and evening wear, thanks to its alluring character. It's ideal for women who enjoy unique and refined fragrances, and an especially great choice if you usually love fig or tea notes in your perfume.
8. Thé Matcha 26 Eau de Parfum
Thé Matcha 26 is another Le Labo perfume that is centered around a tea note with a prominent fig presence, but in a completely different way. As with the traditional Japanese tea ceremony, where one can find peace and harmony in a simple cup of tea, this green fragrance is very calming.
However, as with Thé Noir 29, the tea note in Thé Matcha 26 isn't so obvious – it's definitely present, but it's not a true matcha scent – it's more reminiscent of green tea with a fruity, woody vibe.
The opening of the perfume is a citrusy tea scent, which is complemented by the sweet and creamy notes of fig, which sets the tone of the fragrance. As the scent develops, the grounding and slightly smoky notes of vetiver and cedar become more prominent, creating a soft woody character that gives The Matcha 26 a sensual base.
It's ideal for women who enjoy green, fresh, and woody scents with a decent amount of sweetness. Finally, it's worth noting that this perfume is intended to be a skin scent, so don't expect much projection from it – it's to be enjoyed intimately.
9. Ylang 49 Eau de Parfum
Ylang-ylang is often used in tropical fragrances thanks to its sweet, exotic character that is very feminine. However, in Ylang 49, the accord isn't so strongly sweet – it's still somewhat tropical, but the pairing between its woody and earthy notes creates a more unisex, dark scent experience.
The inspiration behind this fragrance is to capture the essence of walking in the woods with a big bouquet of blooming flowers in your hand, smelling the air as the two scents mix together.
All in all, Ylang 49 is a beautiful floral scent with exotic flowers like pua noa noa (Tahitian gardenia) and ylang ylang mixing with prominent patchouli, earthy oakmoss, vetiver, sandalwood, and sweet benzoin, that creates a warm and woody foundation that lingers on the skin.
While the scent is a smooth mix of yellow and white florals, it has a dark, earthy vibe to it, which can be perceived as a little masculine. This fragrance is sophisticated and timeless — it'll be your go-to all year long.
10. Labdanum 18 Eau de Parfum
Labdanum 18 focuses on the warm, ambery and animalic aroma of Labdanum, a resin obtained from the cistus shrub. It's Le Labo's take on an oriental fragrance, with hints of spice and lots of vanilla.
At the opening, you'll notice a wave of spices, including cinnamon and Gurjam balsam, which wrap around warm, sweet labdanum, vanilla, tonka bean and resins that form the DNA of the perfume. As the fragrance develops, you'll notice musk, patchouli, as well as animalic civet and castoreum come to the forefront, creating an enigmatic scent experience with strong personality.
This Le Labo perfume is completely opulent, and as it has quite a strong character with warm, mysterious notes, it's perhaps best reserved for eveningwear during the cooler months, but you could also wear it as an everyday scent on a daily basis. Its projection is quite moderate, which means only those that come close to you get to enjoy it.
We hope you found your next scent from this list of the best Le Labo fragrances for women, whether you were looking for a signature scent, or something for a date night or a special occasion!
Get More Perfume Ideas
10 Best Guerlain Perfumes For A Classic & Timeless Scent
The 12 Best Prada Perfumes For Women, Ranked
The 10 Best Armani Perfumes That Smell Incredible