10 Aerin Perfumes That Are Elegant And Downright Irresistible
We only feature products that we hope you will love. We may earn a commission if you decide to make a purchase through our links, at no cost to you.
The right perfume can do more than just make you smell good⁠—it can elevate your mood, evoke feelings of peace and sensuality, and help you feel more confident. But finding the perfect perfume for you takes some time and research. To make things easier for you, we've found the best AERIN perfumes, guaranteed to make you feel luxurious and memorable.
Aerin Lauder, granddaughter of Estée Lauder, founded AERIN in 2012, and since its conception, the luxury lifestyle brand has reflected her effortless sense of style across its home decor, fashion and fragrance lines.
The AERIN fragrance collection is filled with scents that will transport you to a garden full of flowers in bloom or give you the feeling of being wrapped tightly in a cozy blanket. Each Aerin fragrance also has the perfect perfume partner that it can be layered with to create a more complex scent and fit an array of occasions.
If you're having a hard time deciding which fragrance you should discover first, check out our list of the 10 best AERIN scents, which deserve to be a staple in every modern woman's fragrance collection.

The Best Aerin Perfumes For Her
1. Mediterranean Honeysuckle Eau de Parfum
This floral eau de parfum spray was inspired by the blue seas of the Mediterranean, encompassing scents like sweet honeysuckle, grapefruit, and fresh white flowers. It's a sweet, beautiful floral fragrance, ideal for women who dream of traveling to warm destinations to soak up the sun in the summer.
The AERIN Beauty Mediterranean Honeysuckle Eau de Parfum has top notes of Italian bergamot and grapefruit, middle notes of honeysuckle and gardenia, and base notes of musk and jasmine. It's an exquisite scent and is perfect for those who are fans of honeysuckle and grapefruit.
2. Amber Musk Eau de Parfum
This eau de parfum spray is a distinctive and noteworthy combination of musk and ambrox. It is warm, romantic, powdery, and soft – perfect for women who love the scent of amber but don't want it to be too overpowering and strong.
It has top notes of coconut water and magnolia leaves, middle notes of rose and lily-of-the-valley, and base notes of benzoin, ambrox, musk, and Australian sandalwood, creating a perfect blend for scent perfect for the fall and winter or a special date night. It's subtle and not overpowering, giving those who wear it a boost of feminine confidence.
Along with AERIN Beauty fragrances smelling absolutely delightful, each bottle has an incomparable aesthetic, making it a gorgeous gift or addition to your perfume tray.
3. Rose de Grasse Parfum
While this bottle of perfume has a slightly higher price point than the others, it's totally worth it—it looks like a piece of art, and the smell is even better.
The AERIN Beauty Rose de Grasse Parfum was inspired by the femininity and timeless beauty of roses. This floral fragrance combines the elegant notes of French and Bulgarian rose with watery notes that give it a welcome freshness, as well as a sexy base of musk and woody notes that add charm and character.
The smell of fresh roses is intoxicating, and you're sure to get tons of compliments when wearing it to parties, special events, or even work. This is a must-have fragrance if your wardrobe is filled with ruffles, floral-printed dresses, pink pastels, and white linen.
4. Hibiscus Palm Eau de Parfum
It's exotic, it's tropical, and it's perfect for your upcoming beach vacation. The AERIN Beauty Hibiscus Palm Eau de Parfum will transport you far, far away to a warm, sand-covered destination, especially when layered with the Amber Musk spray.
This eau de parfum was inspired by brilliant sunshine and hibiscus blooms. It has top notes of ginger essence, hibiscus palm accord, ylang-ylang, and lotus, middle notes of white flowers and frangipani, and base notes of coconut milk, musk, and vanilla.
If you don't have a warm vacation coming up, just one spritz of this light fragrance will make you feel as if you're in a bathing suit, soaking up the rays near the turquoise ocean.
5. Tangier Vanille Eau de Parfum
The AERIN Beauty Tangier Vanille Eau de Parfum is the perfect sweet amber vanilla scent, with top notes of Madagascar vanilla, sandalwood, and bergamot, middle notes of amber, and base notes of musk.
This fragrance is creamy, mysterious and alluring, so be sure to wear it on a first date or special anniversary dinner.
6. Lilac Path Eau de Parfum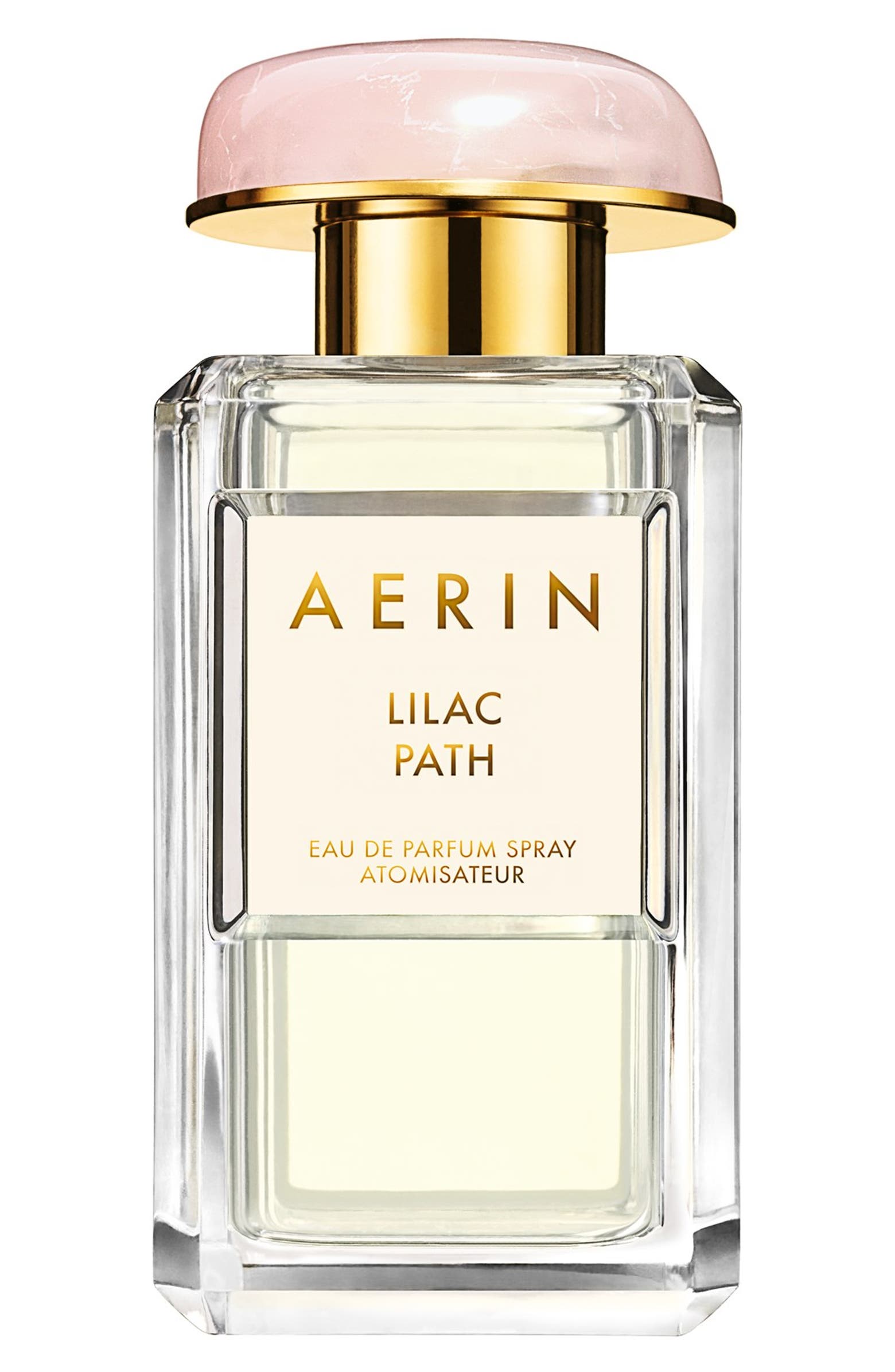 The AERIN Beauty Lilac Path Eau de Parfum was inspired by spring lilacs, and that's exactly what you get in this fragrance – a realistic take on lilac blooms. The sweet, floral notes of this flower are further enhanced by other white flowers like jasmine, honeysuckle, and orange blossom, and given a hint of green notes with angelica.
Because the fragrance is very floral and feminine, it's ideal for springtime and summer but can also provide some much-needed brightness during the darker months.
The luxury fragrance brand recommends laying this perfume with the Iris Meadow spray to create a truly unique scent.
7. Cedar Violet Eau de Parfum
If you love a woody perfume that leans quite unisex, the Cedar Violet Eau de Parfum is for you.
This natural-inspired fragrance will lead you through the forest on a sunny, crisp autumn day. Cedar Violet Eau de Parfum is a wonderfully aromatic mixture of Virginia cedarwood, sandalwood and violet flowers. It's clean, fresh, and not overly feminine.
8. Ikat Jasmine Eau de Parfum
If you're looking for a potent perfume where a little will go a long way, then look no further than the AERIN Beauty Ikat Jasmine Eau de Parfum.
This modern fusion of Egyptian jasmine, jasmine sambac and tuberose delights the senses, making you feel fresh and very fancy. In addition to these white floral key notes, its most prominent note is honeysuckle, but you'll also catch a slight hint of woody sandalwood and ambroxan.
Thanks to its heavily flower-forward scent, we would class this as a warm-weather fragrance, best suited for daytime wear.
9. Fleur de Peony Eau de Parfum
Of all the AERIN fragrances, this is by far the most feminine. The Fleur de Peony Eau de Parfum is a juicy, fresh take on the peony that brings beauty to any celebration or occasion, even just a regular day at work.
At the first whiff, you'll catch lovely fruity notes of litchi, which then make way for the true star of the show – the peony flower, which is slightly enhanced by cyclamen notes. You'll also catch citrusy notes of pomelo, mandarin orange, as well as deeper base notes of musk. Its only downside is that it's unfortunately not long-lasting,
10. Tuberose Le Jour Parfum
The picturesque tuberose fields in India inspired this unique fragrance. It is a delicate and fresh perfume that showcases luminous, feminine notes of tuberose, neroli, orange flower, and jasmine – fantastic for anyone who is a fan of white florals.
At its base, Tuberose Le Jour blends luxurious cashmere wood with cedar, adding a subtle backbone to the opulent tuberose. Because it's so soft, feminine, and subtle, it's great for wear during the warm summer as you frolic around in a sundress and wide-brimmed hat. It also makes a wonderful scent for brides to wear on the big day!
If you're looking for a nighttime version, Aerin also offers Tuberose Le Soir – the more sensual version of this perfume.
We hope you enjoyed this list of our favorite perfumes from Aerin! If you're still on the lookout for a signature scent, make sure to check out the related articles below.
Get More Perfume Ideas
15 Most Iconic Diptyque Perfumes For A Touch Of French Luxury
10 Sophisticated Van Cleef & Arpels Fragrances That Exude Luxury
10 Parfums De Marly Fragrances For Every Kind Of Occasion