YSL Vs Saint Laurent: What's The Difference?
We only feature products that we hope you will love. We may earn a commission if you decide to make a purchase through our links, at no cost to you.
Saint Laurent is one of the biggest and most popular luxury fashion houses but what is the difference between YSL and Saint Laurent? This YSL vs Saint Laurent article has all the answers.
The chances are you have seen both the Saint Laurent logo and the YSL logo and perhaps wondered what is the difference… Why are there two different logos?
Well, we're here to help you out with all the information you need to find out the difference between YSL vs Saint Laurent, as well as let you know some of our favorite Saint Laurent bags that we think you will love too!

YSL vs Saint Laurent
History of Yves Saint Laurent
Yves Saint Laurent founded his namesake luxury fashion brand in 1962 alongside his business partner Pierre Bergé. Yves Saint Laurent founded his own fashion house after his years working as the creative director of Christian Dior and in the French Army during the Second World War.


The YSL logo was designed in 1963 by the graphic designer A.M. Cassandre, who was considered one of the greatest graphic designers due to his geometrical style. Cassandre created a simple monogram that intertwined the three initials of the Yves Saint Laurent name to create an elegant and sophisticated logo. The YSL logo has remained an important part of the brand ever since.
The French fashion house soon grew in popularity in the 1960s and 70s after Yves Saint Laurent opened his first boutique on the artistic Parisian Left Bank, and sold Avant-Garde clothing that pushed the boundaries of women's fashion of the time.
One of the boundary-pushing ensembles was the Le Smoking tuxedo, the first-ever trouser suit for women and now an iconic element of fashion history.
Yves Saint Laurent, shortly known as YSL, continued to be wildly successful through the many changes in creative directors. Yves Saint Laurent found designing both the ready-to-wear and haute couture collections too stressful and so Alber Elbaz designed three ready-to-wear collections in 1998 and 1999, then Tom Ford was hired on a permanent basis to design the ready-to-wear collections.
Stefano Pilati became the creative director in 2004, then was replaced by Hedi Slimane in 2012. It was under Hedi Slimane that the YSL brand underwent a big change.
The Switch To Saint Laurent
Creative director Hedi Slimane decided to rebrand the YSL brand in 2012, before even releasing his first collection for the brand. Slimane removed the 'Yves' from the brand name, creating a logo with the new name Saint Laurent Paris.
This caused great controversy in the fashion world and among fashion enthusiasts as no one understood why this rebranding was taking place and why Hedi Slimane was not partaking in interviews to explain the change.
Some wondered if the name change was just a stunt, but for the past 10 years, YSL has been known as Saint Laurent Paris. However, some elements of the YSL branding remained, as it would have been too much to remove the iconic YSL logo from the brand completely.
So, although the brand is now known as Saint Laurent Paris, the old logo can still be seen on many luxury handbags, beauty products, and fragrances. This YSL logo keeps the heritage and history of this couture house alive, even as the fashions move into the future.
Hedi Slimane's tenure finished in 2017 and this same year Anthony Vaccarello was named as creative director. He kept the Saint Laurent Paris branding.
So, is there a difference between YSL vs Yves Saint Laurent?
No, it is the same brand. The luxury fashion branch of the brand is now officially called Saint Laurent, but many luxury enthusiasts still refer to the brand's products by the old brand name, YSL or Yves Saint Laurent interchangeably, although technically, this isn't correct.
To add to the confusion, the official Saint Laurent website can be found at YSL.com, and its official Instagram account is @ysl. Plus, the brand's makeup line is still known as YSL beauty or Yves Saint Laurent Beauty.
Top Saint Laurent bags
Despite YSL and Saint Laurent being the exact same brand, different logos feature on different handbags.
You can find bags with both the beautiful YSL logo in gold or silver hardware, and newer bags that feature Saint Laurent in minimalist lettering. So, it just depends on what handbag you decide to add to your collection as to which branding will feature.
1. Sac de jour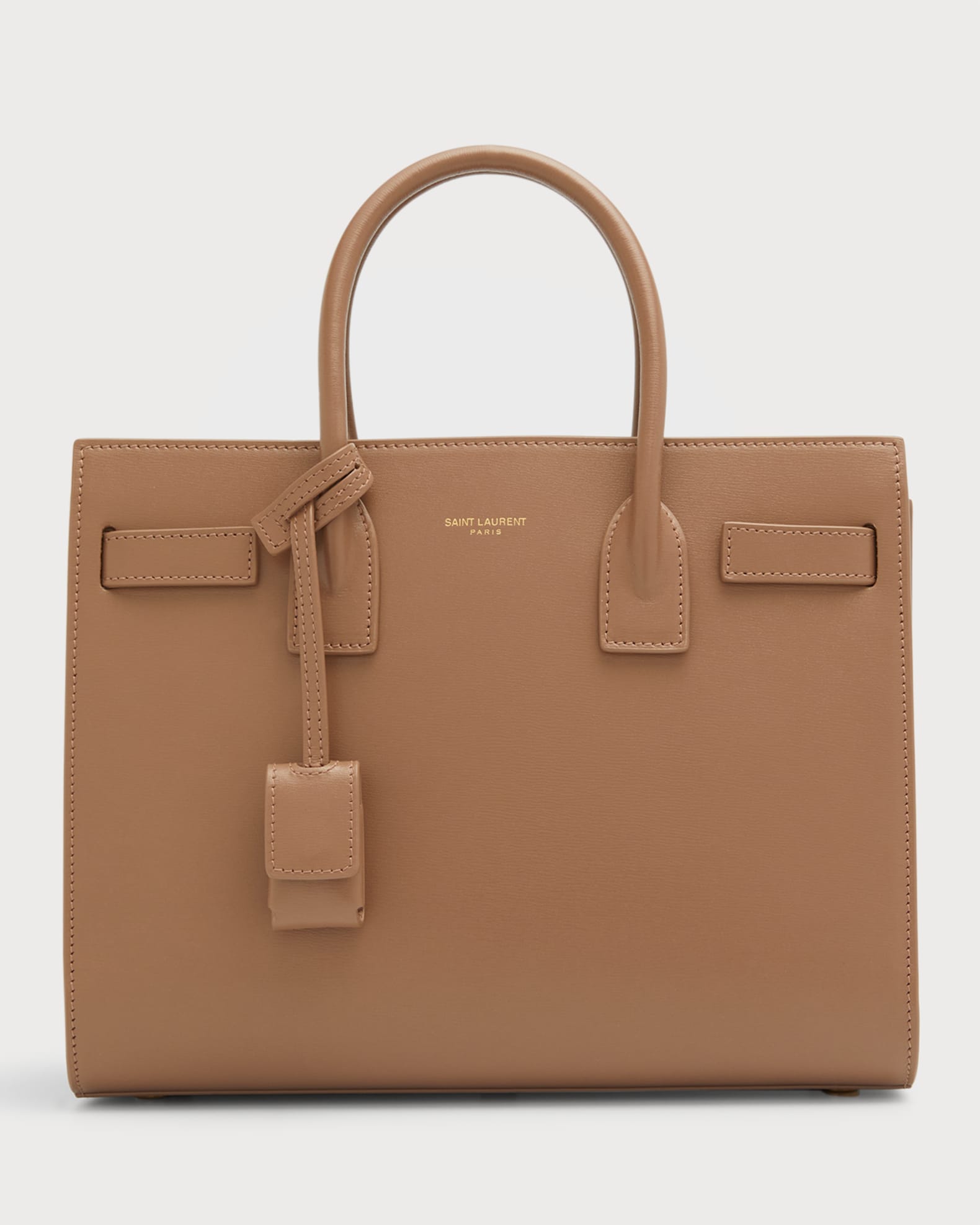 The Sac De Jour is a timeless Saint Laurent bag, with a strong structure and crafted from luxuriously smooth leather, this bag is perfect for a busy professional.
This chic bag is available in a range of sizes, colors, and different leathers, so you are bound to find a version that suits your personal style and your lifestyle.
This bag features the Saint Laurent Paris logo on the exterior in gold, alongside a brass-toned lock, while the interior features two main compartments as well as a central zipped compartment to keep everything organized. The Sac De Jour is fitted with top handles and a longer shoulder strap for endless styling options.
2. Kate shoulder bag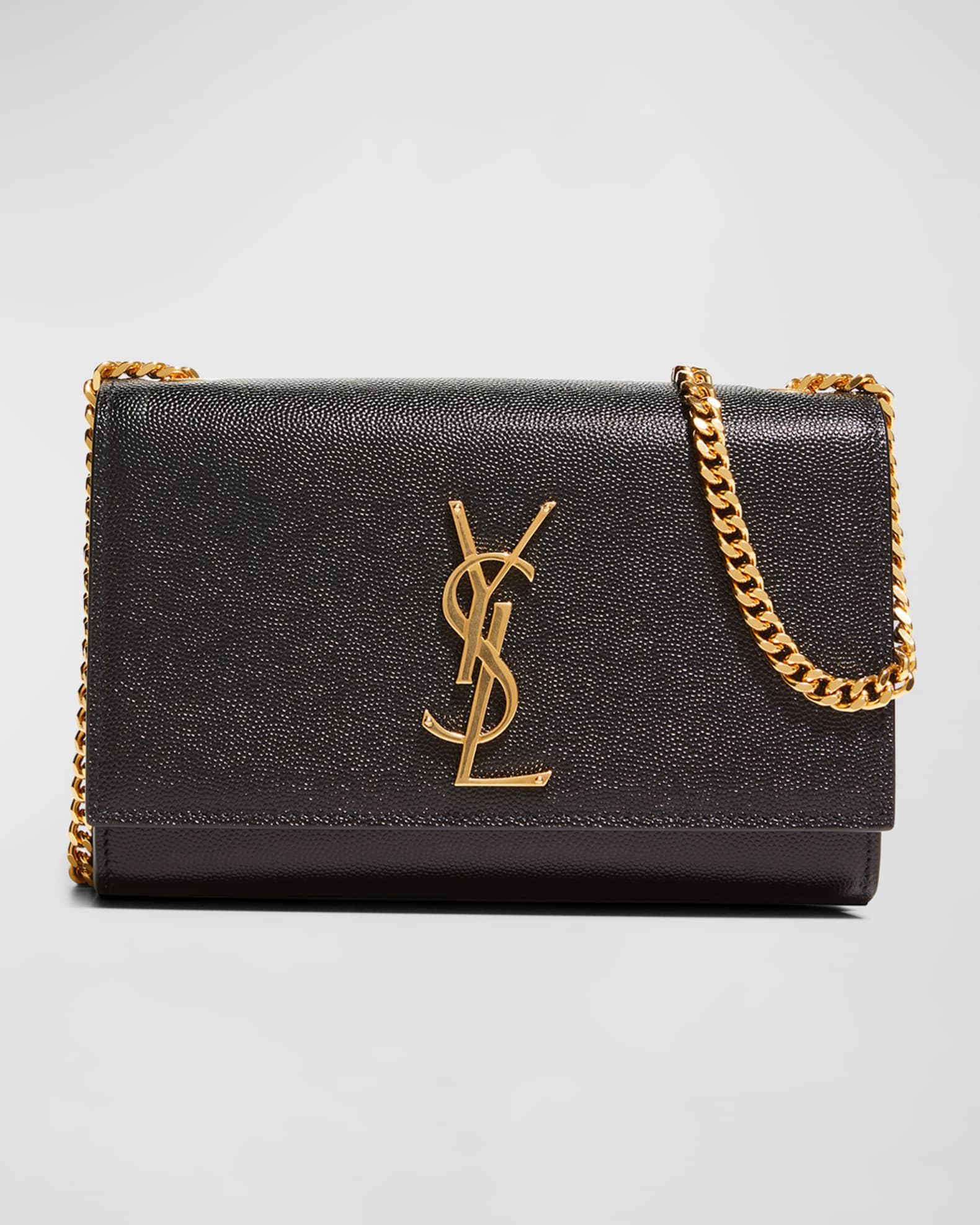 We love this super sophisticated and minimalist Kate Leather Chain Shoulder Bag. The Kate is a classic YSL bag that has been made available in different sizes and colors, so there is an option for everyone!
This Kate shoulder bag featured above is made from grained black leather and decorated with a striking, gleaming gold YSL logo, sitting front and center. The bag is perfectly finished with a delicate gold chain strap that can be worn on the shoulder or across the body.
Under the front flap, you will find a compact interior with a wall pocket. This versatile bag would be perfect for both everyday use and a glamorous night out.
3. Rive Gauche tote bag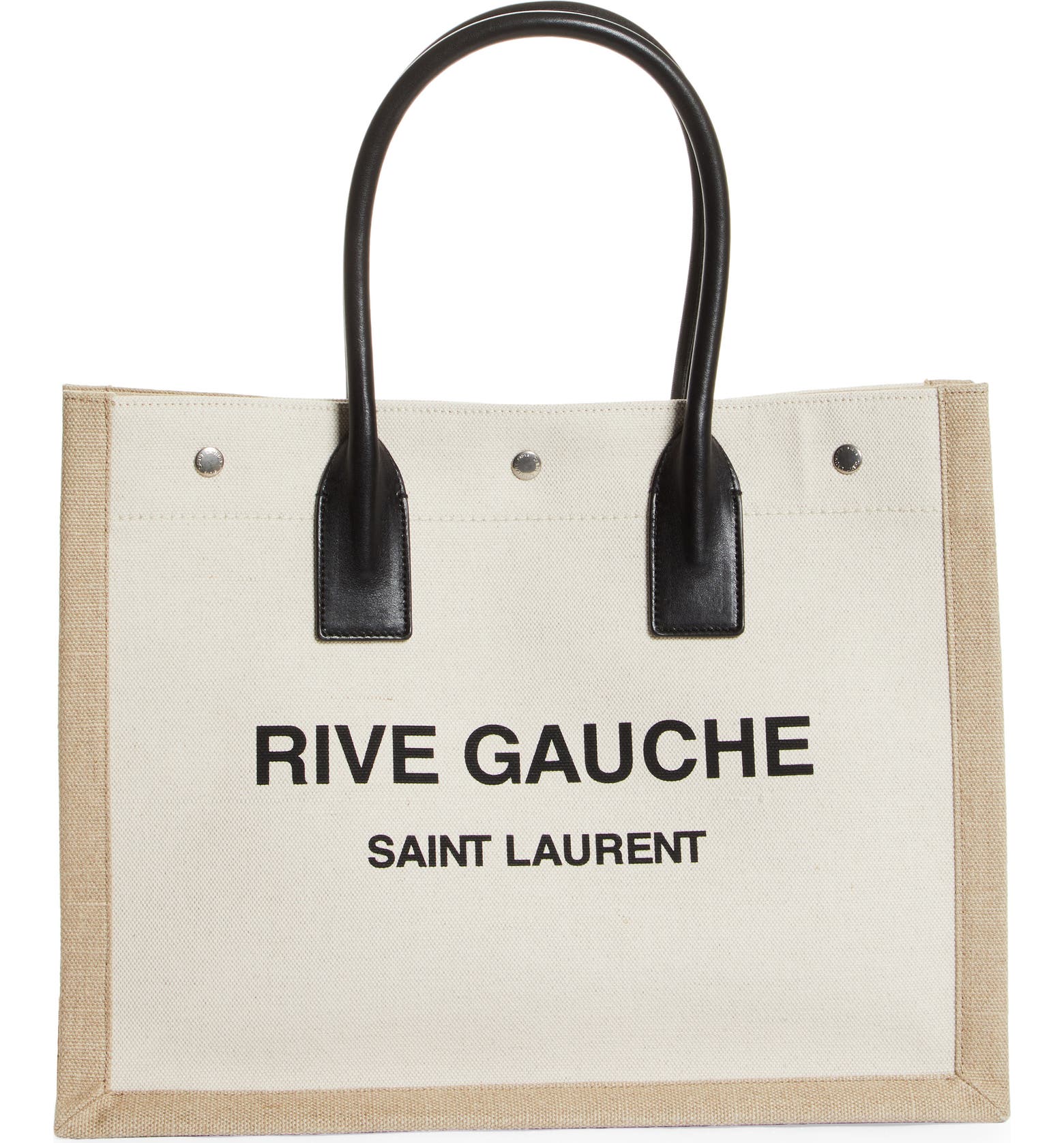 The bold design of the Saint Laurent Rive Gauche Small Canvas Tote Bag makes this handbag a must-have in your collection. This Saint Laurent bag has become a very popular cult classic and has now been made in different colors and textures – perfect for every season!
This canvas edition is made from contrasting black leather accenrs and soft crema canvas, and then flawlessly finished with black text to create an attention-grabbing bag.
The front is printed with 'Rive Gauche', which means Left Bank in French, and 'Saint Laurent' referencing the very first YSL store. The open top secures with snap closures, while the spacious interior features a zip pocket – so handy!
Conclusion
YSL and Saint Laurent are the exact same brand. It is just that some pieces, such as bags and beauty products, feature the older YSL logo, while others feature the new Saint Laurent branding – but both are equally as high quality and equally as stunning to own in your wardrobe.
We hope you found this article looking at YSL vs Saint Laurent helpful! For more luxury fashion content, check out the links below.
get more luxury fashion ideas
15 Most Affordable YSL Bags That Are Affordable & Stylish (In 2022)
Louis Vuitton Vs YSL: Which One Is Better For You?
Does YSL Go On Sale? Here's What You Need To Know