Louis Vuitton Vs YSL: Which Brand Is Better For You?
We only feature products that we hope you will love. We may earn a commission if you decide to make a purchase through our links, at no cost to you.
As two of the top luxury handbag brands, it can be difficult to choose between Louis Vuitton vs YSL – well, we're here to help out with all the information you need to make a decision.
French luxury fashion house, Louis Vuitton has an incredibly long history of making luggage, leather goods, and luxury bags so there are so many different styles, colors, and sizes available. And now with the popular men's and womenswear collections, Louis Vuitton is one of the most successful luxury brands in the world.
YSL, another historic French fashion house, is well known for its Avant Garde ready-to-wear collections, which revolutionized women's fashion in the 20th century, as well as their gorgeous accessories, especially leather handbags.
On the surface, both brands can look quite similar so it can be difficult to know which one is right for you, that's where we come in. This article will explore each brand's history, the key differences between each brand, and some of the top products before coming to a conclusion on Louis Vuitton vs YSL.

Louis Vuitton vs YSL
The History of Louis Vuitton
This luxury French brand is the second oldest luxury brand that is still operating today. Louis Vuitton learned the trait of trunk making as an apprentice in Paris before he founded his namesake brand in 1854. These Louis Vuitton trunks were individual as they had a flat rather than domed lid, meaning they could be stacked when in transit, making them very popular among wealthy clients who loved to travel.


Louis Vuitton brand was also very innovative, first introducing the unpickable lock in 1886, originally created by Louis' son and soon-to-be-heir, Georges Vuitton. Then in 1888, to avoid counterfeit versions of Louis Vuitton's luggage, Vuitton created the Damier Canvas, while Georges Vuitton created the LV monogram for this same reason in 1896.
It wasn't until 1997, that Louis Vuitton hired their first fashion creative director, in the form of the incredible Marc Jacobs, and launched their now world-famous ready-to-wear collection. Jacobs bought a fresh element to the brand, remaining at the cutting edge of fashion, and began the Louis Vuitton collaborations with artists such as Stephen Sprouse, Jeff Koons, and Takashi Murakami.
In 2011, British designer Kim Jones takes over the menswear collections from Marc Jacobs, before moving to Christian Dior, while Virgil Abloh becomes a menswear artistic director in 2018.
Marc Jacobs stepped down from the role of creative director in 2013, and Nicholas Ghesquière became the new creative director. Ghesquière has since created some iconic collections that have made Louis Vuitton one of the most famous brands in the world.
The History Of YSL
Yves Saint Laurent found his namesake fashion house in 1962, alongside his partner Pierre Bergé, with a desire to create cutting-edge women's fashion that would bring new styles, silhouettes, and shapes to a woman's wardrobe.


Saint Laurent aimed to popularise ready-to-wear clothing in the fashion world, trying to make luxury fashion and its new silhouette more commonly worn among French women. This led to Saint Laurent opening the Rive Gauche boutique wear young women flocked to in order to buy the latest Yves Saint Laurent designs.
The workload of two haute couture shows and two pret-a-porter shows a year was putting pressure on Yves Saint Laurent so his partner Pierre Bergé employed Hedi Slimane in 1997 as the creative director of the ready-to-wear collection, while Saint Laurent could focus his attention on designing striking looks for the haute couture shows. However, shortly afterward, Tom Ford took over from Slimane, while in 2002 the haute couture line was discontinued.
In 2007, Hedi Slimane returned to his role as creative director and began to transform the brand, first by removing the Yves from the brand name, to become Saint Laurent, as we know it today.
Slimane announced the return of the Saint Laurent haute couture collection in 2015, but then left the role of creative director in 2016. Now, Saint Laurent collections are designed by Anthony Vaccarello, who continues to ensure Saint Laurent is at the forefront of luxury fashion.
The Differences between Louis Vuitton Vs YSL
There are some important differences between these two luxury fashion brands that you should know about before making a decision on which brand is better for you and which designer bag you should go for.
1. Price range
Firstly, we are going to take a look at the price range of the beautiful bags on offer from Louis Vuitton and YSL so you can see which brand better suits your budget.
Louis Vuitton bags range between $1,000 and $6,000, however, the are some limited edition handbags or those made with exotic leathers that will cost more than this. YSL bags, on the other hand, are available for between $1,000 and $4,690 depending on the size and materials of the designer handbag.
The price range of both French brands is pretty similar, it's just that Louis Vuitton bags can be a little more expensive.
2. materials And Fabrics
The materials used by each of these brands in the production of their handbags, however, vary greatly. Louis Vuitton's most popular bags are often made from coated canvas, either in the Damier Ebene colorway, Damier Azur colorway, or just printed with the famous Louis Vuitton monogram.
Louis Vuitton also crafts their classic bags from cowhide leather, taurillon leather, epi leather, and leather Vernis. This means there are lots of options to choose from so you are bound to find a material or leather that suits your personal style and your lifestyle.
Most YSL bags are made from calfskin leather, often decorated with matelassé quilting – this ensures a luxurious finish that YSL is known for. There are also YSL bags made from suede, denim, coated canvas, and woven straw if you are looking for something a little different or a tactile finish.
3. Resale Value
Louis Vuitton is considered to be part of the "holy trinity" of investment luxury brands, which also include Chanel and Hermès. LV bags are generally better investments than Saint Laurent bags thanks to their popularity, exclusivity, and timeless designs.
Louis Vuitton bags often maintain and even appreciate in value over time, particularly the classic styles like the Speedy, Neverfull, and Alma. This is because the brand carefully controls its supply chain, limiting production, applying price increases and maintaining a high level of quality, which keeps demand high.
While Saint Laurent bags are beautiful in their own right, unfortunately, they do not hold their value well. If resale value is important to you, Louis Vuitton is the better brand to opt for.
4. Brand Aesthetic
Both of these popular brands have different aesthetics so one may suit your personal style more than the other. Louis Vuitton is known for their instantly recognizable logo mania finishes on many of its handbags and leather goods.
The LV monogram is an attention-grabbing design that many people will recognize, and that perfectly fits with the current fashion trends! If you do love this logo mania trend, or a bold, outstanding design, then Louis Vuitton is a great brand to go for.
YSL has a slightly more minimalist aesthetic, drawing your attention to the luxurious nature of leather and the exquisite quilting. Saint Laurent bags do often feature the gleaming YSL hardware front and center on their handbags, for a striking look, so the logo is also prominent on YSL bags too.
Saint Laurent bags have a timeless, classic style and silhouette which may perfectly suit your own aesthetic!
Top Products from Louis Vuitton Vs YSL
There are so many incredible bags to choose from at both Louis Vuitton and YSL, so we have narrowed it down to some of our favorites that we hope you will love too!
1. Tote bag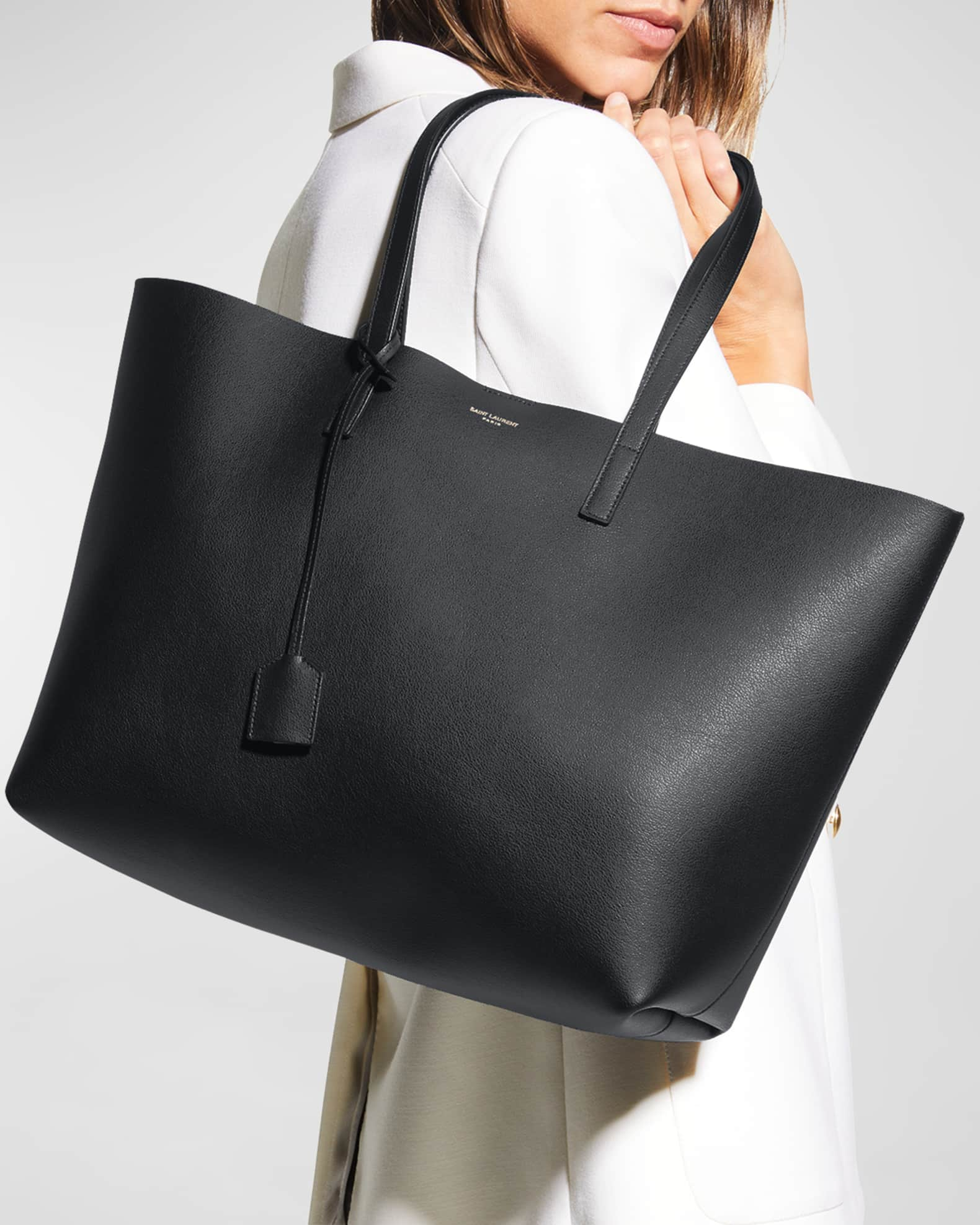 Tote bags are timeless bag that is so versatile, and the Louis Vuitton Neverfull is one of the most classic tote bags out there! There are many different variations of the Neverfull, but we love the Damier Ebene coated canvas because the neutral tones will suit a whole range of different looks. The side cinching straps, and interior zipper pocket are the perfect finishing touches on this must-have LV bag.
We love the chic minimalism of the YSL Shopping leather tote, crafted from supple Italian leather, the soft structure makes this bag so effortlessly timeless. The small logo printed on the front gives an understated edge, while the spacious interior and leather zipper pouch inside ensure this tote is super practical too.
2. shoulder bag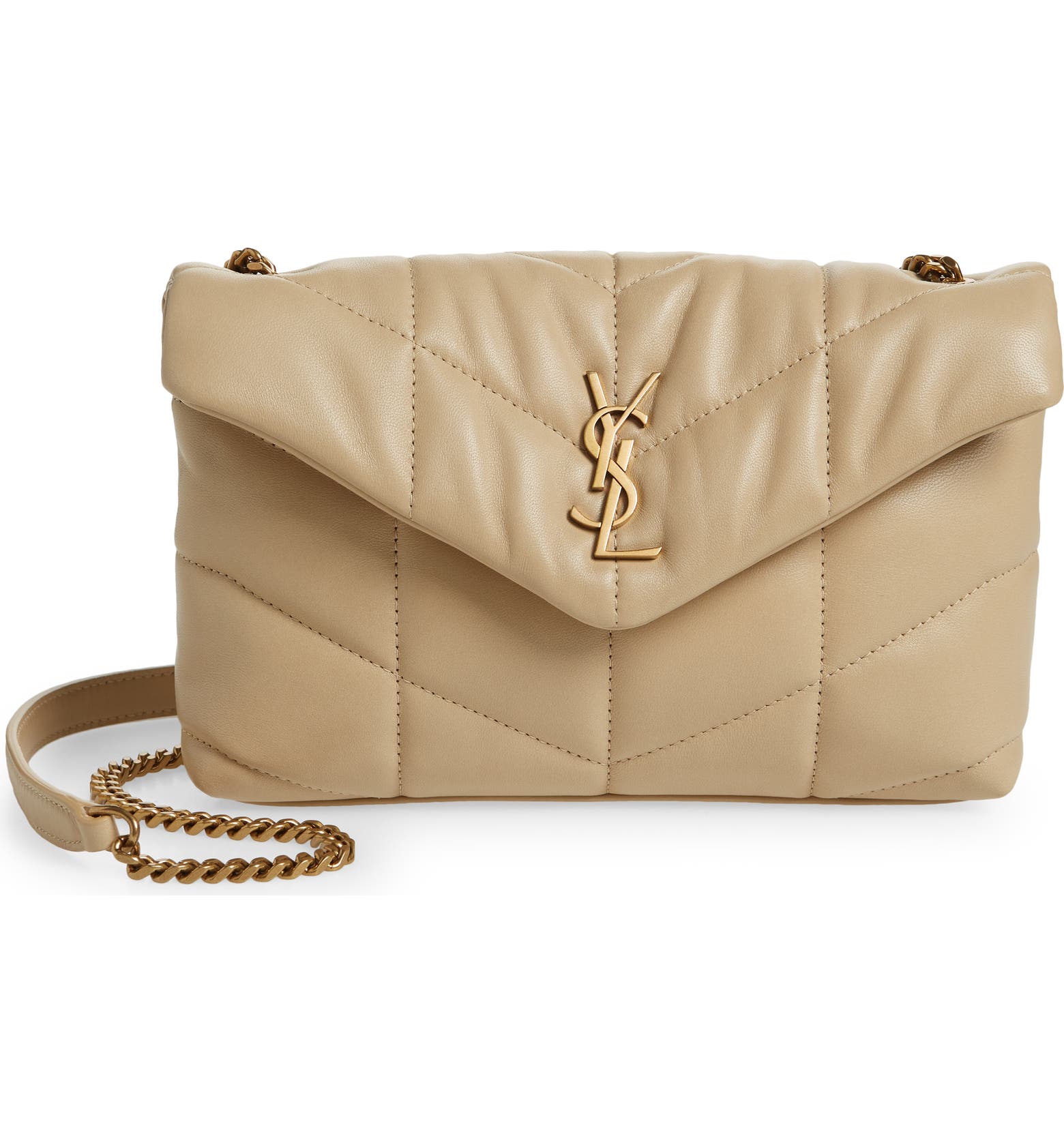 Louis Vuitton and YSL have so many shoulder bags available, and there is something for every style. The Louis Vuitton Speedy has been a part of the Louis Vuitton collection since the 1930s and is still a firm favorite today. The Speedy has been reinvented over many years – for example, we love the modern Giant Monogram versions of the bag, featured above in white.
With all the features of a Speedy bag, including the top handles, and top zipper, this bag is crafted from peach ombre leather, printed with the famous LV monogram.
The sumptuous quilting on this LouLou YSL Toy Puffer Shoulder Bag gives this bag a luxurious, stylish look. This shoulder bag is made from buttery soft leather that looks so plush with the matelassé quilting – embellished with the gleaming gold YSL hardware.
The gold sliding chain strap means the LouLou bag can be worn on the shoulder or as a crossbody bag. Available in different sizes and colors, the LouLou will quickly become a favorite bag you'll love for a long time!
3. backpack
Backpacks are so handy, and these two examples are so elegant! The Louis Vuitton Empreinte Montsouris Backpack, featured here in Empreinte leather that has been embossed with the LV monogram, also comes in monogram canvas for a chic look.
The top flap and drawstring top open to reveal a spacious interior lined with a microfibre fabric and fitted with a patch pocket. The front zipper pocket and adjustable straps ensure the ultimate practicality of this backpack.
The glossy lambskin leather of this Joe Quilted Lambskin YSL Backpack Bag gives it a super glamorous look! The quilted leather front pocket has been embellished with the YSL logo and allows easy access to your most needed essentials. The gold chain drawstring top opens to reveal a roomy interior fitted with a zipper pocket to help you stay organized! This stunning backpack has a price tag of $2,490 and will look eternally stylish!
Conclusion
There are so many stunning handbags, gorgeous accessories, and incredible ready-to-wear collections available from both Louis Vuitton and Saint Laurent that you can't go wrong with either brand! However, your personal style, lifestyle, and budget will affect which brand you should choose.
If you love the chic, classic look of a leather bag or are after a handbag with a more minimalist look, then YSL is the brand for you – they have a is a wide range of styles to pick from, so you are bound to find something you love. Alternatively, you can also check out Louis Vuitton's leather handbags, which are often more understated than their monogram counterparts.
However, if you love a bold, striking monogram and perhaps have slightly more money to spend, Louis Vuitton is the obvious choice. The LV monogram is such as stunning design, that will stay in style for decades to come.
In addition to this, if resale value is important to you, Louis Vuitton is the better brand to opt for.
We hope you found this article comparing Louis Vuitton vs YSL helpful! For more luxury fashion content, check out the links below.
Get more luxury fashion ideas
Kate Spade Vs Coach: Is One Brand Better?
Louis Vuitton Price Increase 2022: Everything You Need To Know
25 Best Iconic Designer Shoulder Bags To Invest In 2022