YSL Vs Chanel: Which Brand Is Best For You?
We only feature products that we hope you will love. We may earn a commission if you decide to make a purchase through our links, at no cost to you.
As two of the most popular French luxury fashion brands, it can be difficult to choose between YSL vs Chanel – that's where this article comes in to help you make a decision.
Both of these French fashion houses are known for their incredible ready-to-wear collections, beautiful luxury goods, and iconic handbags. Although YSL and Chanel may seem similar on the surface, when you delve deeper, you can see there are also significant differences between these two luxury brands.

This article will explore the history of YSL vs Chanel, the key differences between the brands, and a look at the top handbags, before coming to a conclusion on YSL vs Chanel – helping you to decide which brand is best for you!

YSL vs Chanel
The history of YSL
Yves Saint Laurent founded his eponymous French fashion house in 1962 in collaboration with his partner Pierre Bergé. Saint Laurent sought freedom to create his own Avant Garde womenswear that would appeal to the artistic youths that could be found on the Left Bank, or Rive Gauche as it is known in French, of Paris's River Seine.
Yves Saint Laurent had previously worked as the creative director of the beloved French brand, Christian Dior, but the older, wealthy clients did not warm to his youthful, unusual designs. After his time in the Army and a stay in the hospital, Saint Laurent returned to France and set up his own fashion house, wanting to democratize luxury fashion, making it more available to the younger generation across Europe.


The Beatnik look and tuxedo suit for women, called Le Smoking suit, were some of YSL's most popular designs in the 1960s and 70s, influencing the trends of women's fashion all over the world. Then in 1978, his collection focused on a silhouette that had broad shoulders, emphasized with shoulder pads, which would go on to characterize the style of the 1980s.
In the 1990s, Yves Saint Laurent was finding the workload of two haute couture shows and two pret-a-porter shows a year too much, and so Pierre Bergé hired French fashion designer and photographer Hedi Slimane in 1997 to design the ready-to-wear collections. This way, Saint Laurent could focus on the haute couture shows himself, which were his favorite to design.
Slimane only stayed for a few years before leaving the position, after which Tom Ford took over as creative director. In 2007, Hedi Slimane returned to the French luxury fashion house and began to rebrand, first by removing the Yves part of the brand name to create the Saint Laurent name we know today.
This was a controversial move by the designer, but Slimane ensured the historic YSL logo, which first became a part of the brand in 1963, still featured on YSL bags to keep this heritage element of the brand alive.
Slimane left the role of creative director in 2016 and Italian designer Anthony Vaccarello took over. Vaccarello has ensured that YSL remains at the forefront of the fashion world, creating outstanding ready-to-wear collections and totally irresistible leather goods.
The History of Chanel
The couturière Gabrielle Chanel, also known as Coco Chanel, started her namesake brand in 1910. At first, it was a millinery store but the brand quickly grew. Chanel soon added a ready-to-wear collection to her brand, which proved wildly popular due to the totally unique designs that Chanel produced.
Coco Chanel wanted to create clothing that she knew women really wanted to wear and her first step was to remove any need for corsets or boning under any of her clothing – these allowed women more comfort and more movement in their clothes.


Chanel's ready-to-wear collection included functional skirts, trousers, and blouses, alongside comfy dresses that were easy to wear but also flattering. Chanel also put a lot of focus into the materials used to create her designs, often making use of jerseys, flannel, and linen which allowed movement and were not at all restrictive.
Chanel continued to create super fashionable clothing throughout the 20th century, becoming a key designer in 1920 with her little black dress, which stood out from all the bright colors that were used by other designers during this period.
As the popularity of Chanel clothing continued, the brand continued to grow and soon jewelry, perfumes, leather goods, and handbags were added to the collection. These new accessories often included elements that Chanel designs were known for, such as pearls, camellias, and a black and white color scheme.
After Gabrielle Chanel passed away in 1971, Karl Lagerfeld took over as Chief Designer and continued to create incredible collections that ensured Chanel remained one of the most popular brands in the fashion industry.
His impressive prêt-à-porter and haute couture collections wowed the world with their elaborate sets, astonishing locations, and, of course, the collections themselves. Virginie Viard took over the role of Creative Director in 2019 after working at Chanel under Lagerfeld since the 1990s.
Viard continued the legacy of the Chanel brand by mixing classic, heritage Chanel elements with new silhouettes to create clothing that is always highly desirable.
The Differences between YSL Vs Chanel
There are several key differences between these two brands and their luxury brands that you should be aware of before you decide which brand is best for you.
1. Price range
It is important to consider the price range of these fashion houses and which best fits your own budget. YSL bags will have a price tag of between $1,000 and $4,690 depending on the size and materials of the designer handbag.
Chanel is more expensive, with most bags sitting between the price points of $5,000 and $10,000, although more affordable options under $5,000 exist too, mainly in the form of wallets-on-chains.
Again, it depends on the style and material of the bag as to how much it will cost, and it is worth bearing in mind that larger bags made from exotic fabrics and leathers, such as crocodile or python, will be significantly more expensive.
Both Chanel and Saint Laurent are known to increase the prices of their bags on a regular basis, but Chanel's increases are definitely steeper, because the starting price of the bags are higher. Some of the most desirable Chanel bags have increased as much as 40% over a period of 2-3 years!
2. Materials
Both of these brands use a variety of fabrics and materials when crafting their luxury bags, and it is really worth considering the type of material of the bag and seeing if it suits your lifestyle as some materials are more durable than others.
Most YSL bags are made from calfskin leather, some with a more durable grained finish and matelassé quilting, while others have a smooth finish. There are also some Saint Laurent bags made from suede, denim, coated canvas, and woven straw – perfect if you are looking for something a little different!
Chanel bags, on the other hand, are often made from calfskin or lambskin leather, with either caviar or a smooth finish – again the texture of the caviar makes the leather more durable. Chanel also makes bags from goatskin and deerskin leather, as well as denim and tweed so there is a variety of options to choose from.
3. Exclusivity
There are some restrictions on the availability of some of these handbags, making them more exclusive but also more difficult to get hold of the bag you want.
YSL have no limitations on their handbags; there are always many different bags in different colors in stock so you can easily and quickly get your hands on the bag you are looking for, whether that's online or from a boutique. With this said, sometimes bags will of course go out of stock, but you won't have to wait too long for them to become available again.
However, Chanel has gone through some changes in the past few years to make their bags more exclusive and therefore more highly desirable. There are limits on the number of Chanel bags you can buy in a year, as well as waiting lists to sign up for in order to get the bag you are looking for in the color and type of leather you want.
If you are looking at getting a Chanel bag, it is always worth looking at the resale market as there are a plethora of Chanel bags available in many colors and fabrics, which means you won't have to join a waiting list! These restrictions on Chanel bags have an impact on the exclusivity of their bags which may have an impact on whether you go for a YSL or Chanel handbag.
4. Resale Value
Both Saint Laurent and Chanel bags are highly desired and thus hold their value well on the secondhand market. With this said, Chanel will always be the better brand to purchase if you are strictly looking for an investment bag that goes up in price over the years.
This is partly due to the exclusivity of the bags, the limited-availability that they've posed on their own bags, and also because Chanel increases the prices of their most popular bags 1-2 times per year.
Our favorite handbags from YSL Vs Chanel
YSL and Chanel both create so many stunning handbags making it so hard to pick just one! Here we have brought together some of our favorite bags from YSL vs Chanel in a variety of styles to help you decide which brand and bag is best for you.
1. Shoulder bags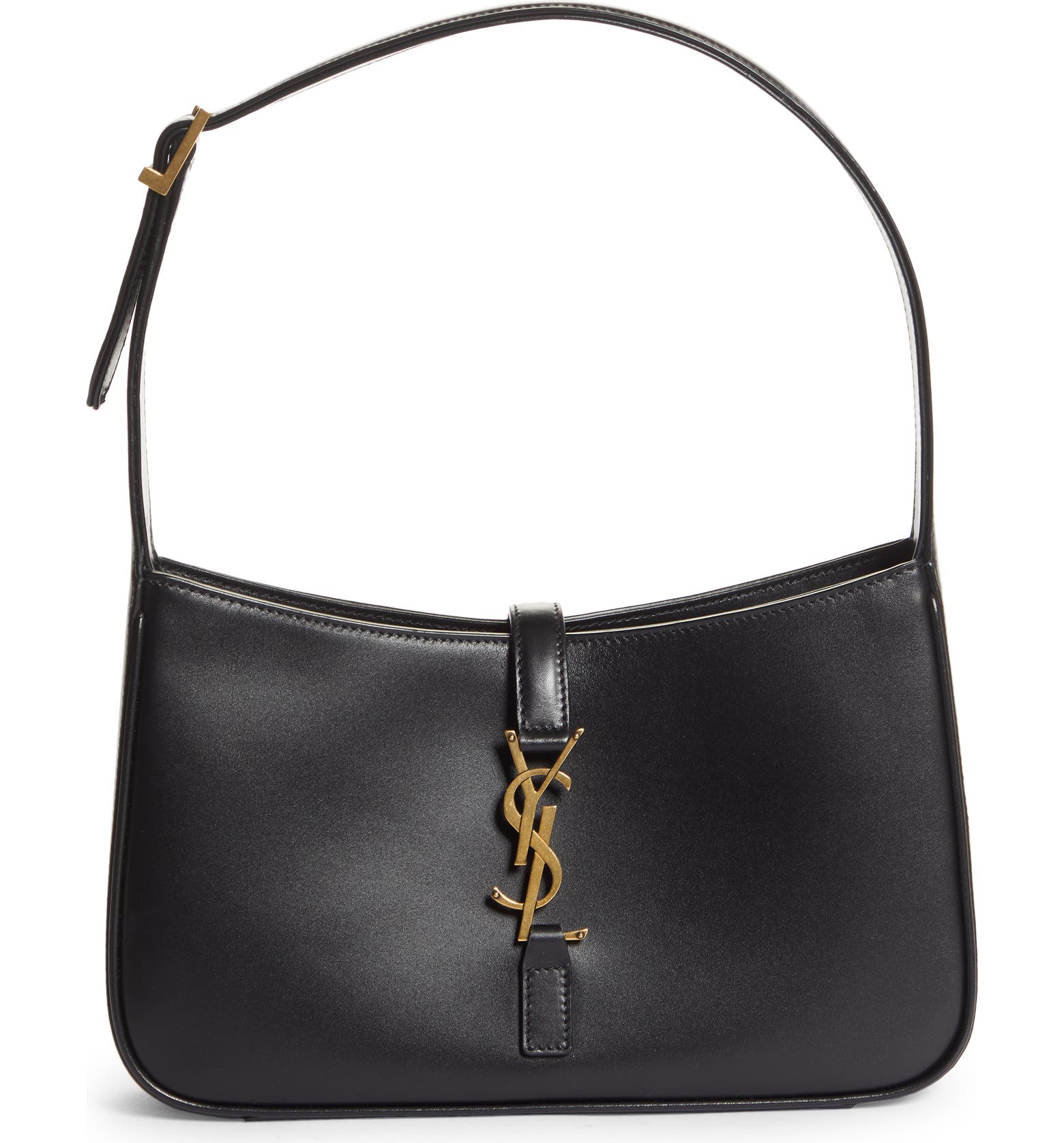 The YSL Leather Hobo Bag is one of Saint Laurent's newest shoulder bags that's gained a lot of popularity in a short amount of time. This timeless, classic bag has a sleek design and a rather affordable price tag – what more could you want?
The chic bag is made from supple calfskin, which is perfectly complemented by gold logo-engraved hardware. The shoulder strap is adjustable, while the interior features a zipper and slip pocket to help you stay organized – this bag would be the ideal everyday handbag.
The Chanel classic flap bag is an iconic handbag that is a must-have wardrobe piece. This edition of the classic flap bag is the small double flap, made from pale blue caviar leather and finished with gleaming gold hardware to form the CC turn lock and leather threaded chain strap.
This chain strap can be worn at the full length to create a crossbody bag or doubled up to form a shoulder bag – so versatile!
2. Wallet on ChainS
This Kate Tassel Leather Wallet on a Chain is the ideal evening bag, with its timeless design and versatile nature. This Saint Laurent WOC is made from buttery soft calfskin leather and the features gold YSL hardware and a shining chain tassel as the embellishments for a glamourous look.
The gold chain strap has a leather shoulder bag for the ultimate comfort, while the strap is also removable so the bag can be carried as a clutch too!
There are many different Chanel WOC's but we just love this Chanel Denim Quilted Chanel 19 Wallet On Chain that incorporates all the stunning elements of the Chanel 19 bags.
This pink wallet on chain is made from denim, which is a fun alternative to the usual leather finish, but in true Chanel style, the denim is still diamond quilted. As will all bags in the Chanel 19 collection, there is a mix of metals for the chain strap as well as a Chanel logo that is outlined with a delicate gold chain.
3. top handle bags
We love the elegant design of this College Medium YSL Matelasse Lambskin V-Flap Crossbody Bag with a padded leather top handle and a detachable shoulder strap.
The luxurious lambskin of this designer bag has a supple feel and perfectly contrasts with the hard edges of the gleaming gold YSL logo sitting on the front flap of this bag.
If you are looking for a classic bag that will be an heirloom piece you will love forever, then this Chanel Mini Top Handle Rectangular Flap Bag is perfect for you.
The lambskin has been diamond quilted and then embellished with gold hardware. Along with the leather top handle, there is also a gold chain strap for endless styling options. The interior of this Chanel flap bag is lined with smooth leather and features several pockets.
4. Bucket Bags
Bucket bags are so trendy at the moment, and we think the neutral colors of this Saint Laurent Mini Chevron Canvas Bucket Bag are so chic!
The bag is made from a durable linen and cotton blend in an off-white shade and features a beige Saint Laurent branded panel at the bottom. This bucket bag secures with a drawstring, which allows easy access to the roomy interior. This YSL bag has a top handle as well as a detachable shoulder strap.
This Chanel Deerskin Chevron Small CC Chain Bucket Drawstring Bag has a really striking look with rich red leather and dark hardware.
Crafted from deerskin leather, this Chanel bag has a flat leather top handle and a leather threaded chain drawstring with an oversized CC logo stopper. The side pockets are super handy, while the inside of the bag is pretty spacious. This beautiful bag is available for just $2,560!
Conclusion
YSL and Chanel both create beautiful bags that would look eternally stylish and fit perfectly into any luxury handbag collection. However, it comes down to your budget, your lifestyle, and the availability of these bags as to which brand you go for.
If you have a smaller budget and perhaps are looking for a slightly more durable bag, then YSL is the brand to go for as their handbags are significantly cheaper and the grained leather and quilting that feature on most bags make them more durable.
However, if you have a larger budget and are willing to wait for the bag you want, or go for a second-hand option, then go for a Chanel bag – you won't regret it! These bags are more expensive, but they are a classic that will never go out of style – remember to think carefully about the material you go for as many of the more luxurious leather will scuff easily.
We hope you found this article analyzing YSL vs Chanel helpful! For more luxury fashion content, check out the links below.
Get more luxury fashion ideas
Lambskin Vs Calfskin Vs Goatskin Leather: Everything You Need To Know
25 Best Designer Bags For Teachers That Are So Practical
YSL Vs Saint Laurent: What's The Difference?