11 Ways Wear Green Pants For Cool, Colorful Outfits
We only feature products that we hope you will love. We may earn a commission if you decide to make a purchase through our links, at no cost to you.
Spring and summer is the perfect time to play with different pops of color for your outfits. Here's a guide on what to wear with green pants so that you can add a bit of color to your wardrobe.
Bored with your usual denim jeans or your neutral tone trousers? Why not add a pop of color to your look with a pair of green pants?
Believe it or not, green pants are actually incredibly versatile and they can be dressed up or down to suit many occasions. There are different shades of green out there, and there's at least one hue that will look amazing with your skin tone, whether that's olive green or emerald green.
The challenge with wearing green pants is finding a top that complements them and fits your personal style. If you're having trouble in this area, check out our guide to easy looks with green pants of multiple shades below!

What To Wear With Green Pants
1. Black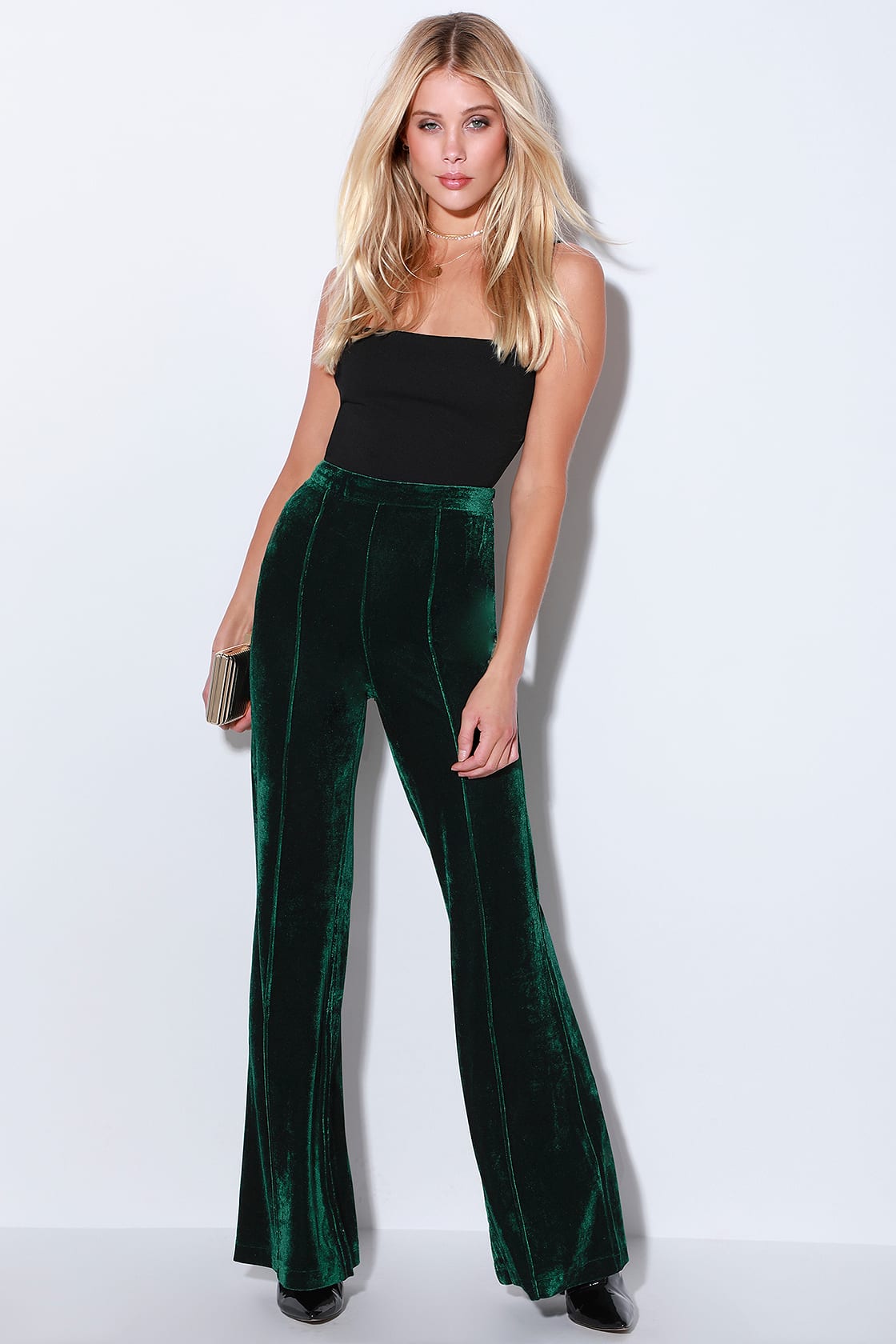 Black and green is a classic color combination that can immediately come to mind when you think of styling your pants.
There's no doubt that you can wear this color combination with confidence because black is such a safe color to wear with other colors. It goes well with just about anything, and this is why it's often the first choice for those who want to experiment with new looks their wardrobe.Plus, black is flattering on everyone!
For a casual look, pair your wide-leg green pants (or any pant style that you prefer) with a black sweater, turtleneck or shirt, like in the look above. Complete your outfit with a pair of your favorite white sneakers and you're all set for a cute, street style look.
Alternatively, if you want something more edgy, you can instead wear a black leather jacket with a light top underneath.
2. Green On Green
If you're looking for a stylish way to play up your green pants without having to make a complete effort, try pairing them with a matching green top. For example, if you have dark green trousers, wear a dark green top to match it with. You can also play with other different shades of green to break up the monotone!
Monochrome outfits are super trendy right now, and this is one that looks great on everyone. If you want to add a conrasting accessory, try wearing a white or a hot pink bag or shoes.
3. White
Like black, white is also a safe choice to wear with green pants if you want a "low-key" look. White goes well with all shades of green, from olive pants, sage green pants, emerald green, and muted light green.
For a chic, casual outfit, opt for a simple white -shirt with a knot on the front (like on the outfit featured above). A white tank top is ideal to wear on a hot summer day, along with a pair of green floral palazzo pants and some strappy flat sandals.
White crops tops are very popular right now, but you can also try a shoulder top or accessorize with a cross body bag in this color. You can also wear your green pants with sneakers—it's nearly impossible not to look stylish when wearing these classic kicks.
4. Blue
Green and blue is another iconic color combination that also works really well when it comes to clothing – after all, they're both calming colors that are abundant in nature. If you're wearing green pants, blue shades of any kinds are among the safest choices to pair with your bottoms.
5. Brown & Camel
Brown is another safe choice for wearing your green pants. Like blue, it's an earthy tone which makes it perfect for pairing with khaki green and olive green, which are more on the muted side.
6. Muted Orange
If you want to wear your green pants with an orange top, it's important to make sure that the two bold colors go well together and don't clash. Light green pants work well with lighter hues of orange, while khaki green looks amazing with burnt orange.
7. Pink
If you're looking for another cute color for your green pants, pink is a great choice. Hot pink is one of the best colors to wear with green pants because it's a contrasting color.
Just think about the famous combination of pink and green: Barbie and her iconic pink and green jeep are an iconic example of this pairing.
However, pink and green can be an overwhelming color combination if you're not used to wearing a lot of color. So, if you want to add a chic pop of color without looking too "loud", you can accessorize with a pink handbag or a pink pair of shoes, instead of going for a bigger piece like a hot pink sweater with your green pants.
8. Lilac (Or Lavender)
Lilac is a light purple color, and it's a beautiful choice to wear with green if you want to add a bit of whimsical flair to your look. Both lavender and bright "Bottega" green have been trend colors in the last year, and we don't see their popularity declining any time soon.
To accessorize, wear as much color as you can handle – we love the look of a lavender blazer with bright green pants, but if this is too much for you, opt for a simple pair of lavender shoes and a bag instead.
9. Yellow
Pastel yellow is a great color to wear during the spring and summer months, especially if you're pairing it with light green bottoms.
Alternatively, if you're dressing for the colder months, opt for deeper colors like emerald green pants and a mustard yellow sweater.
10. Denim
You can really never go wrong with denim. There's something about denim that makes it the perfect color pairing for green pants. A blue denim jacket is a great way to dress down your look especially if you're going out on a coffee run!
11. Multicolor
If you're going to be wearing a bright-colored bottom, then it makes sense to choose a top that will match.
The options are endless, but here are some tips for choosing the best colors: You don't have to stick with just one color when putting together an outfit for your green pants!
Just because you're wearing green pants doesn't mean that every other piece in your outfit needs to also be green.
You can easily wear any of these items as part of an ensemble: colorful tops, colorful pants, colorful shoes, colorful accessories (such as sunglasses), colorful hairstyles (like braids), and even makeup will work beautifully alongside these fun bottoms!
And there you have it! Our favorite color combinations when it comes to what to wear with green pants. From white to denim, and from pink to blue, there's something for everyone, whether you're looking for a toned-down look or something with more color.
Get More Fashion Ideas
25 Cute Biker Shorts Outfits Perfect For The Summer
15 Refreshing Ways To Wear White Shorts This Summer
12 Best Shoes To Wear With Shorts (For Cute Summer Looks)