9 Best Shoes To Wear With Wide-Leg Pants & Jeans
We only feature products that we hope you will love. We may earn a commission if you decide to make a purchase through our links, at no cost to you.
The summer season calls for something light and breezy, like wide-leg trousers. If you're unsure how to style these trendy pants, check out our guide on the best shoes to wear with wide-leg pants!
When it comes to clothes, it's all about mixing and matching. Now that we are in the warmer months, wide-leg pants are becoming increasingly popular – after all, they're great to wear, especially now that it's hot out.
Wide-leg pants come in many different styles: denim, linen, corduroy, etc. You can wear these pants for casual looks, and styled the right way, you can also wear them for formal events (just make sure to choose pants in the right fabric!).

The definition of wide-leg pants is pretty much self-explanatory: they are a type of pant that loosely flare out to the bottom. They're super on-trend these days, and they make for a comfortable pick when you want to go for a relaxed look.
And yet, when you're shopping for shoe options, it can be a tedious task looking for something that will complement your new favorite pair of pants.
So if you're currently on the hunt for shoe styles that will go well with your wide-leg pants, here are our top 9 picks that'll make you look and feel your best when wearing wide-leg pants.

The Best Shoes To Wear With Wide-Leg Pants
1. Ballet Flats
First, let's start with the easiest and perhaps the most comfortable option: ballet flats. Ballet shoes are comfortable, elegant, versatile and feminine. Plus, it's safe to say that most women already have a pair of ballet shoes in their closet, so all you need to do is to reach for them.
There are plenty of designs to choose from, all the way from minimalist shoes to statement pieces, which guarantees that you'll find the perfect pair for any occasion, whether that's a casual outing or a formal one. So if you're looking for a cute, comfortable shoe to wear with your wide-leg pants, ballet flats should be on top of your list!
However, if you want a little bit of height with your overall look, it's best to go for something with a heel.
2. Sneakers
Wide leg pants + sneakers? These are the perfect match for a street-style look. Sneakers are not just stylish these days, they're also versatile and come in multiple different styles to choose from. You can go for low-cut sneakers or high-top ones, but we also recommend going for a pair of trendy, chunky sneakers.
Sneakers are great for a casual, chic look, but you can also dress them up with the right pair of pants and a dressy top. If you want to be extra chic, we recommend adding one of these Golden Goose sneakers to your shoe collection!
Pair your wide-leg jeans with a cute crop top of your choice, along with a pair of your favorite white sneakers. Accessorize with a baguette bag and put your hair up in a bun. Now you've got a super cute look that's straight out of Pinterest!
3. Block Heels
Heels are a great way to add height and femininity to your outfit, and we recommend wearing block heels for a subtle yet elegant look.
They're also an easy way to help elongate your legs and balance out any wide-leg pants you might be wearing if you want a look that's more dressy.
A block heel is one of our favorite heel types for everyday wear because it's far more comfortable than a stiletto heel. At the same time, it still gives you enough lift so that it doesn't feel like you're walking on the ground barefoot!
For a cute summer outfit, wear your strappy block heels with a pair of white palazzo pants and a tight-fitting top of your choice. Accessorize with a straw bag and a sunhat, and you're good to go for a day out in a summer town.
4. Wedge Espadrilles
It's summer, and that means it's time to bring out all the cute summer shoes. You might think espadrilles are only suitable to be worn with dresses or shorts, but you'd be wrong – they pair perfectly with wide-leg pants too!
Espadrilles come in different styles, but we are partial to comfy wedge espadrilles. They're a great choice for a day out, and they're cute and feminine as well.
Wear these shoes with a pair of wide-leg corduroy trousers, or linen pants if you're going somewhere warm. All in all, wedge espadrilles really add a boost of summery, flirty flair to your whole look.
5. Square Toe Sandals
If you're a self-proclaimed fashion girl, then you're already probably familiar with square-toe shoes. These are a great choice for summer, and they're extremely trendy right now. Plus, they're comfortable and easy to wear.
Best of all, there are multiple designs with the perfect amount of heel height to show off your legs without putting too much pressure on them—not that you'll ever notice because you'll be too busy getting compliments from everyone who sees them!
6. Ankle Boots
Ankle booties are a classic shoe that can work well with wide-leg pants. This style is not only easy to wear, but it's also versatile, so you can pair the look with a variety of different outfits.
One of the best things about ankle boots is that they typically don't have any exaggerated features — no platform heels or chunky soles to distract from your wide-leg pant look. Of course, you can also go for chunky ankle boots if that's more your style, but we recommend opting for more classic booties to give your wide-leg pants the spotlight.
You'll be able to move around easily in these shoes when you're going out for dinner or drinks with friends after work!
You can also opt for a pair of chic Chelsea boots instead of the usual ankle boot style. Either way, these boots will surely look cute on you.
7. Flip Flops
This is an option that's great for the pool or beach, or even while strolling in a warm tropical city as a tourist. Flip-flops aren't formal, so make sure that you're only wearing this for a casual day out!
Wear your flip-flops with a pair of loose wide-leg linen pants and a bikini top. Accessorize with a beachy designer tote bag, a floppy sun hat, and your favorite pair of sunglasses.
That's pretty much it – you've got all the essentials for a beach trip!
8. Flat Sandals
While we are on the subject of flats, let's talk about flat sandals. They're easy to wear and comfortable and are surely already part of your summer capsule wardrobe. And they go with everything!
They're more formal and dressier than a pair of flip-flops, so you can wear them for beach-to-bar outfits, as well as many other special occasions when you just want to remain comfortable. They're great for any occasion, whether it's an afternoon walk through the park or an evening out shopping with friends at your favorite boutique store (or maybe even both!).
9. High Heels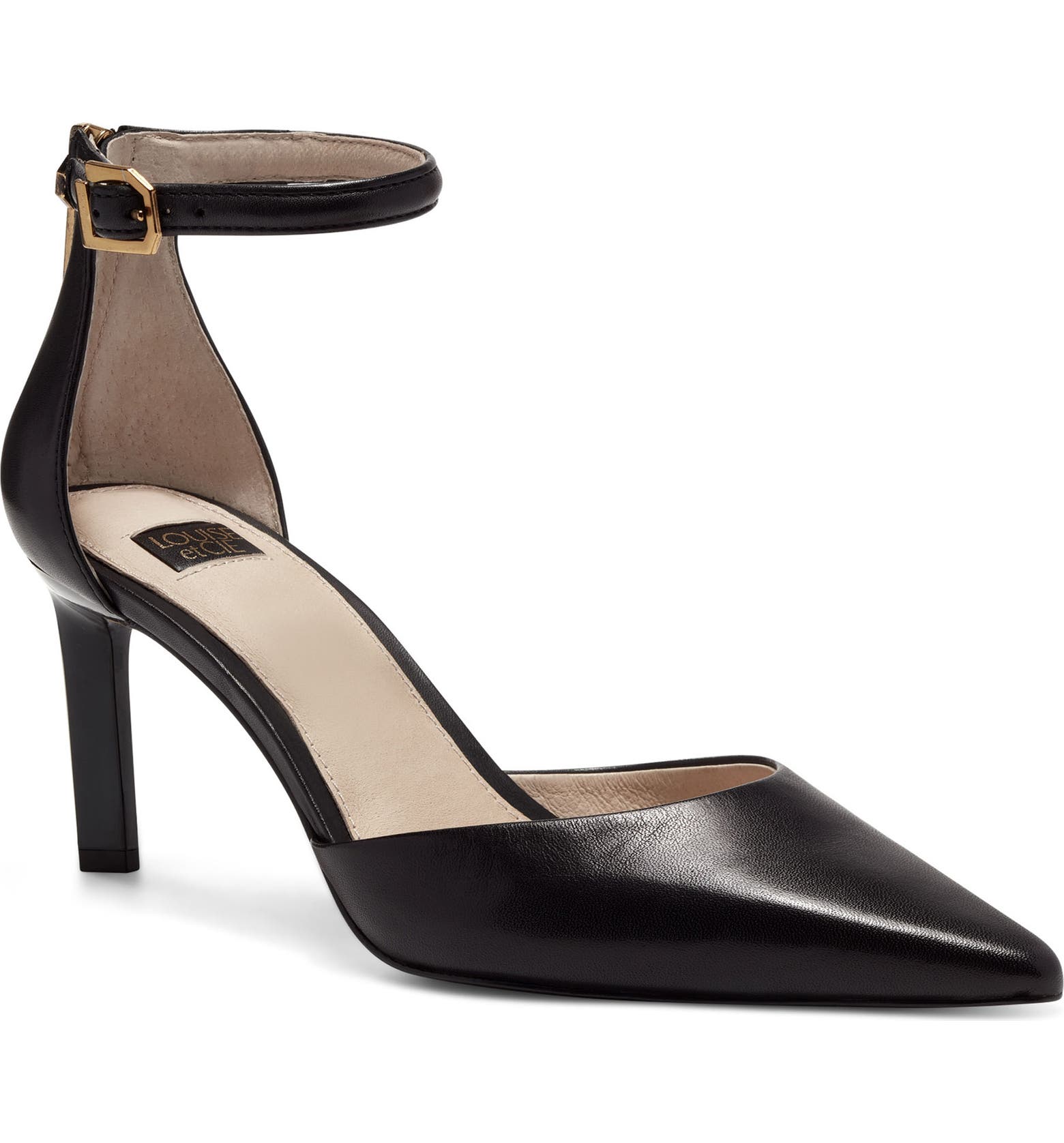 Heels are the secret weapon to making your legs look longer, and they can be as high or low as you want. They can also be plain or embellished, chunky or strappy, black or colorful.
Heels are a great choice if you want to make your legs look leaner and give yourself some extra height. You can go for something bold like red stiletto heels with your wide-leg pants, or something a little bit more toned down like classic strappy heels.
If you're going to do a lot of walking around town, we suggest that you avoid ones with stiletto heels as they can be uncomfortable after a certain amount of time – reserve these for special occasions!
Commonly Asked Questions
Are wide-leg pants flattering on short ladies?
Yes, they're flattering for any body type and that includes short and petite ladies! You can find wide-leg pants that hit the ankle, which will make you appear taller and not completely engulf you.
Are wide leg pants trendy?
Wide-leg pants are not only super on-trend right now, but they're also a classic wardrobe piece. This means that they'll never go out of style and will work with any shoe, so they're an investment that you can wear for years to come.
Wide-leg pants will look great on just about anyone and in any situation—from the office to events and parties, or even errands around town! They're very versatile. Wear them with sneakers for casual comfort or heels for an elegant look.
Conclusion
As you can see, there are a lot of shoe options that pair well with wide-leg pants, and it's not hard to find something that works for your foot shape.
The key is finding shoes that will complement your wide-leg pants and really let them shine. This way you'll look great from head to toe and feel confident strutting your stuff in style.
We hope you found this style guide helpful! If you're still looking for more fashion inspiration, check the posts down below.
Get More Fashion Ideas
15 Refreshing Ways To Wear White Shorts This Summer
25 Cute Corset Outfit Ideas That You Can Wear This Summer
25 Best Designer Sandals For Every Type Of Occasion