The Best Shoes To Wear With Sweater Dresses In Fall & Winter
We only feature products that we hope you will love. We may earn a commission if you decide to make a purchase through our links, at no cost to you.
Are you expanding your winter wardrobe? Then sweater dresses are a must. This helpful guide will show you what shoes to wear with sweater dresses for the most stylish outfits.
Fall is finally here, and winter is not too far, either! This means that it's time to break out your sweater dresses and your favorite pair of boots. This dress + footwear combo is not only a fashion statement, but it is also a very comfy outfit designed to keep you warm and snug for the cold days and the chilly months ahead.


When we think of a cozy sweater dress + boots combo, we automatically think of Ariana Grande. The petite yet vocally powerful pop singer's signature style (among many other iconic ones) is an oversized sweater dress paired with thigh-high boots.
Despite only being five feet tall, Ariana wearing a pair of thigh-high boots actually makes her look taller than she actually is. Thanks to her, there are so many outfit ideas that can be played around with.


Which brings us here: So you got your cozy, oversized or bodycon sweater dresses ready, but what kind of shoes should you pair them with? Thigh-high boots are one of them, yes, but there are also other variations of footwear that you can wear your sweater dresses with, which we will be discussing below.
Let's get started on perfecting your sweater dress game!

The Best Shoes To Wear With Sweater Dresses
1. Knee-High Boots
Knee-high boots are probably the most popular shoes to wear with dresses in the winter because of their versatility. Not only do they provide warmth during the cold season, but they are also perfect for work outfits, night-outs, dates, and multiple other occasions.
Plus, knee-high boots have been around and in style since the 1950s. Rest assured, knee-high boots will always be a good choice of footwear.
For a chic winter look, wear a short dress with long sleeves and layer it with a long trench coat, and a pair of neutral pair of boots.
If you're going for a statement look, consider styling your neutral sweater dress with a pair of snake print boots – these can look seriously cool. Alternatively, if you're from the South, why not take out your favorite pair of cowboy boots and style it with your dress?
2. Combat & Lace-Up Boots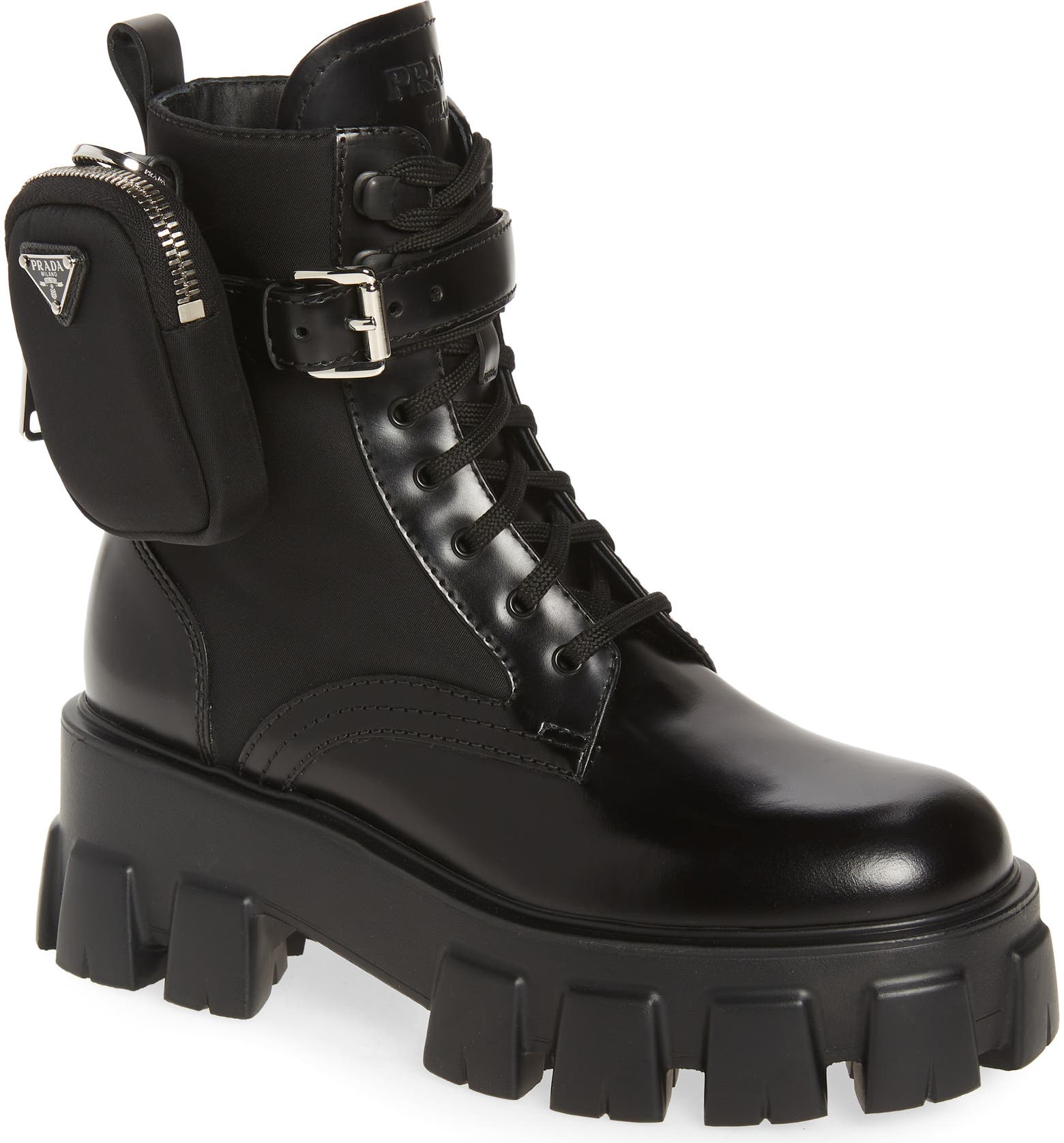 Combat boots in all their forms are some of the trendiest shoes to wear with dresses this winter, and they're especially great if you're going for an adventurous, bad-ass look.
The soles of these chunky boots are designed to grip on rough surfaces, which is perfect if you're someone who moves around a lot. In addition to this, combat boots look amazing in other colors than black, too. If you're more into neutrals, try a pair of white or beige combat boots instead!
Plus, if you have a little extra to spend, consider investing in designers like Fendi and Prada that have some of the most recognizable it-shoes of the moment. (We love the Monolith boots from Prada!)
3. Thigh-High Boots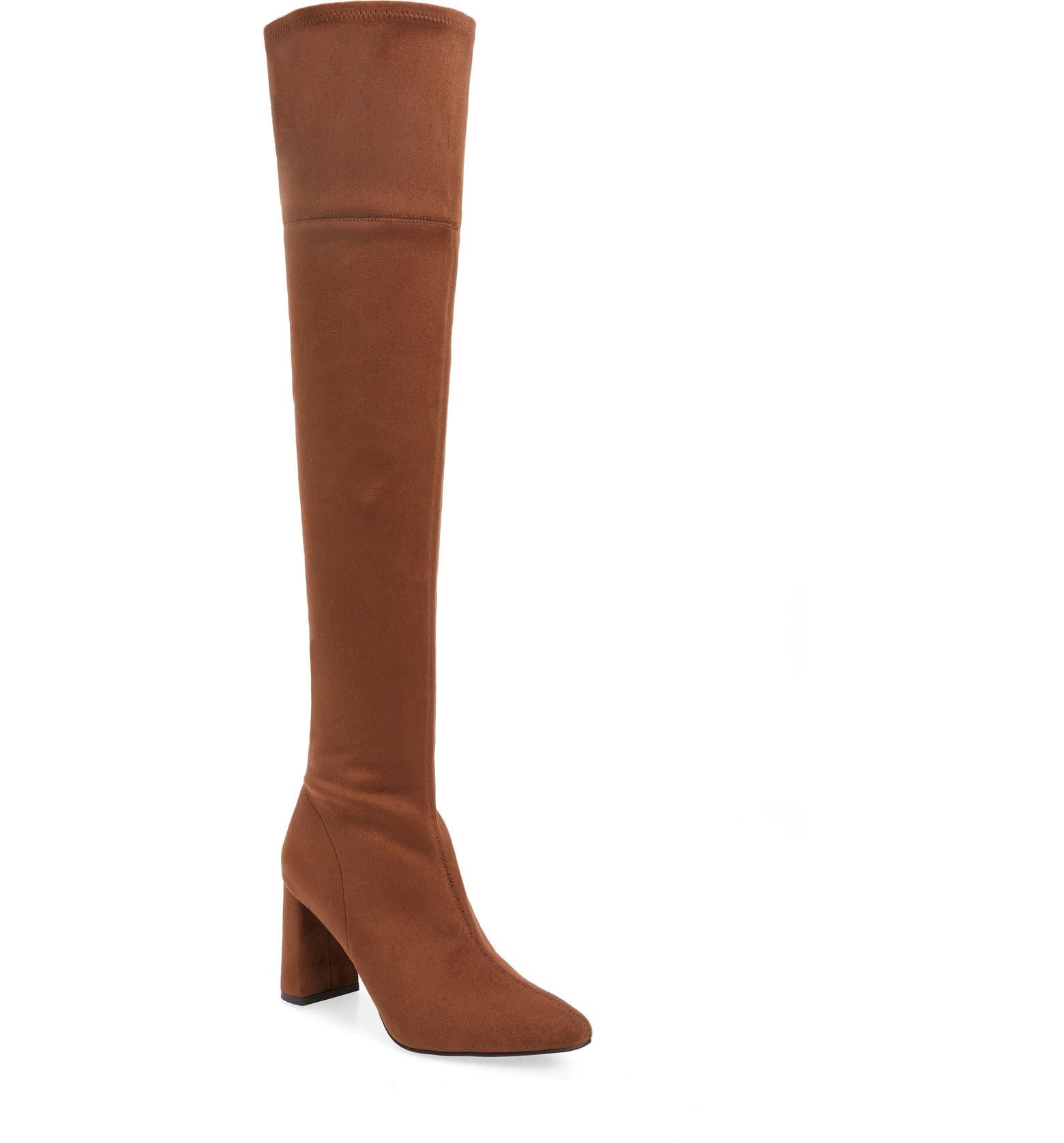 Thigh-high boots are quite similar in style to knee-high boots, but they're usually more skin-tight than their knee high counterparts. As the boots are tall, they work best when wearing a short, slightly oversized knit dress or tunic.
While this outfit is already rather warm in it's own right, you can always layer by wearing thermal wear under your dress, or simply by adding a trendy wool-blend coat over your look. For the best effect, make sure to pair your shoes with a bag that's in the same color as your boots!
4. Ankle Boots
Ankle boots are another popular choice to wear during fall and winter, and they are not too constricting on the legs compared to knee-high and thigh-high boots.
Plus, since the boots themselves are quite short, you can pair them with more sweater dresses of different lengths, from short knit dresses all the way to maxi dresses.
If you have a simple pair of black boots, you can be more adventurous with the color of your sweater dress; we love emerald green, burgundy and navy for the festive season.

5. Sneakers
If boots are not your thing, we got you. Minimalist and chunky sneakers provide that snug and warm feeling on your feet, and they are also a good choice to pair with sweater dresses, making it a cute outfit.
This is definitely among the most comfortable outfit options from the list, and perhaps the most casual. If you're looking to add a little bit of visual interest to your look, your easiest bet is to do it with a pair of designer sneakers, whether that's a pair of Veja's or a more eye-catching pair of Gucci sneakers.
6. Heeled Sandals & Pumps
If you're looking for a date night look that's not too over the top, a cozy bodycon sweater dress with a pair of sultry heels is a surprisingly elegant look. Multiple heel styles work for this outfit combination, including chunky heels (if comfort is key for you), classic stiletto heels, and of course, pumps.
However, we would say that if you're going for open-toe sandals, make sure your sweater dress isn't too chunky – opt for a light knit dress instead, like the chic Ginette dress from Steve Madden, featured above.
7. Chelsea Boots
Much like ankle boots and combat boots, Chelsea boots pair amazingly well with knit dresses. They're slightly edgier than your average pair of ankle boots, and the flat sole makes them super comfortable for daily errands.
If you're looking to elevate your outfit even more, make sure to wear them with a pair of black tights for extra warmth, or throw on a black leather jacket if the weather hasn't turned too cold.
For added everyday glam, choose a chic everyday designer bag to add a hint of logo to your look.
8. Chunky Loafers With Socks
While boots are the best shoes to wear with sweater dresses, we've been seeing lots of stylish people wear their knit dresses with chunky loafers, styled with long socks to create a cozier look that's suited for the winter.
This creates a slightly preppy look which has been very trendy in the last few years. If you can afford designer shoes, we would definitely recommend looking at Prada's chunky loafers that have made their way into many fahsion influencers' closets. If you're on a budget, Sam Edelman offers a similar style for just $150.
9. UGG (Ultra) Mini Boots
Photo via @jessmsheppard on LTK | Shop the look on her LTK profile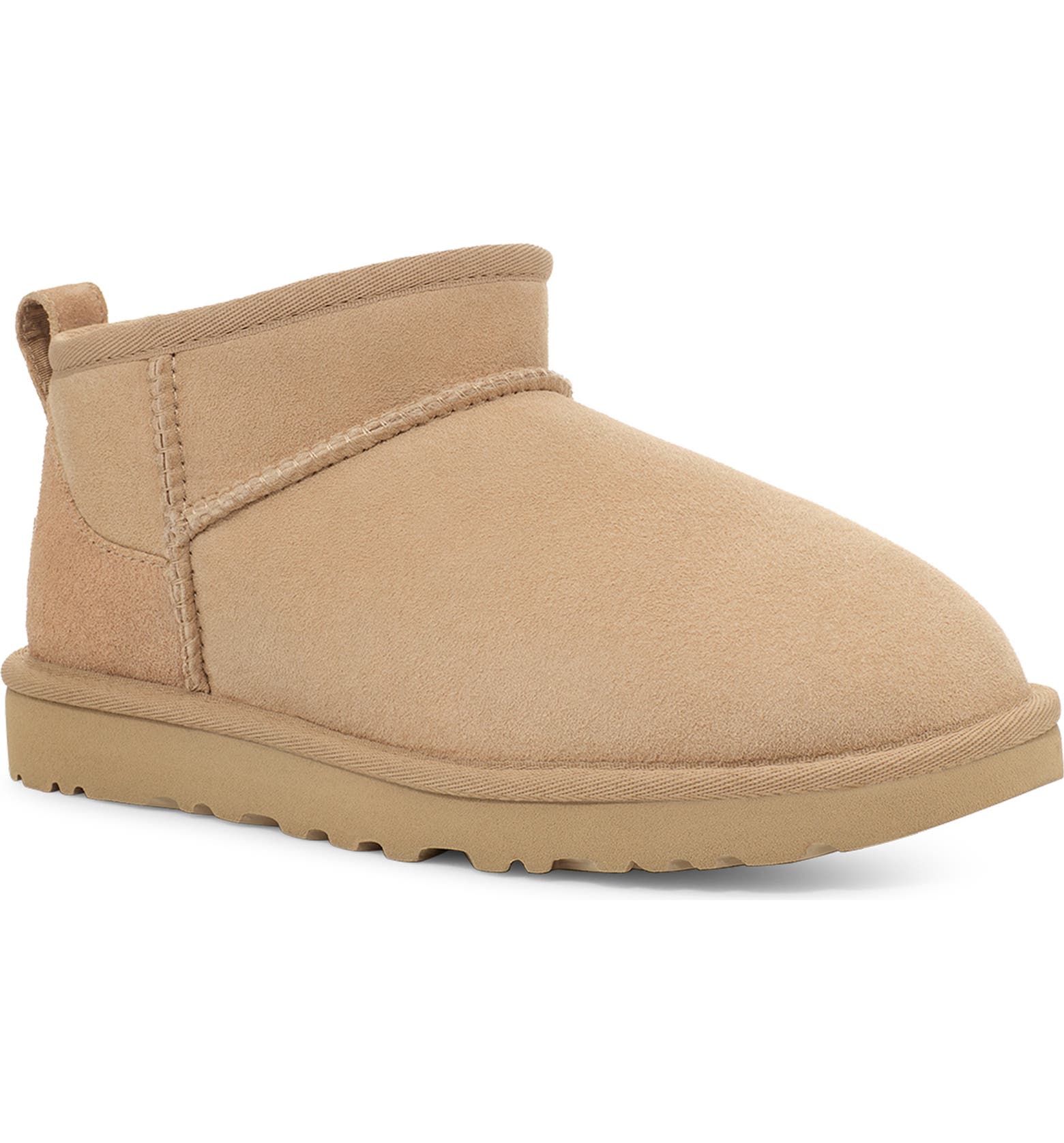 For a cozy look that's equally comfy as it is stylish, why not hop on the latest fall trend and get yourself a pair of UGG Ultra Mini or Mini boots? Both of these boots look great with an oversized, cozy sweater dress and are great for days when you need a little bit of extra warmth.
This look is also great if you are working from home, but just want to head out for lunch between your meetings.
We hope you found a couple of new ideas on how to wear shoes with sweater dresses during the colder monthswhether you're after an edgy look or a chic look! If you're still on the lookout for fashionable footwear, check the posts down below.
Get More Shoe Ideas
25 Best Designer Shoes To Invest In 2022 (And Wear For Years)
Is Steve Madden A Good Brand? Here's All You Need To Know
12 Brands Like Charles And Keith For Your Next Pair Of Shoes Or Bag