12 Brands Like Charles And Keith For Your Next Pair Of Shoes Or Bag
We only feature products that we hope you will love. We may earn a commission if you decide to make a purchase through our links, at no cost to you.
If you've been finding all of your favorite bags and shoes on Charles & Keith's website, boy, do we ever have a treat for you. Accessory enthusiasts are sure to enjoy these 12 modern and affordable brands like Charles and Keith!
A pair of good shoes can be rather difficult to find. They need to be comfortable, durable, and most importantly, they need to be fashionable.
However, it needs to be done. Having an extensive shoe collection makes getting dressed in the morning a lot easier as the perfect pair of shoes can really bring the whole outfit together. The same goes for a good handbag—bags are like the cherry on top of an already stylish outfit.
Luckily, you can find thousands of trendy and comfortable options for bags and shoes at these online boutiques that offer quality pieces just like Charles & Keith.

12 Best Brands Like Charles & Keith:
1. Steve Madden
Steve Madden is known for producing incredible shoes and bags at an affordable price, that are timeless and on-trend at the same time.
If you've ever lusted over particularly trendy designer pieces, such as Chanel's dad sandals, you can rest assured that you'll find a relatively similar design over at Steve Madden (ahem, those would be the Margie sandals).
All of the shoes and bags sold at Steve Madden are typically around $100 or under, which makes this brand one of the best alternatives to Charles & Keith.
2. JW Pei
If you religiously follow fashion influencers and the popular celebrity stylist Maeve Reilly (who is responsible for styling Megan Fox, the D'Amelio sisters and Hailey Bieber), you're likely familiar with JW Pei.
This affordable handbag brand believes that all fashion should be ethical and sustainable, which is why it uses vegan leather to create all of its stunning bags. JW Pei's website carries bags of all shapes and sizes, including crossbody bags, shoulder bags, satchels, totes, wallets, and more, just like Charles & Keith.
For those who don't know where to start with their handbag collection, let us tell you. The Abacus Mini Top Handle bag perfectly channels Bottega Veneta's Jodie bag without being an exact copy, making it a fantastic addition to your party wardrobe if you're on a budget.
3. Dolce Vita
Dolce Vita carries all of the most-wanted shoes for fashion-forward women. The online boutique has every type of boot you could ever ask for: ankle boots, knee-high boots, over the knee boots, calf boots, and biker boot, but we're especially fond of the beautiful braided heeled sandals, featured above.
Every woman's shoe collection needs a pair of casual slides that they can whip on as they run out for a quick brunch. The Ronin sandals with a heel height of just 1.5 inches are the perfect stylish accessory for any summer outfit.
4. Pedro
Pedro adds tons of new women's and men's styles to its website on a weekly basis. Like CHARLES & KEITH, the online boutique carries an impressive selection of heels, sandals, flats, wedges, pumps, sneakers, boots, loafers, moccasins, bags, and accessories, all for a fairly affordable price. Pedro also has a kids selection so your entire family can place an order at once.
If you're searching for a trendy pair of sandals to wear to dinner parties and out for drinks with your friends, check out the Pointed Icon Slingback Pumps, available in moss green, black and white. These fashionable slingbacks have a heel height of just 2.5 inches, which is perfect for both casual and formal occasions.
If you prefer heels and sandals that will give you a huge height boost, opt for a wedge heel as they are more comfortable to walk in.
5. Coach
Coach is an American company that has a vast selection of handbags but a smaller selection of footwear. The luxury handbag brand carries shoulder bags, crossbody bags, wallets, wristlets, clutches, work bags, and even diaper bags so you can tote diapers in style.
If you're on the market for a new wallet similar to Charles & Keith that won't fall apart after a few weeks spent in your purse, order the Skinny Wallet. It will fit in every bag you own and comes in multiple funky color options.
6. Aldo
Aldo is a Canadian brand that's recognized for its fashionable footwear and abundant selection of accessories. If new footwear or handbags have just landed, Aldo will be carrying similar items within weeks. We love a good, affordable designer-inspired look.
When it comes to handbags this season, people are elevating their trendy looks with a bright handbag that adds a pop of color to the outfit. Think neon green, hot pink, highlighter yellow, and turquoise.
For example, a lavender y2k-inspired bag will add some extra heat to your outfit, especially if paired with strappy sandals that match the bag. Aldo also carries tons of jewelry, sunglasses, and hair accessories.
7. Tory Burch
We love the timeless, ever so slightly bohemian style of Tory Burch bags and shoes with their eye-catching double T logos.
If you're searching for a timeless leather bag similar to the ones from Charles & Keith, Tory Burch has many options for you, such as the brand's best-selling Fleming bag in cream. Because leather is so durable and high quality, be prepared to spend a good chunk of money on your bag.
However, these expensive bags typically last the longest as they withstand the usual wear and tear. If you're looking for something more affordable, check out their range of nylon bags instead.
8. Rebecca Minkoff
Rebecca Minkoff is a global fashion name founded by a pair of extremely chic siblings from New York City. The brand carries a wide selection of handbags, clothes, accessories, shoes, and most recently, perfume. Rebecca Minkoff has begun prioritizing ethical, eco-friendly clothing items and they can all be found in its Sustainably Made collection.
Backpacks are also a must-have item in everyone's closet as they are comfortable to wear and can carry tons of stuff. If you don't have a trendy shoulder bag yet, check out the Chanel-inspired Chevron Crossbody bag.
9. Kate Spade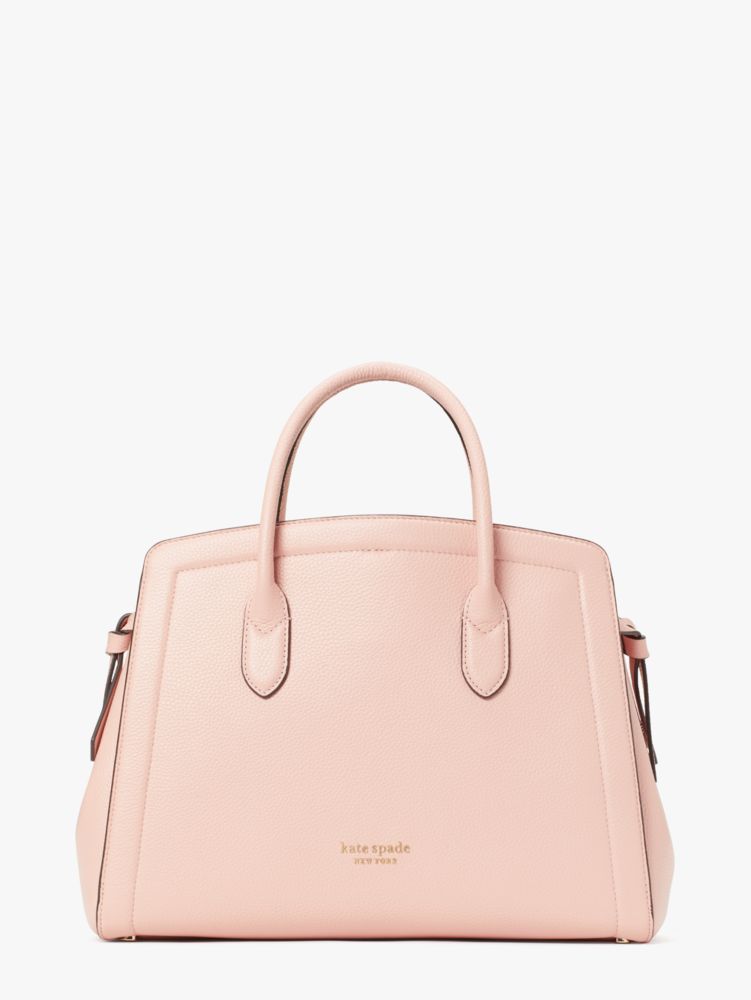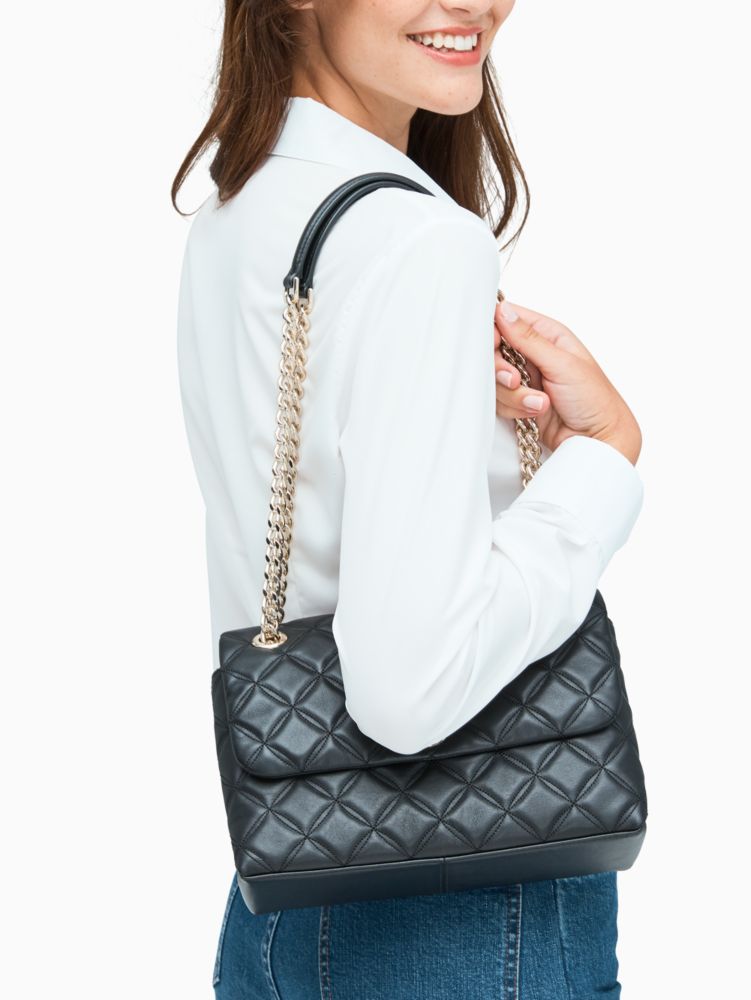 This handbag and accessory brand started in New York and is now well known by fashionistas all over the globe. Kate Spade has tons of statement bags but also modern and sophisticated styles. For those looking for handbags made from unique materials and in playful colors, look no further than Kate Spade's website.
We absolutely love the Natalia Medium Flap Shoulder Bag in black – perfect for everyday outfits. Kate Spade also has a great gift collection in case you're ever stuck on what to get your sister or mom for her birthday.
Kate Spade is also sold at Nordstrom / Bloomingdale's and many other department stores.
10. Madewell
Madewell is primarily a clothing company but it also offers shopaholics a glorious selection of bags and shoes that are similar other brands like Charles & Keith.
The fashion brand focuses on practical pieces made with sustainability in mind. The website is filled to the brim with adorable sneakers, flat sandals, and sandals with modest wedge heels.
Those who don't yet own a giant tote to carry their belongings and lunch to and from the office are desperately in need of the Sydney Tote Bag.
We hope you found the bags and shoes for yourself from brands like Charles and Keith from this post. In case you're still on the lookout for a great piece or two, check out more fashion ideas below!
11. Coccinelle
This online store is filled with premium leather bags and one-of-a-kind leather accessories. Coccinelle has every sort of bag you could ever dream up, in tons of gorgeous neutral and pastel colors like baby blue, burnt orange, cream, brown, and black.
Accessory lovers are sure to appreciate Coccinelle's leather belts, bracelets, key chains, and scarves that look similar to Charles & Keith's collection.
View this post on Instagram
Nine West is another trendy brand like Charles & Keith that carries all the latest trends of bags and shoes. The online store has a pair of shoes perfect for your sister's baby shower, your office party, and even your third date with a guy you met on Tinder.
The Instaa Heeled Slides that comes in pink, yellow, nude, and blue, is the ideal modern date shoe. If you prefer to wear neutral shoes, check out Nine West's Nudes collection.
Get More Fashion Ideas
30 Types Of Bags For Women (For All Seasons & Outfits)
Is Charles and Keith A Luxury Brand? All The Info You Need
The Best Heels for Plus Size Ladies: 5 Types Explained