6 Most Expensive Lip Balms Currently On The Market
We only feature products that we hope you will love. We may earn a commission if you decide to make a purchase through our links, at no cost to you.
Beauty products don't have to be expensive to be effective, but there's no doubt that some of these most expensive lip balm brands are fantastic products worth checking out!
Lip balms are a ubiquitous part of our daily routine, especially during the dry and cold months when our lips need some extra care and protection. With an overwhelming number of options available in the market, ranging from drugstore to high-end brands, finding the perfect lip balm can be a daunting task.
However, for those willing to splurge on opulent lip care products, there are some truly extravagant options out there. In this article, we will explore the most expensive lip balms on the market, their ingredients, and what sets them apart from the rest.

With this said, it's worth pointing out that as a general rule, a high price does not always mean the product is better – you are more than likely paying extra for the brand name and luxurious packaging.
Ultimately, if you're looking to lock moisture into your lips, a thick layer of vaseline or another occlusive agent like shea butter will do just that for under $5.
Even if you are looking for added benefits related to anti-aging or hydration, your best bet is to actively look at the ingredients of the products to determine what you are paying for. Look out for science-backed ingredients like hyaluronic acid, retinol, ceramides, peptides and glycerine in your lip balms, no matter what price you're paying.
Below, we've rounded up the 6 most expensive lip balms currently on the market, focusing on products that you can put in your purse and carry with you wherever you go. With that said, we have also included one lip cream that is meant to simply stay on your vanity at home.

The Most Expensive Lip Balms
1. Guerlain Orchidée Imperiale Black Eye & Lip Contour Cream – $650
The Guerlain Orchidée Imperiale Black Eye & Lip Contour Cream is a rich luxury cream made with rare and precious black orchids and enriched with ingredients that target visible signs of aging, such as hyaluronic acid.
Marketed as the ultimate talisman of youth, this gentle formula is made to be used around the eyes and the lips. It's incredibly expensive at $650 per pot, but it does what you'd expect: it moisturizes your lips so that they're smooth and soft for hours.
Environmentally-minded shoppers will be happy to know that this lip cream is refillable, and fortunately, the refill only costs $470.
2. Fillerina Lip Contour Cream Grade 5 – $125
If you have noticeable aging around your lips, you might be interested in trying the Fillerina Lip Contour Cream (Grade 5). This innovative product has been specifically formulated to plump up lips, and to enhance skin density, making fine-lines less noticeable.
It contains hyaluronic acid in 12 different molecular weights, meaning that each has different penetrative qualities, which ultimately helps the product last longer and work better on your lips. The patented formula also includes ingredients that slow down the breakdown of collagen and elastin in your skin, as well as peptides, 2 types of collagen, 3 types of elastin and 7 plate-like molecules for strengthen the skin barrier.
In addition to this, the cream also contains a blend of nourishing oils, including sweet almond oil and shea butter, which help to moisturize and soften the lips.
All things considered, Fillerina Lip Contour Cream is a top choice for those looking for a high-end anti-aging lip care product that has science to back up its claims.
Fillerina offers a multitude of other similar products for lips, too; check out their full collection at Saks Fifth Avenue.
3. Macrene Actives High-Performance Lip Filler – $125
If you've ever thought about getting lip fillers, try the injection-free Macrene Actives High Performance Lip Filler first.
As with lip filler, its key ingredient is hyaluronic acid, which helps to attract and retain moisture in the lips, resulting in a plumper and more youthful appearance. The balm also contains a blend of plant oils, including coconut, and sunflower oils, which work together to deeply nourish and moisturize the lips.
Additionally, the balm contains moisturizing ingredients such as ceramides, capric triglyceride and shea butter, resulting smoother, happier lips.
While the product isn't designed to increase the size of your lips dramatically, it does smooth out any fine lines you may have, making it a great choice for those who suffer with chapped lips.
4. Clé de Peau Beauté Lip Serum – $100
Clé de Peau Beauté Lip Serum is another premium lip product that promises intense hydration, plumping and visible filling of any fine lines.
Among all of the products featured on this list, this one is perhaps the most well-loved despite its high price point. The ingredients in this silky serum are carefully chosen to provide maximum benefits, and include key elements such as the brand's exclusive Illuminating Complex EX with precious silk and pearl to moisturize the skin.
The serum also contains hyaluronic acid, which helps to attract and retain moisture in the lips, resulting in a plumper and more youthful appearance. Additionally, you'll also find Golden Silk Essence that battles translucence, as well as theanine to even out skin tone.
5. Sisley Nutritive Lip Balm – $95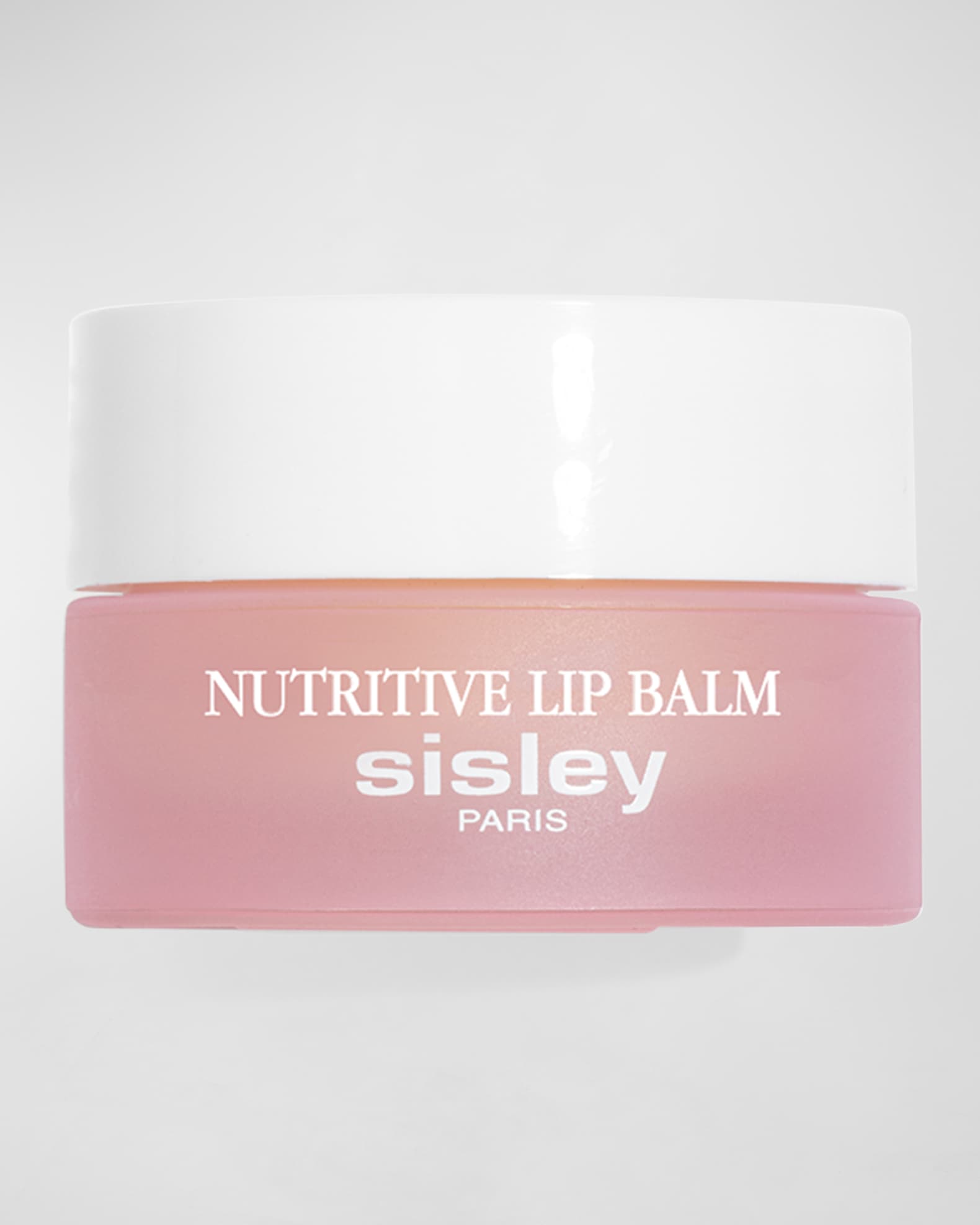 Sisley Nutritive Lip Balm is a luxurious lip balm that is known for its nourishing and hydrating properties.
Some of the key ingredients are kokum butter, a natural emollient that helps to soothe and soften the lips, mango butter, as well as a blend of multiple nourishing oils, including shea oil, plum kernel oil, jojoba oil, sweet white lupin oil and wheat germ oil, which help to protect the lips from environmental stressors.
Additionally, the balm contains Padina Pavonica, a marine algae extract, which has moisturizing and plumping properties. These ingredients work together to provide long-lasting hydration and protection for the lips, making Sisley Nutritive Lip Balm a top choice for those looking for a high-end lip care product.
6. La Mer The Lip Balm – $75
La Mer is well-loved by many celebrities, influencers, and makeup artists alike, and you can add a touch of its magic to your makeup bag with this minty lip balm that promises intense hydration for supple lips.

The balm contains the brand's signature Miracle Broth, which is a proprietary blend of nutrient-rich sea kelp, vitamins and minerals, which work together to help restore and rejuvenate the skin on the lips. Other notable ingredients include vaseline (petrolatum), sesame oil, and sweet almond oil.
Conclusion
The world of high-end lip balms offers a range of luxurious products with beautiful packaging, rare ingredients and steep price tags.
While these lip balms may seem tempting, it's important to remember that not all expensive products are created equal. When it comes to selecting a lip balm, we recommend prioritizing science-backed products that have been tested and proven to provide actual benefits for the lips.
While a high price tag may indicate quality, it's important to do your research and make informed decisions about the products you choose to invest in to make the most of your money. With this said, we definitely recommend checking these products out if they have piqued your interest.
Up next: 8 Chic Lipstick Colors To Wear With A Navy Blue Dress