Cashmere Vs Merino: Which Wool Is Better?
We only feature products that we hope you will love. We may earn a commission if you decide to make a purchase through our links, at no cost to you.
When shopping for clothing, it's also important to take note of the fabrics that will influence your decision. Here's a guide between cashmere vs merino wool!
When you think of wool, you probably picture a cozy sweater or cardigan. Some of the most luxurious and sought-after textiles actually come from animal hair because of their high quality and their ability to regulate body temperature during colder months.
Cashmere fabric and merino wool fibers are both soft, fluffy, and warm, and both are often used in fine clothing because they're so comfortable against your skin. So what's the better option for you? Let's take a look at how cashmere vs merino wool compare to each other.
What is Cashmere?
Cashmere is a soft, warm fabric made from the undercoat of cashmere (Kashmir) goats found in China and Mongolia. It's a natural fiber, which means it can't be bleached or chemically treated and has to be raised humanely. Exquisite cashmere is considered one of the most luxurious fabrics in the fashion world.

This superior fabric is known for its ability to drape beautifully, providing a unique texture and softness with a luxurious feel. Cashmere garments also impart an elevated, elegant look on more formal occasions, as well as giving warmth in cold climates and harsh winters.
What Is Merino?
Merino wool, on the other hand, is a type of wool that is softer and more refined than regular lamb's wool or sheep's wool. It comes from the merino sheep, raised mostly in Australia and New Zealand, and bred to produce very fine natural fibers.

These merino fibers have been proven to absorb moisture better than cotton and all other natural fibers. This allows them to dry quickly while remaining warm. Merino wool is a superb natural material for performance clothing and outdoor clothing, especially given its moisture-wicking properties.
How Do These Fabrics Compare?
You might be wondering: how does cashmere compare to merino? Merino wool vs cashmere are both natural fibers, and both are soft and warm—but there are some differences you should know about. Merino wool is more breathable than cashmere, so it's better suited for people who get hot easily or live in warmer climates.
Cashmere is softer than merino, but it can also trap heat more easily—which isn't always a good thing! True cashmere tends to be more expensive than merino because of its luxurious texture and feel, as well as the fact that cashmere goats only produce about 200-300g of wool per year, compared to 3-6kg for merino sheep.

Cashmere VS Merino: The Main Differences
1. Durability & Warmth
Cashmere offers superior softness and warmth compared to merino wool, which makes it ideal for scarves and layering pieces like sweaters that don't need to be washed that often.
However, cashmere is very delicate and needs to be hand washed in cold water, and under no circumstances should it be machine washed with a spin cycle: this will just stretch out the fabric and cause a lot of despair for you. In our experience, cashmere pieces are better left unwashed for as long as possible – instead of washing your cashmere pieces thoroughly, try spot cleaning with specialist products.
In contrast to this, merino wool is more durable than most other types of wool, including cashmere. Because of this, merino wool is actually machine-washable with a low-spin cycle, which is not just hugely time-saving but also nerve-saving. There really isn't anything more frustrating than finding out you've ruined your expensive cashmere sweater by washing it the wrong way! (Can you tell we've experienced this?)
Merino wool is also able to adjust its heat-trapping ability to keep you warm in winter and cool in summer, and for this reason, it's also often used in activewear and as a natural performance fabric. This is why, when shopping for tank tops or base layers in athletic retailers, you'll find that some of them have Merino Wool collections.
2. Affordability
Merino wool is far more affordable to produce than cashmere. While cashmere is definitely one of the softest wools, it's also the most expensive type of wool you can buy. Merino wool is still soft, but it's less expensive to produce than cashmere, as the merino sheep produces about 10x-20x more wool in a year than the cashmere goat.
If you want to buy some super-soft and breathable clothing for your wardrobe without breaking the bank (or if you'd rather save your money for other things), merino wool is the better choice.
However, there are also fashion retailers that mix cashmere with other synthetic fibers, making them far more affordable than pure 100% cashmere clothing – but it all boils down to personal preference and budget!
Lastly, while merino wool is cheaper to produce, ultimately, the pricing also comes down to the brand and its image. If you are buying merino products from a luxury brand like Loro Piana, the price point will definitely be more expensive than a Uniqlo cashmere sweater – just something to keep in mind.
3. Uses
As we've already mentioned, cashmere is better for warmth, but merino wool is better for breathability and heat regulation.
Merino wool fibers are incredibly soft and naturally breathable, making merino wool an excellent choice for active lifestyles. Not only can you wear it all year long, but merino garments tend to retain their shape without wrinkling, making them great for travel or even just everyday use.
It's also able to adapt to temperature changes. Its nature makes it perfect for all outdoor activities, and because it doesn't retain odors, it's perfect for travel. As we mentioned above, this fine wool also has natural stretch and recovery properties, meaning you can move freely without any restriction or binding.
In contrast to merino wool, cashmere is much less durable, and thus it's best used for pieces that don't need constant washing. Think coats, scarves, socks, mittens, sweaters, and even loungewear. It's best that you wear a baselayer under your cashmere pieces to trap odors and avoid excessive washing.
Our Favorite Cashmere Vs Merino Products
Although cashmere is more expensive than merino wool, it's often worth the splurge, especially if you live in colder climates. It's softer and warmer than merino, making it ideal for sweaters, scarves, and socks.
Merino also has its own benefits. Check out our picks below!
1. Sweaters
The Wool & Cashmere Turtleneck Sweater from Polo Ralph Lauren is the perfect piece to wear on chilly days – whether for work or for play. Its elevated silhouette is elegant and sophisticated, and you can wear this chunky sweater with trousers, jeans, skirts, and even tailored shorts.
To make it more affordable, it's made with 90% wool and only 10% cashmere – and it retails for $398.
This Merino Wool Turtleneck Sweater from & Other Stories is a great base layer for winter. It's not chunky, which makes it great for pairing with teddy coats or puffer jackets. This minimalist sweater is made with 100% merino wool – the best part is that it's only for $89!
2. Scarves
This jacquard TB Monogram Cashmere Scarf from Burberry is a chic statement piece – and it's made with 100% cashmere. For $520, we'd say that it's pretty much a good investment if you're into luxury fashion.
For something a little more subtle with no added frills, this Milled Fringe Merino Wool Wrap from Vince is made with 100% merino wool and it does the job of keeping you warm and toasty. It's far more affordable at $195!
3. Coats & Cardigans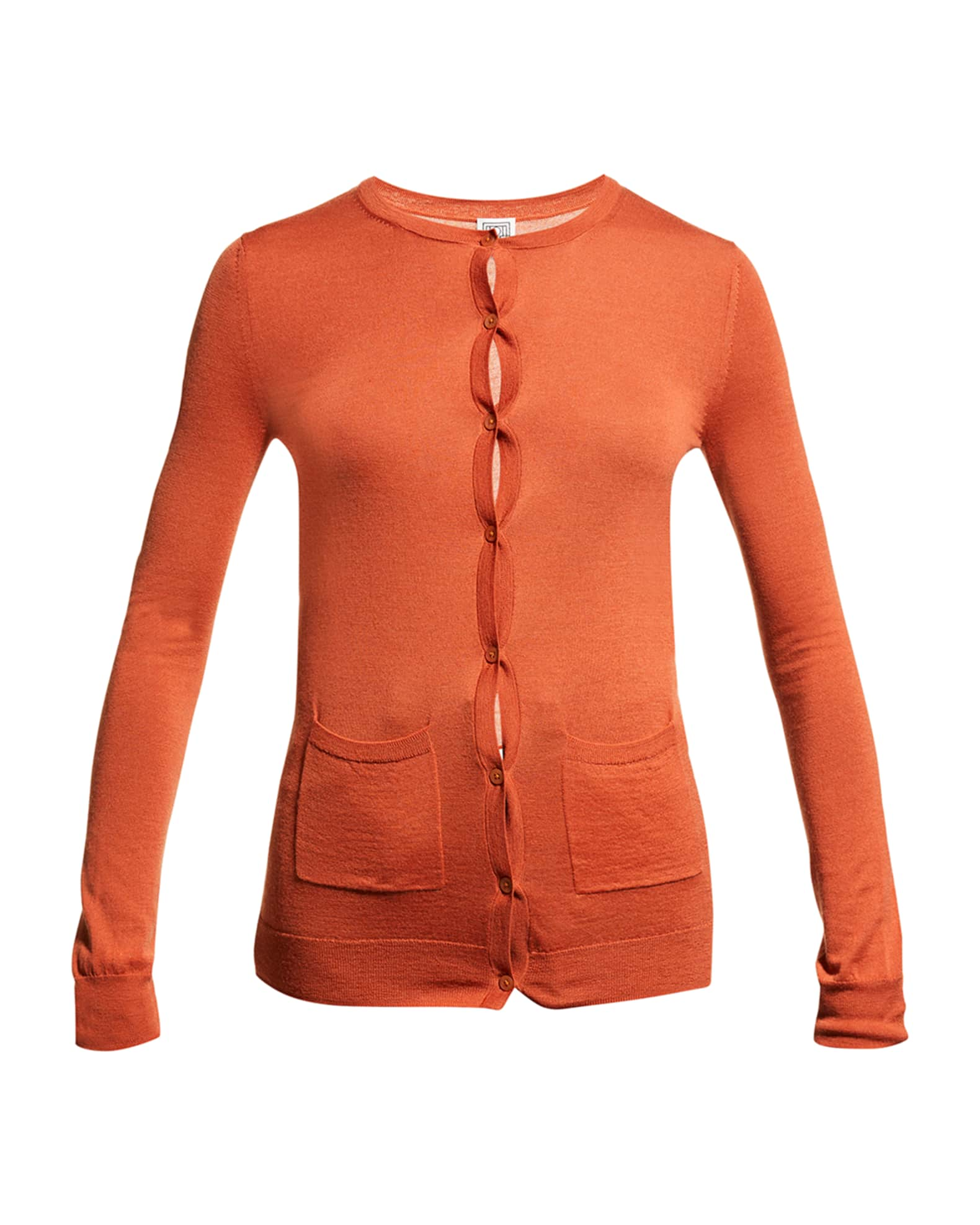 We already know that pure cashmere is expensive, but when it comes to coats, we'd say that they're worth the investment. This Lapel Cashmere Wrap Coat from Fleurette is casual luxury at its finest, and it's made with 100% pure cashmere with a classic coat cut. For a whopping $1,695, the coat sure is an investment, but it will keep you looking stylish, chic and warm at the same time.
This sheer, casual and colorful cardigan from Toteme is perfect for a mild, cold climate. Made from semi-sheer fine-knit merino wool with mother-of-pearl buttons, this chic cardigan can be worn by itself or as a warm layering piece – perfect if you're looking to add a hint of muted color to your wardrobe!
Conclusion
Both merino wool and cashmere are excellent natural fibers that are soft and warm. While cashmere is hailed as the most luxurious fabric that is superior for colder climates, we would advise considering your lifestyle before purchasing either fabric.
While cashmere is luxurious, it is delicate and needs to be hand-washed every time. Not only that, for best results, you should also measure your sweaters prior to washing, and then stretch your sweater to these same measurements, as demonstrated in the video below.


The sweaters usually take 24-48 hours to dry, and it's recommended that as it dries, you come back to it here and there and slightly stretch the fabric to the right proportions. Not only this, you shouldn't hang your cashmere sweaters or dresses, as this can stretch them out. For these reasons, cashmere is not for everyone, in our opinion.
In contrast to this, merino wool can be machine washed, as it's not as delicate. So, if you've never owned a sweater that's made from either merino or cashmere, we would definitely recommend opting for a merino wool sweater first and seeing how you like it. Not only is merino easier to take care of, but it's also usually cheaper!
Of course, you can always buy a cashmere sweater if you need your sweater to be extra warm, but make sure to take extra precautions to preserve its fit. You'll need to be willing to use a little more time and TLC for your cashmere pieces, but ultimately, if you're up for the task, the pieces are worth it.
We hope you enjoyed our analysis of cashmere vs merino wool! For more similar articles, make sure to check out the posts below.
Get More Fashion Ideas
Cashmere Vs Lambswool: What's The Difference?
25 Chic Winter Coats & Jackets To Keep You Cozy This Year
Cashmere Vs Mohair: What's The Difference?