Louboutin Pigalle Vs So Kate Heels: What Are The Differences?
We only feature products that we hope you will love. We may earn a commission if you decide to make a purchase through our links, at no cost to you.
These famous shoes are two of Christian Louboutin's best-selling high heels, so if you are trying to decide between Pigalle vs So Kate heels, this article is here to help you out.
There are so many Christian Louboutin shoes to choose from with lots of popular styles that look incredible, but the Pigalle and the So Kate are two of the brand's most famous creations.
Both of these heels have many similar elements so you may be wondering what is the difference? How can I choose between the two? Which pair of high heels is right for me?
This Pigalle vs So Kate article will help you answer all of those questions, and help you to decide which pair of heels you should go for!

Pigalle vs So Kate
The History of Christian Louboutin
Christian Louboutin founded his namesake brand in 1991 and has been creating stunning high heel shoes ever since. Louboutin began as a freelance shoe designer for luxury brands, such as Chanel, Maud Frizon, and Yves Saint Laurent before setting up his own brand.


When he first started his brand, Princess Caroline of Monaco was his first ever customer, and his list of famous clientele only grew from there. Louboutin is credited with bringing the stiletto heel back into popularity and in 2004, the Pigalle stiletto heels were launched.
These heels were named after Louboutin's favorite area in Paris, and he has since gone on to describe them as the "design that encapsulates my career".
The So Kate heels were launched in 2013, named after supermodel Kate Moss after Louboutin altered the design of the Pigalle heels for Moss's wedding. They caused a little bit of controversy when they were released because of their 120mm heels.
Both of these heels are gorgeous, but which pair should you go for?
The similarities
There are several similarities between these two pairs of heels that we should establish before we begin. Firstly, both the Pigalle and the So Kate pumps have a pointed toe, a rounded curve at the toe box, a slim heel, and a super sexy look.
So if you love a pointed-toe heel that would look perfect at work and for nights out, both of these Louboutin pumps are great options.

The Differences between the Pigalle Vs The so kate
1. toe box
There are a couple of subtle differences that differentiate these two classic Louboutin styles. The main difference is the size of the toe box.
The Pigalle has a shorter toe box, while the So Kate has a more elongated toe box. This means that you will have more toe cleavage when wearing the Pigalle or the Pigalle Follies.
If you have a longer foot or longer toes, the So Kate may be the better pair of heels for you.
2. The Pitch
The second main difference is the pitch of the shoes; the So Kate has a 120mm heel, and the pitch, meaning the steepness of the angle, is much greater.
There has been a 120 mm heel Pigalle pump available in the past, but this is difficult to get hold of now. Currently, the maximum heel height of the Pigalle Follies is just 100mm. Both the angle and length of the heel mean that the So Kate is typically more uncomfortable than the lower Pigalle stilettos.
3. Pointed toe
If you look closely at the Pigalle and So Kate pumps, you will notice that the So Kate heels have a slightly more pointed toe than the Pigalle or the Pigalle Follies.
Pigalle Vs Pigalle Follies
We should also establish that there are both the Pigalle and the Pigalle Follies available from Christian Louboutin. The Pigalle Follies are more readily available on sites such as Nordstrom, Net-a-Porter, and Saks Fifth Avenue.
The only real difference between the original Pigalle and the Pigalle Follies is the thickness of the heel – the Pigalle's have a noticeably thicker heel than the Pigalle Follies, meaning they are slightly easier to walk in. However, with a little bit of practice, you will get used to the narrow stiletto heel of the Follies in no time!
Our favorite Pigalle and so kate pumps
We're going to take a look at a few of the different varieties of Pigalle heels and So Kate heels that are available now to help you to decide which pair you should add to your high heel collection.
1. classic black patent leather
Both the Pigalle Follies and the So Kate pumps are made in classic black patent leather, with a high shine, glossy finish that perfectly shows the incredible silhouette of both of these Louboutin heels. The red lacquered sole also contrasts against the black of the leather to create a really eye-catching finish as you walk away.
The Pigalle Follies have 4 inch heels, which is the same as 100mm, to create the perfect elevated look. Whereas the So Kate heels have a 120mm heel height, giving you even more height to stand out amongst the crowd!
2. Matte Black Heels
Both of these high heels are such popular styles that new versions have been made in different materials. For example, the iconic silhouette of the Pigalle Follies has been made in sleek matte black leather, creating an endlessly versatile shoe.
Whereas, there is a black suede version of the So Kate that has a matte finish and is the ideal pair of heels that will suit a whole range of different outfits for evenings out or a day at work.
3. Different Pigalle Follies heel heights
Christian Louboutin's Pigalle pumps have become so beloved that these heels are now available in a range of different heels heights. Above, you can see the Pigalle Follies in the 85mm height and the 55mm height. The black patent 85mm Pigalle Follies are perfect if you are looking to elevate your look but still want comfort.
The 55mm Pigalle Follies, pictured above in black patent leather, have a kitten heel look and are the shoes you need if you want the iconic style of a Louboutin heel but with a comfortable finish so you can be on your feet all day.
4. Different Colored heels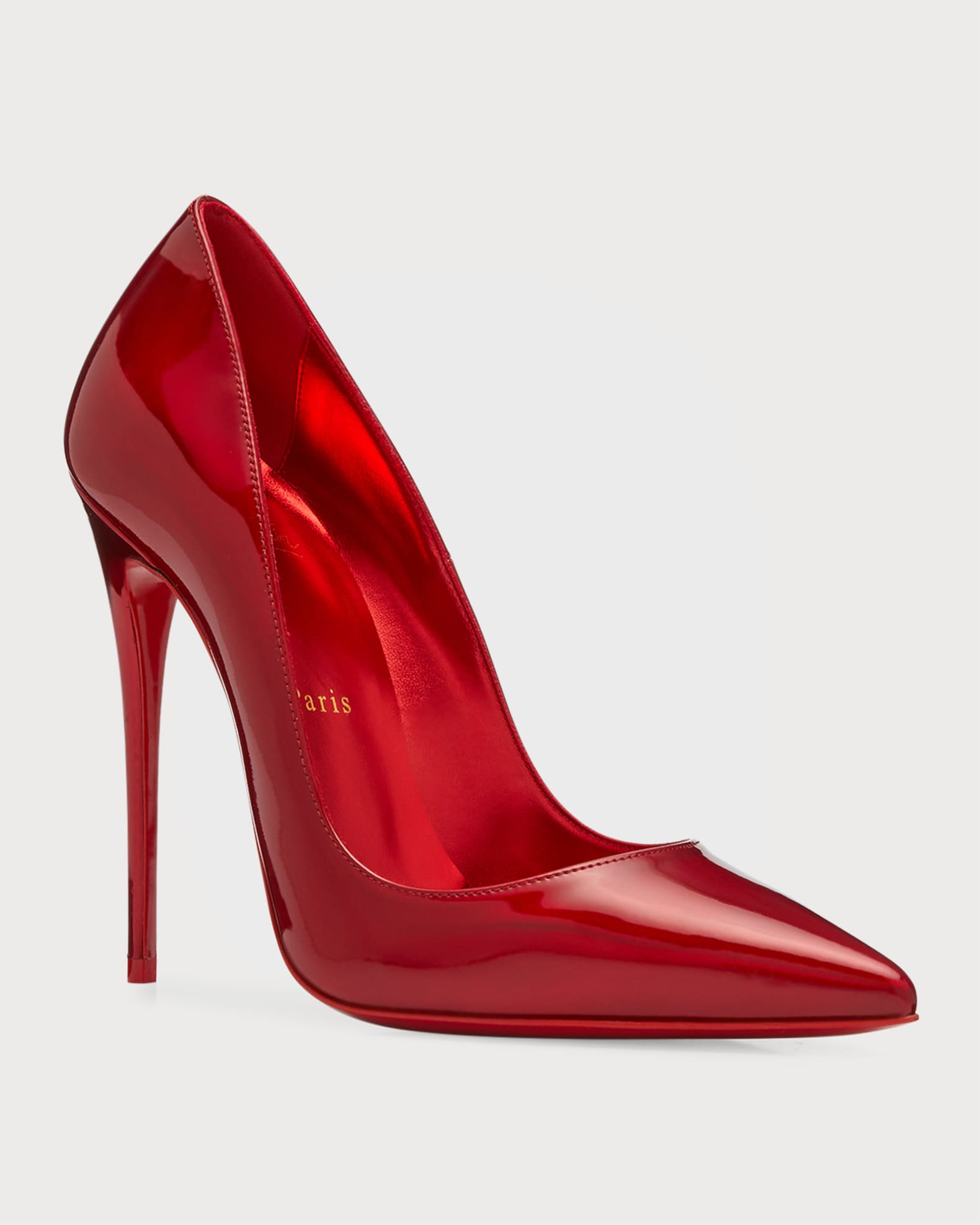 Louboutin has created these famous shoes in a range of materials and colors, although there are more brightly colored So Kate heels to choose from than Pigalle Follies. These Pigalle Follies are crafted from glossy patent nude leather for a minimalist look – these heels are a must-have in any shoe collection to suit a wide range of outfits.
And how can you resist a pair of red heels like these metallic red So Kate 120mm heels?! The striking shine of these beautiful shoes is the perfect statement to accompany any outfit on a night out.
5. Striking So Kate heels
Although the So Kate heels are not available in various heel heights, like the Pigalle Follies are, they are available in lots of different finishes and materials. One example is these So Kate 120 embellished leather pumps which are just so gorgeous with their blue and purple iridescent finish and sparkling crystal embellishments for a totally eye-catching look!
Or for the colder months, there are actually So Kate Multicolored Red Sole Booties available, with an angular silhouette, 100mm heel, and glittery multi-colored decoration.
Conclusion
The big differences between the Pigalle vs So Kate heels are the size of the toe box, heel height and the pitch of the shoes – these are subtle differences so it really comes down to the look of the shoe and the heel height as to which pair of heels you should go for.
If you are looking for something a little more classic that you can wear often, then the Pigalle or Pigalle Follies are the perfect shoes for you as they have a more comfortable, lower heel and pitch, and are made from versatile patent leathers.
However, if you are looking for a statement pair of shoes that are really eye-catching, then you have to get a pair of So Kate pumps, with the super high 120mm heel and a variety of sparkling patent or metallic leathers! They won't be comfortable on most people, so we recommend reserving these for special occasions where not much walking is required.
At the end of the day, both of these high heels from this luxury brand are just gorgeous, so you can't really go wrong either way.
We hope you found this article comparing Pigalle vs So Kate heels helpful! For more luxury fashion content, check out the links below.
get more luxury fashion ideas
25 Best Louboutin Heels That Are Just Gorgeous
Jimmy Choo Vs Louboutin: Who Makes The Better Shoes?
15 Most Expensive Louboutin Shoes That Are So Striking