Cashmere Vs Lambswool: What's The Difference?
We only feature products that we hope you will love. We may earn a commission if you decide to make a purchase through our links, at no cost to you.
This season, we're all about luxurious knits and warm, fancy sweaters. If you're looking for the best option fabric options for yourself, check out our guide to the differences between cashmere vs lambswool!
Cashmere and lambswool are two types of wool that can be used for clothing. These natural fibers are incredibly soft and warm, but they have some important differences that make them particularly suited to different uses and occasions.
In this article, we'll look at what cashmere is, why it comes with a high price, and how to clean it — and vice versa with lambswool!
What Is Cashmere?
Cashmere is a type of wool that is made from the fine, soft undercoat produced by cashmere goats (also known as Kashmir goats). It is a subspecies of goats originally found in Mongolia and China. One of these rare goats produces just 200-300 grams of cashmere in a year, which is why cashmere pieces don't come cheap.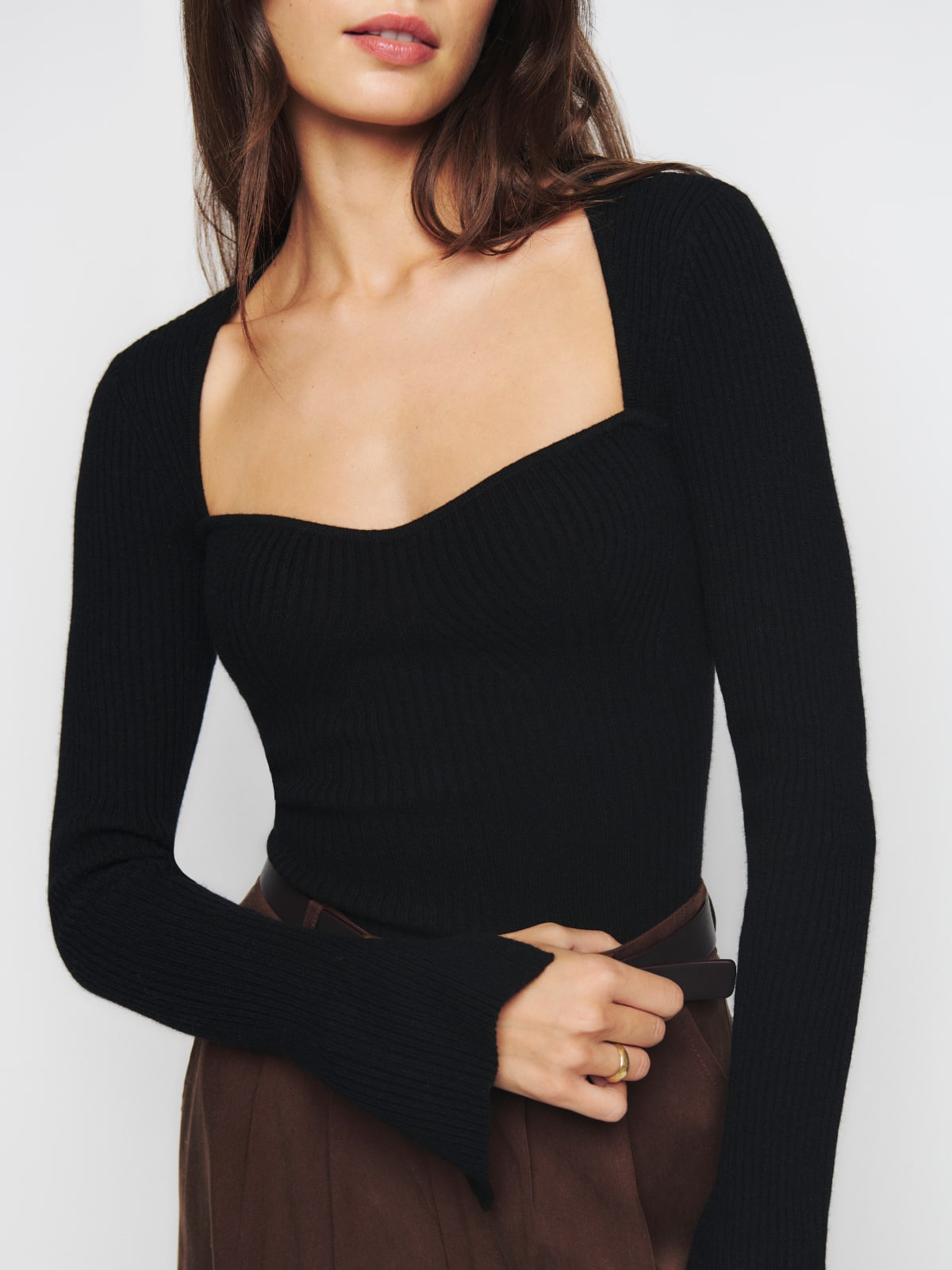 Since fine cashmere has an excellent warmth-to-weight ratio, garments made from this raw cashmere are very comfortable to wear for both men and women alike, especially in cold weather.
Temperatures are dropping fast, and if you're looking to find some comfortable pieces to wear this upcoming winter season, you should definitely look into investing in some cashmere garments – especially if you are in Europe this winter!
What Is Lambswool?
Lambswool comes for the first shearing of a sheep, which is around 6 months of age. Young sheep's wool is very soft and fine, and it typically has less crimp than other types of sheep's wool.
These young sheep's wool fibers can be spun into yarn or used as a filling for jackets and sweaters. Lambswool knitwear is known for its softness and warmth, which is especially great in cold temperatures or mild climates.
Simply put, it's a lighter and softer version of regular wool fabrics.

Cashmere Vs Lambswool: The Main Differences
1. Animal Source
The first difference to note is the animal source. As mentioned earlier, cashmere wool comes from the cashmere (Kashmir) goat, while lambswool comes from young sheep, more commonly known as lambs.
2. Durability
While lambswool is soft and warm, it can be less durable than other types of mature wool, and it's also less thick than cashmere.
On the other hand, cashmere is soft, lightweight and silky — it has long been associated with one of the finest fabrics in the world due to its lush nature. Cashmere is also thicker than lambswool, making it more durable (which may be surprising to find out, as cashmere itself is known to be very delicate!).
3. Affordability
As we've already alluded to, cashmere is much more expensive than lambswool because of a few reasons. Firstly, it takes longer for a cashmere goat to mature and produce fiber than it does for a sheep to grow wool.
Secondly, cashmere goats only produce 200-300g of cashmere wool per year, while a sheep typically makes 2-30 pounds of wool in the same time.
In short, if you're on a budget but still looking for something luxurious for your wardrobe, then consider purchasing either lambswool or merino wool; both options offer comparable warmth at a lower price point than cashmere.
4. Uses
Cashmere and lambswool are both used in a wide variety of clothing items, but they each have their own strengths.
Cashmere can be used to make sweaters, coats, scarves, and other accessories. It's also frequently used to make blankets and pillows. Lambswool can be made into sweaters (sometimes it's blended with cotton or other synthetic fabrics), dresses and other accessories as well.
With all of these natural benefits, cashmere and lambswool, like fine wine and premium leather goods, gets better with age. Wool retains its unique and soft qualities even after many years, making cashmere and lambswool the perfect choice for everyday use, as well as gifts.
Our Favorite Cashmere Vs Lambswool Products
The time has come to find out the difference between cashmere and lambswool, and we're going to do it together!
1. Sweaters
Cashmere sweaters are soft, warm and lightweight. They're easy to care for and very durable. You can wear a cashmere sweater in the wintertime or even as an outer layer on a cool spring day without feeling too hot or too cold.
The downside of cashmere is that it's expensive! But if you want something that will last forever and keep you looking stylish at the same time, cashmere may be worth splurging on.
This Oversized Cashmere Turtleneck on Everlane is chic and elevated, keeping you warm and toasty while regulating your body temperature for cold climate. It comes in four different colors, but we are partial to light camel.
Since pure cashmere is very expensive, Everlane produced this sweater with 94% recycled cashmere and 6% recycled wool. It's warm, luxurious, and soft without the obscenely high price tag.
For a sale price of $161, this deserves a spot in your wardrobe.
Something that's edgy and ultra stylish: The Lambswool Blend Sweater Jumpsuit. We are absolutely head over heels with this piece, and it's perfect for winter. It's sporty, and it comes with patch pockets too – perfect for a day spent outside. Best part? It's currently on sale for $141!
2. Coats
Sometimes, you just need to splurge on something nice: whether it's a luxury handbag, a gadget, or even a nice, warm coat.
This Belted Cashmere Coat from Akris is worth every penny of its $5,990 price tag – it's made with 100% cashmere, and its silhouette is very sophisticated. It's trench-inspired, with a tonal sash belt.
Splurge on this investment piece and you'll always be stylish for more years to come.
If you're slightly on a budget but you still want to invest in a really good coat, check this Rebeca Lambswool Coat from Tove. It's crafted with 98% lambswool and 2% spandex, and it's an enveloping silhouette with shawl lapels. For only $1,315, this one is a good deal!
3. Dresses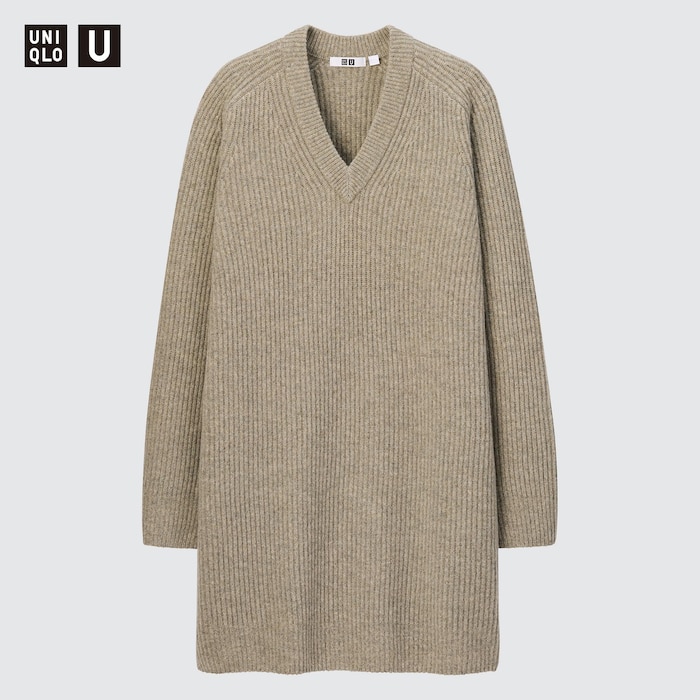 This gorgeous Blouson-Sleeve Cashmere Midi Dress in the shade Bone from the exclusive Neiman Marcus Cashmere Collection is a dream: it's elegant and elevated, perfect for work or for play.
It's made with 2-ply cashmere, with a playful fit-and-flare silhouette. Its original price is $450, but currently on sale for only $292. Hurry up and get this gorgeous sweater dress for your winter wardrobe!
Uniqlo is known for their wool garments, although they're not 100% fine wool because they sometimes mix it with other synthetic materials to make it cheaper and accessible to the general public.
However, this Premium Lambswool V-Neck Long-Sleeve Dress is made with 100% wool, and the unbelievable part is that it's currently on sale for only $39.90 – truly one of the best deals right now!
How To Care For Your Pieces
It's also important to note that these two types of wool are natural and delicate, they can be difficult to wash, and easily shrink or expand if you don't take proper care of them.
Both can only be cleaned by hand washing with cold water and specialist products, and many recommend that you avoid washing your cashmere and lambswool pieces until absolutely necessary. So, instead of washing your sweaters as often as your tees, only spot-clean the items to make sure they stay in pristine condition.
After washing, you should lay your sweaters flat on a towel and stretch where necessary (it helps if you take measurements of your sweater before washing them!). The sweater will take about 24-48 hours to dry, but you can speed up the process by turning the sweater after some time.
Storing your items is equally important: never hang them, as they may lose their shape (unless your item is a coat, of course).
These two types of wool don't come cheap, so you better take good care of them!
Conclusion
The bottom line of cashmere vs lambswool is that these two types of wool are very similar in many ways, but there are some key differences. Cashmere is more expensive than lambswool, but it is also typically softer and warmer than lambswool, which justifies its price and popularity.
However, if it's your first time buying a delicate sweater, we recommend opting for cheaper items made of lambswool, as it can be beyond frustrating to find out you've accidentally ruined your expensive cashmere sweaters (speaking from experience!).
And there you have it! Our guide on cashmere vs lambswool. If you're still looking for more fashion tips and inspiration, check the posts down below.
Get More Fashion Ideas
Cashmere Vs Mohair: What's The Difference?
You've Heard Of Cashmere – Now, Make Room For Alpaca Wool
Top 40 Scandinavian Clothing Brands For Chic Cool-Girl Pieces