5 Best Jeans For Pear-Shape Bodies That Flatter Your Curves
We only feature products that we hope you will love. We may earn a commission if you decide to make a purchase through our links, at no cost to you.
Jeans are a staple in every woman's wardrobe, but finding the perfect pair can be challenging, especially for those with a pear-shaped body. If this is you, read on to find the 5 best jeans types for a pear-shaped body!
Women with this body type have wider hips and thighs and a smaller waist, making it difficult to find jeans that fit well and flatter their curves. With so many styles and brands to choose from, it can be overwhelming to determine which jeans are the best for pear-shaped bodies.
In this article, we will explore the key features to look for in jeans for pear-shaped women and recommend some of the best options available. From high-waisted to bootcut, there is a pair of jeans out there for every pear-shaped woman!

The Best Jeans For Pear-Shaped Bodies
1. Curvy Jeans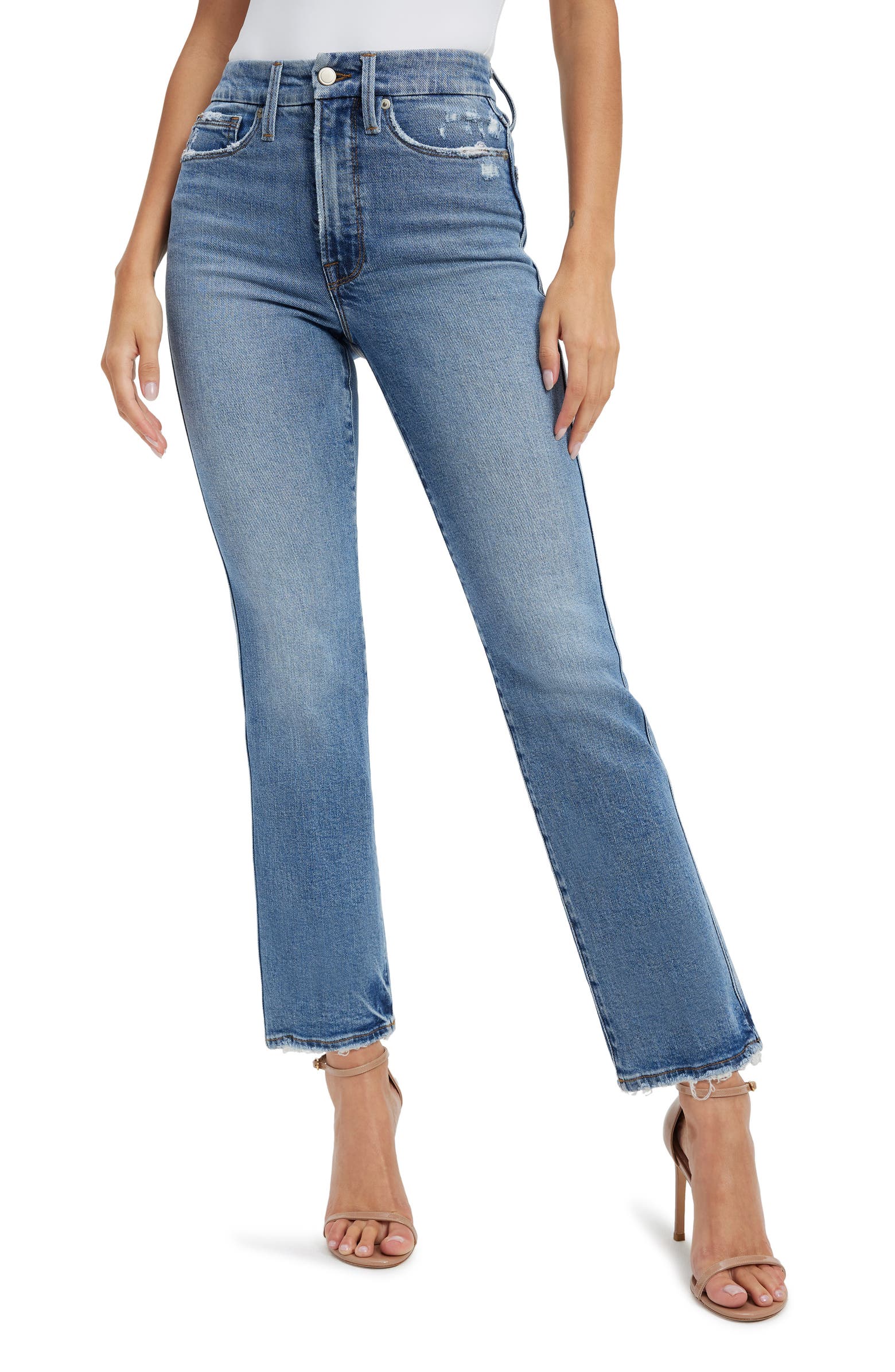 Curvy jeans are designed specifically for women with curves, making them an excellent choice for pear-shaped women.
These jeans have a contoured waistband to prevent gaping and extra room in the hips and thighs, which provides a comfortable and flattering fit. Curvy jeans also often feature stretchy materials that move with the body, ensuring they don't bunch or pull in the wrong places.
Some of the best retailers for curvy jeans include Madewell, Everlane and Good American. Each of these brands offers a range of styles, sizes, and washes, making it easy for pear-shaped women to find the perfect pair of jeans for their body type and personal style.
2. Bootcut Jeans
In our opinion, a bootcut is the best cut for pear-shaped women. As they have a subtle flare at the bottom, they balance out the proportions of the body by creating a wider silhouette at the bottom, drawing attention away from your hips. However, unlike flared jeans, bootcut jeans have a subtle flare at the ankle, making them a more versatile option for everyday wear.
As many of these jeans are specifically meant to be worn with high-heeled boots, they can also be excellent for elongating your legs, creating a super-flattering shape.
A classic blue or black wash is a great choice for a timeless look, but bootcut jeans can also be found in various colors and washes, meaning you can find the perfect pair no matter your personal style.
For a casual look, pair bootcut jeans with a fitted t-shirt and a pair of black block heels. This creates a comfortable and effortless look that is perfect for running errands or a day out with friends.
3. High-Rise Jeans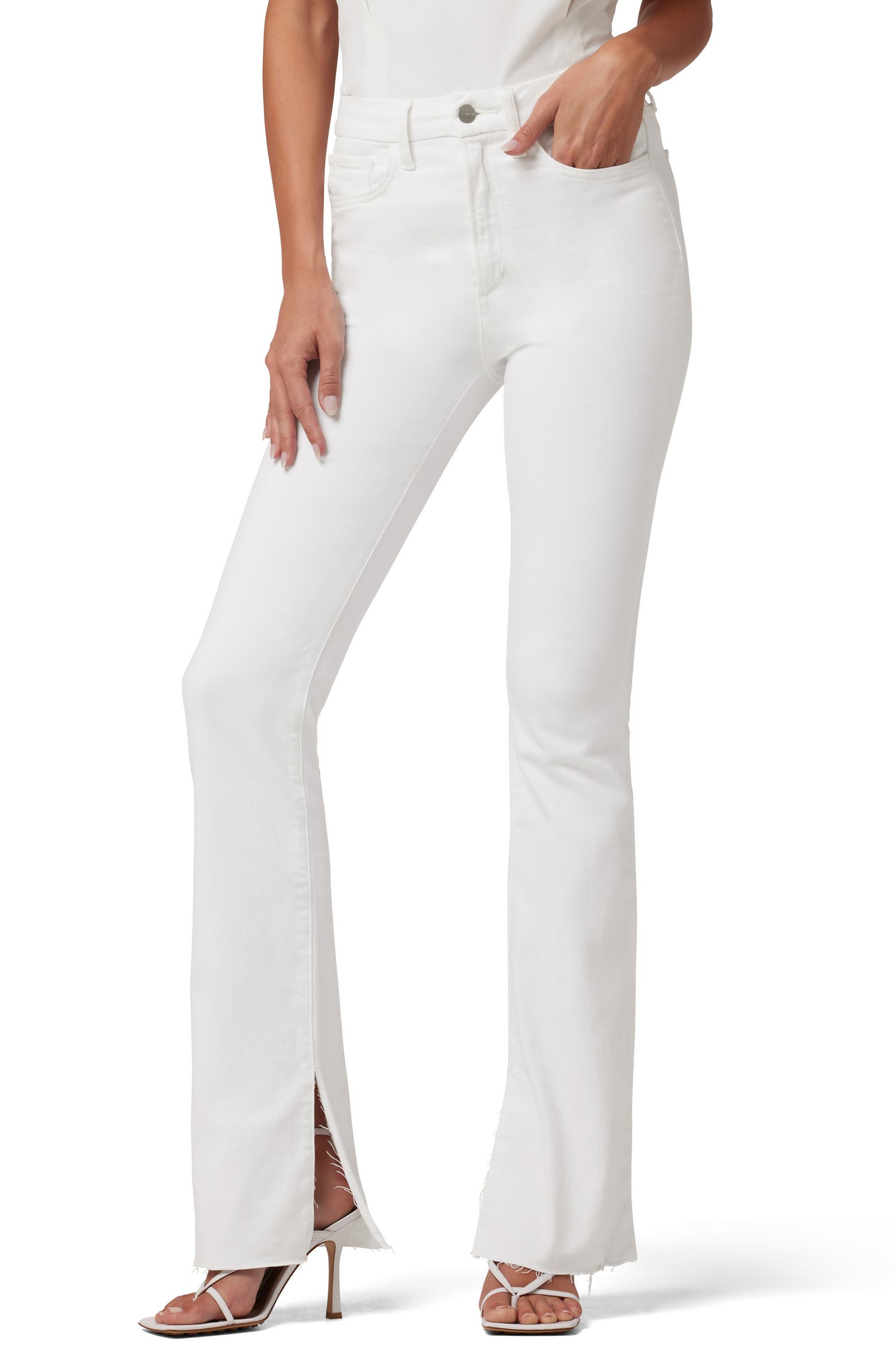 High-waisted jeans in any style, including skinny, straight leg, and wide leg, are a great option for pear-shaped women because they sit comfortably at the natural waistline and create a smooth and streamlined silhouette. The high waistband helps to cinch in the waist and define the curves, while also elongating the legs.
High-rise jeans are also versatile and can be dressed up or down, making them a great addition to any wardrobe. Whether paired with a crop top or a tucked-in blouse, high-rise jeans can enhance a pear-shaped figure and create a polished and stylish look.
As we mentioned previously, look for high-waisted jeans that are specifically made for curvy women, if you want to guarantee a flattering fit without gaping at the waist.
4. Wide Leg & Flare Jeans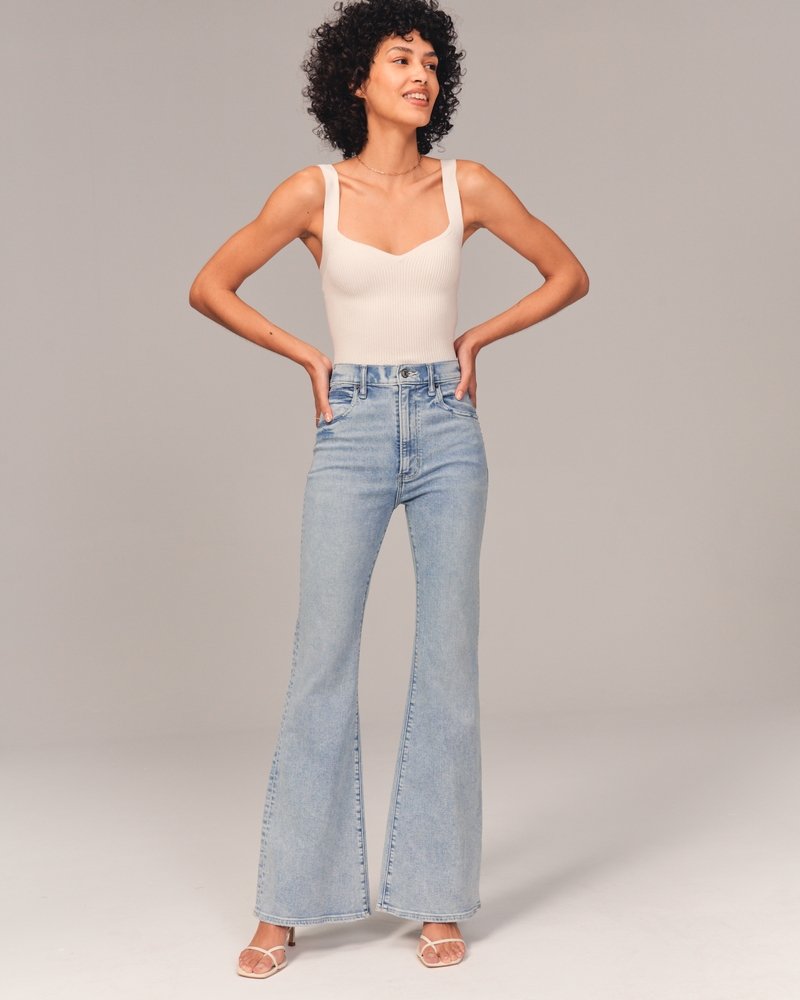 If you're looking for a pair of jeans that can help balance out your pear shape figure, wide leg and flared jeans (also known as bell-bottom jeans) are the way to go.
As they have a wider silhouette at the bottom, these jeans draw attention away from the hips and thighs. We recommend opting for a pair that sits slightly higher on the waist, which cinches in the waistline and creates an hourglass figure.
They come in various styles and lengths, so you can be confident that you can be able to find a pair that fits your personal style. Dark washes are versatile and can be dressed up or down, while lighter washes can be great for a more casual look.
To style this look, we recommend fitted tops that you can tuck inside the jeans, as well as a pair of ankle booties or a pair of white designer sneakers. If you're heading out for a fancy dinner, simply switch the sneakers with a pair of sleek high heels.
5. Straight Leg Jeans
Straight-leg jeans have a straight cut through the leg, which creates a clean and classic silhouette. Straight-leg jeans can balance out the proportions of a pear-shaped body by creating a leaner and longer appearance for the legs, without emphasizing the hips and thighs.
Additionally, straight-leg jeans can be found in a variety of washes, so you can choose the perfect color to suit your personal style. From classic blue denim to colored denim, straight-leg jeans offer a timeless look that can be worn season after season.
Jeans To Avoid
If you have a pear-shaped body, there are certain jean types that may not be the most flattering. Here are the styles that we think you should avoid:
1. Low Rise Jeans. These jeans tend to cut across the hips and thighs, emphasizing the widest part of the body and creating an unbalanced appearance.
2. Cropped wide-leg jeans – these can make the legs look shorter and wider.
3. Super skinny jeans – These are designed to fit closely to the body, and thus they can emphasize your hips and thighs, creating an unbalanced appearance. If you love tighter-fit jeans, we recommend opting for straight-leg jeans or skinny jeans that aren't so tightly fitting around the ankles.
4. Jeans with embellishments around the hips. Again, detailing around the hip and thigh area can draw unwanted attention to these areas.
Conclusion
Finding the perfect pair of jeans can be a daunting task for anyone, but especially for pear-shaped women. However, with a little knowledge about the different types of jeans available and what styles to avoid, you should be able to enjoy the process of finding a pair of jeans that flatters and enhances your curves.
Ultimately, the key to finding the best jeans for a pear-shaped body is to choose styles that balance out the proportions of the body and flatter the curves, while also providing comfort and versatility. That's why bootcut jeans, flared jeans, curvy jeans, high-rise jeans, and straight-leg jeans are all great options to consider.
Browse All Fashion Posts
What To Wear With Dark Blue Jeans: 10 Best Picks
Tommy Hilfiger Vs Tommy Jeans: How Do These Brands Differ?
Skinny Jeans Vs Jeggings: What's The Difference?