The 8 Best Shoes To Wear With Leggings For Chic Looks
We only feature products that we hope you will love. We may earn a commission if you decide to make a purchase through our links, at no cost to you.
Leggings have been a closet staple for many years, but if you're looking for a new way to wear them, check out our guide to the best shoes to wear with leggings.
So you've decided to wear leggings today. Good choice! Most women can get away with this versatile clothing item, especially on colder days.
Leggings are an ever-trendy piece of clothing that so many of us wear day in, day out, and unlike other garments from the past that have fallen out of style, leggings are more relevant today than ever before.

So, what are the right shoes that go best with them? You might be surprised by the sheer number of shoes that can be worn with leggings – from ankle boots, to 4" pumps to your favorite pair of sneakers. In this article we're going to highlight some of our favorite shoe styles to wear with leggings, so you can look and feel perfect while staying comfy.

The Best Shoes To Wear With Leggings
1. Ankle Boots
No matter what your personal style is, ankle boots are a great option to pair with your leggings. They're casual enough to wear with a cozy sweater, but classy at the same time, offering many versatile styling options.
If you want to go for something that's chic and great for daily wear, try a pair of neutral colored ankle boots made from leather or suede. These materials tend to be on the dressier side, elevating your leggings-look.
If you're feeling more adventurous or you're just looking for something different, then try wearing a pair of snakeskin ankle boots this fall and winter – they'll give your outfit some extra oomph!
2. Knee-High Boots
Knee-high boots are a great option to wear with leggings, as they're stylish and keep you warm, even if it's snowing outside. Plus, they add height for short and petite women, and they're comfortable and easy to walk in, making them ideal for everyday wear.
Apart from skinny jeans, leggings are among the few pants that can be worn with tighter knee-high boots, so if you don't feel like wearing a dress or skirt, leggings make a wonderful alternative.
A great outfit combination would be a pair of faux-leather leggings, knee high (or thigh-high) boots in suede, and a cozy sweater to keep you warm. Just throw on a cute designer shoulder bag, and you're good to go.
3. Loafers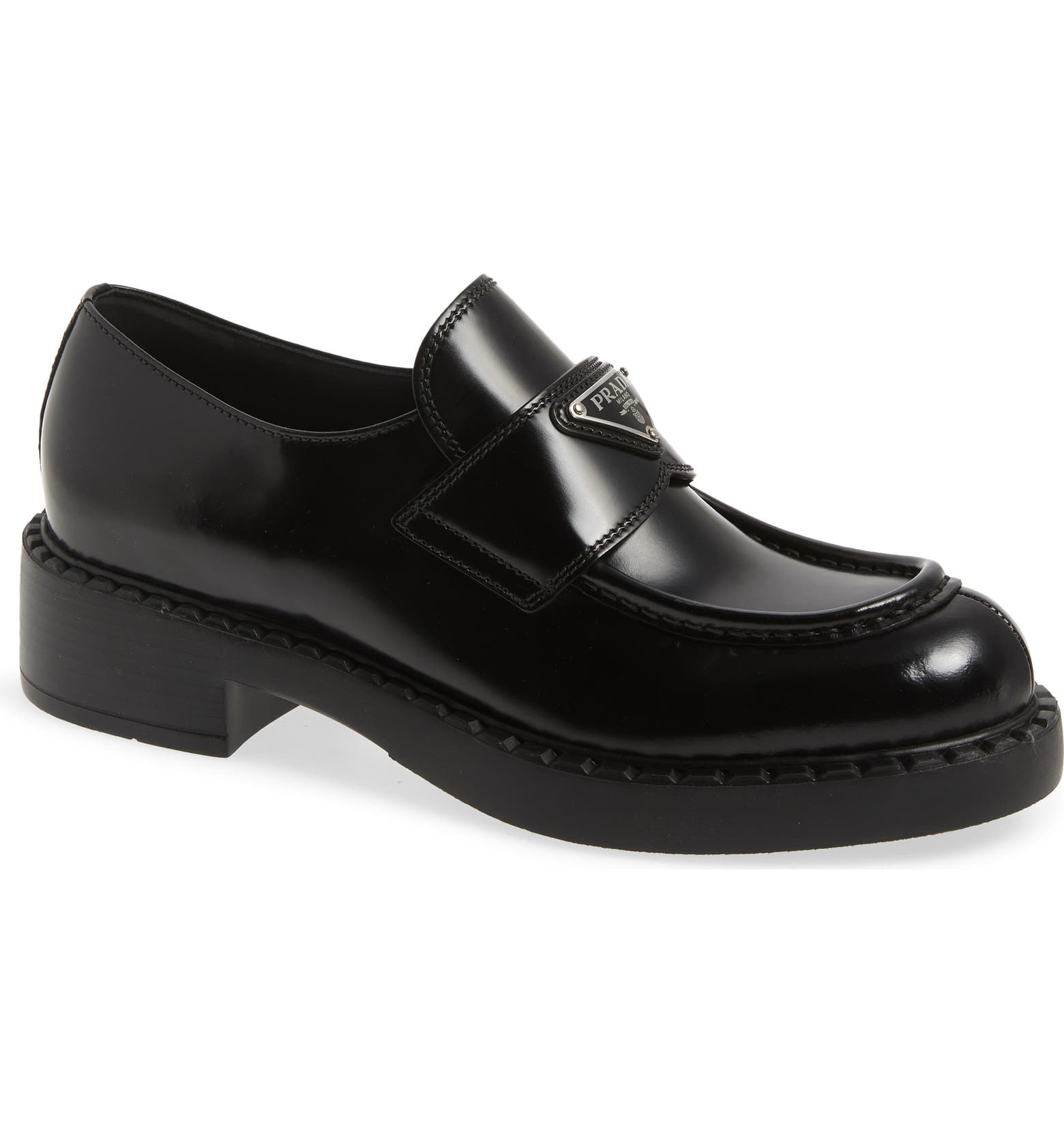 Loafers may just be our favorite shoes to channel our inner Parisian cool girl. At the moment, chunky black loafers are particularly in style, with Prada, Celine and Gucci being particularly popular among fashion's it crowd.
Both leggings and loafers are versatile pieces that go with multiple outfits, meaning you can throw on anything from a cozy sweater to a structured blazer, as pictured above.
4. Sneakers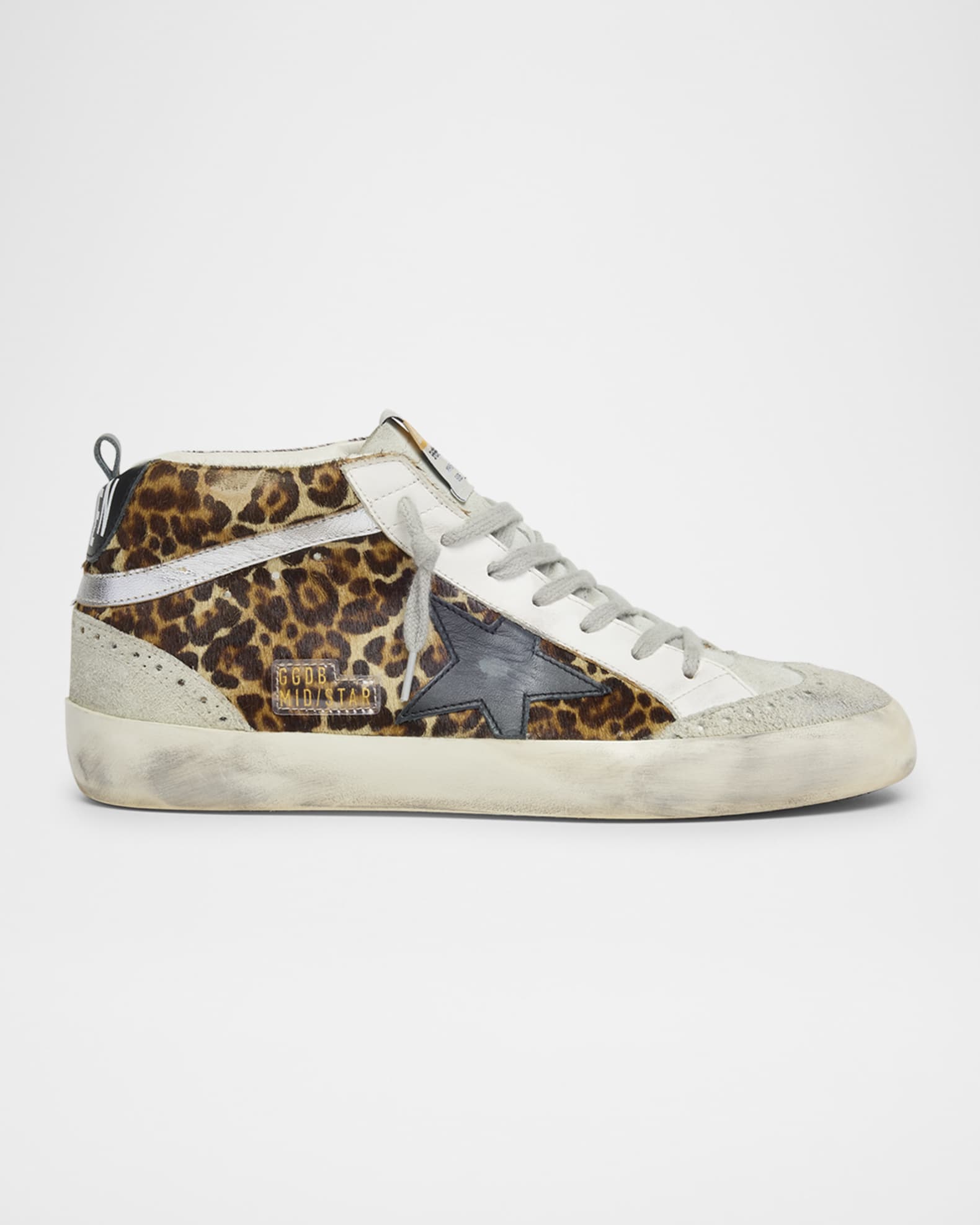 Sneakers are a great choice for pairing with leggings if you're going for a sporty yet casual outfit. They're comfortable and versatile, and come in a variety of colors and styles.
If you're looking to elevate your average sneakers x leggings combo, opt for a pair of chic designer sneakers that add a speical touch. Of course, you can go for the ever-popular Golden Goose sneakers featured above, but if you don't like their worn-out style, there are so many other amazing options too.
The best thing about sneakers is that they don't require much maintenance at all—they don't need any special cleaning products or polishing; just throw them on every morning, lace them up tight, and go.
Depending on the weather, pair your leggings with either your favorite cozy sweter and a long coat in the winter, or an oversized shirt and a baseball cap in the summer for a trendy athleisure outfit.
5. Ballet Flats
Ballet flats are a classic shoe style that can add a touch of elegance to your leggings outfit, especially if you're looking to wear them to an office. They are also very comfortable, especially if you prefer flat shoes over anything with heels.
For a simple yet elegant look, wear your classic black leggings with a flowy white blouse or button-up shirt, and a pair of neutral-colored ballet flats. Add in a chic designer work bag to elevate your simple outfit, and you're good to head to the office (as long as they are fine with the relaxed nature of leggings!)
6. Stilettos
High heels are a great option for anyone looking to dress up their leggings. They'll make you look taller and leaner, which is great if you're heading out for the night, or simply want to add glam to your look.
7. Flat Sandals
Flat sandals, whether that means dad sandals or more feminine, strappy sandals, are perfect to wear when the sun is out and you just want to feel a breeze. They're also comfortable for everyday use and great if you need to be walking a lot.
As sandals are versatile, pair them with a top that matches the vibe of your shoes; wear a feminine blouse with strappy sandals, and more casual tees with dad sandals. Of course, you can also mix and match to create more unique looks.
8. Mules
Flat and kitten-heeled mules are the perfect dressy shoes to wear with leggings if you're heading to the office, or just want to look put together. They're easy to slip on and off, have a casual look, and can be worn with any outfit.
You can either pair them with an oversized sweater for a homey, cozy look, or you can also wear them with a feminine blouse to make your look a little dressier. Mules can either be simple or flashy; it really depends on your personal style and preference.
Commonly Asked Questions
Is it okay to wear leggings to work?
It depends on your employer and where you work.
When it comes to business meetings and other professional events, it's much better to wear a pair of tailored pants instead of tight-fitting leggings that accentuate your legs and behind.
However, if you work in a relaxed office in a position that isn't client-facing, there's no reason not to wear leggings, especially if you often work from home. Plus, you can always style your leggings in a way that is more appropriate for work using items like blazers, blouses, turtlenecks, and of course, the right pair of shoes.
Ultimately, your best bet is to ask your employer, or simply observe what your co-workers are wearing around you.
Can you wear leggings to a formal event?
While leggings are comfortable and sometimes accepted to wear in the office, you should not wear your leggings to formal events – opt for dress pants instead.
We hope this article helped you figure out what shoes to wear with leggings! The right pair of shoes can make or break a look, but your outfit formula doesn't need to be complicated.
Get More Fashion Ideas
9 Best Shoes To Wear With Wide-Leg Pants
7 Cute Chicwish Outfits Perfect For Summer
What To Wear To A Rave: Our Favorite 17 Rave Outfit Ideas