Are Luxury Brands Cheaper In Hawaii? Here's What You Need To Know
We only feature products that we hope you will love. We may earn a commission if you decide to make a purchase through our links, at no cost to you.
We're always looking for the best price for our luxury goods, so we've got all the answers to the question, are luxury brands cheaper in Hawaii?
There are many reasons you may choose to visit the beautiful island of Hawaii, namely the luscious sandy beaches and gorgeous blue sea, but is it worth also coming home with a new luxury purchase?
Should you plan a bit of retail therapy for your next holiday to Hawaii? And are there certain brands that are better to buy from when in Hawaii?
We're going to answer the question are luxury brands cheaper in Hawaii so you can buy your new luxury item for the best price possible.
Are luxury brands cheaper in Hawaii?
The short answer is YES, luxury brands are cheaper in Hawaii than in mainland US. It is sometimes described as the best place to go luxury shopping outside of Europe because of these cheaper prices.
If you live in America, Hawaii is the perfect place to buy any luxury goods as it can be much closer than France or Italy, if you live on the West coast. Plus, the weather is always amazing, which can't be said for Europe during its wintertime.


Unfortunately, luxury goods from designer brands in Hawaii do not have the same discount as they have in Europe where the sales tax or VAT tax refund system is in place, but flying from the United States to Hawaii can be cheaper than flying to Paris, Milan, or Florence if you live on the West coast, so you can save a bit of money that way.
Likewise, if you happen to live in Australia, it could be worth flying to Hawaii as opposed to Europe for a holiday and shopping, as it cuts down your travel time in half!
So next time you are planning a trip away, definitely consider going to Hawaii and picking up some gorgeous luxury pieces while you are there.
Why Are the Prices cheaper in Hawaii?
No one is 100% sure why luxury brands offer discounted prices for their goods in Hawaii, but there are several different theories why it is so much better to buy from a top luxury brand on the island.
For example, many companies consider Hawaii as their own special pricing zone, and so do not have the same pricing on goods as mainland USA or mainland Asia – this may contribute to why the prices are more affordable.
The Different Discounts From each brand
Each luxury brand offers different discounts – for some, all items are discounted, while some fashion houses only offer a discount on certain goods so it is worth checking out the discount before deciding what you are going to buy.


It is also definitely worth checking with a sales associate before going ahead and buying anything just to be sure you are actually getting a lower price than what you would be paying in the US. Just keep reading to find out the discount offered by each fashion brand…
Note: These discounts are compared to US prices, not European or any other prices.
Burberry and Saint Laurent both offer 10% off all luxury goods – so these are two brands you should definitely check out.
Prada offers 10% for everything except shoes.
Bottega Veneta offers 10% to 15% off everything apart from sunglasses, fragrances, and ready-to-wear fashion.
Brands including Balenciaga and Gucci offer 10% off their bags and leather goods, while Valentino offers 20% off bags, leather goods, and shoes.
Miu Miu offers 5%-10% off bags, clothing, sunglasses, and small leather goods.
A Louis Vuitton store will offer 10% off leather goods, and 5%-7% off shoes, clothing, and accessories – what a great deal!
Christian Dior offers around 5%-11% off small leather goods, bags, wallets, and men's shoes.
Jimmy Choo offers a 15% discount on shoes and bags – this excludes any special orders.
Chanel offers a 5%-7% discount on fine jewelry only.
Some fashion brands such as Hermès, Christian Louboutin, and Rimowa offer no discount, so it is just the Hawaii sales tax that will slightly lower the price if you're coming from a state with a higher sales tax.
There are many incredible places you should visit when you are in Hawaii, including the Ala Moana Center, which is the world's largest open-air shopping mall, and Kalakaua Avenue which is a great place to find Hawaii's LV, Bottega Veneta, and Balenciaga stores.
our top picks
If you are looking for some inspiration or ideas as to what you should buy on your next trip to Hawaii, we have got lots of ideas to help you out.
All of the brands below offer a discount on some or all of their luxury goods so it is definitely worth picking your favorite that you can get your hands on when in Hawaii.
1. Louis Vuitton
The French fashion house, Louis Vuitton, is well known for its incredible handbag and luxury luggage collection – all of which are available at a discounted price in Hawaii.
We especially love the Louis Vuitton Alma bag, with its gorgeous, curved silhouette and spacious interior. The Alma is available in many different types of leather or coated canvas, but the texture of epi leather is just sublime.
One of the best-known Louis Vuitton handbags is the Speedy bag. This is one of the very first handbags the brand launched and it has remained a firm favorite ever since. This edition of the Speedy is crafted from LV monogram coated canvas ain a beautiful stardust pink color.
2. Saint Laurent
A Yves Saint Laurent bag is a must-have in any luxury bag collection, and there are so many stunning options to choose from! Whether you are looking for that perfect evening bag, or something a little larger that can be your everyday handbag, Saint Laurent has plenty of options available.
The Monogram Matelassé Leather Shoulder Bag would make the ideal designer handbag that would suit any look. The black quilted leather is so versatile, while the sliding chain strap can be worn on the shoulder or across the body – what more could you want!
For something a little smaller and more compact, this modern Cassandra Acrylic Clutch is a unique choice. The glossy nature of the acrylic is flawlessly accentuated by the gleaming gold hardware of the YSL logo.
3. Bottega Veneta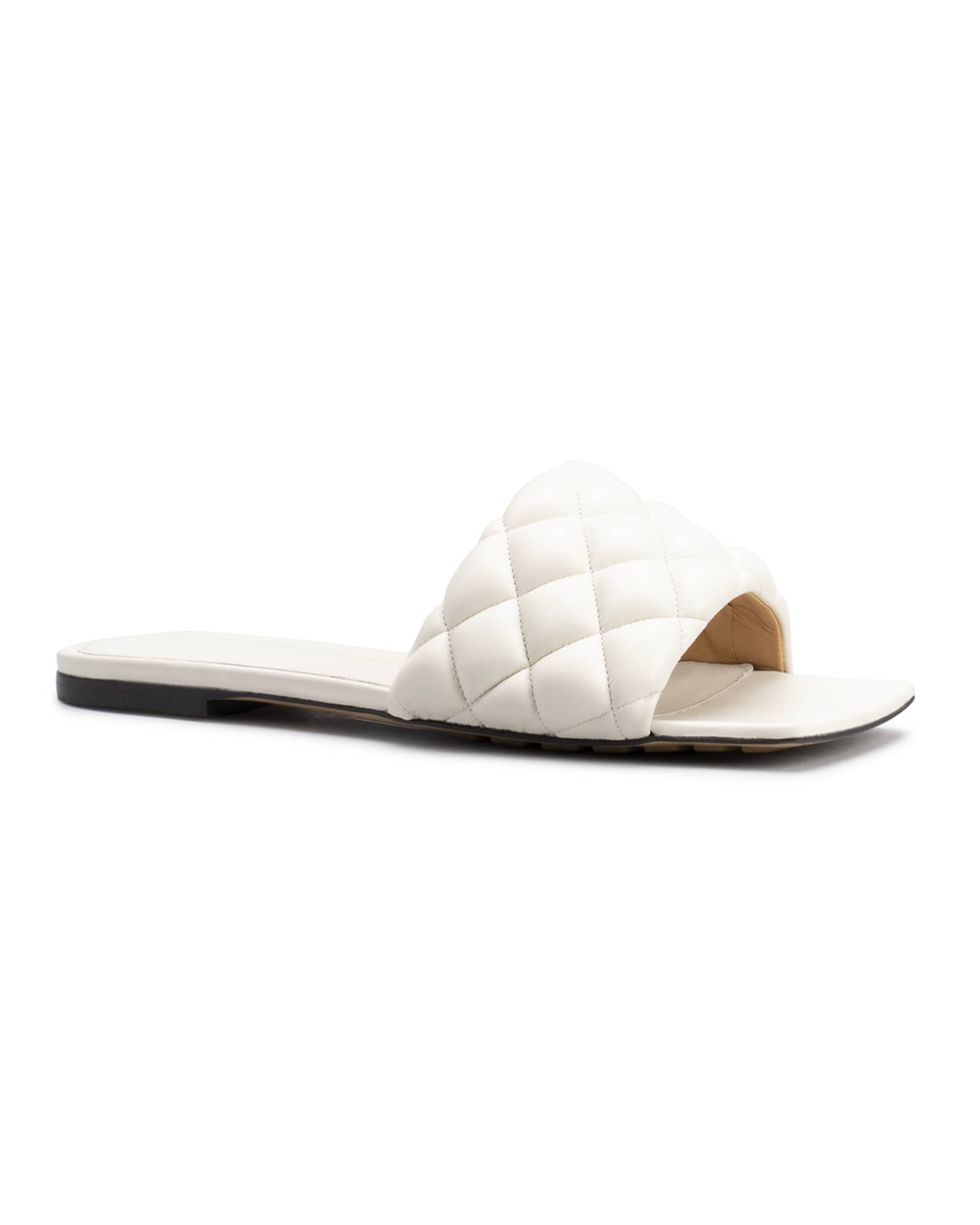 Bottega Veneta has become a recent cult classic brand among luxury fashion enthusiasts, due to its signature woven leather handbags and chic ready-to-wear collections.
If you are thinking of purchasing anything from Bottega Veneta, you have to check out the Cassette padded intrecciato leather shoulder bag. The intrecciato technique has become synonymous with the Bottega Veneta brand and is oh-so-popular among customers. The glossy leather has a plush finish, which contrasts perfectly with the shining gold chain link strap.
This intrecciato technique also provides the inspiration for these Quilted leather sandals. Available in a wide range of colors, these slides are the perfect summer shoes with their comfortable design and puffy quilted foot strap.
4. Burberry
Lucky for us, there is 10% off everything in the Burberry stores in Hawaii! The historic British brand is known for its classic trench coats, in particular.
This is the item that has made Burberry famous throughout the world, so why not add one to your wardrobe. There are so many different variations available, all with the same archival elements, and the Burberry check lining that makes them such a beloved piece. We love the sophisticated look of this Mid-length Kensington Heritage Trench Coat, which is available in three different shades – perfect!
Former creative director, Riccardo Tisci, added many new designer bags to the Burberry collection, including the Frances Leather Tote Bag. This bag would be ideal for work with its elegant minimalist finish and subtle TB logo.
We hope you found this article answering the question, are luxury brands cheaper in Hawaii, helpful! For more luxury fashion content, check out the links below.
Get more luxury fashion ideas
15 Best Balenciaga Bags That Are Totally Iconic
Does YSL Go On Sale? Here's What You Need To Know
Are Luxury Brands Cheaper In Paris? Here's What You Need To Know