Dress Like A High Roller: Here's What To Wear To The Casino
We only feature products that we hope you will love. We may earn a commission if you decide to make a purchase through our links, at no cost to you.
When it comes to high-end casinos, you must always dress to impress. But where do you start? Check out our style guide for the best outfits to wear to the casino!
When you're going to the casino, it's important to look your best. The dress code for casinos varies from country to country and even casino to casino, so having a clear idea of what is expected can help you plan your outfit in advance or change quickly if you happen upon a dress code that isn't quite right for you.
However, most casinos are pretty relaxed about what they expect their guests to wear, but despite that, they don't want people walking around in ripped jeans or tracksuit bottoms! So, here are some suggestions on outfits that will work well at any venue – whether it be high-stakes roulette at casino royale or low-stakes blackjack.
Most of the pieces featured below are completely shoppable, so if you see something that you like, simply click on the photo and it will take you to the retailer's website for an easy purchase.

What To Wear To The Casino
1. Cocktail Dresses
Whether you're going to a formal casino or just a casino-themed party, you can never go wrong with our first choice: a cocktail dress.
If the event calls for a formal dress code, cocktail dresses are one of the best choices, especially if you don't want to commit to a long evening gown. A cocktail dress is formal enough that it spans different dress codes but not formal enough for a black bow tie event.
We especially love satin and velvet cocktail dresses in jewel tones like navy, burgundy, burnt orange, and emerald green for the cold season, although you can also reach for your trusty little black dress!
Wear this dress with a pair of designer high heels, a chic clutch bag, and red lips, and you're ready to go and hit the poker table!
2. Dressy Blouses
For something a bit more relaxed and casual, you can also opt for a dressy top and your skirt of choice. This ensemble is chic, feminine, and it will make you appear polished and stylish at the same time. If you're wearing a short skirt, you can complete the look with a pair of statement heels or lace-up sandals.
Be sure to accessorize with dainty jewelry and a designer handbag of your choice!
3. Sleek Slip Dresses
Perhaps the most formal option out of this list, these sleek slip dresses are perfect for a black tie or a white tie event. These special event dress codes mean that you have to show up in a sleek gown or a suit and tie, ensuring that you and your date will look like high rollers.
One of the most important parts of your attire is your shoes; above all, make sure that they are comfortable. This will ensure that you enjoy yourself as well as stay upright through the long evening ahead!
4. Trouser Suits
The trouser suit is a versatile choice for any woman looking to dress up in a sleek and professional manner, and it's no different when you're headed out to the casino, especially if the dress code calls for a business casual look.
Trousers are comfortable, stylish and flattering; they can be worn with heels or flats, with or without blazers. They're one of the best choices for formal wear out there! You can either choose a light-colored or a dark suit, but we find that the classic black, white, or navy suits work best for upscale casinos.
5. Evening Dresses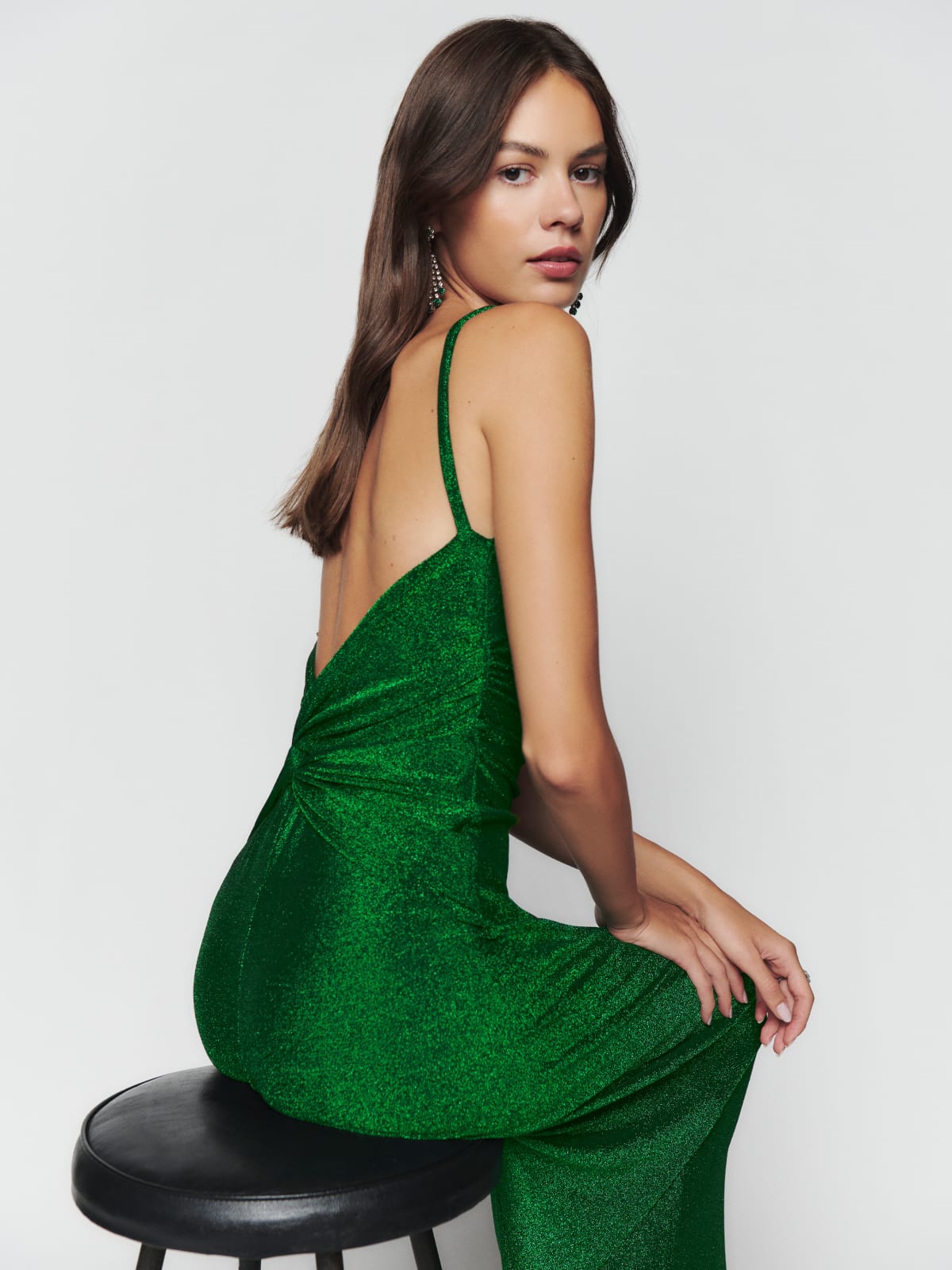 A full evening dress can be a long gown or a midi dress. They're usually made of silk, satin, sequins or lace, making them perfect for a special occasion like a casino party.
The styles are usually strapless or sleeveless and might also have a collar. An evening gown may be fitted at the waist with a skirt that is full around the hips – perfect for a night at one of those Las Vegas casinos.
Some dresses are shorter in length than others so they can show off your legs if you want to feel more feminine, especially when you go out on the town looking for fun!
6. Trousers + Top
For that dressy, smart casual vibe, you can opt for a pair of trousers and a dressy top. You can choose any blouse that you like, but we are particularly fond of asymmetric one-shoulder blouses these days. They're so sleek and feminine without all the extra embellishments – a perfect choice for the woman who wants to look powerful while playing high-stakes roulette.
The key to wearing this outfit to the casino is to keep it simple. Don't wear too much jewelry or accessories, as they might distract from your outfit. If you want to wear some accessories, try a dainty gold necklace or earrings that are small enough to complement your look, and not clash with it.
7. Blazers
If you're headed to the casino with a more relaxed dress code, a blazer is just what you need to top off your existing outfit. Whether it's a classic black one or something more flashy, a blazer will help you look sharp and professional for any occasion. They're also great for making sure your outfit fits the theme of the place you're going, whether it's business formal or smart casual.
For a sultry and feminine touch, we suggest pairing your smart trousers and blazer with a chic black lace corset or bralette, or a sleek cocktail dress for something more modest.
8. Jumpsuits
Since you're going to a casino, you might as well go all out. And what better way to do so than in a jumpsuit? It's an incredibly versatile piece of clothing that can be worn for almost any occasion and will feel absolutely chic when paired with the right accessories.
Because of its versatility, it is perfect for casino night — you can pair your jumpsuit with heels or flats depending on where you are going and how fancy the event is.
The main thing we love about jumpsuits is that this one-piece ensemble is already a whole outfit in itself, meaning you won't have to worry about matching your top to your bottom. Jumpsuits will make you look like the best-dressed roller on the casino floor!
9. Pencil Skirt + Top
Pencil skirts are a classic piece of clothing that will never go out of style. They're flattering on most body types, they're versatile and they're perfect for a night out at the casino.
You could go with any color or pattern you like, but if you want to be extra safe, we would recommend sticking to black or navy blue. Keep in mind that this particular outfit isn't as formal as the others in this list, but it works if the casino calls for a smart casual dress code.
Additional Style Tips
Finding out what the casino's dress code is would be a good idea before you start planning your casino outfit. The dress code can vary from one location to another and can be stricter for players who want access to high-roller rooms.
Casino dress codes vary from place to place, but they're generally fairly specific about how men should be dressed. No athletic wear or jeans are allowed (and if you're wearing sneakers, better make sure they're nice ones),and it's best to wear a dinner jacket, a pair of tailored pants, and a white button-down shirt.
For women, it's a bit trickier: some casinos don't allow low-cut dresses or skirts above the knee; others prohibit open toes on footwear; some require that all female patrons wear some variety of heels.
However, some casual casinos in bars don't have much of a dress code, with means that you can show up in a casual outfit like shirt dresses (for women) and polo shirts or plain t-shirts (for men).
Conclusion
Wear clothes and shoes that you feel comfortable in, and makeup that looks good on your skin. You don't want to spend all night worrying about your outfit when there are so many other things to think about! And remember: it doesn't matter what anyone else wears, just make sure you're having fun.
And there you have it; our guide on what to wear to the casino. If you're still on the hunt for more fashion tips and inspiration, check the posts down below.
Get More Fashion Ideas
What To Wear Over A Cocktail Dress To Stay Warm & Stylish
Mom Jeans Vs Boyfriend Jeans: What's The Difference?
21 Outfits To Wear With Snakeskin Boots For The Best Looks