10 Luxury Websites Like Ssense For Your Designer Item Needs
We only feature products that we hope you will love. We may earn a commission if you decide to make a purchase through our links, at no cost to you.
When it comes to buying luxury items online, you should only purchase from trusted online retailers. Here's a list of the best luxury websites like Ssense.
If you spend enough time on the internet, you'll inevitably find yourself perusing the luxury fashion sites of the world. Sure, high-end brands like Gucci have great online stores, but they're missing something: a high level of personalization and customization that can only come from boutique sites. Plus, sometimes you want to shop for more than just one brand.

That's where luxury websites like Ssense come in. Its founders, the Atallah brothers, built it to be exactly what you need when you need it: a site where you can buy everything from shoes to handbags without ever having to leave your home or office.
If you're looking for other luxury retailers, we got you covered. Thankfully, there are other legitimate websites where you can purchase authentic and original high-end products. Let's check out 10 more luxury websites like Ssense!

The Best Luxury Websites Like Ssense
1. Net-A-Porter
When you're looking for a luxury brand, Net-A-Porter is one of the first places you should go. They have everything from couture gowns to high-end accessories and beauty products.
Net-A-Porter is home to over a thousand designers and high-fashion brands from A-Z, and they're always adding new designers to their quite extensive list. Whether you're looking for a nice, simple sundress or an haute couture outfit perfect for the runway, they have you covered.
What's even better is that Net-A-Porter also has a reselling program where you can let go of your pre-loved items. You have two options: the concierge resale or the instant bag resale.
The concierge resale is where you can resell your items such as clothes, accessories, leather items, and shoes through their consignment service. It doesn't really matter whether you purchased the goods on Net-A-Porter or not; they will accept it. Plus, you get to enjoy an extra 10% store credit!
2. 24S

For high fashion that's carefully curated by the finest Parisian experts, head over to 24S, one of the best luxury websites like Ssense, and a proud member of the LVMH family. As an LVMH brand, you'll find multiple labels here that aren't usually available at other luxe online websites, like Louis Vuitton, Celine, and Dior.
In addition to this, you'll of course find many other luxury and contemporary brands, just like Ssense.
The website is easy to navigate with a simple layout that makes it easy to find what you need quickly and efficiently. The products are also clearly categorized by brand, so it makes it easier to browse through everything!
3. Matches Fashion
Matches Fashion is a London-based clothing retailer that offers luxury items and clothing for both women and men. They have more than 500 designers in their stock, and they sell everything from shoes to handbags to dresses, tops, bottoms, coats, accessories, jewelry, and watches.
Aside from clothing and accessories, they also have a Home section where you'll find exquisite home decor like vases, accent plates, blankets, and candles. Furthermore, they have a "Stories" magazine section where they publish weekly posts featuring designers, style reports, brand histories, and more.
4. Far Fetch

What differentiates FarFetch from other brands on this list is its unique business model. Instead of operating as a traditional e-commerce store, FarFatch uses a marketplace business model, where its website is the storefront of multiple different boutiques across the globe, hence the name.
So, if you buy an item from FarFetch and you live in the US, the item that you buy might actually come from Italy or South Korea. While this means you'll wait longer for the item to arrive, it also means that you get access to items that may be sold out in your area.
Similar to a few other websites on this list, FarFetch also has their own Pre-Loved section for sustainable shopping.
5. Mr. Porter
Mr. Porter is a luxury fashion site that's exclusively dedicated to the modern man. It's a sister website of Net-A-Porter, catering to luxury-loving men instead of women.
The men's fashion industry is a highly competitive one, but Mr. Porter has been able to carve out its own niche by offering a curated collection of the best high-end luxury goods.
Their designer brands include Burberry, Ralph Lauren, and Armani among others, and they also have a Men's Grooming section where you can find hair care, tools, fragrances, and skincare products.
6. My Theresa

The world of luxury fashion is expansive, and it can be difficult to know where to start. But My Theresa has your back.
This German e-commerce company offers a wide range of products from top brands like Acne Studios, Balmain, Burberry, Chloé, Dolce&Gabbana, Prada Home, Burberry (check out their gorgeous blankets!), and more.
They also have a travel section so you can purchase your newest luxury suitcase. This is a one-stop shop for everything you need and more.
My Theresa's website is pretty straightforward, and you'll immediately see luxury products that you can scroll through by brand name or price point.
7. Saks 5th

In the heart of New York City, Saks Fifth Avenue is a luxury department store with an unparalleled reputation for style, taste, and service. Its flagship store on Fifth Avenue has been a destination for fashion lovers since 1867, making this one of the oldest luxury fashion department stores in the world.
Saks is also probably one of the most popular luxury websites in the US market, and you'll find everything from women's and menswear to kidswear, as well as home decor and beauty products on their site. They also have holiday gift guides, as well as seasonal fashion edits.
8. Neiman Marcus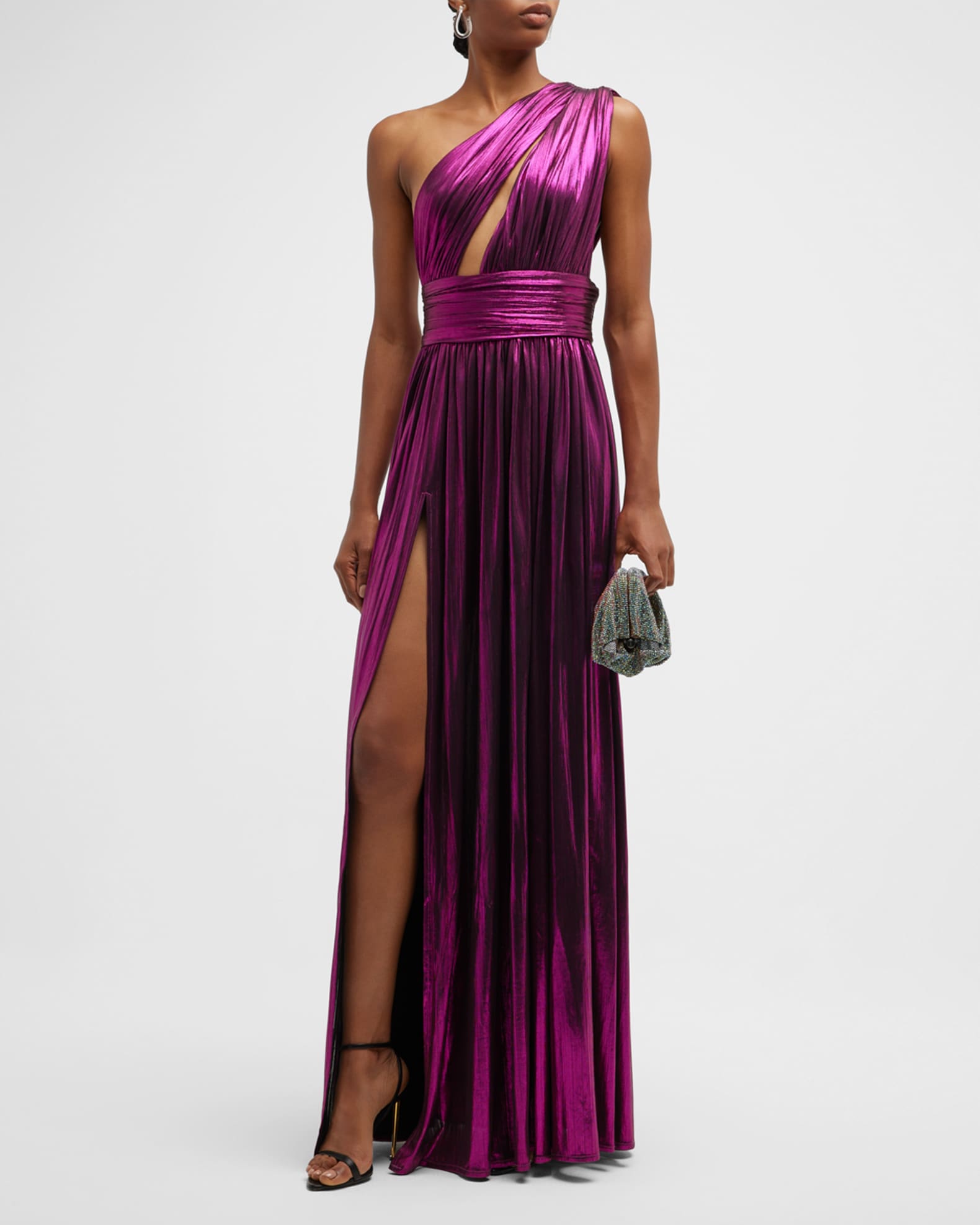 Neiman Marcus is another popular luxury department store chain in the United States, along with Saks Fifth Avenue and Bergdorf Goodman.
If you don't feel like walking around their store, no worries. They also have a website where you can browse through the best high-end products to add to your shopping cart. On this luxury website, you'll find lots of options to choose from, as well as over a thousand designers and brands to check out!
9. Luisa Via Roma

Luisa Via Roma (stylized as LUISAVIAROMA) is a luxury retailer that carries the best of the best in Italian fashion. Their headquarters and stores are in Florence, Italy, so you can bet that their selection is top-notch!
In addition to carrying brands like Gucci and Alexander McQueen, Louisa Via Roma also sells lesser-known brands. They feature new talents in their collections, as well as established designers from all over Italy and around the world. This means that if you're looking for some new Italian labels, this is your go-to website!
10. Cettire
Finally, hailing from the land down under, Cettire is an Australian-owned, online luxury fashion retail platform selling clothing, shoes, and accessories from over 1300 international high-end fashion brands – that is a seriously massive catalog!
Cettire has the tagline "A Luxury Online Fashion Emporium" and offers luxury items for women, men, and kids. If you are looking for a one-stop shop for all your fashion needs, then look no further than Cettire, especially if you're based in Australia.
Conclusion
And there you have it! 10 of our favorite luxury websites like Ssense. These are all trusted online retailers for all of your luxury needs, offering everything from clothing, fragrances, shoes, and even home decor.
Although you might prefer purchasing items in-store, online stores have the best availability, and there's nothing quite as easy as ordering luxe items without leaving your home. If you haven't yet tried, we recommend that you do. All of these stores have a great return policy too, so if anything goes wrong, you can always return the item.
Browse More Luxury Fashion Posts
25 Most Expensive Clothing Brands In The World
How To Spot A Fake Cartier Love Bracelet: All The Information You Need
Chanel Leathers & Materials 101: Which One Should You Go For?