25 Websites To Shop If You Love Pretty Little Thing
Looking for affordable websites or stores like Pretty Little Thing that offer all the latest trends? We've got you with these 25 incredible PLT alternatives.
Wouldn't it be wonderful to have a wardrobe bursting at the seams with colorful and fashion-forward items? Picking an outfit each morning that makes you feel beautiful and confident would be a lot easier than it currently is.
Thanks to the ever-growing shift towards working from home, most of our closets are filled to the brim with sweatpants, loungewear and oversized hoodies. While these are comfortable, they don't exactly scream "stunning".
But now that the world is reopening, we desperately need to shop for items that we can wear out to restaurants, parties, festivals, and other social gatherings. Sweatsuits will need to take a back seat for a little while.

Pretty Little Thing is the perfect place to go shopping for exactly these types of outfits, and their collections boasts a wide variety of dresses, tops, skirts, shoes, and accessories. But if you've exhausted the website, or simply crave trying out a few different labels, there are SO many good options to turn to.
If you're a fan of beautiful outfits for a bargain price, you'll surely love these 25 affordable online stores like Pretty Little Thing.

1. Fashion Nova
If you're a regular user on Twitter or Instagram, then you're definitely already familiar with Fashion Nova. Out of all brands on this list, it's the most similar to Pretty Little Thing in terms of their price range, business model and the style of the clothing they sell.
It's also the go-to brand for so many fashion influencers and celebrities these days, like Kylie Jenner and Princess Mae.
Fashion Nova has everything from coats, to crop tops, to jeans and lingerie and everything in between. When it comes to sizing. Fashion Nova also has a lovely plus-size collection.
2. Boohoo
This fast-fashion store offers tons of fashion-forward pieces at an incredibly affordable price, just like Pretty Little Thing. Boohoo's website is always chock full of basic items, casual pieces, fun and flirty two-piece sets, and slinky dresses.
Boohoo ships worldwide and frequently gives shoppers 50% off the entire website. If you're looking for a sassy number to wear on a warm summer night, or edgy casual wear on a budget, check out their latest collection with none other than Kourtney Kardashian.
3. Shein
Shein is an online shopping destination like PLT that offers heavily discounted clothing for those who are on a tight budget. Shein carries all of the top trending pieces that you see on celebrities and on social media and is quick to catch on to trends whenever a new "it-piece" starts trending on TikTok.
While it carries a vast selection of fashion-forward clothing, Shein is perhaps best known for its swimsuit collection that has a 'kini for every body type. Shein also has a Curve + Plus Size, Mens, and Kids, and a selection of affordable beauty products.
4. Meshki
Meshki is an online-only Australian fashion brand that sells everything from jackets, outerwear, and loungewear to intimates, bodysuits, and activewear. Meshki's items can be sorted by trends like terry cloth, 90s, summer knits, and denim.
But what really sets Meshki apart from other online fashion stores like Pretty Little Thing is its collection of gorgeous cocktail dresses that exude true Hollywood glamour. If this isn't your vibe, they also sell lots of matching lounge sets that are perfect for working from home (especially if you don't need to have your camera turned on for Zoom!).
5. Club L London
This is the place to go for all of your partywear needs, ranging from beautiful formal dresses down to stunning maternity wear. Club L London also has a pretty impressive plus-size collection for all curvy ladies who want to look cute.
They have a special "Feathers section" where you can find super cute outfits with feather details, perfect for your next night out in the club.
While Club L's website is filled to the brim with beautiful trendy pieces, this online store's clothing is slightly more expensive than Pretty Little Thing's, with dresses typically starting at $88.
6. Cider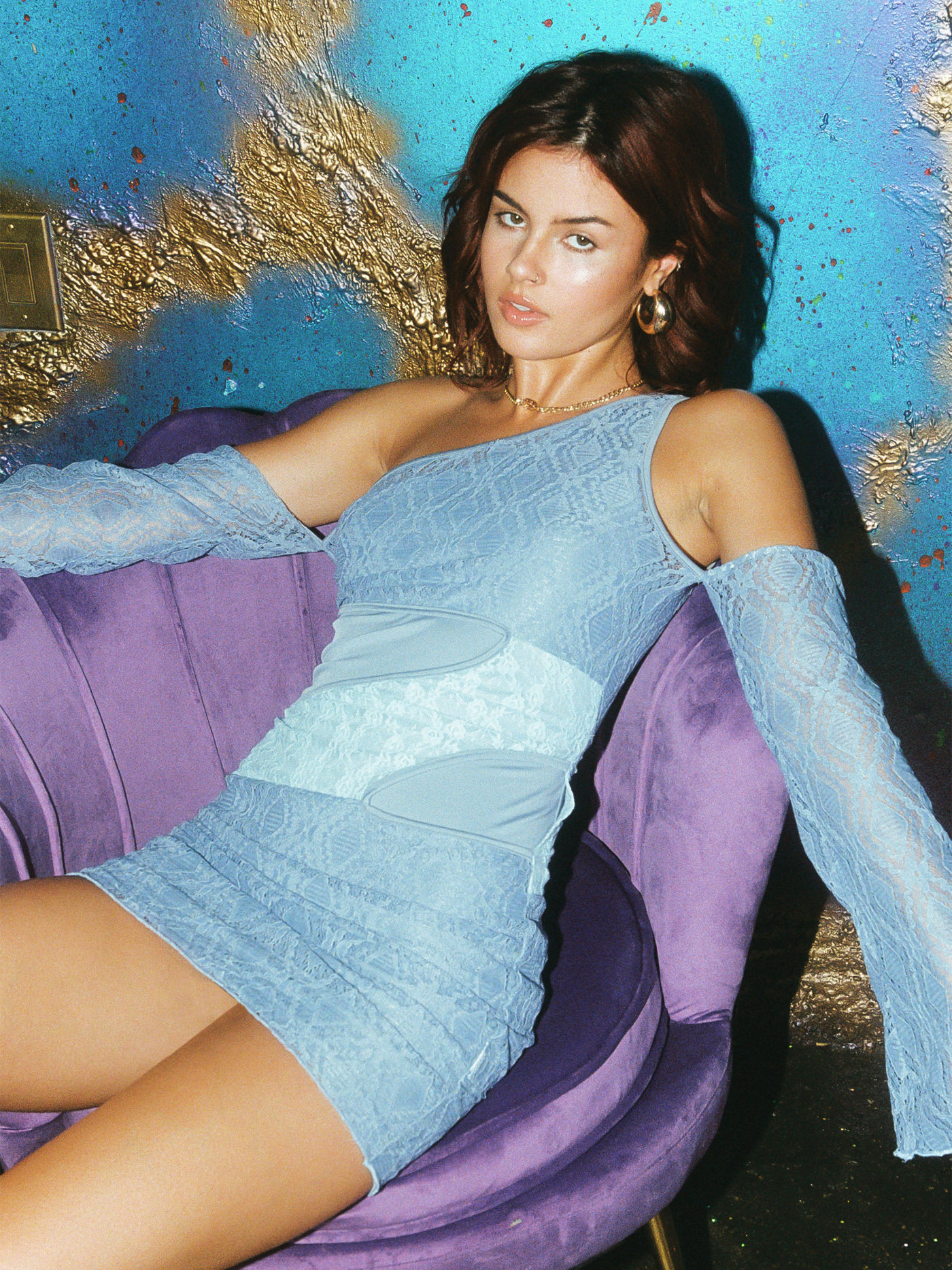 Founded in 2020, Cider is a newcomer in the fashion game, but they're already stealing the hearts of women everywhere, thanks to going viral on TikTok. With the tagline "Your closet's happy hour", this online retailer is a "globally-minded, social-first" fashion brand.
They offer super trendy clothes that are in at the moment, but they also have classic and timeless pieces that you can wear for a long time. Cider also has a Curve & Plus section to ensure that every lady gets to wear something cute all the time!
7. I Saw It First
Just like Pretty Little Thing, I Saw It First adds hundreds of new styles every week so that you can stay on top of the trends. I Saw It First stands out from its competitors by offering very unique, curated categories like the Beer Garden Outfits collection and the Day Drinks collection.
The online fashion retailer is always offering great sitewide discounts and special deals so that you can save a pretty penny while shopping. I Saw It First also carries menswear and items for your home.
8. Beginning Boutique
Dubbed "Australia's leading fashion destination," you will find so many cute pieces in Beginning Boutique. As we all know, Australia is a very warm country, so their pieces are designed with tropical weather in mind – perfect for your next beach getaway or rooftop cocktails. In fact, most of their pieces can be worn from the beach straight to the bar!
Beginning Boutique also has super cute swimwear options that will rival that of Pretty Little Thing's. If you're planning on going to a music festival soon, then head over to their "Festival Outfits" section for the cutest outfits.
9. Femme Luxe
As stated on its website, Femme Luxe has all of the hottest trends straight off of your Instagram feed. The majority of the pieces sold on Femme Luxe's website are influencer-inspired so that you know what you're buying is trendy and in style.
The online fashion boutique has tons of curve-hugging, bodycon pieces that will enhance your beautiful figure. The Cream Ruched Cup Detail Strappy Bodycon Mini Dress is perfect for bachelorette parties or a night out when you're on vacation.
When it comes to pricing, Femme Luxe is quite similar to Pretty Little Thing. The website is often offering substantial discounts and hot deals.
10. Forever 21
Forever 21 was (and still is!) a big fashion player to every woman growing up, and if you love affordable clothes, you might even have a few pieces from them in your wardrobe right now.
Sometimes known as "F21", this global fashion store offers casual wear, upscale and contemporary year, basics, party wear, lingerie, and accessories, just like Pretty Little Thing.
11. ASOS
For all things edgy and trendy, head over to ASOS. ASOS is possibly the retailer out of this list with the biggest variety of clothes, offering tens of thousands of options for you to choose from.
ASOS has everything from teen wear, young adult wear, maternity, plus size, and more clothes for different occasions. They also have so many shoes to choose from, and you can even opt for petite or wide fit shoes.
12. Missy Empire
Missy Empire offers fashionistas trending pieces at affordable prices and has thousands of red-hot outfits for a night out on the town. If you're really looking to turn up the heat this season, check out Missy Empire's out out edit.
Like Pretty Little Thing, Missy Empire is a fast-fashion store that is focused on keeping its prices as low as possible – sometimes, the prices are bafflingly low, with entire edits retailing for under $10!
In addition to partywear, Missy Empire also has an activewear collection that features biker shorts and tanks for your visits to the gym.
13. Oh Polly
Oh Polly is a fast fashion brand that we've been keeping our eye on for a long time. This brand offers glamorous clothing with eye-catching designs that will pretty much make you the star of the show!
And if you want to look and feel hot, Oh Polly has an amazing collection of corset tops, high-waist bottoms that will accentuate your curves, and dresses that will hug your body in all of the right places.
As their pieces are often seen on many Instagram models' feeds, it's no surprise that they've recently teamed up with this year's Love Island winner, the gorgeous Ekin-Su. The collection includes many bodycon dresses in Oh Polly's usual cut-out styles, as well as a few colorful options that are more trend-led.
14. Princess Polly
While Princess Polly sells items that are similar to the trendy ones from Pretty Little Thing, it is slightly more expensive. Princess Polly is an Australian store that gained serious popularity when celebrities like Perrie Edwards, Ariana Grande, and Hailey Bieber were photographed while wearing pieces from Princess Polly.
New styles are added to the online fashion boutique each day and the website frequently offers sitewide discounts and deals. If you're searching for a sustainably made bikini,
15. Misspap
Similar to Pretty Little Thing, Misspap is an online store that has tons of bold statement pieces with a price tag that won't make your jaw drop (in a bad way). Misspap carries hundreds of dresses, tops, bottoms, footwear, and accessories that can be worn on any occasion.
Just like Pretty Little Thing and friends, Misspap often has huge sitewide discounts so that you can get everything you need without emptying your pockets.
With crochet and knit styles being so in right now, check out the Strappy Split Front Maxi Dress Cover Up if you want to get in on the trend.
16. Nasty Gal
Nasty Gal is an American retailer specializing in edgy, alternative, and retro-inspired pieces. Similar to Pretty Little Thing, Nasty Gal is a fast-fashion brand that is almost always offering crazy sitewide discounts.
Even though Nasty Gal has plenty of bad a*s and edgy pieces, they also sell hundreds of hyper-feminine blouses and mini-dresses. There is truly something for everyone.
17. Hello Molly
If you're a huge fan of lightweight sundresses and feminine blouses, be sure to check out Hello Molly. The online fashion brand carries dresses that are mini, midi, maxi, off-the-shoulder, backless, covered in sequins, and much more.
For those who are feeling extra sexy and looking to embrace their sexuality, Hello Molly also has a Self-Love collection that is filled with sassy intimates and adult toys.

But if you prefer to stick to floral sundresses, or glamorous cocktail dresses, they have a lot to offer, too.
18. Revolve
Revolve is home to an incredibly massive collection of designer fashion brands, cosmetic brands, fragrances, and more.
Like Pretty Little Thing, they offer so many glamorous options for your next night out, such as dressy tulle cocktail dresses, sequin body con dresses, and more, albeit at a higher price point.
With this said, you can still find gorgeous dresses at rather affordable prices, especially if you look at their superdown sub-label. Most items here cost under $100 and still have that luxe feel.
19. New Look
New Look is a global fashion retailer based in the United Kingdom that sells womenswear, teens wear, and mens wear. New Look carries over a hundred brands, including Public Desire, Regatta, Baylis & Harding, Vero Moda, Missy Empire, NA KD, and even cosmetics like Tony Moly.
While New Look leans more toward casual wear, you'll find a decent chunk of trendy items that can be worn for a night out. Plus, their collection of affordable shoes is impeccable!
20. Windsor
Windsor is the online store to visit if you have a fancy event coming up and are in desperate need of a chic outfit.
Windsor offers hundreds of prom dresses, bridesmaid dresses and wedding guest dresses but it also has tons of casual clothing items like crop tops, sweaters, and denim.
21. Lulus
If you've been a longtime reader of Chic Pursuit, then you probably already know about our massive love for Lulus.
Lulus is an online-only fashion retailer based in California, and they offer all things chic from fall-ready outfits, to casual wear, to bridal wear (with some of their wedding dresses retailing for as low as $100!), and even formal outfits for all the business ladies out here. Simply put, Lulus has everything you could possibly need, with free shipping included on orders over $50 in the United States.
While their price point is slightly higher than Pretty Little Thing, the quality is also a lot better.
22. Showpo
Showpo (originally called Showpony), is one of Australia's top online fashion retailers. It was designed to be the "go to place to shop for young women," which is the company's vision.
Showpo really is a one-stop shop. They offer sleek trouser suits, dressy cocktails, sequin dresses, resort wear, and more. Not only that, but Showpo also carries other brands such as Levi's, Billini, Sunday Society Club, and more.
23. H&M
Like Forever21, H&M is a global fast-fashion retailer that you'll probably encounter practically anywhere in the world. H&M offers contemporary clothes, as well as semi-casual, urban chic clothing.
They have a men's section, a kids' section, as well as home decor – truly your one-stop shop for all things chic at reasonable prices. With new items added every week, we're sure you'll find at least a few must-have pieces when you browse the H&M website.
24. River Island
River Island is a UK-based street fashion clothing brand that caters to different aesthetics, different occasions, and different customers.
River Island offers clothing for men, women, boys and girls, and even babies, so this brand pretty much has everything that you and your family need.
While most of their collections are aimed at a slightly more mature audience than PLT, you'll still be able to find lots of similar styles at great prices, albeit usually, their clothes will be a little pricier than Pretty Little Thing.
25. Express
If you're into more upscale and "minimalist" clothing, then Express is the clothing brand for you. Express sells super chic clothes with sleek silhouettes, perfect for the office or your capsule wardrobe.
Their clothes are more on the minimalist aesthetic, so you won't see a lot of patterns or wild cuts. Instead, you will see lots of tailored blazers, sophisticated jeans, sleek tops, cute leather dresses (for your next night out!), and a whole lot more.
Did you find your next hot girl summer outfit from this list of stores like Pretty Little Thing? If you're looking for more outfit ideas, check these posts down below!

Get More Fashion Ideas
10 Best Stores Like Oh Polly To Get Glamorous Clothing
40+ Cute Summer Dresses You'll Want To Wear All Summer Long
30+ Cute Casual Summer Outfits That Are Perfect For Hot Weather