Kate Spade Outlet Vs Retail: What Are The Differences?
We only feature products that we hope you will love. We may earn a commission if you decide to make a purchase through our links, at no cost to you.
Are you wondering what are the differences between Kate Spade outlet vs retail? If so, we've gathered all the information you need to know in this article!
Kate Spade New York is one of America's favorite brands for handbags and leather goods. It was initially founded by Kate and Andy Spade in 1993, focusing on creating colorful, eye-catching handbags that became wildly popular in the 1990s.
The Kate Spade aesthetic is a polished, chic, and sophisticated look that will suit your personal style and make a statement – perfect if you are on the hunt for a new elegant handbag! Since the brand's origins, it has expanded to also include stationery, perfume, womenswear clothing, shoes, and eyewear.


Kate Spade is also making a point to empower women and girls all over the world, with a particular focus on mental health – so if you are looking to buy a bag from a brand that is having a social impact across the globe, then Kate Spade is a great option to go for.
You can find Kate Spade in department stores such as Nordstrom and Nieman Marcus, in Kate Spade retail stores, and in Kate Spade outlets, of which there are 47 all across America – as well as a dedicated outlet section on their website.
If you're after a new Kate Spade bag and wondering where you should get it from, we've got all the information you need to help you to decide whether you should buy your new Kate Spade bag from an outlet mall or a Kate Spade store.
Kate Spade Outlet vs Retail – What's The difference?
1. Quality
The main difference between the outlet products and the retail store items is the quality.
The items that are sold in the outlet stores are at a lower price because they are made from lower-quality materials – for example, outlet bags are made from split leather. This will often be cow leather because lamb leather, which is sometimes used to make Kate Spade retail bags, is more expensive.
Although, in some Kate Spade outlet stores you may find high-quality items that are slightly damaged, gently used, or have been produced with some sort of irregularity.
2. Different Products
Kate Spade also produces collections specifically for the retail outlet stores as well as department store outlets such as Nordstrom Rack and Marshall's. Kate Spade is not the only popular designer brand to do this, Coach also creates specific Coach bags for their outlet stores.
3. Length Of Warranty
You should also be aware that goods purchased from outlet malls will have a shorter warranty. Often Kate Spade will only offer one month warranty on their outlet products, whereas a bag purchased from a regular retail store will have a one-year warranty.

Top kate Spade products from outlet & retail stores
1. tote bags
Tote bags are a must in any bag collection and Kate Spade has some incredible options on offer.
The All Day tote is an absolute classic that you will love forever. Perfect for any time in your life, the All Day tote has a spacious interior and comes with a removable zip pouch so you can keep organized. The long handles and cross-grain leather guarantee durability and style, making this tote perfect for everyday use.
The only decoration on the bag is the Kate Spade hardware, and the tote closes with a bridge clip closure so everything is kept safe. This All Day tote is also available from Nordstrom in three different colors so you are bound to find an option you love.
The Kitt tote is similar to the All Day bag but for a more affordable price tag. This tote also has a roomy interior and is fitted with several pockets – but instead has a zip closure on the top of the bag. The silhouettes of both totes are similar, although the Kitt tote is perhaps slightly larger in size.
The long handles make it comfortable to carry around all day, while the Kate Spade hardware is a lovely finishing touch on the bag. This tote is made from nylon with a smooth PVC trim and a jacquard lining – so it still looks great, just made with a little less luxurious materials.
2. crossbody bags
Crossbody bags are another perfect everyday go-to bag – and Kate Spade has loads of options to pick from.
The gorgeous Knott Crossbody bag is made from pebbled calf leather which is accentuated by the Kate Spade metal logo on the front flap and the chain link and leather crossbody strap – the strap is also detachable so this bag can be worn as a clutch.
The interior features a slip pocket and a zipped pocket meaning you can keep your credit cards, phone, and keys all safe in this perfect little bag. The neutral pale pink color also guarantees it will suit a whole plethora of outfits.
The Bailey crossbody bag is made from textured leather for that luxurious feel at a discounted price. The design of the bag is minimalist with no extra bells and whistles – on the inside, you'll find just one back slip pocket, so you can always stay organized.
While we love the tan version of the bag, Bailey also comes in hot pink, medium pink and pale blue, all decorated with a small Kate Spade logo and a zip closure. Despite being an outlet item, this Kate Spade bag looks is very similar to bags that Kate Spade carries in its main line.
3. backpacks
Backpacks have become a must-have item because of their spacious nature and durability, making them the ultimate bag for convenience.
The Sinch backpack is made from luscious pebbled leather with a faille lining. The top of the bag has a drawstring for easy access, while the flat base guarantees stability.
The inside is fitted with plenty of pockets so you can keep all of your work essentials or weekend essentials organized within this bag. It has a slightly higher price tag ($298), but you are paying for the higher quality of a sumptuous Kate Spade bag.
The Lizzie flap backpack looks very similar to the Sinch backpack with its drawstring closure and magnetic snap flap – as well as being made from 100% leather for a durable finish.
The minimalist design features the metal Kate Spade hardware while the interior has slip and zip pockets so you can easily grab everything from this incredible backpack. The shoulder straps are adjustable and there is also a small top handle for convenience, all available from Kate Spade outlet shops with a price tag of just $129.
4. wallets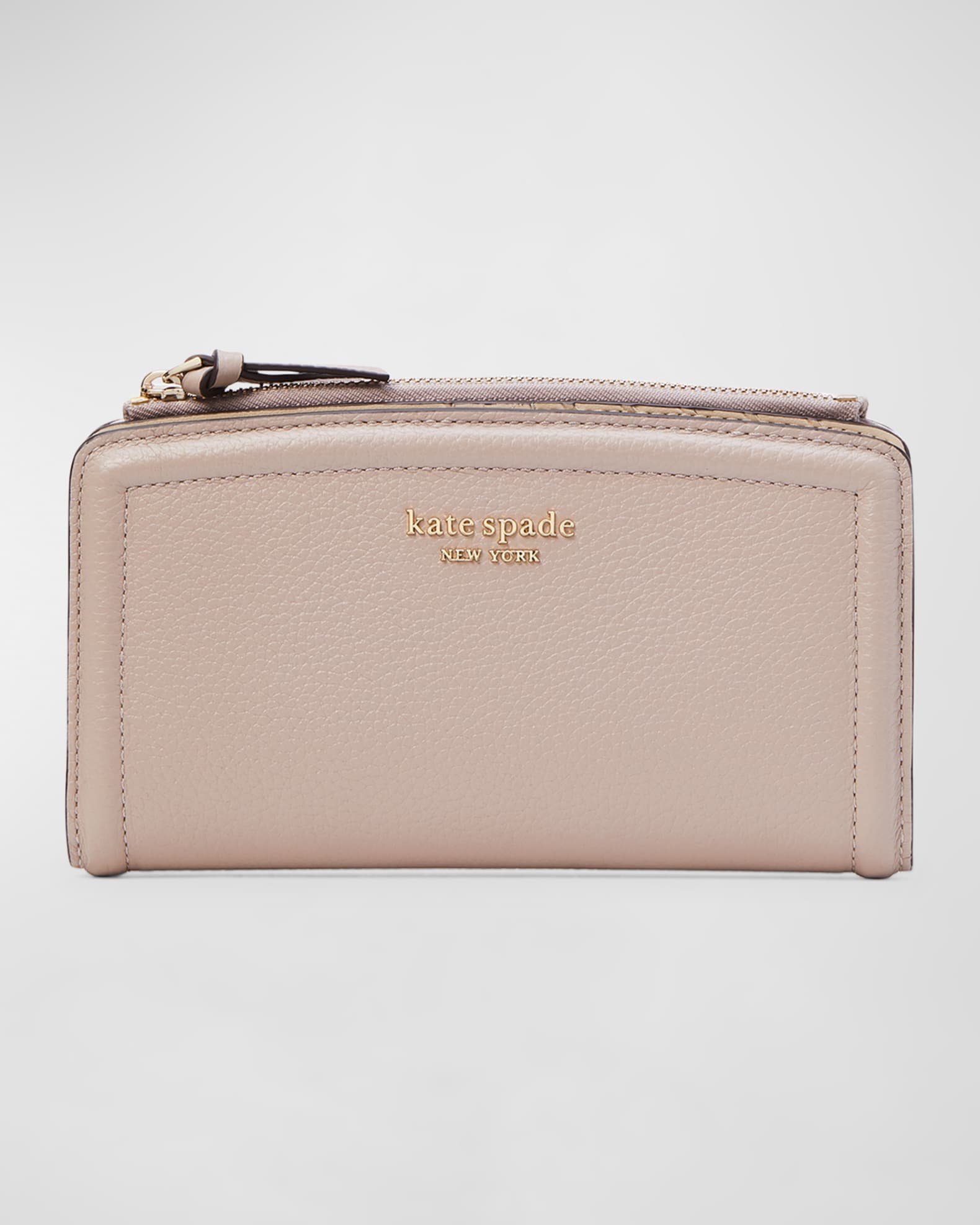 Kate Spade is known for incredible purses, wallets, and card cases – so here are two options to tempt you to add one to your collection!
The dusty pink bifold zip slim leather wallet looks amazing and oh-so-stylish in textured leather. The zip-around closure opens up to reveal plenty of card slots and bill compartments to keep everything you need safe in this slim wallet.
Similar to the slim bifold wallet, the Natalia Wallet also has a stunning exterior, this time with smooth quilted leather for a lovely tactile texture.
The gold zip opens to reveal an interior fitted with 12 credit card slots, slip pockets, a coin compartment, and a center divider. There is no need to scrimp on the organization when buying an outlet purse from Kate Spade.
Conclusion
While there are definitely differences between Kate Spade retail vs outlet products, including their price, quality and length of the warranty, you can find excellent (and very similar) items from both stores.
If you're on a budget, we definitely recommend sticking to outlet shopping. However, if you are after higher-quality items that last longer, we recommend checking out regular Kate Spade retail products, and keeping an eye out for discount codes if you want the best price.
If you are looking for extra discounts, head over to Kate Spade's flash sale website – surprise.katespade.com, which shows not only surprise sales on regular Kate Spade products but also has many of the discounted items you would likely find in outlet stores.
We hope you found this analysis of Kate Spade outlet Vs retail helpful! For more luxury fashion posts, check out the links below.
Get more luxury fashion ideas
15 Best Kate Spade Bags For A Chic and Affordable Style
The 20 Best Affordable Luxury Brands You Need To Know About
Coach Vs Coach Outlet: Are They The Same Or Is There A Difference?