Is Dooney & Bourke A Luxury Brand? Here's What You Need To Know
We only feature products that we hope you will love. We may earn a commission if you decide to make a purchase through our links, at no cost to you.
Is Dooney & Bourke a luxury brand, and does it compare with other big names like Louis Vuitton or Gucci? Here's everything you need to know.
Shopping these days can be slightly overwhelming between all of the trends, do's and don'ts, and brand names. If you love adding unique and playful items to your wardrobe, you're likely familiar with the brand Dooney & Bourke. The company designs super fashionable accessories like handbags, bracelets, briefcases, luggage, watches, and more.

After achieving mainstream success, the brand branched out and created a clothing line filled with sweaters, scarves, and jackets. It also added a footwear line so that its customers can dress in Dooney & Bourke from head to toe.
Because the American company sells high-quality items that can be more on the expensive side, many people are left wondering if Dooney & Bourke is a luxury brand. We'll address this and more in the article below!
The History Of Dooney & Bourke
Dooney & Bourke was founded in 1975 by Peter Dooney and Frederic Bourke. When the brand first started, it specialized in trendy handbags and everyday bags that quickly gained a cult following.
Dooney & Bourke felt inspired by America's rich history in fine leather items, ranging from mail pouches and saddle bags, all the way to early military gear. The two founders worked together to create a distinct blend of classic and contemporary styles, which is the hallmark of every collection launched by the brand.
Dooney & Bourke launched with the idea that they could make a difference in the leather goods industry. The brand is deeply committed to timeless versatility, durability, quality, and following the current styles and trends. Dooney & Bourke only uses the finest materials and leather craftsmanship to create one-of-a-kind handbags.
With more than 40 years of experience, Dooney & Bourke have mastered the art of creating dazzling and long-lasting durable handbags that make their lucky owners stand out.
In the early 2000s, Dooney & Bourke's bags were highly adored by Hollywood's most popular celebrities and young women like Lindsay Lohan, Mischa Barton, and Emma Roberts. Mischa even acted as a Dooney & Bourke spokesmodel and posed for several of the brand's campaigns.
Well-known actress Hayden Panettiere even had the opportunity to design a unique line for Dooney & Bourke, called the "It Bags", which flew off of the store's shelves.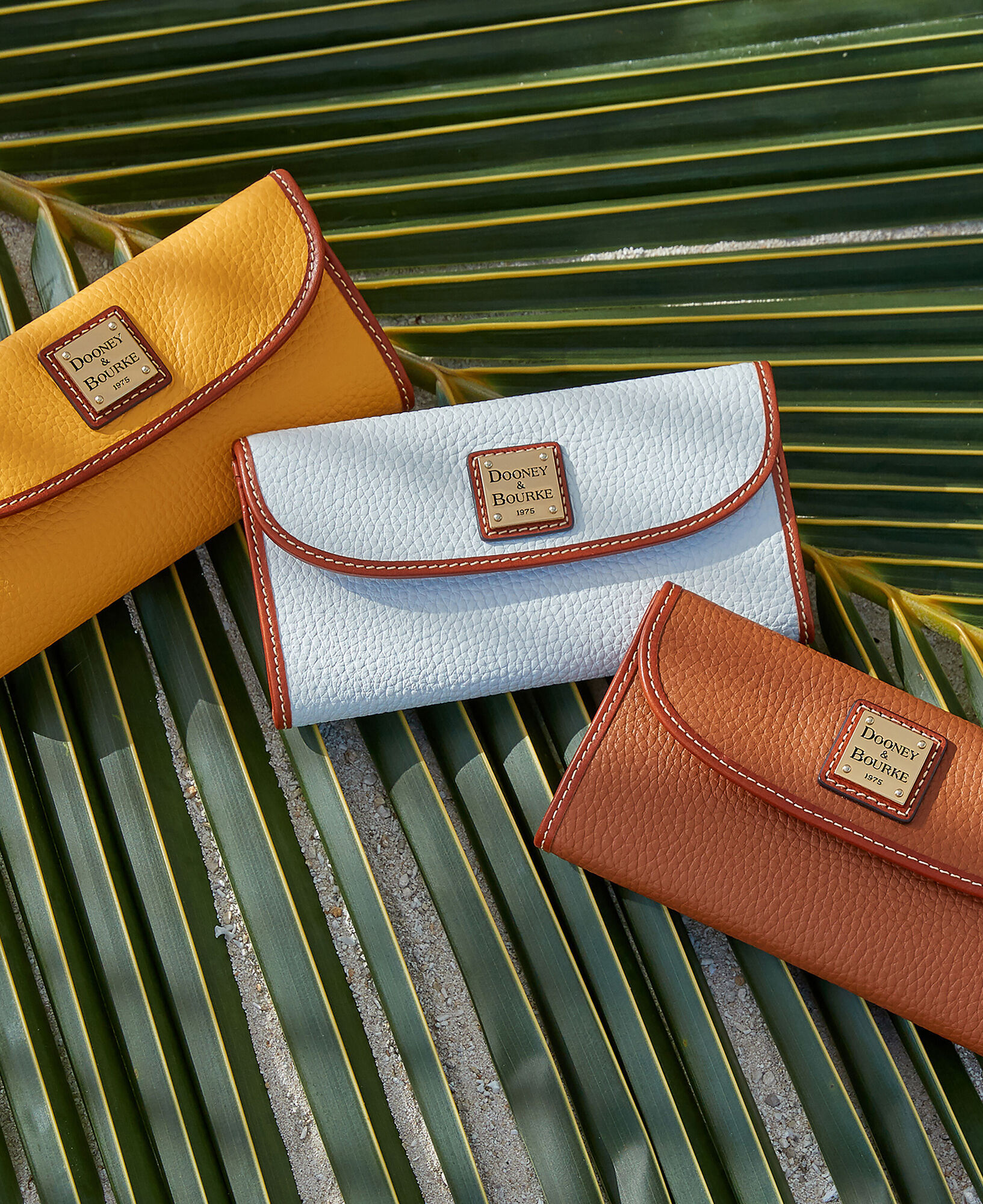 Over the past two decades, Dooney & Bourke has had some serious fun experimenting with graphics. For example, it's partnered with Disney, using some of the most adorable Disney images on the handbags. The brand also mimicked Louis Vuitton and covered a few of its handbags with interlocking Ds and Bs.
Like other high-quality brands, there are several counterfeit Dooney & Bourke bags floating around the internet so that people can enjoy its style without spending the big bucks on their expensive handbags. However, knockoff bags are missing many of the brand's authenticating factors and fall apart quickly.
Faux Dooney & Bourke bags have hardware features that are lighter in weight, have different trimming, and serial numbers. Plus, you know that if a leather bag is selling for under $100, it might be too good to be true.
Dooney & Bourke Price Point
Dooney & Bourke handbags range in price from $150 to $500, depending on the size and style. With this said, many of their best-sellers usually retail for $200-$300, but you can get them a little cheaper (30-50% off or so) around sale times. So, be sure to visit their website around Black Friday and after Christmas!
Is Dooney & Bourke A Luxury Brand?
While the successful Dooney & Bourke brand gave its European peers like Louis Vuitton, Hermes, and Gucci a run for their money when the brand first entered the high-end handbag market with their stylish handbags, it's been left behind in the dust.
It's common knowledge that Dooney & Bourke products are made from excellent quality materials, leather, and craftsmanship but the brand certainly is not considered luxury. Designer fashion houses like Gucci, Louis Vuitton, Hermes, Ralph Lauren, Prada, and Versace are on a much different level than Dooney & Bourke.
Dooney & Bourke is considered an affordable luxury/premium brand on par with other respectable brands like Kate Spade, Michael Kors, and Coach. This makes it a great option for people who want a handbag that's better quality than the ones sold at retail stores or Aldo.
If you're unsure of how much you'd use a handbag from a luxury brand, starting with one from Dooney & Bourke can help you gauge this. If you end up using your $400 handbag on a daily basis, you might be ready to spend $1,000 on expensive designer handbags from the likes of Gucci.
Final Thoughts
In conclusion, Dooney & Bourke is considered an affordable designer brand as opposed to the luxury heavy hitters that dominate the fashion industry.
However, Dooney & Bourke bags encompass a certain quirkiness and sense of fun that many of the bigger labels don't have. If you're a sucker for eye-catching prints and stylish designs, a Dooney & Bourke bag might be a better fit for you than Gucci, Balenciaga, or Prada.
Those who already have four to five Dooney & Bourke bags in their collection should most definitely start dabbling into the brand's footwear and accessories collections as we guarantee that you'll love them just the same.

Get More Fashion Ideas
Swarovski VS Pandora: Which Is The Better Investment?
Gucci vs Louis Vuitton: Which Is The Right Brand For You?
Is Bulova A Luxury Brand? Here's What You Need To Know