Coach Vs Louis Vuitton: Is One Better Than The Other?
We only feature products that we hope you will love. We may earn a commission if you decide to make a purchase through our links, at no cost to you.
Both brands make beautiful leather goods and ready-to-wear collections. Today, we'll explore everything you need to know between Coach Vs Louis Vuitton to make an informed purchase from either of the brands.
All-American brand Coach and historic French designer brand Louis Vuitton may have very different histories, but there is some overlap in the items they sell.
This article will explore the history of each brand, the key differences you need to be aware of, and our top picks from each label before coming to a conclusion on Coach vs Louis Vuitton. If you are thinking about your next designer purchase, let this article help you out!

Coach vs Louis Vuitton
The History of Coach
The affordable luxury fashion brand, Coach New York, was founded in 1941 and was initially a family business and workshop in Manhattan. The workshop encompassed six leather-workers who created wallets by hand.
The brand grew in 1946 when husband and wife duo, Miles and Lillian Cahn joined Coach and bought their knowledge of leatherworks and businesses with them.
In 1962, Bonnie Cashin was hired by the brand as the first head designer – she bought new revitalizing colors, proportions, and individuality to her designs to reflect the mood of New York in the 1960s. The brand was inspired by the spirit of their hometown of New York City and fostered an ethos of care and commitment to the community within the company.


This attention to detail that Coach put in their leather goods was bought to the rest of the United States in 1965 when Richard Rose joined the company and ensured Coach products were stocked in department stores across the country.
The Coach brand was refreshed in 1996 when Reed Krakoff was hired as creative director and created goods that were both functional and stylish. Krakoff remain at Coach until 2014 when Stuart Vevers took over as creative director.
Vevers had previously been creative director of Mulberry and Loewe and has won the Accessory Designer of the year award from the British Fashion Council and then in 2017 won the CFDA Accessory Designer of the Year.
The ethos of commitment to the community behind the Coach brand was brought to the forefront when, in 2008, the Coach foundation was established. This foundation's aim is to support charities and organizations that educate and empower women and children, all across the world.
Now, Coach is a worldwide, well-known brand name that creates not only affordable luxury handbags, but also luggage, accessories, and a ready-to-wear collection. Further attention was bought to the brand in 2019 when Megan Thee Stallion and Jennifer Lopez were announced as the new global faces of the company.
History of Louis Vuitton
Louis Vuitton is a French luxury fashion house that was founded by Louis Vuitton in 1854 in Paris. Vuitton was known for creating flattop trunks in 1958, these bought attention and customers to his brand because of the trunk's lightweight nature and practicality, as they could be stacked on top of each other during long journeys.
The luxury brand continued to grow in the late 19th-century when Louis Vuitton attended the 1967 Universal Exhibition in Paris and then in 1885, opened its first in London on the famous Oxford Street.
A key year in the history of Louis Vuitton is 1896 – this is the year in which the company launched the signature Monogram Canvas.


The graphic symbols on the canvas include the LV monogram, quatrefoils, and flowers and were based on the Japanese Mon designs of the late Victorian period. Still to this day, this Monogram Canvas covers the majority of LV bags and other luxury accessories.
Louis Vuitton exclusively created designer bags, luggage, and accessories until 1997. This was the year that artistic director at the time, Marc Jacobs, launched the first Louis Vuitton ready-to-wear collection, for both men and women.
Incredible ready-to-wear collections continued to be produced, with the runway shows held in different exotic locations and with elaborate sets each year. In 2011, the structure of Louis Vuitton changed when Kim Jones became style director of the men's collections – adding a new, fresh twist to these shows.
Nicolas Ghesquière took over from Marc Jacobs in 2013 as the artistic director and continued to make innovative and iconic womenswear collections for the brand, while in 2018 Virgil Abloh became artistic director for the men's ready-to-wear collection. This was a historic appointment as Abloh became one of the few black designers at a European luxury fashion house.
The brand is also very well-known for its pioneering collaborations that bring together the worlds of fashion and art. Previous collaborations have included Yayoi Kusama, Takashi Murakami, Steven Sprouse, and Supreme. The stunning fashion collections and handbags have made Louis Vuitton one of the most valuable luxury brands in the world.
Differences between Coach and Louis Vuitton
Despite both brands becoming very well known for their top-quality bags, there are some key differences you should know about before deciding on which brand is best for you.
1. Price range
The price range of these handbags is completely different. Louis Vuitton is an expensive luxury brand and the handbag prices reflect this, they range from $1,000 to $6,000 – this can increase depending on any personalization or if exotic materials are used in the luxury bag.
Coach purses and bags cannot be called luxury. Instead, they're best referred to as affordable luxury, as their prices range from $150 up to $795.
This means the two luxury brands have a completely different target market, and the customers of each brand have differing budgets. Coach bags may appeal more to a younger generation, while a Louis Vuitton bag is seen as more a status symbol and will be purchased by people with a larger budget.
2. Materials
Both brands use leather in many of their bags but the quality of the leather can differ. You can expect a Louis Vuitton bag to be made from cowhide leather – this may be in the form of an epi leather, leather Vernis, or taurillon leather, often with the LV monogram embossed onto the bag. These high-quality leathers explain the high price point of an LV bag.
Coach, on the other hand, lists smooth leather, Nappa leather, natural leather, and pebbled leather under the materials they use – the brand is less explicit in the exact type of leather they are using, unlike Louis Vuitton who highlight their use of cowhide leather.
In addition to this, some Louis Vuitton bags are made in a hardwearing Damier Azur or Damier Ebene canvas, which are just as luxurious as the leather, but with a lower price tag. Coach bags are also available in canvas, cotton, nylon, and suede – ensuring a variety in texture, finish, and prices.
3. Craftsmanship
Louis Vuitton exclusively produces their handbags in France, Spain, Italy, or the United States – this guarantees a high-quality finish and a totally luxurious bag as the final product, which is reflected in the price.
Coach handbags are all made in China, by workers who have been trained by the company's Italian leather team. The handbags are of good quality but do not have the same craftsmanship and attention to detail that the Louis Vuitton bags have.
4. Discounts & Outlet Strategy
Louis Vuitton, like many other true luxury fashion houses, does not take part in sales, at least not to the general public. If you're a VIP client, you may get a personal invite to shop an LV sale, but strolling into a boutique to find discounted products is unheard of.
Coach, on the other hand, does not shy away from giving their customers generous sales. Not only do they have a dedicated sales section on their website where you can buy products for up to 70% off, but they have also created an entirely separate brand, Coach Outlet, that focuses on cheaper goods that are often entirely separate from the main brand.
5. resale value
Bags from both brands are obviously available in retail stores, but you can also often find them on resale sites like Vestiarie Collective.
However, Louis Vuitton handbags have a much higher resale value – this is due to the high-quality materials in their production, the reputation of the Louis Vuitton brand, and the fact that Louis Vuitton increases the prices of their popular bags on a consistent basis.
Coach has a lower retail value when new and so they have a much lower retail value on the secondhand market. Also, as Coach isn't considered a true luxury brand, some secondhand retailers like Fashionphile do not even allow listing them on their website.

Our top picks from Coach Vs louis vuitton
1. Tote bags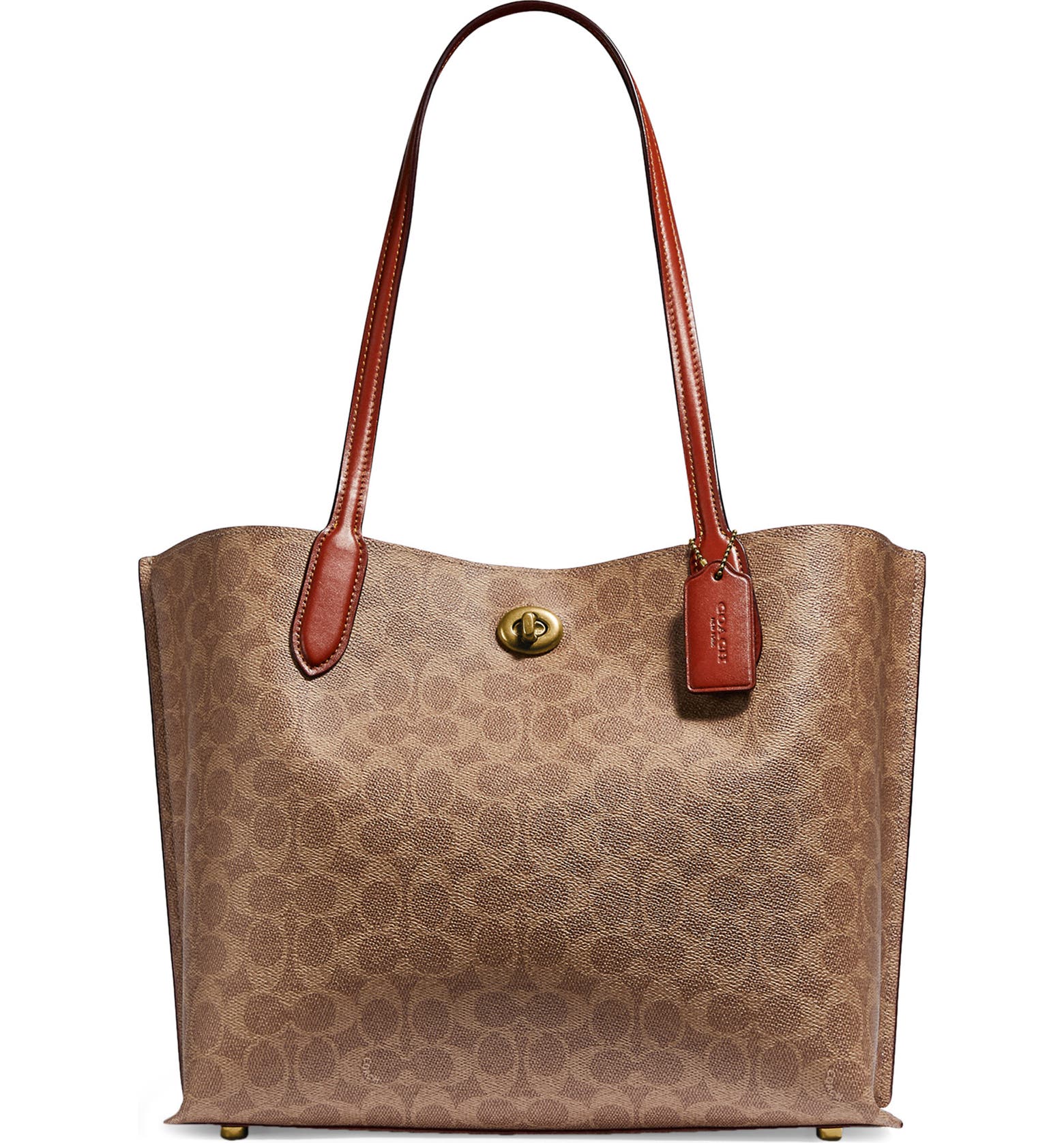 Tote bags are a must-have in any bag collection and these two options from Coach and Louis Vuitton are perfect examples.
The Coach Willow Tote comes in several different color types of leather to fit your personal style, as well as the stunning signature canvas that is pictured above.
This spacious tote features two open pockets inside the bag as well as the center zip compartment that will help you keep all your essentials organized. The leather handles are the perfect length to fit comfortably over whatever you are wearing.
The Louis Vuitton Neverfull tote is a fan-favorite in the fashion industry. It is oh-so-practical and will never go out of style. It is available in multiple different colors and leather to suit any style, but pictured above is the classic Damier Ebene canvas.
This Neverfull tote also comes with a little removable pochette to help keep all your essentials easy to find in your bag.
2. Crossbody bags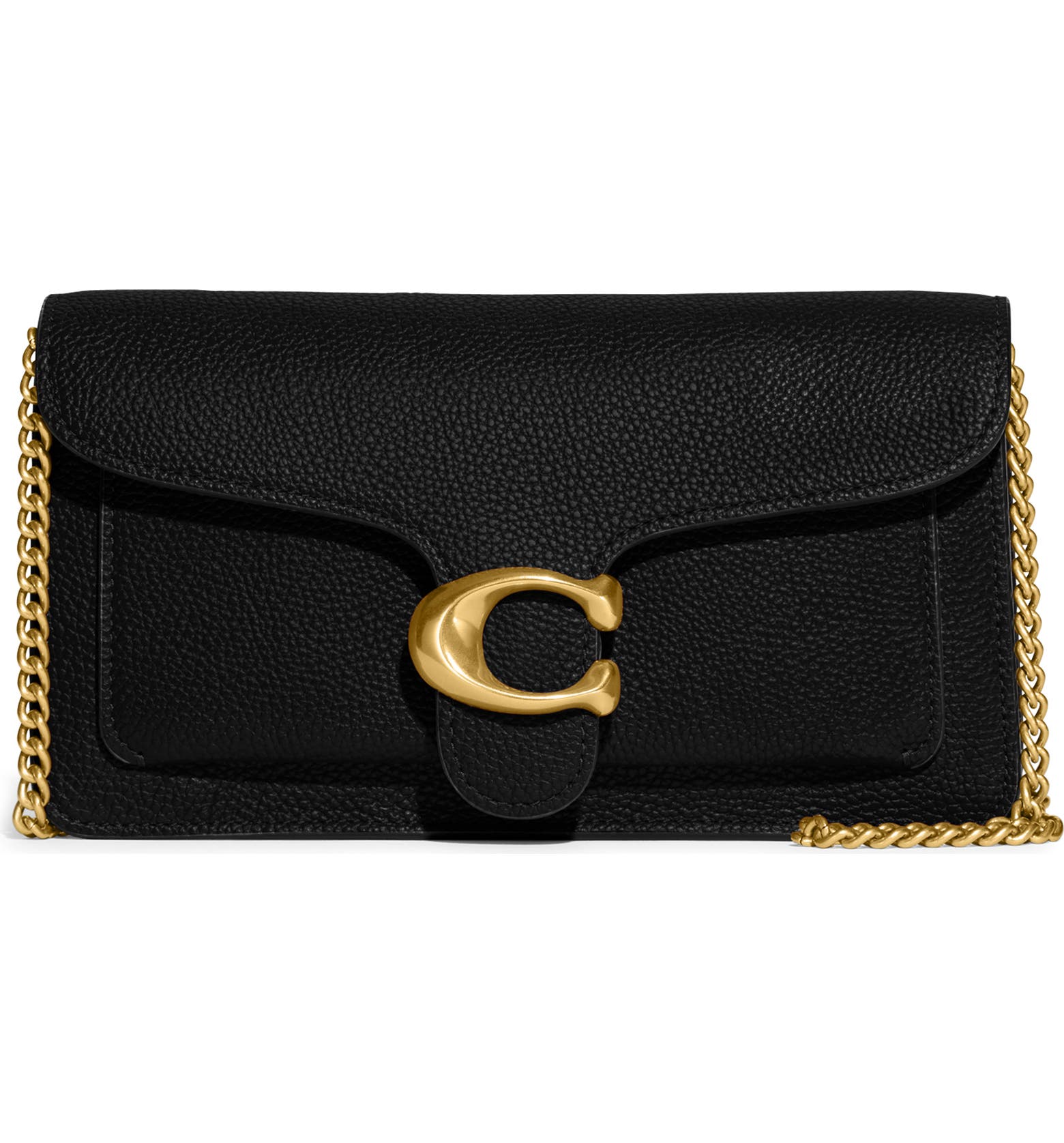 Crossbody bags are such as practical style of bag and thebags that both Coach and Louis Vuitton have on offer are stunning.
The Tabby Pebbled Leather Crossbody bag is a perfect day-to-night bag that will seamlessly match a whole plethora of ensembles.
The pebbled black leather is complemented by Coach's sleek gold hardware and C-logo that features on the closure of the bag. The chain strap is detachable, meaning that you can wear the bag as an evening clutch if you would like to, while interior pockets guarantee you stay organized.
The Louis Vuitton Coussin bag is a modern classic in the world of fashion. The soft monogrammed leather looks luxurious, while the dual straps ensure practicality.
The engraved gold chain-link strap, plus the wide canvas strap means this bag has versatility and can be worn as a shoulder bag or across the body. The top zip closure opens to reveal a contrasting dark blue interior and zip pocket.
3. Shoudler Bags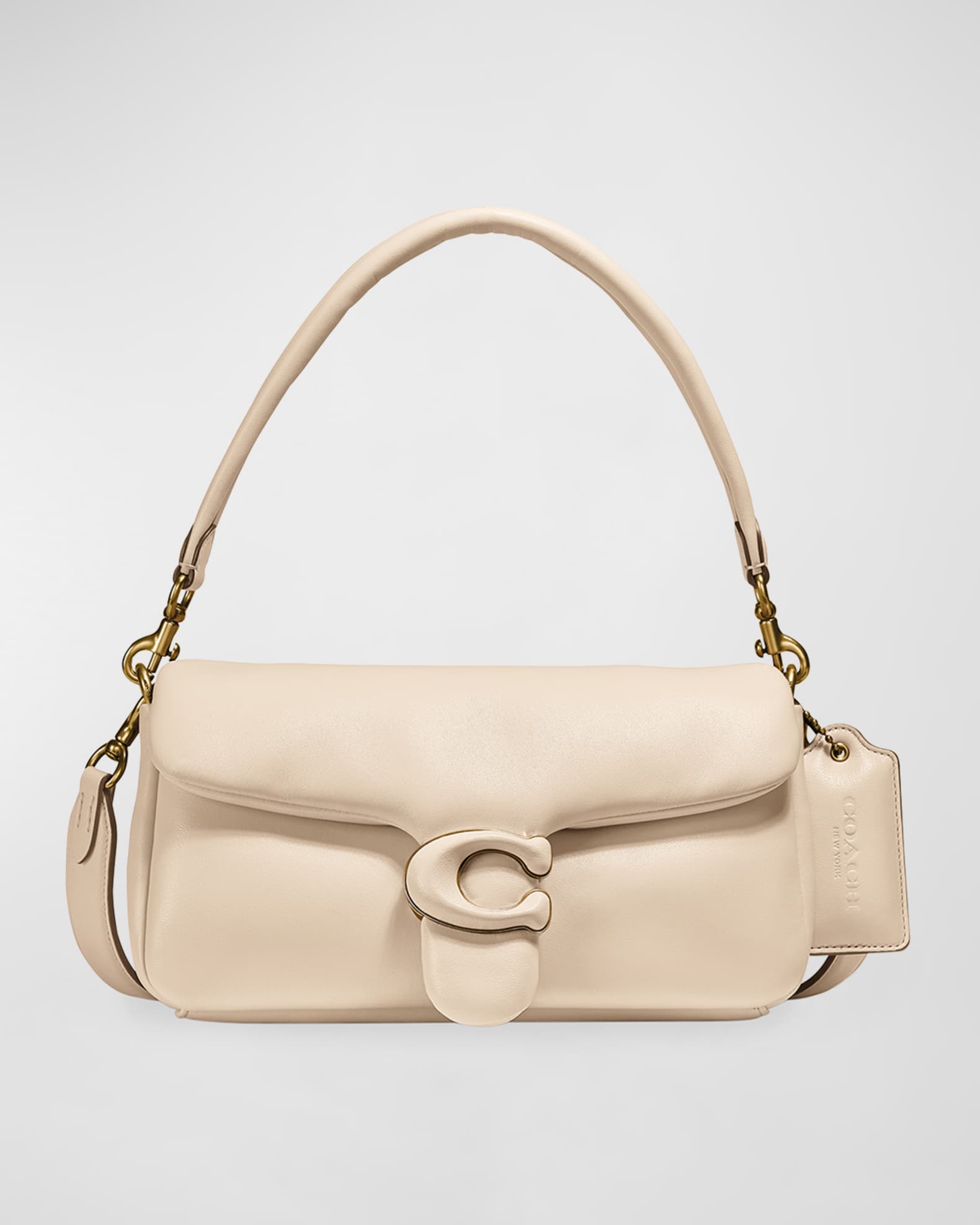 Shoulder bags are so on-trend right now and these two from Louis Vuitton and Coach are some of the best you could find.
The Coach Pillow Tabby Shoulder bag is an iconic design for the brand. The sumptuous, pillowy leather is so tactile and is then actuated by the stunning Coach logo sitting front and center on the closure of the bag.
The short top hand means this bag can be carried, while the detachable longer strap means this adorable bag can transform into a crossbody or shoulder bag.
If you want an eye-catching, structured shoulder bag, then the Louis Vuitton Monogram Pochette Metis is perfect for you. The dual, reversed monogram canvases that make up this bag will be a beautiful detail to any outfit.
The bag locks with a gleaming gold brass S-lock to complete security, while the two different, adjustable straps that come with this bag ensure versatility. It may be a pricey option, but it is so worth the money.
Note: We know that the Louis Vuitton Pochette Metis vs Coach Cassie are often compared with one another, but sadly the latter has been discontinued.
4. Top handle bags
Top handle bags can take many different forms, but we have two great examples for you right here.
The Coach Rogue bag is part of their Coach Forever collection and is meant to be used and passed on to others who will love it to reduce our impact on the planet.
This structured bag features two top handles covered in smooth leather, while the bag also comes with a long detachable strap as well. The handbag is made from pebbled leather and is available in many different colors to suit your personal style.
The Louis Vuitton Speedy, seen here in the nano size, has a long history as one of the luxury brand best-selling bags. The round shape makes it totally individual and quintessentially Louis Vuitton.
The embossed leather is chic and sleek, while the rolled leather handles and detachable shoulder strap make the bag versatile as well. The polished brass hardware includes a lock and two keys to guarantee all your essentials are safe.
Is Coach A Luxury Brand?
As we alluded to before, no. Coach is not a luxury brand. Coach could be considered affordable luxury or "premium", but the brand lacks in craftsmanship, high price points, and exclusivity.
Conclusion
Both fashion houses create some incredible leather goods, and you are bound to find something you love from both Coach and Louis Vuitton. However, there are significant differences between the two brands that should help you decide which one is right for you.
Louis Vuitton bags are of higher quality and therefore have a higher price tag and subsequently higher resale value. Coach bags are a more affordable luxury bag, the material is luxurious but may not be the same quality as an LV bag.
Since both brands create stunning, stylish, and top-quality bags, in the end, the decision comes down to your personal choice and budget.
If you want the timelessness of a Louis Vuitton bag and have a little more to spend, then you can't go wrong with any LV handbag. If your budget is a little tighter and you are after something that looks incredible but is a little more affordable, then definitely go for a Coach bag.
Lastly, to answer the question we posed in the title – between Coach vs Louis Vuitton, is one better than the other? Well, Louis Vuitton is definitely the more valuable and more coveted brand that produced higher-quality products.
However, it may not be the best brand for your personal needs. If you want an easy-going bag for everyday wear that you don't need to worry about damaging, Coach could be the better brand for you.
We hope you have found this article on Coach vs Louis Vuitton helpful! For more luxury fashion content, check out the links below.
Get More Luxury Fashion Ideas
Louis Vuitton Vs Chanel: Which Luxury Brand Is Right For You?
15 Best Designer Bucket Bags To Invest In 2022
12 Best Designer Bags Under $1500 Worth Splurging On