Burberry Vs Louis Vuitton: Which Luxury Brand Is Right For You?
We only feature products that we hope you will love. We may earn a commission if you decide to make a purchase through our links, at no cost to you.
Two of the biggest fashion houses, Burberry and Louis Vuitton both have long histories and offer high-quality ready-to-wear collections and handbags, but which one is better when comparing Burberry vs Louis Vuitton?
Louis Vuitton is one of the oldest French brands and has been named one of the most popular fashion labels in the world because of its high fashion designs and top craftsmanship. Burberry is also a historic fashion house, this time hailing from England, known for their irresistible trench coats that have made the brand world-famous.
Upon first look, these two brands may look similar, but when you delve deeper, there are key differences you should be aware of when deciding between Burberry and Louis Vuitton.
This article will take a look at the history of both brands, the key differences between the two, and finish with a comparison of our top pieces from Burberry and Louis Vuitton – all to help you decide which brand is right for you!

Burberry vs Louis Vuitton
The History of Burberry
The British fashion house Burberry was first established in 1856 by 21-year-old Thomas Burberry when he opened his first shop in the small town of Basingstoke in England. The Burberry company focused on outdoor wear and, in 1879, came a breakthrough.
This was the year in which Thomas Burberry introduced gabardine to the brand. This fabric is waterproof, tearproof, lightweight, and breathable, which made it perfect for outdoor expeditions. Gabardine was patented by Burberry in 1888, and still to this day it remains a key part of the Burberry brand.


Burberry continued to provide outdoor wear during both the First and Second World Wars and it is at this time that the Burberry trench coat is first launched. This best-selling coat for the brand was purposefully designed for the military and all these elements remain on this famous coat still to this day.
It wasn't until the 1920s that the Burberry check became an integral part of this luxury brand and featured as the lining of the trench coats.
During Burberry's long history there have been several important creative directors, firstly Christopher Bailey who joined the brand in 2001 and created cutting edge womenswear and menswear designs. This role was then taken over by Riccardo Tisci in 2018 when the Italian designer became creative director for Burberry.
Tisci refreshed the brand, signaling a new era, with a new Burberry 'TB' logo that honored the company's founder, Thomas Burberry. Burberry is now one of the best-known British luxury fashion brands, creating stunning ready-to-wear collections, leather goods, shoes, and of course the famous trench coat.
The history of Louis Vuitton
This luxury French brand is the second oldest luxury brand that is still operating today. Louis Vuitton founded his namesake brand in 1854 after working as an apprentice for a trunk maker in Paris for 17 years.
Louis Vuitton first found success when he created flat top trunks made from waterproof canvas. This was revolutionary for the time as the majority of trucks used in long journeys had a curved top and therefore could not be stacked.
This success allowed Louis Vuitton to expand his business and eventually, in 1885, he opened the first Louis Vuitton store in London.


To avoid counterfeit versions of Louis Vuitton's luggage, Vuitton created the Damier Canvas in 1888, while his son Georges Vuitton created the LV monogram for this same reason in 1896 – ironically the LV monogram is now one of the most copied luxury prints in the world.
In the 1930s, the French fashion house expanded their collection of products and began to include smaller bags; including the Keepall and Speedy, both of which have remained some of the best-selling Louis Vuitton products still to this day.
In 1932, the Noé bag was added to the collection; this was originally designed to carry champagne but has now become one of the most iconic bucket bags you can get your hands on.
The brand transformed again in 1997 when the American designer Marc Jacobs became creative director and Louis Vuitton produced their first ready-to-wear collection.
In 2011, British designer Kim Jones takes over the menswear collections from Marc Jacobs, a role which Virgil Abloh took on in 2018, becoming one of the few African American designers leading the creative direction at a luxury fashion house.
In 2013 Marc Jacobs stepped down and the role of creative director is given to Nicholas Ghesquière, who has since created some iconic collections that have made Louis Vuitton one of the most famous brands in the world.
Key Differences between Burberry Vs Louis Vuitton
When trying to decide between Burberry and Louis Vuitton it's key to look at the differences between these two brands, as this will help you pick the one you feel is right for you, your personal style, and your budget.
Although the fashion houses have similarly long histories, there are several important differences you should be aware of.
1. Price Range
Firstly the price range of the handbags on offer from these two labels is significantly different. Burberry is not so well known for its collection of handbags and so the prices are often much less – Burberry handbags can range anywhere between $1,050 and $2,790.
Meanwhile, Louis Vuitton bags are world-famous and the price tag ranges between $1,000 and $6,000. Some of the limited-edition bags made from exotic skins can cost significantly more money.
If you are looking at outerwear, Burberry prices are often between $430 and $12,500, while Louis Vuitton coats and jackets go for anywhere between $2,000 and $9,000. Although Louis Vuitton does offer some mink jackets which can have a price tag of up to $32,000.
2. Resale Value
The resale value of Burberry and Louis Vuitton products reflects the price they were sold for originally. Louis Vuitton bags hold their value if kept in good condition, and some Louis Vuitton bags can even sell for more than their original price after a couple of years; this is particularly true of highly sought after items or limited-edition handbags.
As for other items from Louis Vuitton like shoes and accessories, they too hold their value pretty well, but it's less likely that you'll make a profit on them.
On the other hand, Burberry bags are not so world-renowned and therefore they do not hold their value quite so well. This shows that if you are looking for a bag that would be perfect to resell at a later date – you should stick to Louis Vuitton.
However, when it comes to scarves, Burberry fares better. While you won't be able to sell your scarf for the same price as you paid for it, you'll probably be able to retain a decent amount of money. At the moment, looking at secondhand retailers like Fashionphile, it seems that Burberry scarves go for about 30-40% discount.
3. Materials and Craftsmanship
Both Burberry and Louis Vuitton are well known for top-quality craftsmanship and materials.
Most Burberry products are made in Italy, Spain France, and Germany, while their trench coats are still made in a factory in England to ensure the highest quality.
Louis Vuitton produces their handbags in France, Spain, Italy, or the United States – this guarantees a top-quality finish and a luxurious bag. As you can see, the craftsmanship from both of the brands is very similar.
Burberry uses calf leather, calf hair, lambskin, canvas, and cotton in its luxury goods – all of which are top-quality. Of course, they also use gabardine in their trench coats.
Louis Vuitton also uses a wide range of materials to create its handbag collection, in particular. LV handbags are made from cowhide leather, taurillon leather, and canvas fabrics – this variety means that customers chose fabrics that are most suited to their lifestyle and personal taste.

Our top picks from Burberry Vs Louis Vuitton
1. coats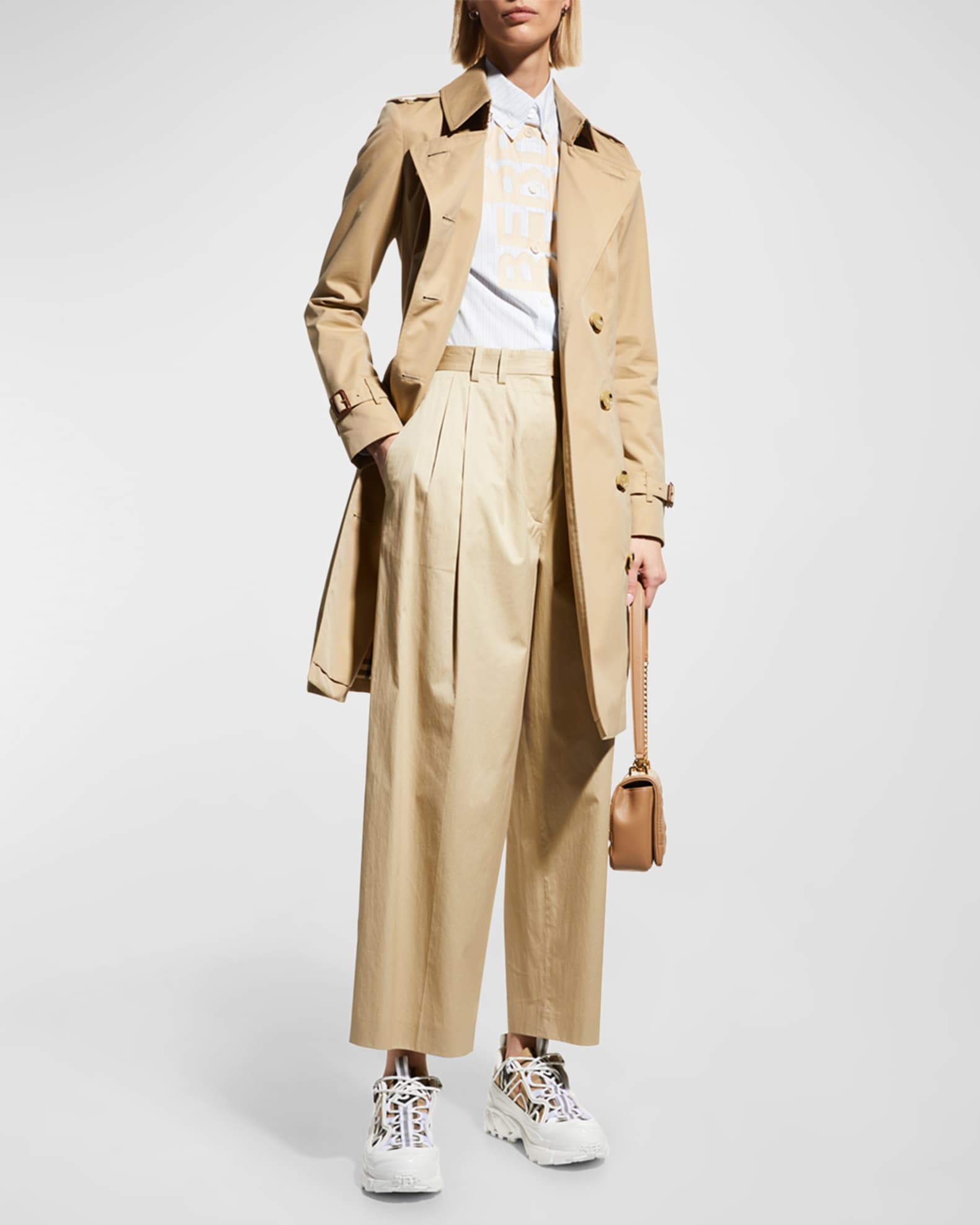 If you are looking for a new coat both Burberry and Louis Vuitton have some incredible options for you to choose from – here are just two of them.
You just can't beat the timeless, classic style of the Burberry trench coat – this Chelsea Trench coat is the ultimate heritage piece in the fashion world.
Burberry also offers their trench coats in three different lengths and two different colors, honey, which is seen above, and black. If you are shopping at Burberry for the first time you just can't go wrong picking up one of their trench coats.
Louis Vuitton also offers some incredible coats, such as this long black sporty parka edition with a large logo on the side. It's perfect for adding a bit of extra sass to your casual looks.
2. Scarves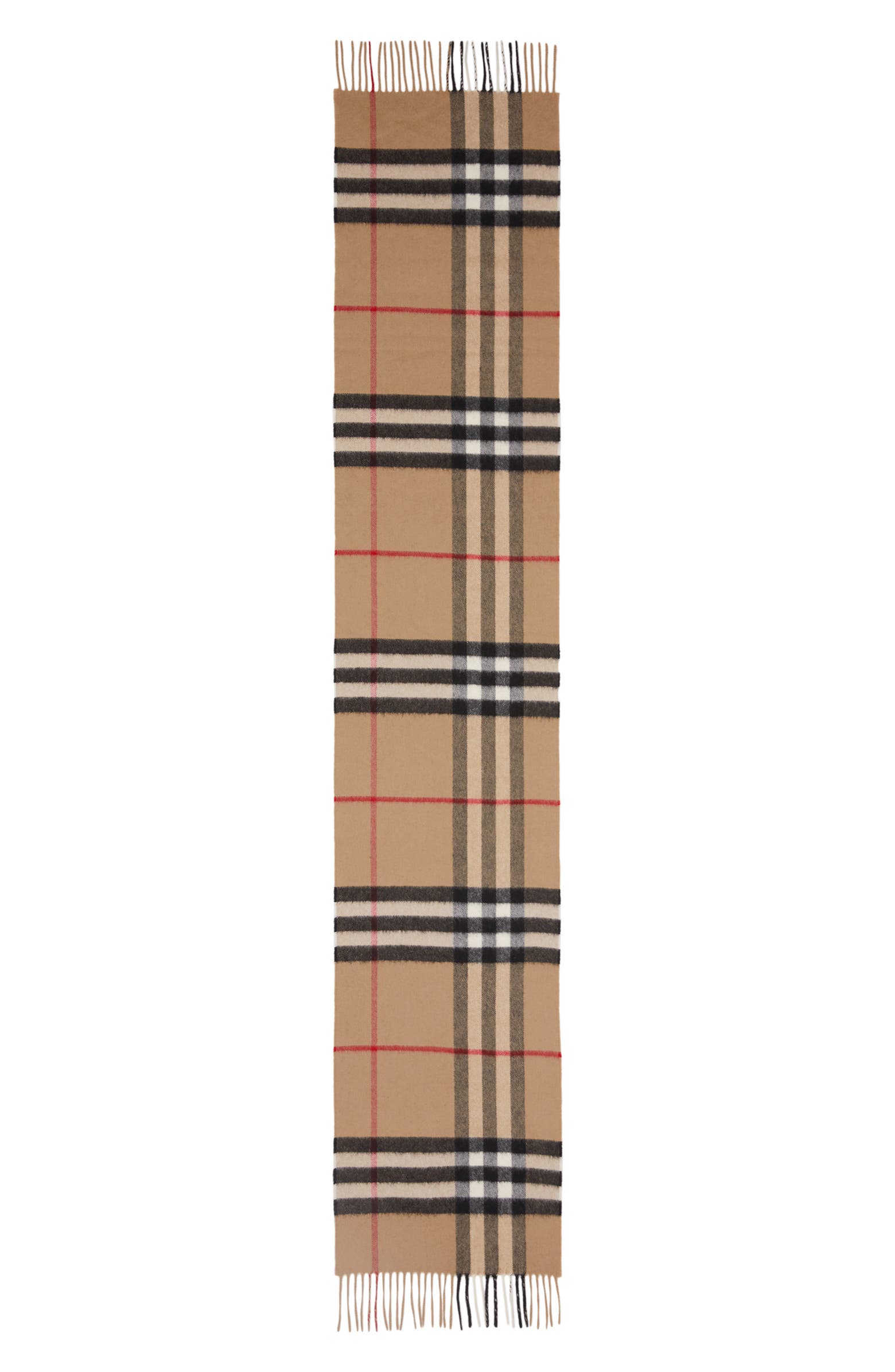 If you are looking for a warm, cozy scarf to keep you toasty when the weather gets colder, both Burberry and Louis Vuitton have some great options.
The Burberry classic check cashmere scarf is a wardrobe staple that all fashion lovers need in their collection. It is available for just $520 in plenty of different colors, so you're bound to find one that suits your style. Also, this scarf can be personalized for free so you can make it uniquely your own.
Louis Vuitton also has some stylish scarfs, such as this 100% cashmere Reykjavik scarf in a gorgeous sand color. Scarves are the perfect luxury items if you are new to the fashion world – and this cashmere scarf decorated with the LV monogram is an ideal option that you will love forever.
3. Tote bags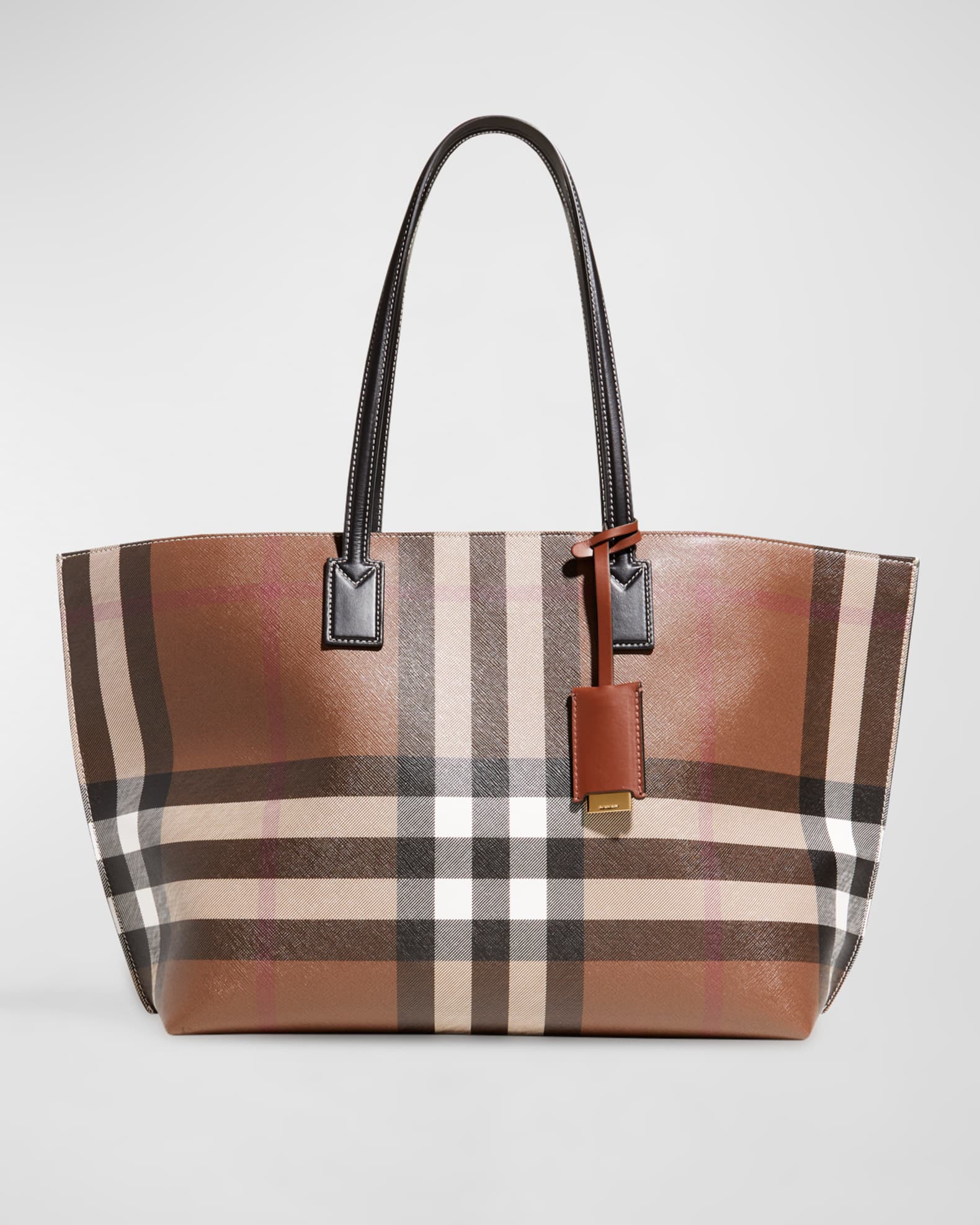 Burberry and Louis Vuitton are two brands that offer stunning leather bags, such as these practical tote bags.
If you are looking to add a bit of British heritage to your bag collection, this Burberry Check tote bag may just be the perfect option.
The tote style is spacious enough to fit all of your essentials, and the signature check that decorates the bag is eye-catching and would add a bit of sophistication to any outfit. The coated cotton material is durable and water-resistant, while the trim is 100% calf leather for a luxurious finish.
The Louis Vuitton OnTheGo was first introduced in 2019, and quickly became a best seller for the brand. If you are tired of the Neverfull tote, the OnTheGo is a great option and comes in multiple different seasonal colors and materials, some more understated than others.
The inside of the bag is roomy, making it the perfect carry-all bag for travel and office work.
Conclusion
Both popular luxury brands have a certain amount of history and heritage in their products and similar price ranges, as well as top-quality craftsmanship and materials.
All Louis Vuitton and Burberry products are classic and are so durable that they will last a lifetime. But to answer the question of which brand is better between Burberry vs Louis Vuitton you have to ask yourself what you are planning to buy and add to your collection.
If you are looking for a new coat, you just can't beat Burberry – even if you don't fancy a trench coat, they have so many timeless styles on offer.
However, if you are after a new handbag or a pair of shoes, then you need to head toward Louis Vuitton. The famous fashion house has years of experience making some of the best bags out there so any LV handbag would serve you well.
Both luxury labels are fantastic, you just need to work out what you want to buy and this will help you decide which brand you should go for.
We hope you enjoyed this analysis of Burberry vs Louis Vuitton! For more luxury fashion content, check out the links below.
Get more luxury fashion ideas
Burberry Vs Gucci: How Do These Luxury Brands Compare?
15 Best Louis Vuitton Bags That You'll Love Forever
When Does Louis Vuitton Restock? All The Details You Need to Know