12 Best Shoe Colors To Wear With A Brown Dress Or Outfit
We only feature products that we hope you will love. We may earn a commission if you decide to make a purchase through our links, at no cost to you.
Brown outfits have been getting a lot of love lately, and it's time to hop on the trend! Here's a style guide on the best shoe colors to wear with a brown dress or outfit.
Classic brown is an often overlooked color, but it's making its way to popularity with the rise of emphasis on neutral fashion trends.
Brown is a great color to wear especially if you want to look grounded and elegant. Sure, it might look "boring", but with the right shoes and accessories to spruce up your overall look, you'll find that brown can be one of the best colors to wear. In color psychology, brown is most commonly associated with resilience, strength and dependability – all great qualities you might want to emulate.
It can be a little tricky to find just the right shoe colors for your brown dress or outfit. This is because there are so many different shades out there – chocolate brown, dark brown, tan, camel, etc.

If you're looking for a safe bet, keep in mind that neutral colors like black or white will always pair well with any brown shade. Brown is also neutral color in itself, which means it can be paired with practically any other hue in your wardrobe. Because brown comes in so many different shades, you can wear it year-round and style it in countless different ways without getting bored!
Below, we rounded up a list of the best color combinations to try with your brown dress or brown outfit. Whether you're going for a casual style or something a little bit dressier for formal occasions, this guide with help you come up with the best ways to style up your brown outfit.

The Best Shoe Colors To Wear With A Brown Dress Or Outfit
1. Black Shoes
Black shoes are our top pick to combine with any brown outfit. In fact, black shoes are easily the most versatile option when it comes to shoes of different colors. It's a no-nonsense, straightforward color that means business.
A particularly trendy look that's been going around these days is to wear a mini brown dress with an oversized blazer that ends at the same length as your dress. Complete that look with a pair of black boots or black strappy high heels.
This also works if you're going for a brown suit instead – the perfect look for a serious business meeting.
2. Brown Shoes
Is there anything more gorgeous than a brown-on-brown outfit? This overall warm ensemble will make you look tanned like a bronze goddess without having to sit under the sun. Dark brown shoes can be worn with a brown dress or skirt, as well as a brown coat or shorts.
A pair of flat or low-heeled brown boots is always a safe choice when you're unsure what to wear with your outfit, but it's important to note that they won't work well with every type of outfit – you'll want to stick to booties or pumps if you want to keep the look classically feminine.
If you want something more playful and fun, try adding some color through your accessories! A bright green bag will add some flair (and help break up the monochrome outfit). Or, if you don't want a bright pop of color, you can also opt for a black belt instead – it's subtle yet speaks volumes.
But if you want to go for something lighter, you can also go for tan shoes or light brown shoes. Experiment with this look all you want!
3. White Shoes
White shoes are a good option for a casual outfit, but they can also be worn with more formal clothing. For example, you may wear white loafers to work if you're in a business casual environment, or white strappy heels for something a little bit dressier.
White shoes also pair well with summer outfits, such as shorts and skirts. You can wear sandals or flats with your outfit depending on the weather, especially if you're going to casual events.
When it comes to winter, there are many different options available when wearing white shoes: boots, closed-toe heels, booties, and of course, sneakers. All of them go well when paired together with a brown top with jeans or a skirt.
4. Nude Shoes
Nude shoes are another great color choice to wear with a brown dress or outfit, and this will make you look especially elegant and subtly feminine. Plus, an added bonus is that nude shoes will blend into your skin, creating the illusion of longer legs.
To make sure that you choose the best nude shoe color for your needs, we recommend trying on different pairs of nude shoes in person before making your final decision.
This will give you an idea of what colors look good on your skin tone and help prevent any color regrets later!
5. Metallic Shoes
The great thing about metallic shoes is that they are universally flattering, and they pair well with most outfits, making them a somewhat of a "neutral color".
If you want a glamorous edge to your brown dress or outfit, opt for silver shoes or gold shoes – whichever you prefer.
6. Animal Print Shoes
Animal print shoes are a great way to add interest to an outfit. The bold, unique patterns and textures of animal prints can make for a striking ensemble that will have people turning their heads.
Whether you're wearing a head-to-toe patterned suit or simply adding a pop of color with your footwear, animal prints are sure to make any outfit stand out in the crowd.
Are they right for every situation? No! But when used correctly (and sparingly), they can be a fun way to express some personality while still keeping things professional and stylish.
7. Purple Shoes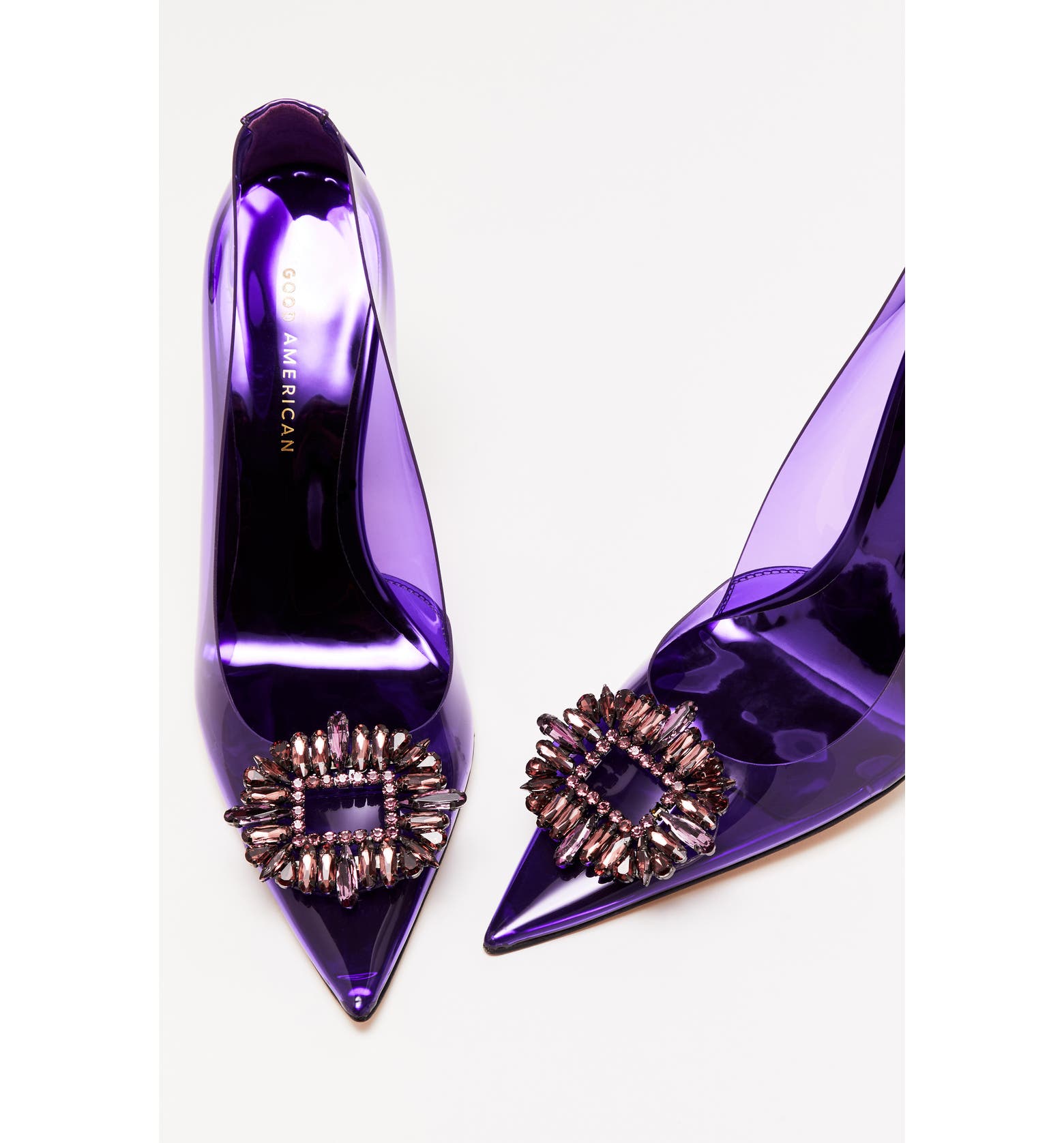 As a neutral, brown can be mixed with many different colors if you're looking to add a pop of color. Our personal favorites are somewhat unexpected colors, such as bright purple or Bottega green, which are both very trendy colors this year.
If bright green isn't already in your wardrobe, you might want to opt for a beautiful shade of purple or lavender instead – so glam!
8. Olive Green Shoes
Of course, let's not forget about earthy colors! Olive green is a color that complements brown since they both coexist in nature, making them a pleasant, natural combination. It's also used as a neutral and can be worn with other earth tones.
The rich and deep tone of olive green pairs well with brown, especially when it comes to shoes or boots. You can wear any shade of olive green, but lighter shades don't go well with darker shades of brown while darker ones do.
Lastly, as we mentioned already, if you're into bright green designs that are oh-so-fashionable right now, don't hesitate to combine your brown dress with this shade either, and finish off the entire look with Bottega's Mini Jodie bag (or similar) in the matching shade.
9. Red / Burgundy Shoes
For something more modern and fashion-forward, try wearing red shoes with your brown outfit.
Red is often considered "the new black," so it pairs well with many shades of browns, from tan through deep chocolate tones to burnt sienna and even chestnut shades if you want something more unusual but still sophisticated-looking on your feet!
However, if red is too much for you, you can also try wearing burgundy instead – it's a deep red that pairs beautifully with brown.
10. Blue Shoes
Blue and brown are a great color pairing. Brown can be a warm, neutral color that can help to offset the coolness of blue.
Blue is often associated with calmness, while brown is associated with earthiness and comfort—when these two colors come together, you get something that's both calming and grounding at the same time.
Blue and brown are both earthy colors, so they pair well together. Blue shoes with brown dresses look great, while blue accessories can add a touch of warmth to an otherwise cool brown outfit.
You can even use blue as an accent color in a brown room! Blue is a great neutral because it's not too cool or warm–it's right in the middle, so it works well with lots of different colors.
For a brown dress, we recommend going for cobalt blue or navy blue shoes.
11. Clear Shoes
While clear shoes aren't technically a color in their own right, we thought they deserves their own spot on this list. Clear shoes are a great choice for any brown dress or outfit, especially if you're going to an event that is formal or semi-formal. These shoes go well with anything and will make your outfit look more polished.
Clear shoes can also be worn casually, as they add a bit of interest without looking too dressy. We love clear shoes because you won't have to worry about pairing them with the right color dress or the right color outfit.
12. Yellow Shoes
Yellow is an often overlooked color when it comes to not just footwear, but clothing in general. But why? It's such a fun, summery color that adds a pop of color into any outfit without being too overpowering.
Pastel yellow shoes are especially easy to style with casual outfits, and the unique, eye-catching color is sure to earn you some compliments, if you wear it well.
However, it's best to avoid super bright yellow shoes as they can be overwhelming if you don't pair them correctly.
Commonly Asked Questions
1. Are brown dresses suitable for formal events?
If you're attending any formal event, a brown dress can be a great choice. It's not a bold color, but it still has depth and character. This means that your outfit will look classy without being distracting or overwhelming.
Second, it's important to consider the tone of the shoes when choosing them for your outfit. Darker shades of brown will look more formal than lighter ones.
You can also wear brown dresses for evening events—it looks great in dim lighting! Whatever the occasion may be, this color is flexible enough to go with many different styles of clothing, so you won't have trouble finding shoes that match your outfit.
2. What season are brown dresses best worn?
Brown dresses are a classic that can be worn all year, in any season. They're perfect for any age and body type or size, so you'll look good no matter what!
Final Thoughts
If you've made it this far, congratulations! You now have a whole list of things to consider when thinking about the best shoe colors to wear with a brown dress or outfit.
The basic rule of thumb is that brown and black go well together for the most part, but all other colors are fair game depending on your mood and personal style. Keep in mind that anything goes when it comes to fashion; just because something is traditionally associated with one another doesn't mean you can't mix things up.
And there you have it – we hope you found this style guide on what the best shoe colors to wear with a brown dress or outfit helpful! If you're still looking for more fashion inspiration, check the posts down below.
Get More Fashion Ideas
Going For A Street Style Look? Here's What To Wear With Baggy Jeans
How To Wear Chelsea Boots: 9 Chic Outfit Ideas For Women
What To Wear With A Mustard Yellow Dress: Our Best Fashion Tips