9 Best Shoe Colors To Wear With A Red Dress
We only feature products that we hope you will love. We may earn a commission if you decide to make a purchase through our links, at no cost to you.
Going out in a stunning outfit but you don't know what color shoes to wear with your red dress? If so, this guide will help you out.
Red is a powerful, bold color and can be quite intense. It's sultry, eye-catching and it demands attention. So when you're wearing it to an event, you want people to notice your dress – not necessarily your shoes!
With this said, it's important to wear your red dress with the right pair of shoes. Otherwise, you might just be remembered for the wrong reasons.

Of course, you already know at least two shoe colors that you could wear: black and nude. These colors go with everything, so it's hardly a surprise. But what about when you want to add a pop of color to your look? Well, we have a couple of eye-catching options for you below, and we are almost certain that you haven't thought of one of them.
Below, you'll find the perfect pair of shoes to wear with your dress, no matter what occasion you're attending!

The Best Shoe Colors To Wear With A Red Dress
1. Gold Shoes
Gold is a great color to pair with red because it adds a touch of glam to your look without stealing too much attention away from your dress.
Metallic colors work really well for special occasions like weddings or parties where you're hoping to stand out in front of everyone else. Flat gold sandals are also perfect to pair with a more casual red dress during the summertime to add just a bit of sparkle to your look.
If you're not a fan of yellow gold, you can also opt for more neutral-toned champagne gold shoes, like the ones featured above. As the undertone of champagne shoes is very neutral, it complements all skin tones and is a rather risk-free choice.
To accessorize, wear your favorite gold jewelry and grab a matching clutch if you're going to a special occasion, or a neutral bag if you're looking to keep things more casual.

2. Black Shoes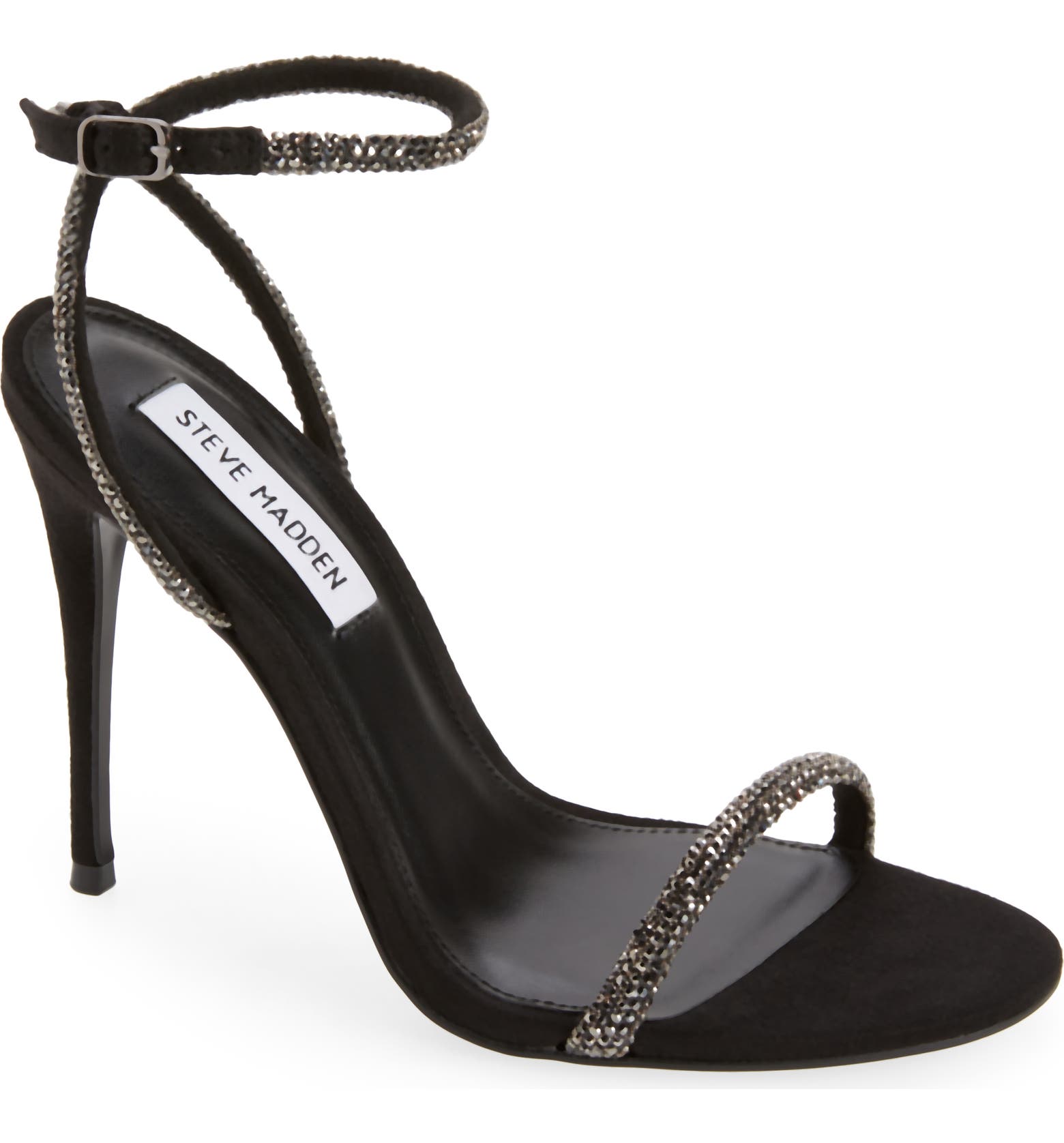 Black goes with every color, so it's no surprise that black is included in the list. Plus, not only do black shoes look sleek and elegant, but it's also very easy to find a matching bag for your outfit. Chances are that you already have at least a bag or a pair of shoes in black in your wardrobe!
While black and red is a safe color combination to wear to a formal event, it can also be quite striking and sultry, which makes it perfect for a date night. Simply wear your favorite pair of black strappy sandals with a bold red dress and a matching clutch, and you're good to go!
Alternatively, if you're looking to dress more casually, you can opt for black shoes in any shape and form. We especially love red sweater dresses with tall, knee-high black boots during the holidays – this is a classic festive combo that looks incredible.

3. Nude Shoes
Again, you're probably not too surprised to find nude shoes on this list. Nude, skin-tone shoes go with everything and anything, and red dresses are no exception.
These shoes are perfect for when you want to be lowkey and subtle in your shoe choices, and give your dress all the attention it deserves. Plus, as nude heels are so similar in color to your skin color, these shoes help to create the illusion of longer legs. (Note: if you're darker skinned, go with shoes that are a close match with your skin tone, not beige shoes!)
4. Red Shoes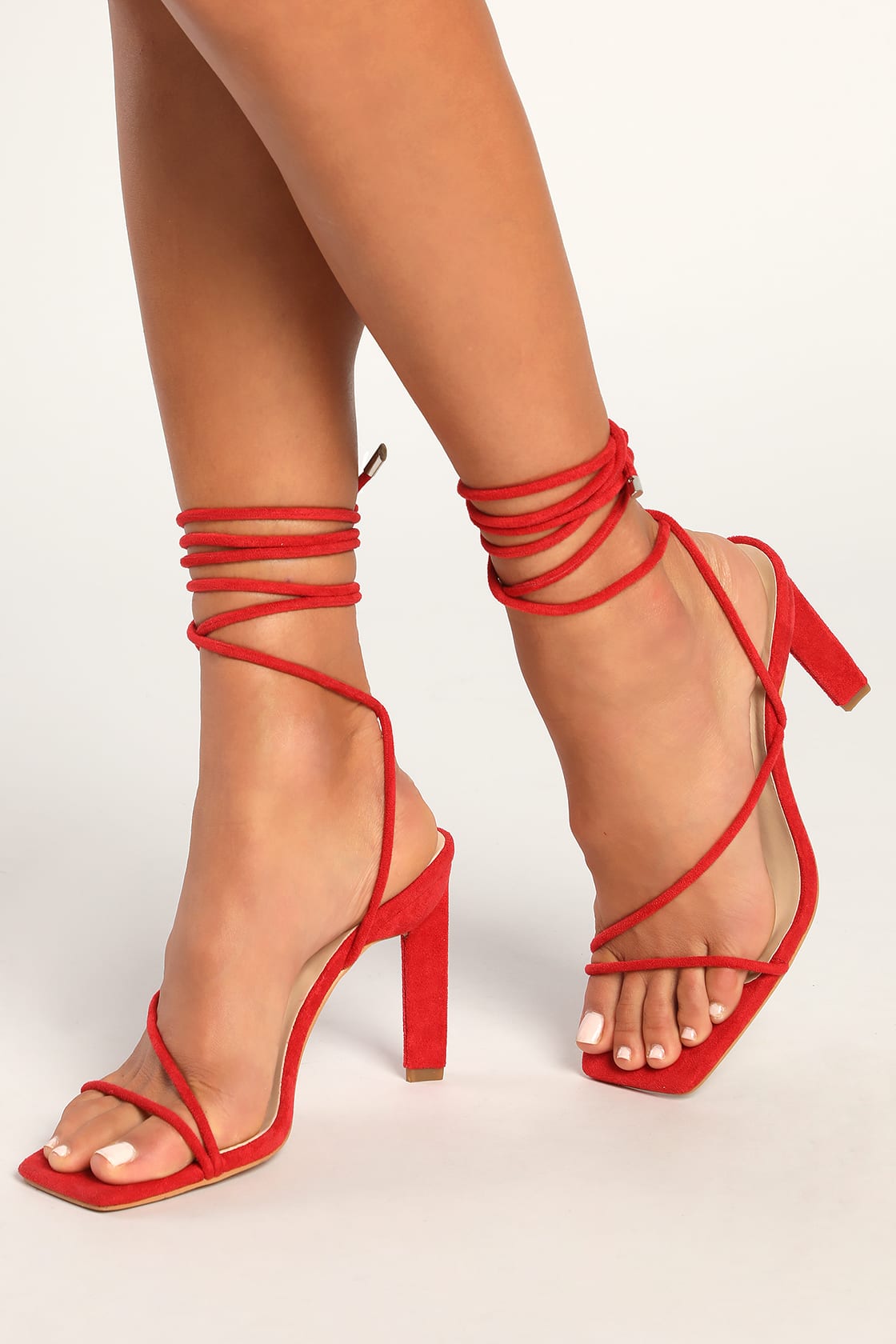 Red on red is a gorgeous color combination that creates a really striking look, perfect for parties, dates, and special celebrations. When choosing a pair of red shoes to go with your dress, opt for shoes that have the same tone as your dress to create a coherent monochromatic look.
While we think this color combination works best when you have the exact color match, you don't always need to do that. As long as you make sure that the tones complement each other well, you'll look fantastic.
So, if your dress is cooler-toned, you can pair it with red heels with pink or even burgundy undertones, and if it's a warm red, you can opt for shoes that have slight orange undertones.
5. Brown & Tan Shoes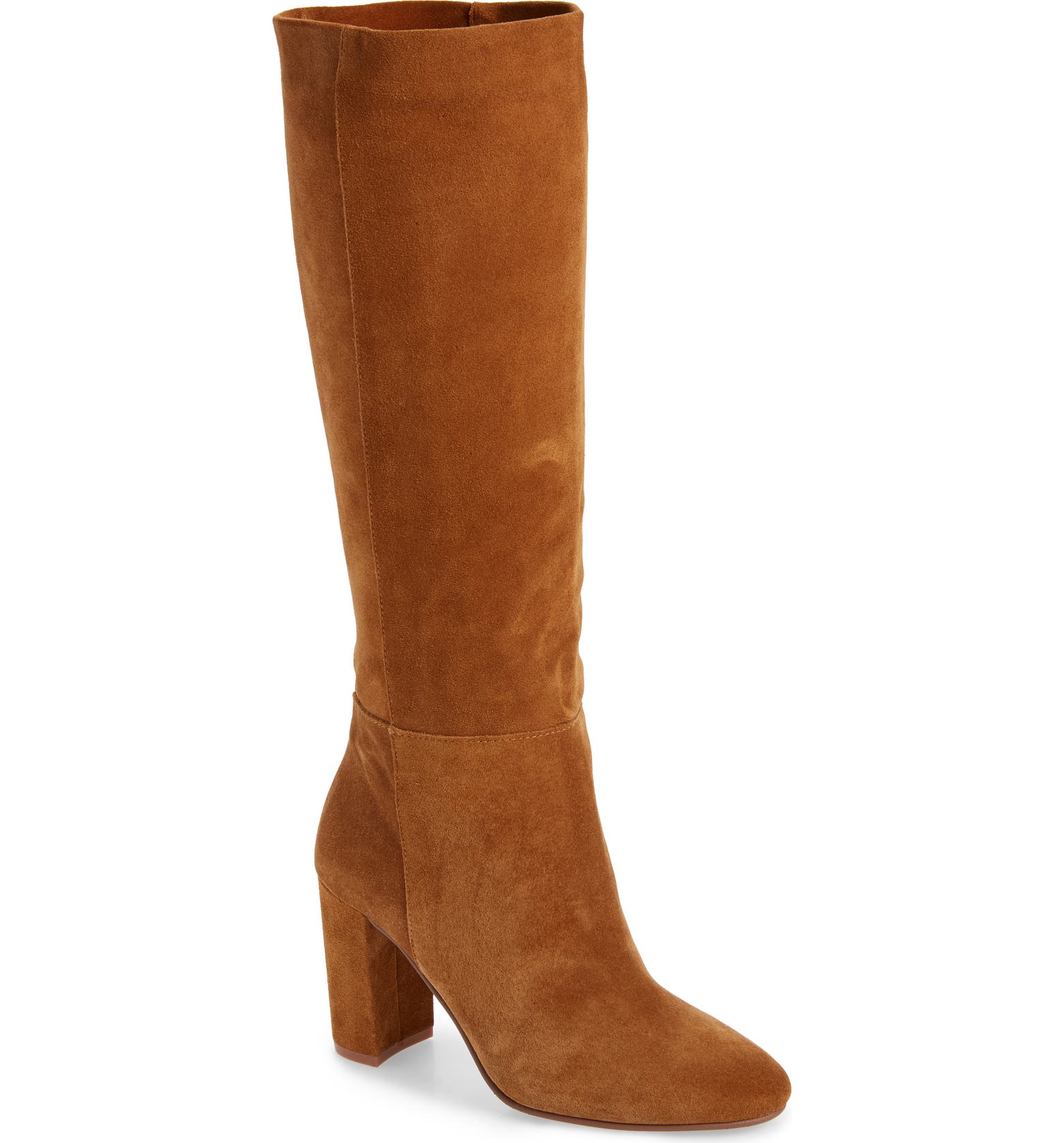 Brown is another neutral option that pairs incredibly well with red. As brown is more of casual shoe color, your best bet is to opt for casual shoes and casual red dresses when choosing this color combination.
For example, we think that brown shoes with casual red sweater dresses look amazing during the holiday season. Likewise, in the summer, a casual red beach dress will look effortlessly chic with a pair of brown flats.
The warm tones of brown can bring balance to the vibrant shade of red and not only make it more wearable for everyday occasions but also, brown shoes will let your dress shine on its own.
6. White Shoes
While white and red are quite contrasting colors, they can definitely be worn together, especially if you're looking for an eye-catching detail without adding extra color to your outfit.
If you're looking to dress up for a special occasion, we recommend going with minimalist white shoe styles. For example, a strappy or lace-up pair of white heels would look really good.
However, if you're dressing more casually, you have multiple options. Of course, you can go with your everyday white sneakers for a completely casual look, or you can opt for white ankle boots or knee-high boots to add a trendy detail.
Complete the look with a bag in a neutral color, such as tan, nude or brown for a super stylish look.
Lastly, pairing a red dress with white shoes is also a great idea for any patriotic holiday, like 4th of July or Labour Day!
7. Pink Shoes
Red and pink is a classic color block combination that looks fun and feminine. Both bright fuchsia as well as understated bubblegum pink look great with red – it all depends on the look that you're going for.
To accessorize, you can wear a classic neutral bag in black or nude, or if you're dressing up for a special event, consider styling this look with a metallic bag in your favorite shade. You can also opt for a completely matching bag that's in the same color as your shoes – so chic.
8. Silver Shoes
Silver shoes are another classic color to wear with a red dress, and the shoes in this category can be real showstoppers. While we prefer gold and red paired together over silver and red, the latter is great for those that love rhinestones and extravagant shoes.
Jimmy Choo has an excellent selection of crystal shoes in silver that are made for nights when you want all eyes to be on you. The shoes are expensive, but at the same time, they look like pieces of art.
Silver shoes are also a great choice if you naturally gravitate towards silver jewelry and love the way that it complements your skin. Typically, silver looks best with people with cooler undertones, so if this is you, you'll definitely want to consider giving these beautiful shoes a go.
The only downside of this shoe color is that it can be a little difficult to pair with a bag, unless you have a matching silver bag of course. Stay away from warm hues like being and blush pink bags, and opt for cooler tones instead, like light greys. You can also pair the shoes with a black bag with silver or champagne hardware.
While silver shoes typically come with a metallic shine, you can also opt for matte silver shoes if you are looking for a casual way of incorporating silver into your wardrobe.
9. Lime Green
If you're looking to add an eye-catching element to your outfit, a color that works surprisingly well with red is lime green. This is especially great for the summer – just imagine a flowy red beach dress with a pair of lime green sandals!
Alternatively, if you are dressing up for an event that particularly fashionable people will be attending, wear lime green stiletto heels with your red outfit to really stand out.
Conclusion
If you're looking for a safe shoe choice to wear with your red dress, neutral colors such as black and nude will always be a good idea. However, we would argue that metallics like gold and silver should also be considered neutrals, as they too will go with dresses in any and every color in your wardrobe.
Just choose your favorite metallic based on the color of jewelry that you love to wear – this way, it'll be easier to accessorize the shoes.
Finally, for a red carpet-worthy pop of color, we recommend pink and lime green shoes, depending on how contrasting you want your look to be. Plus, if you're just looking for contrast without adding any color, white shoes will look fantastic.
We hope you found this style guide about what shoe colors to wear with a red dress helpful! If you're still looking for more fashion inspiration, check the posts down below.

Get More Fashion Ideas
8 Best Lipstick Colors To Wear With A Red Dress
7 Best Shoe Colors To Wear With A Burgundy Dress
8 Best Shoe Colors To Wear With A Purple Dress