West Elm VS Crate and Barrel: What's The Difference?
We only feature products that we hope you will love. We may earn a commission if you decide to make a purchase through our links, at no cost to you.
Going furniture shopping soon? It can be quite tricky to find the best sofa or bed for your home, but check out our guide to West Elm vs Crate and Barrel for tips!
When it comes to brightening up your living space, furniture plays a key role, alongside decor and other elements. It reveals a lot about your style, as well as your environment at home. Something as simple as a coffee table or a dining room table can make a huge difference.
Whether you've just moved into your new apartment or looking to spruce up your home with new furnishings, there are two well-known furniture stores that you're already probably familiar with: West Elm and Crate and Barrel.
West Elm and Crate and Barrel are among the most popular stores for furniture and home decor, not just in the United States, but also in different parts of the world too. They also have websites to make online shopping a little bit easier.
So, which one is better? We're going to break down the main differences between West Elm vs Crate and Barrel, so you can choose the perfect one for your needs.
Get To Know West Elm

Founded in 2002, West Elm is a brand that focuses on home furnishings and furniture with modern, trendy designs. A part of the Williams-Sonoma brands, their products make an impact on spaces both inside and outside the home.
Their artisan-crafted goods are manufactured with careful attention to detail, creating a look that's timeless while remaining relevant each season – very much like their sister company Pottery Barn, which is another big name in the furnishing industry, albeit with a slightly more traditional, old-school aesthetic.
West Elm has a wide range of products to choose from, including sofas, beds, and tables. The brand has brick-and-mortar stores in the US, Canada, UK, and even in Asia.
With a collection that includes a range of midcentury modern, trendy and even minimalist designs, West Elm furniture is sure to add style to any space. Choose from classic West Elm bed frames and headboards, sleek desks and tables, or upholstered chairs and leather sofas.
An Overview of Crate and Barrel

Crate and Barrel was founded by Gordon Segal and his wife Carole in 1962 after their Caribbean honeymoon, where the tasteful European furniture inspired them enough to put up a company.
Today, it is one of the largest and most popular home furnishing stores in the US, with over 100 storefronts across the globe. This company has a reputation for high-quality furniture, housewares and decorative items which are produced with great attention to detail.
Furthermore, Crate and Barrel is a homeware retailer that blends a mix of modern design with high-quality craftsmanship at fairly reasonable prices. Known for its creativity, customers can find products made from exotic woods, cast iron, and glass that add an elevated touch to any home.
Crate and Barrel is also known for being a pioneer in introducing new materials such as bamboo, composite wood, metal, and rattan indoors in the furniture industry, making them a favorite for interior designers and average shoppers alike.
West Elm VS Crate and Barrel: The Main Differences
So now that we have an idea of these two brands' histories, let's get down to it. How do the two stores differ?
1. Price Range
One of the immediate differences between West Elm and Crate and Barrel is their pricing. While many best-selling products are priced very similarly, West Elm is generally slightly more expensive, although this really depends on the product.
Some C&B products are priced higher than West Elm, and vice versa. You can find a better deal on certain items at one store or another—but this is true of any retailer that sells furniture and home decor.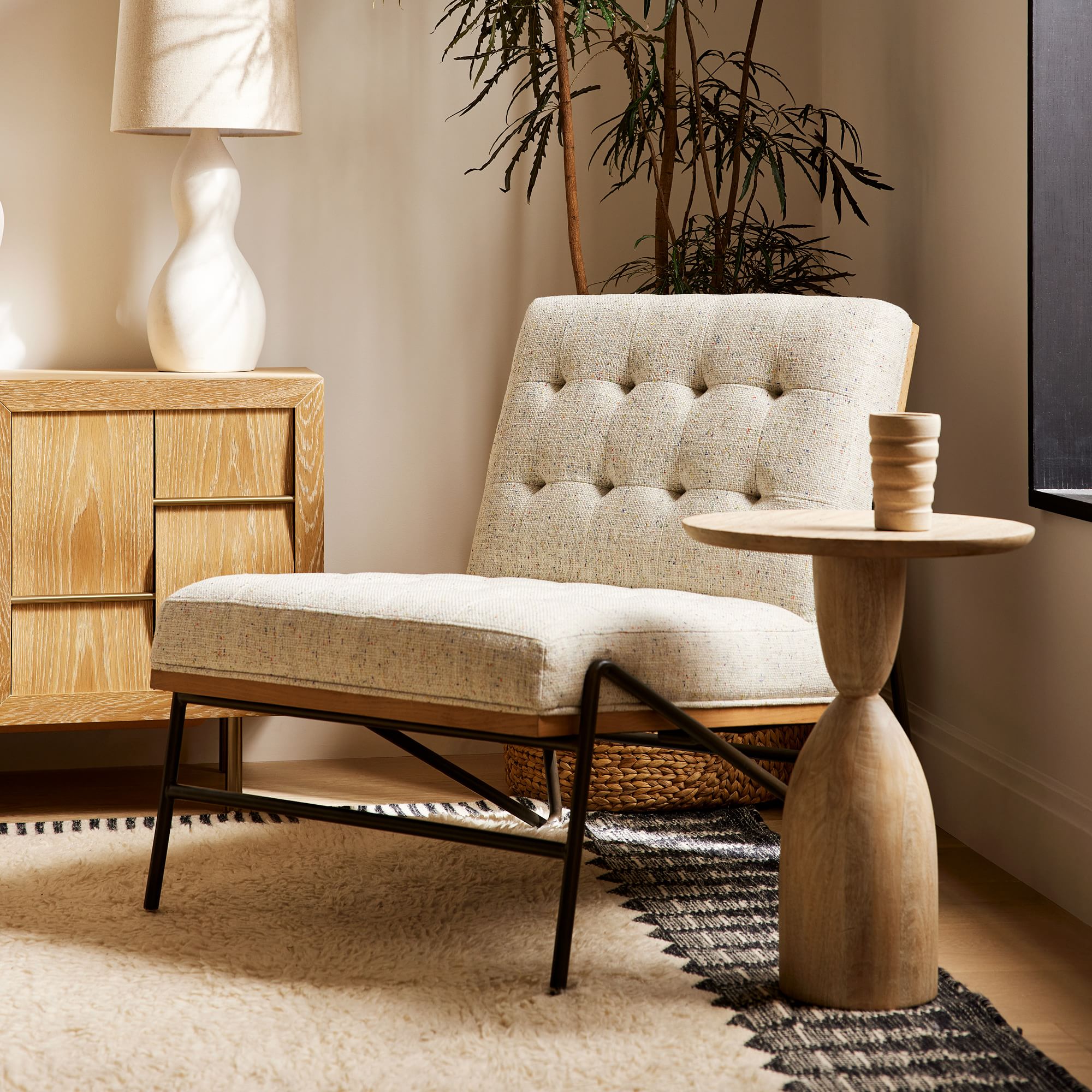 While West Elm prices its items in the lower part of the high-end market, it still feels like you're paying more than its competitors.
Take the Angled Legs Chair from West Elm, for example. Priced at $899, it's pretty much a simple chair but with geometric iron legs, making it a statement piece for your living space. It's made with 60% polyester, as well as 40% acrylic upholstery.
Crate and Barrel's Polly Ivory Accent chair, on the other hand, is quite similar to West Elm's offering – and this one retails at $789. It's casual and contemporary, with angled arm rests to give you ultimate comfort while sitting down. The chair is made with 100% jute upholstery, with polyeutherane foam for cushion.
However, if you are only interested in home decor, West Elm's beautiful pieces can often be double, or even triple the price of Crate & Barrel's – that is, if you can even find a similar option at C&B.
With this said, if you're on a budget, it's probably best to avoid both of these stores, as the pricing of most products is quite high-end. If you insist on buying from one or the other on a budget, Crate and Barrel is your best bet as they offer pricing that makes sense for those looking to invest in their home.
Their products are priced lower in the range of high-end, making them friendly to virtually any home decor budget. But like we said, it really depends on the product.
2. Aesthetic
While Crate & Barrel and West Elm's aesthetics are very similar, if you look closely, Crate & Barrel's style is generally more simple, practical and modern, with a focus on clean lines, the use of lots of black and white, and more contrasting accents.
In contrast to this, while West Elm offers modern home decor and furniture as well, it generally comes in a softer look; the aesthetic is described as midcentury mixed with modern. You can expect to find more warm and rustic pieces and color schemes at West Elm, even though these pieces still have a modern look.
One exception could perhaps be that West Elm offers a lot of very modern home decor including vases, decorative objects, candles and more, that don't necessarily follow a midcentury aesthetic at all – many of these pieces are completely modern and come in various interesting finishes.
3. Products
West Elm and Crate and Barrel offer very similar types of furnishings: their product categories are kitchen, organization, bedroom and kids bedroom furniture, living room and home office, bath and beyond.
With this said, in general, West Elm has a much bigger catalog of products, at least in its online stores. For example, if you're interested in buying a vase, at West Elm you get to choose from 150 different products, whereas Crate & Barrel only has 50 different options. The same rings true across most other categories, although there may be exceptions.
4. Demographic
West Elm is more popular with younger generations (especially 25-34 year-olds), who might not yet be home owners, whereas Crate and Barrel appeals to a slightly older demographic, especially those who are first-time homeowners.
West Elm has a much more urban vibe, whereas Crate and Barrel's items are geared toward suburban families. The contemporary furniture styles carried at West Elm are also considered to be trendier with good quality.
As we all know, young working adults tend to rent apartments with a small space, so West Elm makes sure to also adjust to those needs by rolling out furniture that is designed to fit into these spaces. Because of this, the younger demographic tends to gravitate to West Elm first, and then other brands second.
On the other hand, Crate and Barrel aims to provide functional yet aesthetically pleasing products not just to young people starting out in life, but also to older people looking to spruce up their homes.
The store features collections of home decor, kitchenware and furniture for a happy, healthy, and comfortable lifestyle for their target market, which is largely 30-60 year-olds.
The differences in style between these two brands speak volumes about their target audiences: West Elm attracts a younger crowd that wants a modern look; Crate and Barrel attract a slightly older crowd who prefers classic, practical furniture pieces.
5. Return Policy
Sometimes, we just can't resist an impulse purchase. We're sure that many of us have tried returning an item or two after realizing that they won't work out. That being said, since we're talking about home furnishing stores, you simply can't walk into a West Elm or Crate and Barrel branch to return a large sofa or a bed – there are certain policies for that.
When it comes to West Elm, you can return almost all items within the span of 30 days from the time of purchase – however, this doesn't cover customized products like monogrammed items, final sale products, and made-to-order furnishings.
You also cannot return used items that you've already worn down, such as plates and utensils that have slight scratches.
Crate and Barrel's return policy is a bit more generous than that of West Elm's. For C&B, you can return an item 90 days after the customer receipt, and even get a refund/replacement if your product comes in damaged during their shipping process.
Like West Elm, they also do not accept returns of custom-made furniture, as well as upholstery. However, you do have a 48-hour window for canceling an order of personalized or customized furniture.
6. Sustainability
According to West Elm's press release, about 60% of their sales are geared towards their sustainable initiatives. In addition to that, this company also makes use of recycled materials in its products. In 2019, the company contributed to saving about 2 billion liters of water, just by sourcing organic cotton. Plus, West Elm has a goal that by 2025, they will be carbon neutral.
Thanks to these sustainable initiatives, they are named the "most sustainable home furnishings retailer" in the Barron's 100 Most Sustainable US Companies.
In addition to being sustainable, they're also certified by Fair Trade USA when it comes to the safety of their factory workers as well as fair wages.
As for Crate and Barrel, most of their sofas and some of their other furniture are certified by the Forest Stewardship Council (FSC), which is a nonprofit organization geared towards eco-friendly initiatives.
Our Favorite West Elm VS Crate & Barrel Products
Most of the time, when you're looking for furniture, you want to find pieces that match your home's style. There are a lot of different styles to choose from West Elm vs Crate & Barrel: contemporary, modern, or traditional—it all depends on your personal preferences.
Modern furniture tends to be sleek and minimalist; contemporary designs are often functional and innovative; traditional pieces usually have classical lines with soft edges. Whatever type of design you prefer, there's always something for you from both brands.
1. Chairs
West Elm's chairs are more modern. Crate and Barrel's chairs are more traditional in a sense.
West Elm has a wider range of chair styles—more options for dining chairs and sofas, plus armchairs and stools for the living room—and it offers a nice mix of classic designs and contemporary ones as well. Crate and Barrel also has a wide range of styles, but its selection leans toward rustic or country furnishings in general.
This gorgeous Cozy Swivel Chair from West Elm rotates a full 360 degrees, but that's not the only reason why this is such a bestseller. It has customization options of more than 50 fabrics, and its inviting shape is perfect for lazy days of leisure at home.
Retailing at a base price of $759 and going up as high as $1,798, this chair is a great piece of investment for your home.
On the other hand, Crate and Barrel's bestseller, the Nora Tub Chair, comes in a similar shape as its West Elm counterpart. However, this one only comes in two colors: cream and grey.
Its cocoon shape is designed to give you ultimate comfort and snuggles, and it works as a dramatic statement piece for your living room as well. This tub chair retails for $999.
2. Tables
Expandable tables are all the rage these days, especially for young adults who are trying to make use of the available space in their apartments.
The West Elm Box Frame Drop Leaf Expandable Table is perfect for one person, but if can be adjusted to accommodate another one as well, especially if you're having a friend over for dinner. It has a solid mango wood top, as well as steel frames to make it sturdy. And for a retail price of $599, it's not too bad at all!
Crate and Barrel's Diset Wood Oval Extendable Dining Table is simple, sleek, and modern. It seats four, but can also accommodate six when it's extended. This table is perfect for small spaces, and even more perfect if you're always hosting dinner parties at home. Get this table for $799.
3. Sofas
When it comes to sofas, both West Elm and Crate and Barrel have modern and traditional designs.
The Marin Sofa by West Elm is as traditional as it can get, with a hint of coastal chic. It comes with thick and comfy cushions which makes the sofa super comfortable to lounge in.
The price depends on the size, but the 71" width retails for $1,699 while the largest, the 91", retails for $2,199. It's also easily customizable – you can choose over a hundred different fabrics and colors!
Crate and Barrel's Infiniti Curve Back Sofa is the perfect fit for your contemporary, modern home.
It channels 1930s Hollywood with its curves and its graceful silhouette. As a bonus, it's tailored in yarn-dyed polyester to make it durable and luxurious!
It's honestly so perfect for curling up, whether for a nap or with a book. It makes for a great statement piece that will have your guests talking about it – it all starts with a price tag of $2,099.
4. Beds
Both West Elm and Crate and Barrel's bed selection is vast, with a wide variety of styles and finishes in each size group they carry.
Their bed sizes range from twin to king, so you can find what works best for your space. Both companies also offer beds in a variety of different heights, including low profile options for smaller spaces and higher ones for those looking for something more traditional or transitional.
West Elm's Anton Solid Wood Bed is for those who prefer to have a traditional yet contemporary bed with no added frills.
It has a modern, rustic farm house vibe that pairs well with a minimalistic, neutral-palette bedroom. It's made with sustainable-sourced mango wood, so you know that it's durable.
Overall, its warm and rustic aesthetic lends a lot of elegance in the bedroom. For $2,099, it can be yours!
For a more rustic yet tropical vibe, check out Crate and Barrel's Amber Queen Rush Woven Bed. It is handcrafted, organic, and woven with abaca seagrass. It's perfect for a coastal, summery aesthetic – especially if you live near the beach!
And for a price tag of $1,999, it's not bad at all.
5. Planters
West Elm offers a wide variety of planters. You can find everything from terrariums and succulent gardens to modern pots, cork topiaries, and more. Crate & Barrel also has a wide selection of planters, and some are even made from reclaimed wood. They have lots of options if you're looking for something simple like a sleek black pot or one that looks like it came straight out of your grandmother's garden!
West Elm's Mid-Century Turned Wood Leg Planters are clean, sleek, and contemporary – inspired by the silhouettes of the '60s, according to their website.
These glazed ceramic bowls are the perfect addition to any room in your house – your bedroom living room, and yes, even in your bathroom. Starting at $25 for the smallest one and $298 for the biggest, they're the perfect choice to show off your plants at home.
The Wesley Metal Plant Stands from Crate and Barrel come in a chic mixed-metallic design, with antique-looking brass pots. If you have a neutral and minimalist home, these will stand out perfectly and in the best way.
The prices for these planters range from $119 to $159.
6. Home Decor
The home decor section is a great place to shop for unique pieces. You'll be able to find anything from lamps and vases to pillows and even framed paintings.
Both West Elm and Crate and Barrel offer loads of home decor, as well as seasonal decor sets that you can use for the holidays.
These Village Tealight Candleholders from West Elm is a cute Scandinavian-inspired decor that you should definitely get your hands on. It creates a cute and chic holiday village on your table or by the windowsill
For a bit of holiday color, this decor set from Crate and Barrel has that same Scandinavian-inspired aesthetic but with black and green colors – perfect for putting up against a muted, neutral wall.
What Is Modern Furniture?
Modern styles are known for clean lines and sleek designs. They are also characterized by their modern colors, which can range from cool whites to warm neutrals like grey or beige. They incorporate bright pops of color and contrasting patterns to create a bold look that will add personality to any room.
Modern furniture has a similar look to that of mid-century modern but takes it one step further by incorporating design elements like organic shapes, asymmetrical lines and unconventional materials like leather or metal into the mix. While these pieces may appear stark at first glance, they're actually quite versatile; you'll find that they work well with most existing decor styles as long as you don't try too hard!
Conclusion on West Elm Vs Crate And Barrel
As mentioned above, both companies offer home furnishings ranging from bedding sets to kitchen utensils—they're basically identical in terms of what they sell (with slight variations depending on whether they're sold at an actual brick-and-mortar store or via an online marketplace).
With their sleek designs and high-quality craftsmanship, West Elm is the choice of many customers who are looking for modern furniture pieces without having to break their bank accounts in order for them to afford these beautiful items.
On the other hand, Crate & Barrel does have cheaper options, but they aren't often nearly as stylish or elegant as what West Elm has come up with when designing their own products! So if style matters most then definitely go with West Elm!
If you're looking for high-quality furniture at a reasonable price point, we think West Elm is the best option, despite the slightly higher price point. Crate & Barrel is a bit cheaper, but they actually also have some unique pieces that West Elm does not have, so it depends on your personal aesthetic, style, and budget in the end.
We hope you enjoyed our analysis of West Elm vs Crate And Barrel! For more similar articles, make sure to check out the posts below.
Get More Home Ideas
Does Crate And Barrel Have Sales? Here's All You Need To Know
15 Best Stores Like Pottery Barn For Chic Home Decor
Pottery Barn Vs Crate & Barrel: Which One Fits Your Style?