Yes, You Can Buy Canada Goose With A Discount – Here's How
We only feature products that we hope you will love. We may earn a commission if you decide to make a purchase through our links, at no cost to you.
If you are trying to find the best winter coats then you may have thought about getting a Canada Goose coat and wondered, does Canada Goose go on sale? We've got all the answers you need to know.
This famous winter gear brand began life as 'Metro Sportswear Ltd' and was founded in 1957 by Sam Tick, creating practical outerwear. Metro Sportswear Ltd began to produce down-filled coats for Canadian government agencies and it wasn't until the early 1990s that coats began to be sold in Europe under the name of Canada Goose.
Nowadays, Canada Goose is a popular brand known for good quality cold-weather coats, jackets, and other winter accessories. If you live in a cold climate, chances are you have heard of and considered purchasing a Canada Goose coat to keep you warm through the winter.


The Canadian brand has spent years developing some of the best winter coats that can stand extreme cold, winds, and snow so you are guaranteed to keep lovely and warm throughout the winter month. Also, Canada Goose products are known to stand the test of time, so if you do buy one, you know it will serve you well for many winters to come.
Due to the high-quality production of coats and the expensive materials used, Canada Goose products are pretty pricey and their larger coats and parkas in particular are definitely investment pieces.
If you do have your eye on a Canada Goose coat or jacket, then you may be wondering, does Canada Goose go on sale?. Well, we've got all the information you need to answer that question.
Does Canada Goose Go On sale?
While Canada Goose doesn't officially go on sale, we have spotted a few ways customers can buy their products cheaper.
The best method for this is either by heading to a luxury outlet site like the Outnet (up to 49% off), or by taking advantage of international shopping and paying European prices for your products. This loophole makes it possible for you to get almost any Canada Goose product slightly cheaper if you live in the US, which we'll explain in full detail below!
Buying Canada Goose Internationally & Taking Advantage Of Price Discrepancies
You may have heard that luxury brands offer their products at different prices in different countries and currencies. Many times, it's worth buying your luxury purchases when you're over in Europe or the UK to take advantage of these better prices.
But what if you could do the same without ever having to leave your home? Well, it's possible! YouTuber Mel In Melbourne recently shared a hack where if you shop via certain reputable websites such as Selfridges (a Neiman Marcus equivalent in the UK), sometimes, you'll be able to save a hundred dollars or so, even with shipping and duties included.
We'll share a few of our favorite examples below with detailed price information, but if you would rather browse all of their current selection, head straight to Selfridges' Canada Goose selection.
1. Addiston Shell-Down Jacket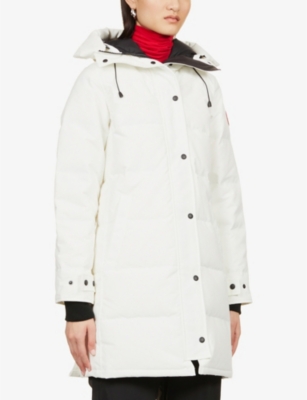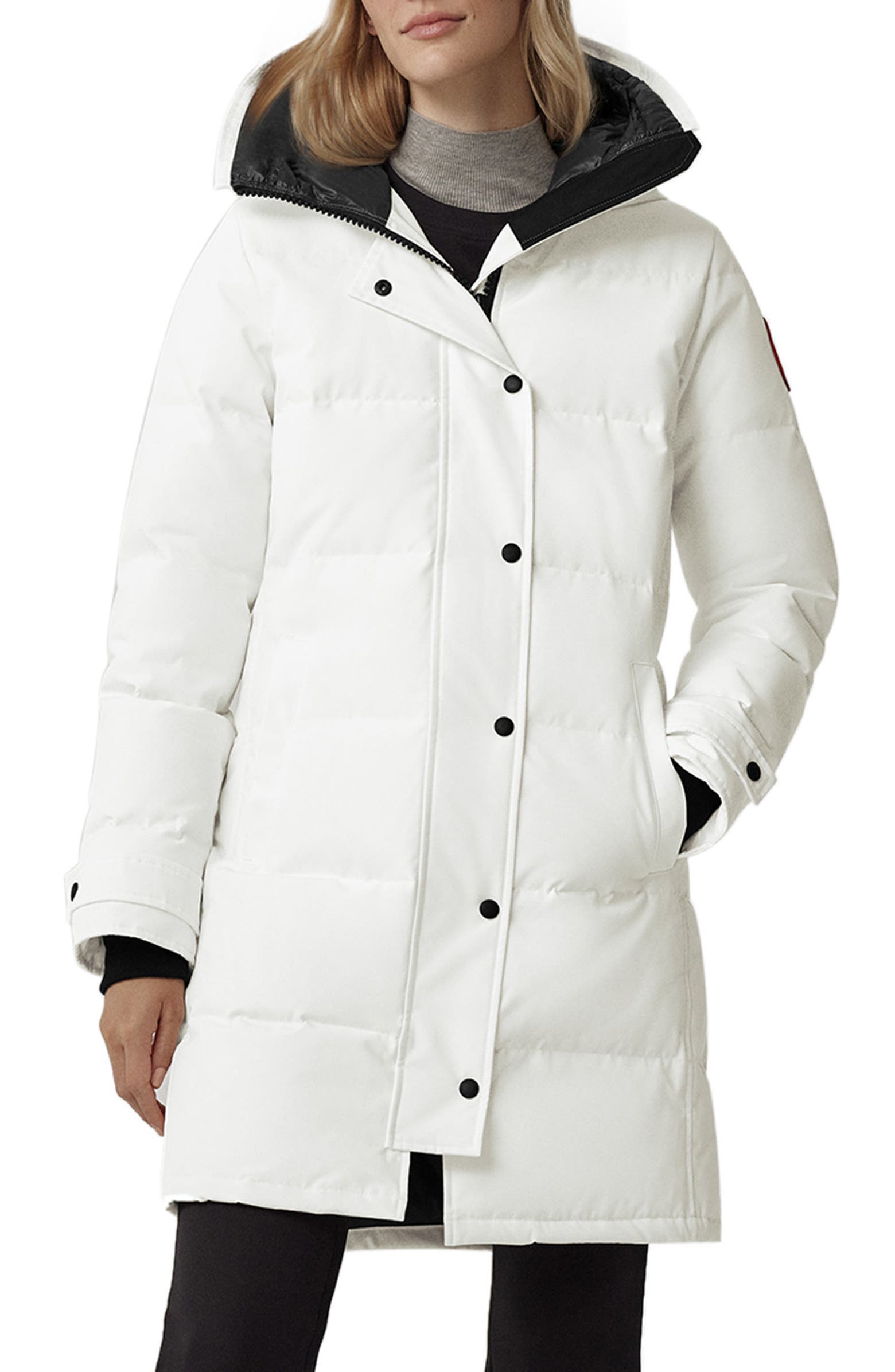 The water-proof Shelburne coat can be yours for about $175 cheaper – that's a big saving!
2. Marlow Quilted Parka Jacket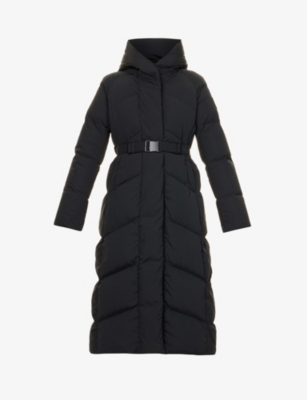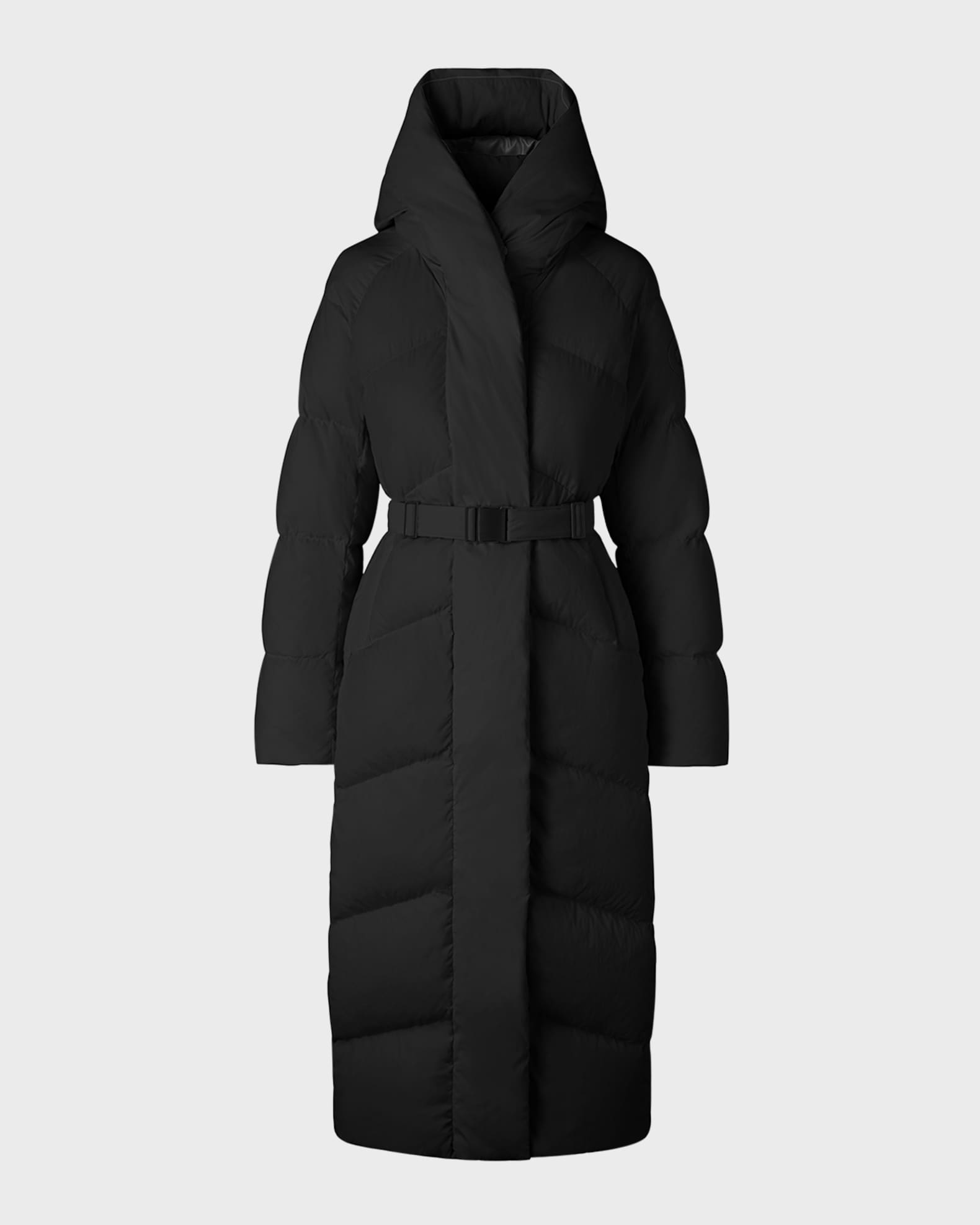 Black parkas are a timeless investment that are easy to wear year after year. The Marlow coat can be yours via Selfridges for $125 cheaper!
3. Addiston Shell-Down Jacket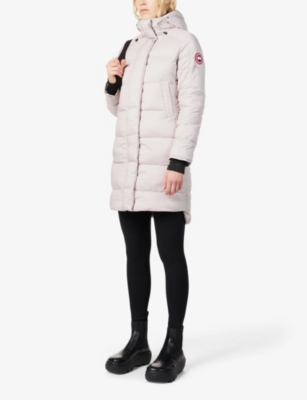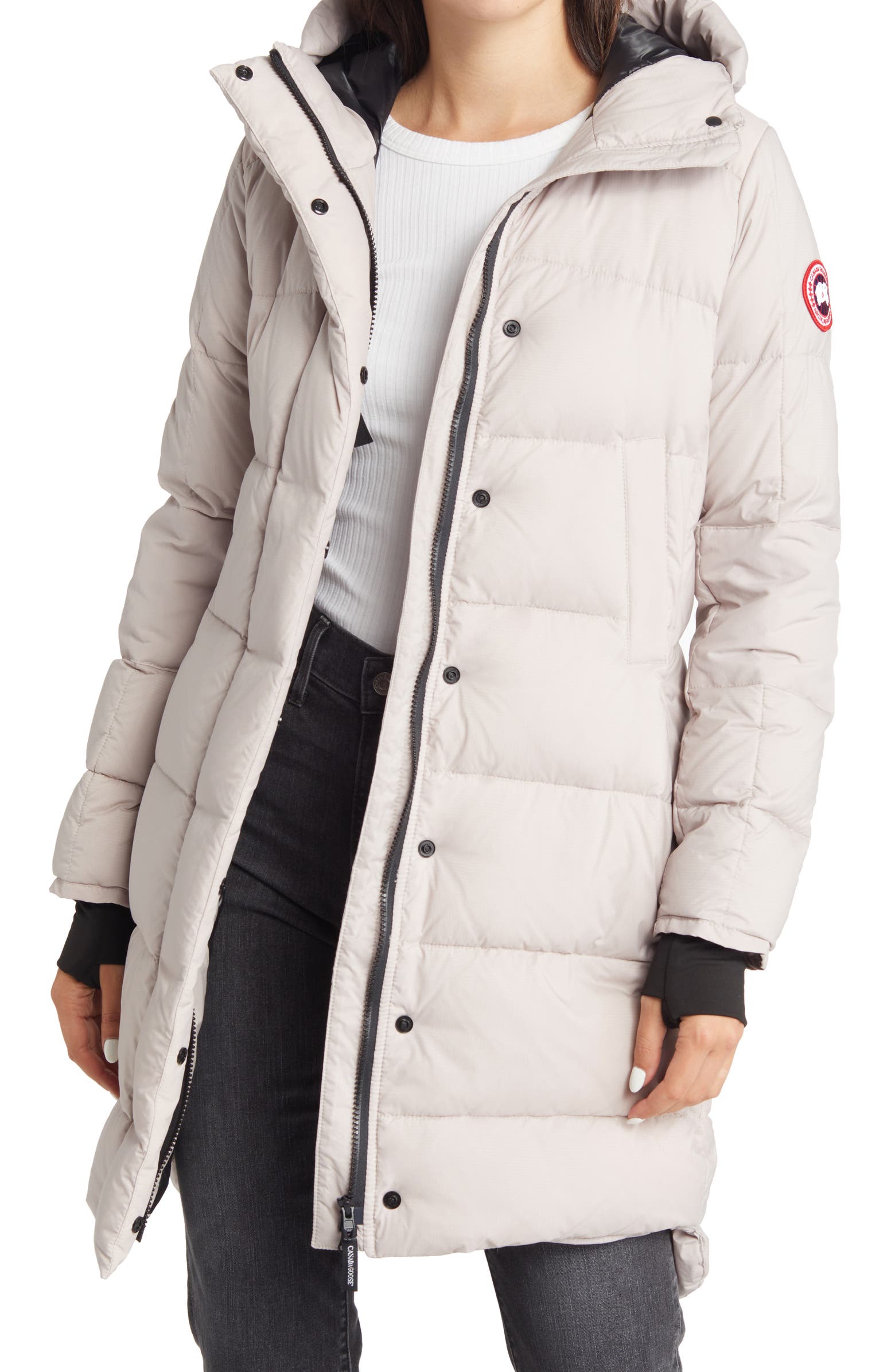 We love the light pink shade of this new season Addiston coat. You'll save $100 if you get it via Selfridges!
Selfridges unlimited free deliveries
It's worth mentioning that while the one-time delivery fee for Selfridges is $30, you can get an annual membership for free unlimited deliveries to the US for just $55, so if you're planning on taking advantage of this shopping system in the future, it may be worth looking into!
Many European luxury brands like YSL and Prada are often sold at Selfridges for up to 25% more affordable prices, so if that is something that you're into, definitely keep the annual unlimited delivery option in mind!
Other Ways To Get Discounts
As we already mentioned, we have seen Canada Goose products sold at up to 40% off at The Outnet, a luxury online outlet site. While the selection isn't amazing, there are a few timeless pieces that suit many personal styles.
We have also seen Farfetch (a luxury marketplace for small boutiques across the globe) offer Canada Goose products with slight discounts, especially around Black Friday. These discounts are usually 10-20% off regular prices.
There are a few more potential ways to get a slightly cheaper price on Canada Goose products. For example, Net-A-Porter and Bergdorf Goodman offer -10% and -15% off, respectively, to new customers who sign up to their e-mail list, so make sure to check out if your selected Canada Goose products qualify for the discount.
Similarly, if you use American Express, make sure to check your Amex app for members' discounts across various retailers – Net-A-Porter is often included in the list, so you may be able to get an additional discount on top of the initial -10% that comes with the newsletter subscription.
Alternatively, there are other cold-weather outerwear manufacturers, such as North Face, that sell similar styles to the Canada Goose style coats without such a high price tag, but this does mean they are often not going to be produced to the same high, weatherproof standard.
Canada Goose products are incredible for a reason – they are such high quality that you know you are going to keep warm, whatever the weather for years and years to come. If you live somewhere with cold or harsh winters, then it is probably worth spending a little more on a Canada Goose coat as you will get lots of use out of it and it will mean you don't freeze in minus temperatures!
Our Top Picks from Canada Goose
There are loads of incredible products and warm weather gear on offer from Canada Goose, so it really just depends on your budget and what sort of coat, jacket, or winter accessories you are looking for as to what you should go for.
We brought together some of our favorite items from a range of different Canada Goose collections, so you can get an idea of what pieces you would like!
1. Parkas
Canada Goose Parkas are perhaps what the luxury brand is best known for. There are lots of different versions so you can find one that suits your style and the cold weather you have to deal with each year.
The Canada Goose Merrit Thermal Parka is a signature of the brand – super stylish and super warm! This high quality coat will protect you from the extreme cold and snow with its thermal hood, storm cuffs that wrap around your hands, and a long, thigh-length hem.
In terms of practicality, there are reflective strips so you can be seen in the dark and backpack straps for hands-free carrying. This incredible coat will keep you lovely and warm for years and years to come!
The Canadian brand also offers the Shelburne Parka with Fur Hood – another top winter coat for those of you who leave in regions that suffer from very cold winters. This parka is filled with white goose down to ensure maximum warmth, as it can endure daily temperatures of 5 to -13 degrees Fahrenheit (or -15 to -25 degrees Celcius).
This coat does have a natural coyote fur ruff for extra protection against cold winds, but as this coat uses animal fur, it may not be the coat for everyone – if so the Merritt Thermal Parka is a great alternative that is fur-free.
2. Jackets
If you are looking for a winter jacket, then Canada Goose of course has some amazing options – whatever your style and whatever weather you have to deal with.
One of the warmest jackets is the McKenna belted Performance Satin down jacket, and it looks so stylish too! The performance satin made by Canada Goose looks and feels luxurious but is durable and water-repellent as well.
The hood is detachable to the jacket and can be changed to suit the weather or your location, and the belt helps keep you warm and cinches in the waist, so you are always chic and sophisticated.
For something a little longer to stop any wind chill around the legs then the Belcarra jacket is perfect. This is the ideal jacket to take you through those transitional months, with its adjustable hood and sleeves, a drawcord waist, and reflective strips.
The coat also has hand pockets as well as an inside pocket, a zip closure, and a storm flap to guarantee wind protection. One more great thing about this coat is that it can just be thrown in the washing machine!
3. Baselayers
If you live in really cold climates or you are looking to add a little extra warmth to a more formal coat, then these base layers from Canada Goose are just the items you need in your wardrobe.
The Hybridge Lite Down Hoody Jacket can be worn alone or with another jacket thrown on top. The lightweight aspect of this jacket means it is perfect for layering, is so flexible, and is ideal for packing into a suitcase or rucksack.
The front has a two-way zip, two pockets at chest height, and two pockets at the waist, while the sleeves are fitted with a thumbhole for top-quality performance. The jacket is filled with Hutterite white goose down, and as always, made in Canada.
This Hybridge Base Jacket is perfect to layer up with other warm coats to guarantee you never get cold and increase the versatility and wearability of all the coats in your wardrobe.
Filled with white duck down, this jacket has a slim fit silhouette so it can fit under other coats, and knit panels at movement and flex points so you always have enough stretch and a full range of movements. The interior pockets and lower zip pockets keep your hands warm and mean you can keep important items safe.
4. Winter Accessories
It's not just incredible coats that are on offer from Canada Goose, but also a whole range of winter accessories.
These Touchscreen Compatible Leather Gloves from Canada Goose keep your hands warm and won't stop you from doing anything with their touchscreen compatibility.
Made from sheepskin leather, these sleek black gloves are a timeless classic that will match any winter coat you choose to wear. The soft cuffs also fit snugly around your wrist, so your hands are always cozy and warm.
Everyone needs a cozy yet stylish beanie and this Canada Goose Tech Toque wool beanie is just perfect. The beanie is crafted from wool and is a fold-over silhouette to keep your ears extra warm – plus, there is a thermal interior to guarantee protection from snow and wind.
The fluffy pompom and appliqué Canada Goose logo ensure this beanie looks super stylish as well as keeps you warm.
We hope you found this article answering the question, does Canada Goose go on sale, helpful! For more luxury fashion content, check out the links below.
Get more luxury fashion ideas
Does Louis Vuitton Go On Sale? Here's What You Need To Know
25 Best Designer Scarves That Are Totally Chic
Does Balenciaga Go On Sale? Yes – Here's All You Need To Know