Coach Vs Coach Outlet: Are They The Same Or Is There A Difference?
We only feature products that we hope you will love. We may earn a commission if you decide to make a purchase through our links, at no cost to you.
Coach has been a cult favorite among women for years. While Coach bags cost a pretty penny, there's also Coach Outlet at a much more affordable price point. So, what exactly is the difference between Coach vs Coach Outlet?
The unwavering popularity of Coach handbags comes from its classic styles and high-quality craftsmanship that's been consistent for decades. The brand launched in 1941 and the cofounder, Miles Cahn, drew initial inspiration from detailed baseball gloves and paper grocery bags.
He wanted to create a handbag that was similar in durability and appearance. After quite some time, he launched a collection of 12 handbags with no idea just how large the brand would become.
Over the years, Coach handbags have garnered quite the cult following, which we suspect is because each bag is constructed from high-grade leather in a cute design. Each bag must pass through multiple steps in the production process, ensuring that there are no flaws or compromises to the quality.


While they aren't as expensive as brands like Gucci and Louis Vuitton, Coach bags are still considered extremely fashionable. The handbags feature modern designs and are carefully created with beautifully colored leathers.
Coach has thrived in the handbag industry for so long as its price point is lower than other luxury brands without having to compromise design or quality. Coach prides itself on creating bags that are made to last so that you don't need to invest in a new designer bag every season.
When it comes to where the brand ranks among current popular designers, we would say it's below Marc Jacobs, Gucci, and Louis Vuitton but above Michael Kors and Kate Spade, or at least on par with the latter two.
Despite starting with handbags, Coach has added wallets, footwear, accessories, and briefcases to its list of stylish offerings. Fashionistas can find Coach products at two stores: Coach and Coach Outlet.
The second is preferred by those who love a good bargain or discount, but what's the actual difference? Let's get into it.
Coach Vs Coach Outlet: How They're Different

The most significant difference between Coach and Coach Outlets is that the bags created for sale at Coach Outlets are usually lower in quality.
It's a common misconception that bags originally sold at Coach end up at Coach Outlet. While you may sometimes catch a bag at a Coach outlet that you've also seen in store, for the most part, Coach Outlet bags are specifically made for the outlets and never enter a regular Coach store.
In fact, Coach bags come with a unique stamp that signifies they should not be sold at Coach Outlet. Whenever you shop at an outlet store, it's safe to assume that the product quality will be slightly lower than what you would get at the actual store.
If you've spotted a cute bag at Coach and are waiting to get it with a discount, you should keep an eye on internal sales at Coach.com, Nordstrom, or other retailers – it most probably won't end up at Coach Outlet.
We have also noticed that Coach has been increasing its prices slowly but surely over the last few years; for example, in 2022, the popular Pillow Tabby 26 bag was sold for $495, whereas now in 2023, the same bag costs $550. In contrast to this, we haven't seen any significant price increases with Coach Outlet bags – instead, some of them have actually decreased in price.
For now, this may just be an interesting tidbit to note, but it could signal that the brand is planning to create a further divide between the two lines in the future, which may or may not have an impact on the quality and styles offered.
With this in mind, while both lines offer great bags that are made with good-quality materials, we would recommend opting for Coach's main line if you're looking for a trendy bag that you can use daily for an extended period of time. If you only want a bag to use for the next few years, then a bag from Coach Outlet will totally suffice.
Or, if you're just after the logo on the bag, either one suits! Just choose the style that you like the most.
Our Top Picks From Coach vs Coach Outlet
To demonstrate the differences between style and price at Coach and Coach Outlet, we've rounded up some of the brands' bestsellers below.
1. Shoulder Bags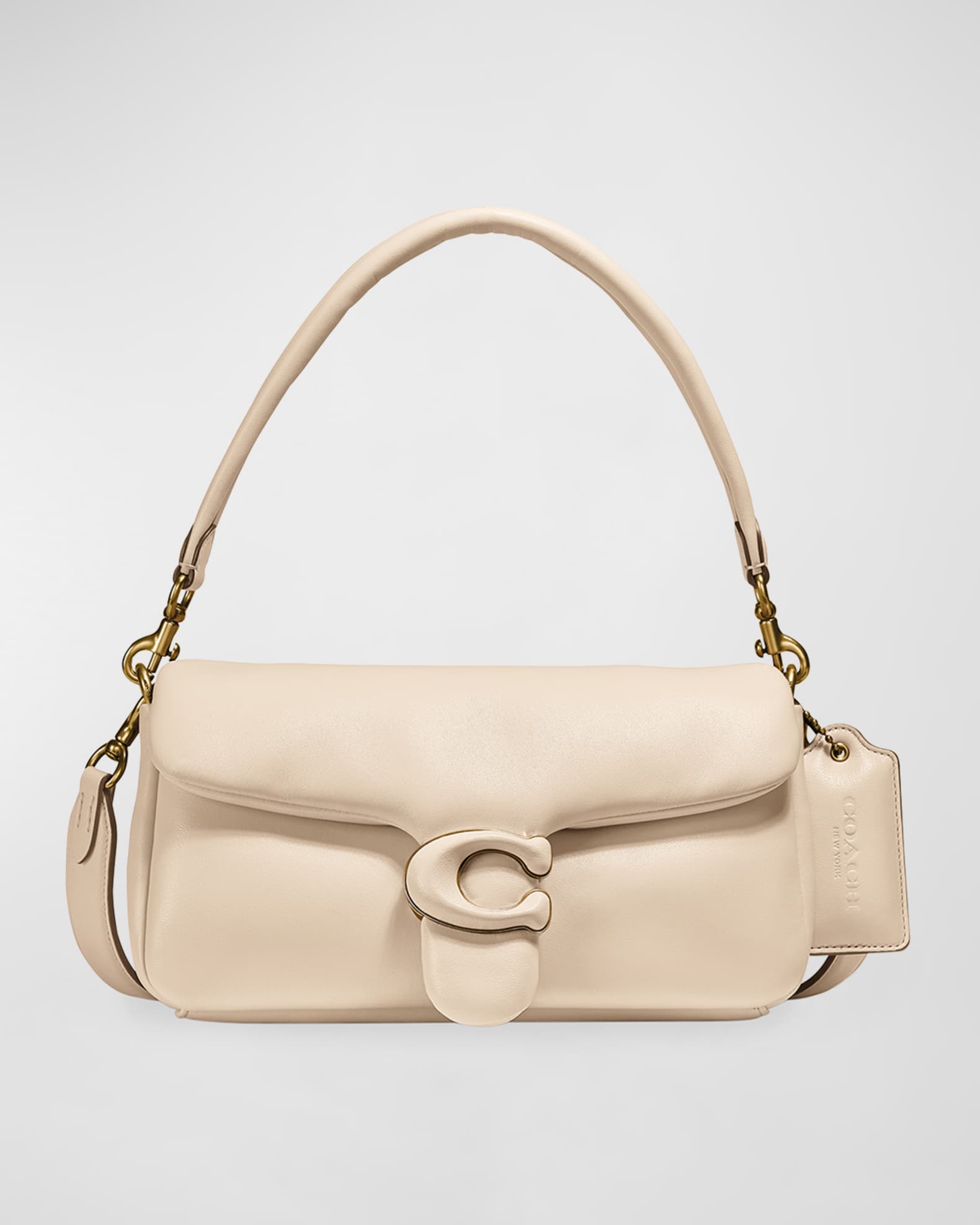 Shoulder bags are extremely easy to carry, making them great for everyday use. Whether you're going out for dinner, heading to the mall, or meeting a friend for a coffee, a shoulder bag can carry all of the essentials.
There's adequate room for your lipstick, powder compact, cellphone, cardholder, car keys, and whatever else you might need. Shoulder bags feature a strap that's long enough to be comfortably worn over your shoulder.
Coach's Pillow Tabby Shoulder Bag 26 is without a doubt the brand's most popular style, and is now available in multiple iterations, from the classic pillow tabby above, to hard leather and shearling version of the bag.
The Pillow Tabby, featured above, has a soft silhouette that takes inspiration from a 1970s design from Coach's archives. It comes with supple, buttery soft leather and the brand's signature C-logo at the front. The bag has a detachable short strap for shoulder use and a longer strap so it can also be worn as a crossbody bag. This incredibly chic bag retails for $550, and is available in multiple colors.
At Coach Outlet, one of the best-selling shoulder bags is the Payton Hobo bag ($129), pictured above in stylish sage green pebble leather for that luxe finish. Although small, the bag is surprisingly spacious, making it an ideal everyday handbag with a chic and versatile exterior and plenty of pockets inside to help keep you well organized.
If sage green isn't your personal favorite color, the bag also comes in white and lavender leather, as well as Coach's signature brown monogram canvas, and a chic, lighter monogram canvas with pink accents.
2. Crossbody Bags
Crossbody bags are a must-have in any wardrobe – they come in handy whenever you are busy and need both hands free, making them the ideal bag to travel with. Both Coach and the Coach Outlet have plenty of crossbody bags to choose from to suit any style.
We love the sleek and minimalist aesthetic of the Cassie Crossbody bag, perfectly finished with gleaming gold hardware. The bag has two detachable straps, a top handle, and a crossbody strap so it can be worn and styled in a variety of different ways. The Cassie bag is available in black, white, and red, all retailing for $295.
The Klare Crossbody bag is a great, affordable alternative from Coach Outlet. This bag is crafted from Coach's signature coated canvas and cross-grain leather for a stunning combination of pattern and texture. The front flap is leather and decorated with the Coach logo, while the body of the bag is made from the Coach signature canvas in a dark chocolate brown shade.
The interior of this bag is split into three compartments so it's easy to keep well organized. This stylish crossbody bag is available for just $179.
3. Satchels
Satchels are the perfect work bag and will fit a smart aesthetic with a refined and polished look. There is a great range of satchels available from Coach, including this Ruby Satchel ($575) which is just beautiful.
This satchel is crafted from Coach's signature monogram jacquard canvas and finished off with tan leather accents. The bag features glittering gold hardware, structured top handles, and a detachable shoulder strap. The top zipper opens to reveal a suede and fabric lining fitted with multiple pockets to hold everything you need.
The Rowan Satchel from the Coach Outlet has a very similar look, with a rounded silhouette, structured top handles, and a removable shoulder strap. This satchel is instead made from a brown signature canvas that is decorated with the Coach logo for a classic monogram look.
The exterior features a zipper pocket, while the interior is fitted with a series of slip pockets so everything is easy to find – plus this bag retails for just $105!
4. Tote Bags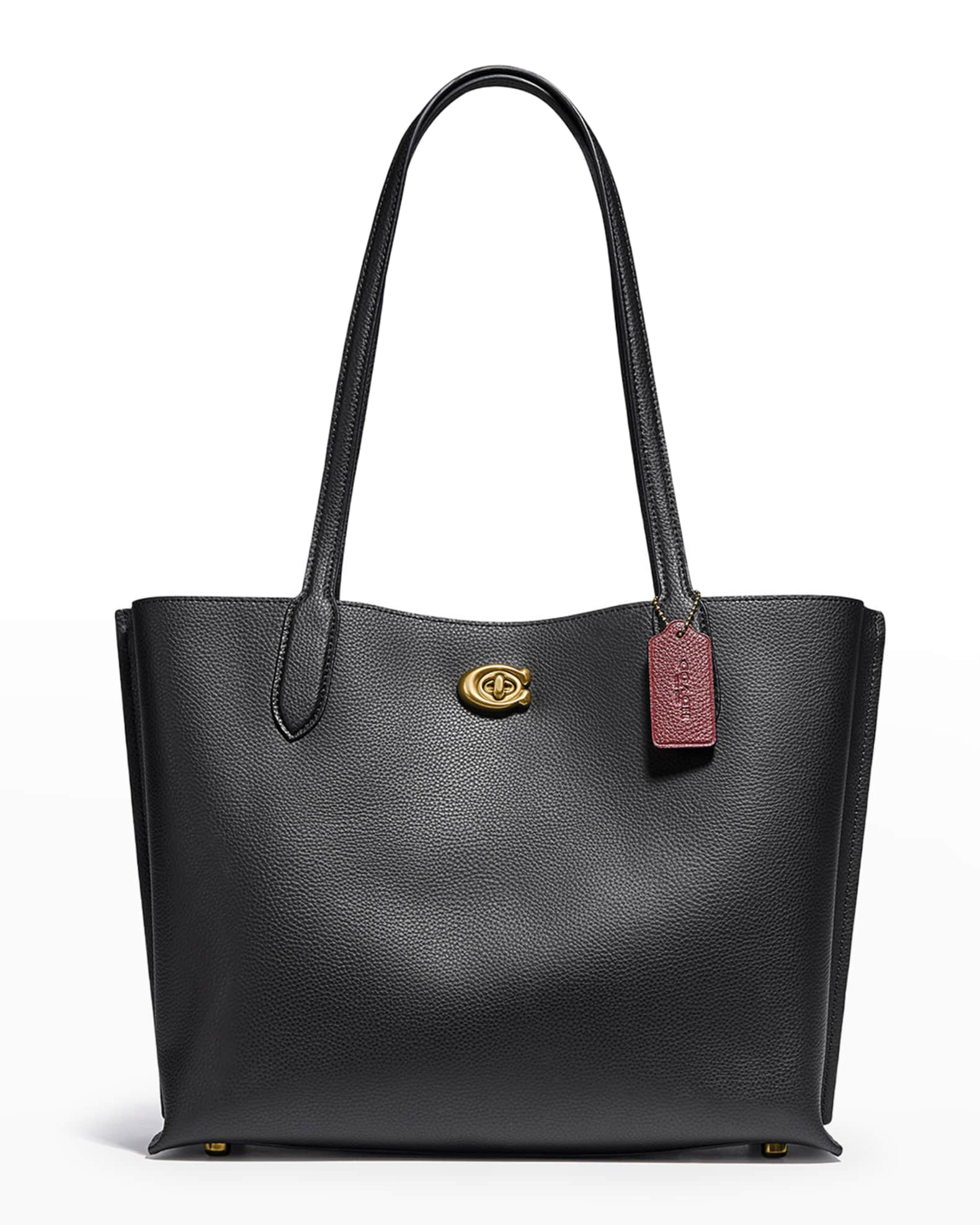 Tote bags tend to be long-lasting and durable if they are taken good care of. They are by far the best style of bag when it comes to carrying books and your laptop to school or your lunch to work each day.
If you're in the market for a classic tote bag, the Coach Willow Leather Tote ($350) will check all of your boxes. It's made from polished pebble leather, and has a central zip compartment, with a turn-lock closure so your items stay inside, plus the protective feet ensure the bottom of the bag doesn't get dirty. The great thing about this tote is that it is big enough to fit a 13-inch laptop!
When shopping for a practical tote bag, opt for black or neutral color as it will match more of your outfits. If you already own a simple tote, you can start branching out into funky patterns and bright colors.
The Zip Top Tote ($109) from Coach Outlet comes in several colors, including black, and has a few inside pockets. It's made from cross-grain leather but unlike the Willow Tote, it does not have protective feet. This means you'll need to be careful when setting it down on surfaces so that it doesn't get dirty.
5. Backpacks
Backpacks have made a big resurgence in popularity, which is likely because people just can't get enough of their functionality. Toting all of your items around in a backpack keeps them out of the way.
Plus, a backpack can fit a lot more in it than a small crossbody or shoulder bag, making it ideal if you have a busy weekend where you need all your essentials, or you are at school or college with lots of books to carry around.
We love the Coach Charter Backpack, which is made from polished pebble leather and is available in black and white. This backpack has a front zipper pocket and a main compartment that is fitted with more pockets so you can easily store all your essentials.
The Jordyn Backpack from the Coach Outlet has a similar look, with an exterior zip pocket and larger main compartment featuring slip pockets. The straps on this bag are adjustable, making it super comfortable to wear all day long.
The price difference is quite significant, even if the bags look the same, the Coach Charter Backpack retails for $395, while the Coach Outlet Jordyn Backpack is available for $149.
6. Clutches On Chain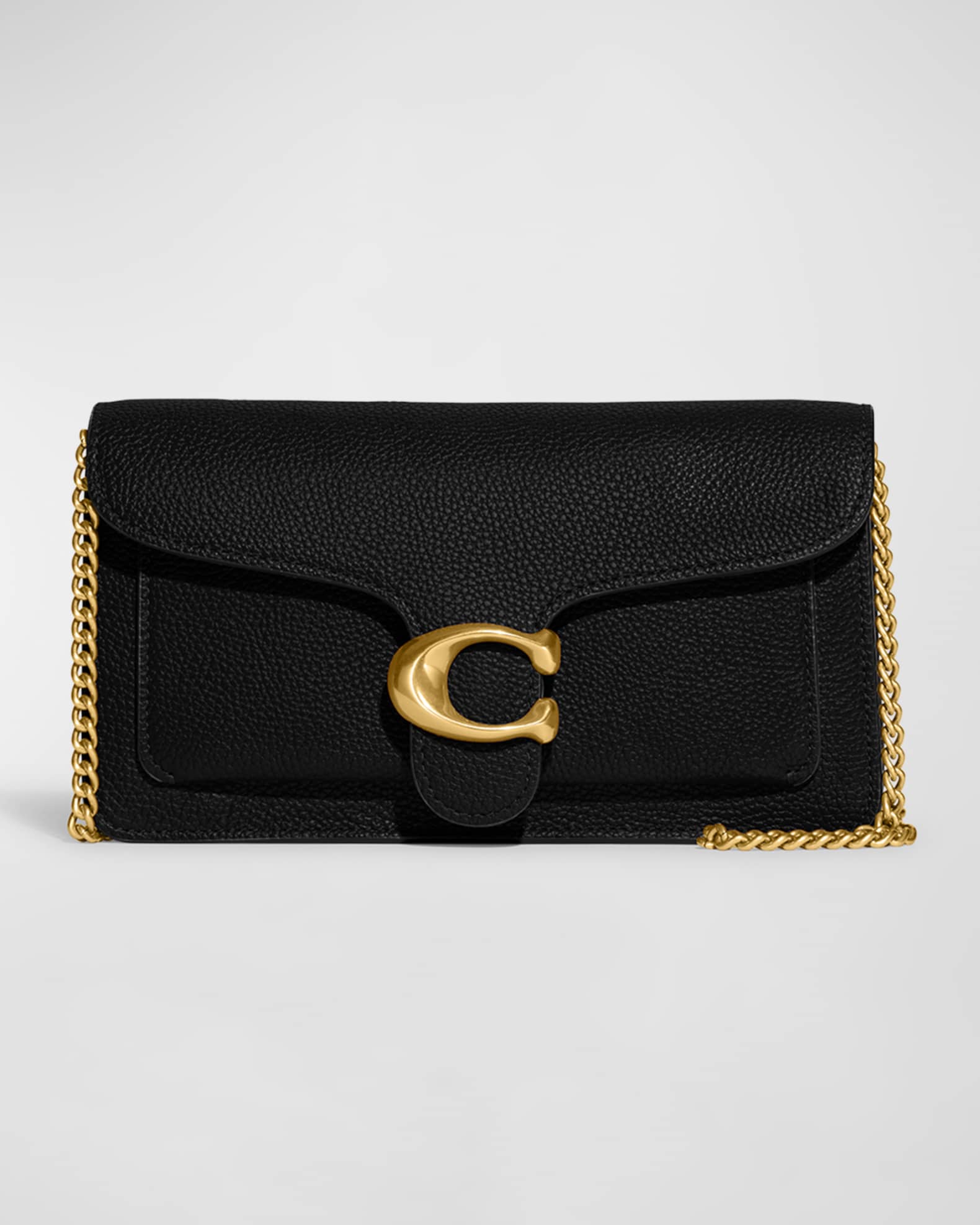 Clutches are ideal for formal events or on special occasions where you don't want a crossbody or large shoulder bag taking away from your gorgeous outfit. These two crossbody bags from Coach come with a removable strap or chain, making them a versatile choice for both daytime and evening wear.
The Tabby Chain Clutch ($295) from Coach is an elegant choice to wear as an everyday shoulder bag, as well as an understated clutch for dinners. It features Coach's signature gold C-hardware at the front and comes in either black, chalk or red pebbled leather.
It has a snap closure, several small pockets inside in a typical wallet-on-chain style, making it ideal for carrying cards, your phone, and essential makeup items.
The Anna Foldover Clutch Crossbody from the Coach Outlet can be used both as a clutch bag or as a crossbody bag, guaranteeing you will get a lot of wear from this versatile bag!
The clutch is available in Coach's signature monogram canvas, and finished with a small Coach logo on the front. The clutch crossbody is fitted with card slots and a zip pocket inside to store your most essential items. This stylish clutch is available for $99.
7. Wallets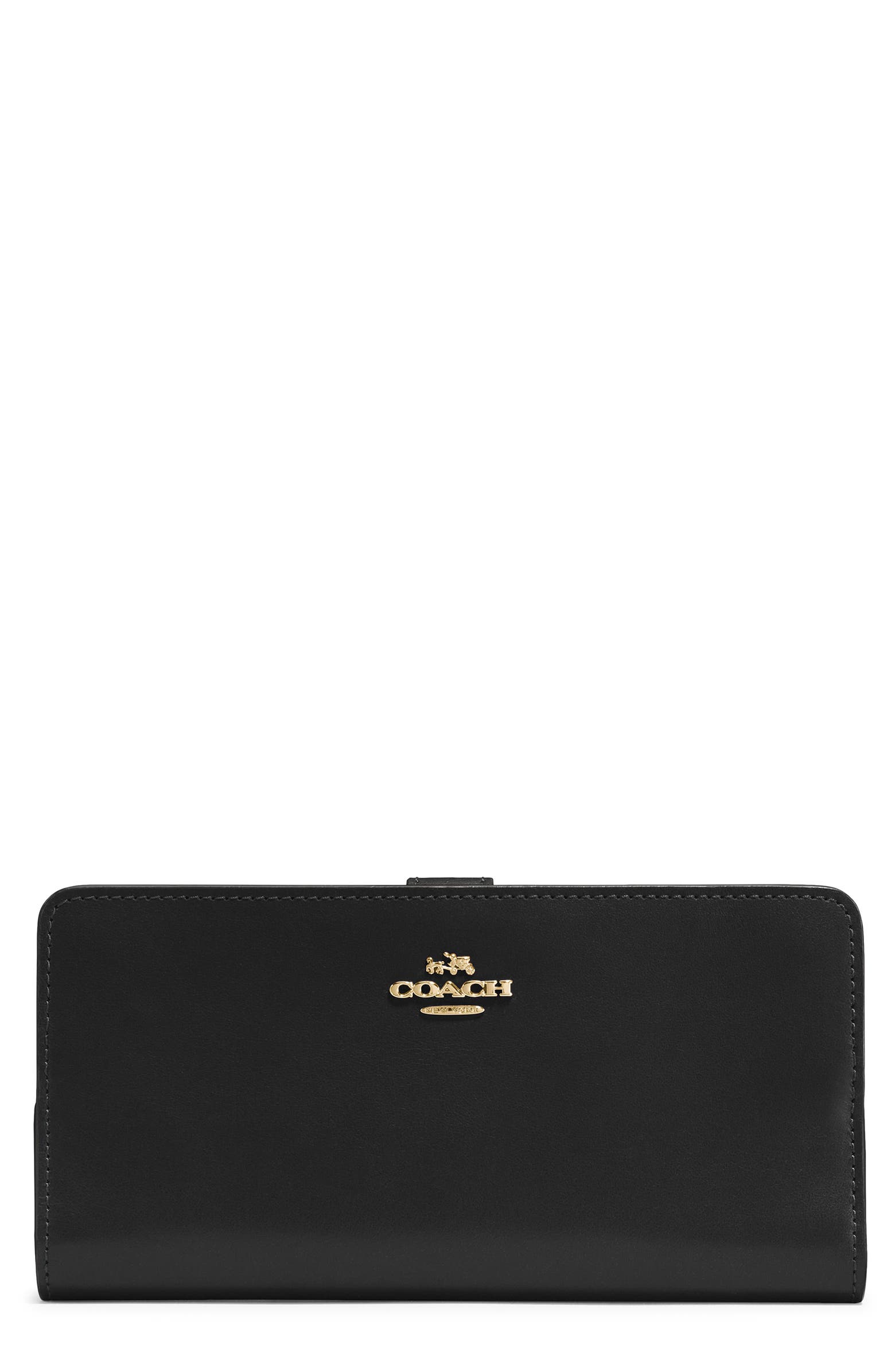 Everybody needs a good wallet as it's responsible for carrying all of their cash and cards. Even though it spends most of its life hiding inside of your bag, it should still be fashionable.
Every lady should have a larger wallet for their everyday satchel bag and a smaller wristlet wallet that can be stuffed inside of their shoulder or crossbody bag.
Because we like to jampack so much into our bags these days, Coach's Skinny Wallet has become extremely popular. It has 15 card slots, room for bills, a coin pocket, and is made from calf leather.
This rather slim wallet retails for around $175. Depending on your personal style, the Skinny Wallet comes in neutral and bright colors.
The Long Zip Around Wallet from Coach Outlet only costs $89 and has a sleek and minimalist look. This wallet is made from refined pebble leather and comes with a detachable wristlet strap so you could wear this wallet as a clutch bag too!
This wallet has 12 card slots, a bill compartment, and a zip coin purse, so there is plenty of room to store your cards and cash. This incredible wallet comes in a wide range of colors, from neutrals to vibrant shades so you can find the perfect option to suit your bag!
Conclusion
We hope you learned something new from our Coach vs Coach Outlet analysis. Next time you think of the two, think of them as two distinctly different brands with different designs and quality, that just happen to share the same logo!
Now, it's your turn to let us know: when it comes to Coach vs Coach Outlet, is there one that you prefer over the other?
Get More Luxury Fashion Ideas
Louis Vuitton vs Louboutin: What's the Difference?
Ralph Lauren vs Polo Ralph Lauren: What's The Difference?
Kate Spade vs Michael Kors: Which One Is The Better Investment?