15 Chic Ways To Style Your Trench Coat This Fall
We only feature products that we hope you will love. We may earn a commission if you decide to make a purchase through our links, at no cost to you.
Trench coats will always be a staple in every fall and spring wardrobe. If you're looking for new ideas on how to style one, check out our definitive guide on what to wear with a trench coat!
It's that time of year again when the weather is starting to turn chilly. There are many classic wardrobe staples, and the trench is without doubt one of them. They're what you reach for when it rains, what you wear to fend off a cold snap, and what you take on vacation with you.
However, it can be difficult to figure out what to wear under your trench coat. While some might say that you can wear whatever you want under your coat, this doesn't always work in practice, because some clothes are too bulky or not warm enough for the chilly weather.
To help, we've compiled a list of our 15 favorite trench coat outfits with added styling tips, so that you'll never have an outfit dilemma again!

What To Wear With A Trench Coat
1. Top And Jeans
A trench coat and blue jeans are a common and popular outfit combination to wear if you're going for a casual look. While we love this look with loafers and ankle booties the most, you can add warmth by styling this outfit with knee-high boots with your straight-leg or skinny jeans, or by layering it with a blazer as demonstrated above.
Of course, you can wear whichever style of top or sweater that you love the most – just make sure that the colors are in harmony with the rest of your outfit.
For a relaxed, French girl-inspired outfit, go for straight-leg jeans, a long trench coat, a top of your choice, and a pair of stylish loafers.
2. Sweater Vests & Dresses
There's no doubt that sweater vests had a huge moment in 2021, and we don't see why the trend wouldn't continue in the fall of 2022 as well.
For the best look, pair your sweater vest with an oversized shirt or shirt dress underneath it, and layer with your trench. We absolutely adore this look with cream colors above, but you can of course experiment with other shades too – classic neutrals like black will be your best bet, but you can also add a pop of color.
Alternatively, if you don't own a sweater vest, a short sweater dress will have a very similar effect. The only difference is that your sleeves may feel a little bulky, so bear that in mind when choosing which sweater dress to wear.
3. Accessorize With A Belt
This is a fun look that will instantly add glam to your outfit. While we love the extravagant nature of the oversized Bottega belt featured above, you don't have to go for an accessory that is quite as oversized as this.
You can simply add a slimmer belt over your coat that you would use with your jeans. If you're looking for a great new belt, check out our edit of the top 25 designer belts on the market right now.
4. Let Your Sleeves Show
Rolling up the sleeves of your trench coat and cuffing your shirt is a good way to make your trench coat outfit instantly more stylish. This is a good trick that works with most long sleeve tops and doesn't require you to purchase anything, so try it out next time you're styling your coat.
Alternatively, if you have a shirt with exaggerated sleeves, you can wear it underneath your trench without cropping the sleeves all that much.
5. Black On Black
Sometimes, you can't beat a classic all-black outfit. Even though the classic color for a trench is camel or taupe, it doesn't mean that you have to stick to them if they don't work with your wardrobe. Black, grey and pastel trench coats are equally as stylish!
We especially love this faux-leather black trench coat look featured above, which has been paired with faux leather pants.
Now, you don't need to be as trendy as this to pull off a stunning all-black look with your trench coat. Just opt for your favorite pieces, like classic black pants or even leggings with a turtleneck, and accessorize with gold jewelry, your favorite everyday designer bag and a pair of striking boots.
6. Keep It In The Same Color Family
If you have a trench that's in a classic taupe or beige shade, it's a good idea to style it with clothing items that belong in the same color family: think whites, creams, tans, and browns.
Items like white jeans, white sneakers, a crisp white shirt and even a white tee are timeless pieces that will pair incredibly well with your classic camel color trench, and help you create an effortless look.
You can even go fully monochromatic if you'd like, but we personally love when there is at least one item of a different color to break up the monochrome and add visual interest. This doesn't need to be a bright color at all – just a different shade will add a nice pop, as demonstrated above.
7. Black + Neutrals
If your trench isn't a black one, this doesn't mean that you can't wear black with it! After all, both khaki and black are neutrals, which means they go together incredibly well.
As for further styling, you can choose to pair other neutral-colored pieces (including white) with this color combination, or add a pop of color in your favorite shade – as we mentioned, since black, beige, and olive green are neutrals, it's hard to find a color that wouldn't match with this look.
8. Mini Skirts
Whether it's a pencil skirt or a flowy one, a cute top paired with a skirt that ends above your knees is another popular choice to wear with a trench coat. This is also a good choice to wear during warmer months – just ditch your oversized sweater and long boots.
For a chic outfit this season, we recommend going for a plaid pencil skirt, a long-sleeve turtleneck, a medium-length trench coat of your choice, and a pair of knee-high boots.
9. Go Business Chic
Trench coats are elegant pieces, so it's no surprise that they pair wonderfully with chic workwear pieces like long, flowy trousers and blouses.
For extra style points, you can match your trousers to your coat, but don't feel like you need to – black, grey, white and other muted tones work equally well for a daytime look.
10. Add A Pop Of Color
Adding a pop of bright green, blue, pink or purple is a great way to create an attention -grabbing outfit that is right on trend.
The easiest way to incorporate a bit of color to your look is by opting for a big scarf, like featured above, or a colorful sweater. However, you can also add small touches of color, such as a bright handbag with matching shoes, if that's more your vibe. Either way, you'll look incredibly stylish!
11. Sweatshirt / Hoodie
Get this coat at Princess Polly
For the ultimate comfort, you can wear a hoodie or your sweats underneath your trench coat. This cozy and casual outfit has an athleisure vibe to it, which is perfect if you're just out and about running errands and don't feel the need to dress up.
12. Style It Up With A Design Scarf
Designer scarves with reconizable monograms or patterns will instantly elevate your outfit from basic to glamorous.
Of course, Burberry's iconic tartan print scarf is perhaps the most obvious choice to turn to, but there are also multiple other brands who's scarves you should take a look at. Just browse our selection of the top 25 designer scarves for this season to see for yourself!
13. Day Dresses
There are so many pretty dresses that work with trench coats: knit dresses are perfect for winter, while a light and airy floral dress is great for spring. Adding tights underneath is also a good way to stay warm without having too many layers on.
Boots are the perfect shoe to wear with dresses when it's chilly outside – just make sure the boot length doesn't overwhelm your dress hemline. Ankle boots are always a good choice because they elongate the leg line and look chic AF!
14. Party dresses
Any long coat will look great with an evening dress, but trench coats will be your best choice in the spring or even summertime, when the weather isn't too cold.
If you hav a neutral-colored coat, you can wear a dress in whichever color you prefer – it will match and look great.
15. Trench Dress
One of the easiest way to wear your trench is by wearing it as a "dress" itself. Now, we don't mean that you should actually go out without anything under your dress; as long as you're wearing a dress or skirt that's shorter than the hem of your trench, it will create a coherent, dress-like look.
As for your shoes, simplu pair them with whatever is under your trench – a pair of high heels, boots or loafers will all work just fine. Be sure to secure your trench coat belt or else you might encounter a wardrobe malfunction!
Types of Coat Lengths
Now that we've covered our top trench coat outfit ideas, let's quickly take a look at the different lengths that these coats come in. We've also included a pick from our favorite retailers for each type of coat.
1. Short Trench Coat
This type of coat length is good for petite women since it won't shorten the legs, but it's not ideal totally for curvy ladies since the short coat can make you look boxy.
2. Medium Trench Coat
This length is the gold standard for trench coats, and looks great on anyone and everyone.
If you're looking to splurge, go for the iconic Burberry trench coat – it will never go out of style. They come in a variety of different colors, ranging from the classic beige trench coat to darker colors like their navy trench coat styles.
3. Full-Length Trench Coat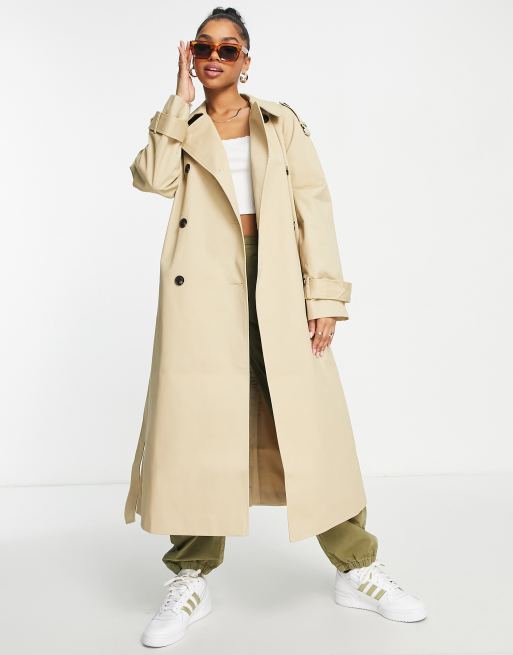 Long coats are especially trendy at the moment, and while they look great on almost anyone, they suit tall women especially well.
If you're shopping for a long oversized trench coat as a petite person, make sure to do so in the petite section so that your coat doesn't end up iverpowering your look.
We hope you found this style guide about the different ways to style a classic trench coat helpful! If you're still looking for more fashion inspiration, check the posts down below.
Get More Fashion Ideas
What To Wear With A Plaid Skirt: Chic Outfit Ideas For Fall And Winter
What To Wear With Knee-High Boots: 20 Outfit Ideas
40 Cute Ski Outfits For Women To Wear On The Slopes