10 Ways To Wear A Sequin Top For Seasonal Party Looks
We only feature products that we hope you will love. We may earn a commission if you decide to make a purchase through our links, at no cost to you.
The festive season is in full swing, and now's the time to take out your party dresses and tops. If you're looking for inspiration on how to style your sparkling party piece, take a look at our guide on what to wear with a sequin top!
Sequin tops are a great way to add a touch of sparkle and glamour to your look. It's a favorite choice for the holiday season, special occasions, or even just on a regular date night when you want to add a hint of enchantment to your evening wear.
However, it's important to pair this incredibly chic party item with the right pieces and the right accessories so that they don't overwhelm your outfit.

In this article, we'll talk about the 10 different ways to wear sequin tops, how you can make sure that your sequins don't clash against anything else in your outfit, and mention some key pieces that work beautifully when paired with these tops, so you can achieve a perfectly stylish look.

What To Wear With A Sequin Top
1. Wide-Leg Pants
If you're looking to for a chic outfit that's bang on trend, wide-leg or flared pants are your best bet, especially if you're looking to dress up a crop top with sequins.
We love the look of the emerald green top featured above with chic, simple wide-leg pants. However, you don't need to limit yourself to dark colors in the holiday season – if you love light neutral tones, opt for a pair of white or cream wide-leg pants and pair them with your favorite champagne gold or silver top!
2. Denim Jeans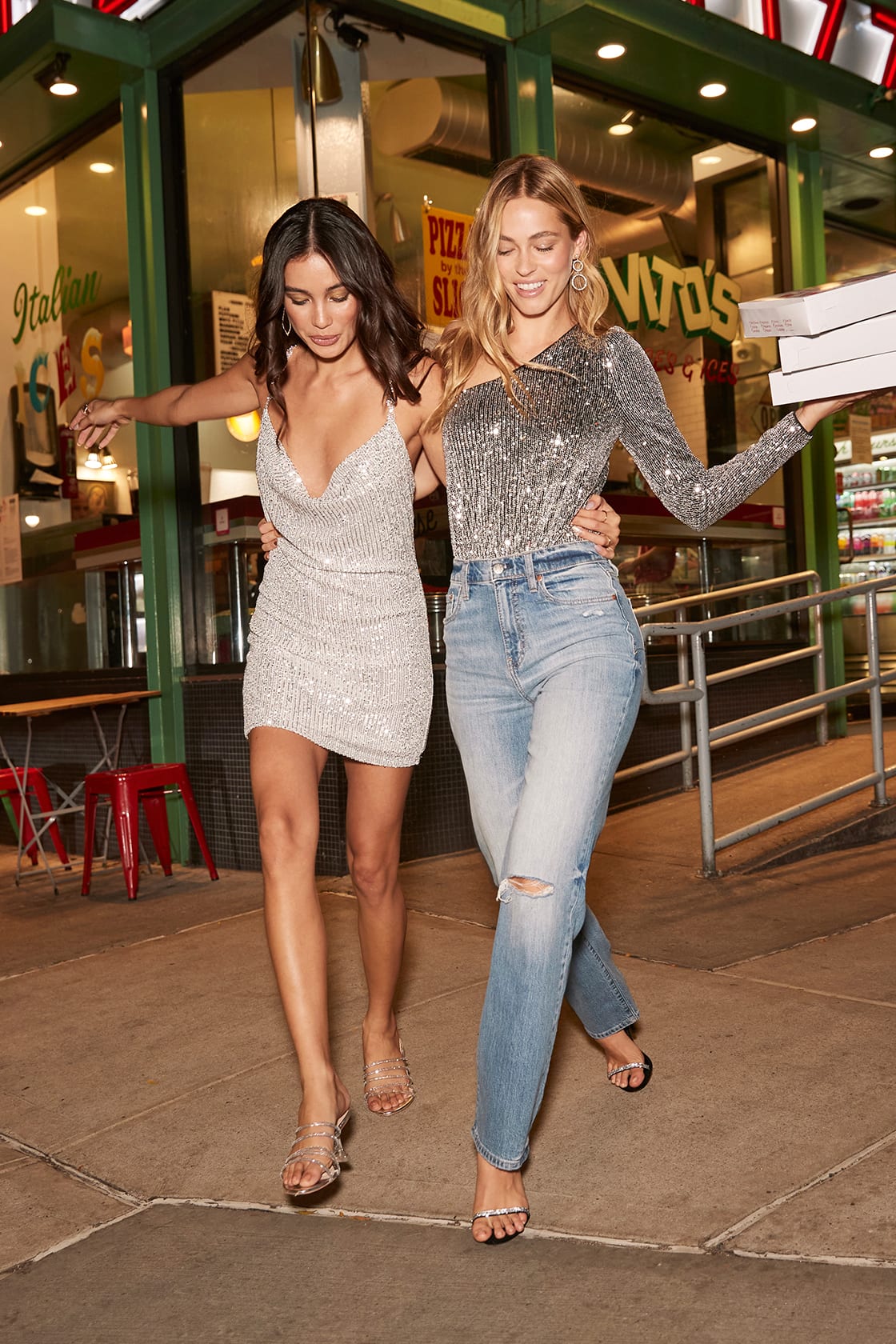 If you're going for a more casual look, blue denim is one of the items to pair with your sequin top, whatever it's color may be.
We recommend this look for relaxed days and not-so-formal occasions, like intimate dinner parties with friends, date nights and family this Christmas season. Accessorize with a simple necklace and a minimalist pair of shoes for a refined look!
3. Mini Skirts & Shorts
There's something about a mini skirt that looks extra good when paired with a sequin top, whether your skirt is made of faux leather, velvet, or a more toned-downed fabric. Of course, you can experiment with different lengths and styles of skirts, but if you're going to a party and you want to dress the part, a mini skirt has our vote.
To complete this look, you can add a pair of strappy heels or even ankle boots, and accessorize with statement earrings. Pair with a black blazer if you're dressing up for the evening, but take it off when you're inside so everyone can appreciate your glamorous look.
This a great choice of outfit for a New Year's Eve party or a relaxed cocktail party!
4. Velvet
Velvet is another excellent choice that will beautifully complement your sequinned top. Velvet is a luxurious fabric that's perfect for winter and evening events, especially in seasonal holiday colors like burgundy and emerald green.
It's also ideal for holiday parties since it adds some glamour without being overwhelming or tacky. If you're looking for something subtle but still exciting and comfortable all at the same time, velvet might be the best option for you.
5. Faux Leather Leggings & Pants
If you're looking for a chic yet eye-catching outfit for the upcoming festivities, then leather pants will be your best friend.
Pairing sequins with leather is a classic look that always works, especially if you're sticking with black-colored pants or leggings. You can get away with this outfit at almost any event—a night out on the town, a special occasion like a wedding or party, or even during your daily life.
For the perfect look that'll dazzle everyone this NYE, pair your black leather pants with a silver long sleeve sequin top. This is one of our favorite outfits featured on this list!
6. Satin
Like velvet, satin is an excellent material to wear with your sequin top this festive season, no matter the color of the fabric.
For a chic, effortless look, opt for a pair of satin flare pants in neutral or seasonal tones, and combine them with your favorite silver top.
7. Sequin On Sequin
The sequin-on-sequin look is a bold move. However, it's one that can easily be pulled off if you're willing to invest in the right pieces. But remember: too much of a good thing might not always be great!
If you're going for an all-sequin outfit, we recommend matching the top and the bottom, and keeping both pieces in the same color scheme. This will create a cohesive look that's glam yet tasteful, both with sequin skirts and sequin pants.
Alternatively, if a matchy-matchy look is too much for you, consider opting for a sequin jacket to match your top, and switch the pants for a more toned-down pair.
As for the footwear and accessories, we recommend keeping it simple with a pair of sleek, nude or black heels.
8. Skinny Jeans
Of course, you can wear a sequin top with a pair of skinny jeans, even if the internet says that they're cheugy. For this look, we recommend solid and neutral-colored jeans to give you more wiggle room when it comes to choosing the best sequin top. While black skinny jeans are a favorite for the season, we also love white skinny jeans, especially if your sequin top is gold or silver in color.
You could also add some high heels if you'd like your look to appear more formal. If you're craving a little more sparkle in your look, why not opt for ASOS's version of Mach&Mach's best-selling rhinestone bow heels?
Finally, throw on some statement jewelry to tie the look together!
9. Faux Fur Coats
If you're going to wear a sleeveless top, then you'll definitely want to make sure that you're warm enough for the night.
A faux fur coat is one of the best ways to stay warm in any outfit, whether you're going out with friends or just heading home after work. If you don't have a faux fur jacket in your closet yet, this is an excellent time to buy one for an elegant look!
Whether worn with jeans or as part of a partywear ensemble, wearing a faux fur coat over your sequin top is sure to keep things cozy while adding some style points at the same time. Complete the look with a pair of statement earrings in your preferred metal.
10. Blazers
For an office-approved sequin look, keep things simple and classy with a blazer! A tailored or slightly oversized blazer is a great way to incorporate a classy and upscale vibe into your outfit without too much effort.
Depending on your style, you could combine these two items with jeans, trousers or even shorts – anything goes as long as you make sure the color scheme is coherent.
The best part is that blazers come in different materials; you can choose between a classic black blazer, a trendt faux leather blazer, or even a velvet blazer.
For a subtly glam and polished look, layer a black blazer over a silver sequin top, and accessorize with a pair of statement drop earrings. Complete the outfit with a pair of stiletto heels.
Conclusion
And there you have it! We hope you've been inspired by these sequin outfits and can put together an amazing party look of your own, whether it's for the holidays, for an upcoming birthday party at the local cocktail bar, or a date night.
If you're looking for ways to style other sequin pieces like sequin dresses or a sequin skirt, have a look at the posts below!
More Ways To Style Sequin Clothing
What To Wear With A Sequin Skirt For Your Next Party: 21 Outfit Ideas
What To Wear With Sequin Pants (For Your Next Night Out)
6 Best Shoes To Wear With A Sequin Dress (& Look Stylish)