What To Wear To Vegas Clubs: An In-Depth Guide
We only feature products that we hope you will love. We may earn a commission if you decide to make a purchase through our links, at no cost to you.
Heading to Sin City for the summer? Here's an in-depth guide on what to wear to Vegas clubs, as well as what nightclubs to go to.
Las Vegas clubs are legendary. The lights, the music, and the drinks you're going to have are just a few things that make Vegas one of the most famous party destinations in the world.
From people who want to dance all night and meet celebrities to those who just want to take a break from gambling and relax with friends, everyone is welcome here!
The best part about going out in Las Vegas is that no matter how much money you have or what kind of clothes you wear (or don't), everyone is bound to have a great time at Vegas' famous hot spots.
In addition to this, wearing the right attire can make all the difference when you're about town in Las Vegas. While some nightclubs aren't as strict about what people wear, others might require you to dress up or down depending on the day and time of your visit.
While it's always best to check individual nightclub websites for their policies, there are general guidelines as to what is acceptable and preferred – we'll discuss all of this below.
Vegas Dress Code
The dress code at Vegas clubs is different during different times of day and year. For example, in the summertime when it's almost unbearably hot outside, you won't want to wear anything that's unnecessarily hot.
However, be mindful that most clubs and restaurants use AC, so you'll want to bring at least some layers to make sure you don't get chilly. The same goes for day and pool parties – even though you'll definitely be hot wearing any extra layers, staying shielded and protected in the sun should be your top priority


While there is no official dress code for nightclubs in Las Vegas, it's generally expected that both women and men dress up, or at least wear an upscale casual outfit. This means party dresses, your favorite LBD, a collared shirt if you're feeling it, etc.
As it can be quite tricky to know what exactly is expected of you when you go out in Sin City, we've put together this Vegas nightclub dress code FAQ to help you get ready for your night out.
We'll cover what's expected of you when you show up at the door, what's generally not allowed, and other insights to help you avoid any confusion or unnecessary hassle!
What To Wear To Vegas Clubs
Dressing in a way that makes you feel comfortable and confident is especially important when you go to any Vegas nightclubs because the waitresses/bartenders/hosts/security guys will be looking at you more closely than they would on any other night out.
They're mostly checking if you've already had too much to drink, if you're dressed appropriately and if your clothes are clean. Sometimes they even ask people to leave for wearing something inappropriate or being too drunk!
When it comes to club attire, there are some guidelines to follow. You want to look like you care about your outfit, but also like you're not trying too hard.
This can be a tricky balance to strike, especially if you're not used to dressing up! If you're going out in Vegas with a group of friends or on a date and want to make sure that everyone looks good while they're dancing all night long, follow these tips on how to dress for Vegas clubs.

1. Sequin Dresses
When it comes to style and attention, sequin dresses are the clear winner. They're glamorous, they sparkle in all the right places, and they'll make you feel like a million bucks.
As such, sequin dresses are a great way to get noticed by other people and give your self-confidence an instant boost! They're especially perfect if you're celebrating something big, like a birthday or even a promotion.
While you can definitely go all out with a long sequin dress for the biggest impact, you can also opt for shorter, simpler bodycon dresses like the light green one featured above. We just love how it's styled with an equally glamorous necklace that just elevates the entire look!
2. Bodycon Dresses
Bodycon dresses are THE go-to item for any girl looking to flirt their way into the hearts of good-looking guys at the club. Bodycon dresses hug every curve of your body and show off everything from your collarbones down, except for what's underneath!
Because these dresses are so tight fitting, be mindful of the length of your dress; if you're going for an ultra short mini dress, make sure that it has long sleeves to balance out your look – otherwise, there's a lot of skin on show!
Alternatively, if mini dresses aren't your thing, opting for a midi-length dress can work too, just as long as it's not getting in your way of dancing it out on the dance floor.
One of the best qualities of bodycon dresses is that they come in all sorts of different styles, so whether you're vibing with your feminine side, or you want to channel an edgy chic look, there'll definitely be a dress that fits your mood perfectly.
So, ditch the usual prissy cocktail dress, and go for something that hugs your curves in all the right places.
3. Jeans/Pants & A Sultry Top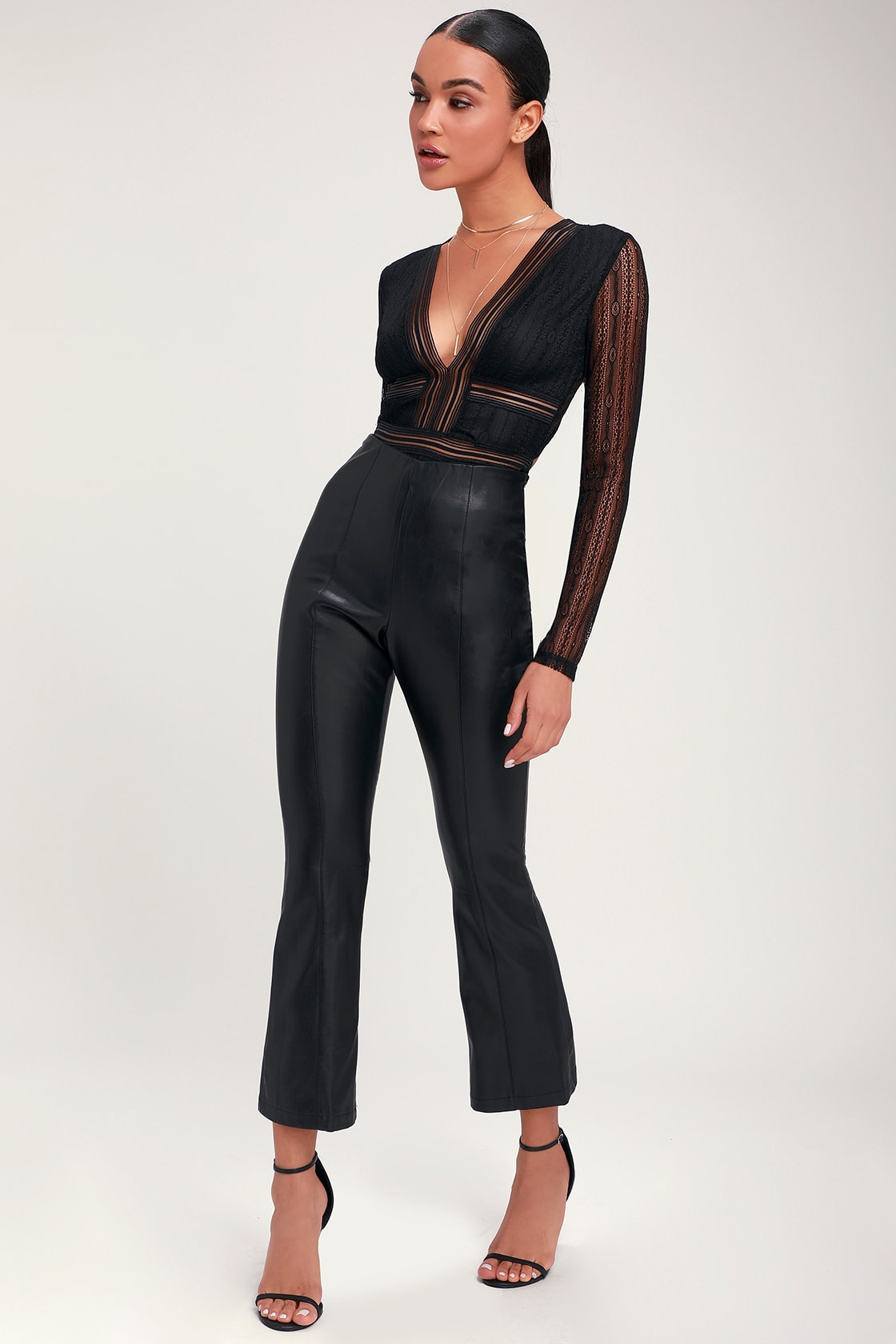 The combination of chic pants/jeans with a sultry top works every time. You have a lot of options here, with good top choices being corset tops, halter tops, lace tops, or even feather tops! These two pieces are all you need to pull this off, plus a pair of cute high heels!
You can also adjust the formality of your outfit depending on the venue you're going to – jeans will work well for more casual clubs, whereas more dressy, elevated pants will work well for fancier locations.
Don't worry if you don't have a body like Nicki Minaj's or Kim Kardashian's – you can still look amazing in this outfit. Just make sure to buy some nice jeans in your size (or even a bit oversized) and get yourself a flattering top that fits well enough for you to feel comfortable wearing it.
4. Mini Skirts
Mini skirts are a staple of the Vegas nightclub scene and one of the easiest ways you can jazz up a dressy top. With this said, beware that some venues have stricter dress codes than others, meaning you should avoid distressed skirts and tiny denim skirts
If you're going out in Vegas with the intention of clubbing, you should consider wearing a leather mini-skirt or some other skirt with a dressier fabric. It will help you attract attention and make sure that bouncers let you inside so that you can enjoy all that Vegas nightlife has to offer!
Like the option above, you can wear this with any sultry top that you like. But if you want something a little bit more conservative yet still cute all the same (most nightclubs allow dressy collared shirts), you can pair your leather mini skirt with a satin button-down shirt.
We prefer satin because it's a lot dressier than the usual cotton fabrics. Plus, you'll really glow under the lights. Make sure to tuck it in!
5. Lace Bodysuits
A lace bodysuit is a great way to show off your curves and is flattering on all body types. Plus, it will enhance your cleavage and make your entire outfit look amazing. You can wear a lace bodysuit with jeans, trousers, or even leggings if you're feeling bold enough!
If you're not sure where to find one of these sultry pieces, check out Pretty Little Thing. They have many different styles that fit various budgets so everyone can enjoy them! Plus, they also have an extensive figure collection for all our petite, tall, curvy, and plus-size girls out there.
6. Corset Tops
Corset tops are another great way to show off your curves and make you look amazing. They can be worn over a shirt, but for clubbing, we prefer to wear them as it is because we like the way they fit around the waist.
Some people like to wear corset tops with tight pants or dark jeans, but some prefer them with high-waisted skirts because it looks more feminine.
The only thing you need to make sure of is that the top fits properly; they're usually made from a stretchy material that will hug your body in all the right places, but make sure to check the size chart before buying!
7. Cutout Dresses
What are cutout dresses, exactly? They're a type of dress that cuts out either on the midriff, the chest area, the collarbone area, and even the back. They're a style trend that's been gaining lots of attention for their unique and glamorous designs!
One of the best things about cutout dresses is that they are very versatile. You can wear them to any type of Vegas club, and they'll look good.
In fact, various fashion websites and editors have claimed that cutout dresses are the biggest trend for spring and summer 2022. So if you're going to a nightclub this season, make sure to get your hands on a cute bodycon cutout dress!
8. Faux Leather Pants
Leather pants are an absolute must-wear in Vegas. And it's not because of the weather (they can get too warm and uncomfortable in the daytime!) – it's because leather pants give off badass, boss vibes. And if you want to wear pants to the club yet you don't want to go for jeans or dress pants, then opt for leather pants instead!
There are a ton of faux leather pants available at major fashion retailers, so you'll easily find one that fits your budget and size. Make sure to pair it with a cute party top like the ones we included on the list above – anything from corset tops, lace bodysuits, halter neck tops, and yes, even tank tops!
What NOT To Wear To Vegas Clubs
In general, you want to avoid wearing outfits that are too casual at any Vegas clubs. Here are just some examples of what to avoid!
1. Sporty Outfits

Athletic attire is absolutely not a good idea for Las Vegas nightclubs. You're there to party and get down on the dance floor, not getting ready to work out and do some planks!
Everyone will be there, dressed to kill in their best outfits. You wouldn't want to look out of place, don't you?
The same goes for other athleisure wear: leave your baseball cap and sports jacket/shoes/sneakers/trail running shoes/yoga pants at home. Any type of clothing that screams "athletic" is going to get you laughed out of every nightclub in Las Vegas. You're already in Vegas, you might as well dress to impress.
2. Baggy On Baggy Outfits
Baggier-than-baggy pants are a no-no. Streetwear-style clothes are okay OUTSIDE on the streets, but not inside the club. Baggy jeans are too casual and will make you stand out like a sore thumb in the context of a club, especially if you pair them with a baggy top.
However, if you are really determined to wear your baggy jeans inside a Vegas club, make sure to pair them with a cute, figure-hugging top or a bralette to create a modern look, and make sure to accessorize with heels.
3. Jerseys

Jerseys (or sports jackets) are a no-go in most clubs and casinos. Any outfit that promotes a sports team or anything similar to that will get you kicked out of the club.
Again, there are so many available outfits that you can wear to Vegas clubs. Ditch the jersey and go for something sultry!
4. Tennis Shoes

While comfortable shoes like sneakers are easy to wear and look good, they're not the best choice for Vegas clubs. Sporty shoes like trainers are definitely not club-appropriate.
We understand that standing up and dancing for hours on end requires some comfortable footwear, you're better off with a pair of block heels, platform sandals, or even kitten heels at the very least!
5. Flip Flops

Flip flops are never an option in any club setting—they're too easy for strangers' feet to hurtle into yours during a crowded dance floor moment! Plus, they're very slippery and can cause you to fall over easily if something unexpected happens (like tripping over someone's foot).
It's just not worth it because there are plenty of cute designs out there for sandals that look just as pretty but won't leave bruises on your ankles later in life.
If you're unsure of what type of attire is appropriate for a specific club, ask someone who works there or just show up 30 minutes before doors open and see what other people are wearing.
More Dress Code Tips
Dress codes vary by club. Some clubs require formal attire, while others are less strict and allow business casual clothes or even jeans and a t-shirt.
You may be able to get away with wearing what you want if it's not listed on their website as being prohibited, but rules are meant to be followed, so it's always safer to find out what your specific venue requires before heading there.

Dress code information is often posted on the club's website; if not, call them and ask! Or just check their Instagram or Twitter account—most clubs post their dress codes there because they know people will ask anyway.
If you have event tickets that include a guest list or VIP perks (like free admission), they might require certain types of clothing so make sure those things are taken care of before arriving at the door.
What Are The Hottest Clubs In Las Vegas?
Of course, what's a style guide without including a list of the best nightclubs in Vegas? Sin City is loaded with so many options, but we rounded up our top three clubs that are legendary when it comes to parties and everything in between.
1. Hakkasan Nightclub

What's Vegas without MGM Grand? These two are almost synonymous with each other. And inside MGM Grand is one of the newest nightclubs in the scene – the Hakkasan Las Vegas club.
It's a club that has multiple tiers to get lost in – it has a lounge space for VIPs, an outdoor garden where you can drink peacefully, as well as an Eastern-inspired lounge on the third floor called the "Ling Ling Lounge."
Some of its features include bottle service, loaded event calendars, and celebrity DJs such as Calvin Harris and Steve Aoki.
General admission starts at $30 for ladies and $50 for gentlemen, and the price can increase especially if a celebrity DJ is playing that night.
2. Light Nightclub

Another legendary Vegas location is Mandalay Bay, and inside it is the Light Nightclub. It claims to be one of the top clubs in Vegas thanks to its cutting-edge technology mixed with great music.
The club also contains massive LED screens to give each guest "a submerged experience making it so there is no bad seat on the house).
General admission starts at $20 for ladies and $30 for gentlemen.
3. Marquee Nightclub

The Marquee features several different areas that you can explore. The main room boasts a classic Vegas showroom, while the Library is a chill space where you can sit and relax.
The Boom Box Room, on the other hand, is where you can bump along to hip-hop hits, and it's definitely one of the best hip-hop clubs in Vegas. As an added bonus, it also features views of The Strip!
General admission is $20 for women and $30 for men – prices may vary based on events and holiday weekends.
Conclusion
The general rule of thumb is; the more upscale, the better. That being said, that's not to say you should go all out and wear your nicest attire (unless the club specifically calls for it).
Plus, make sure your clothing is covering any private parts, including your butt!
So, there you have it: everything you need to know about what to wear to Vegas clubs. It's not the easiest question to answer, but if you follow these guidelines, we can help make sure your first time at the club goes smoothly!
Get More Fashion Ideas
Ready To Turn It Up? Here's What To Wear To A Vegas Pool Party
What To Wear To A Vegas Show: 10 Cute Outfits (From Day To Night)
Going To A Jazz Club? Here's How To Look Your Best