9 Best Shoe Colors To Wear With A Turquoise Dress Or Outfit
We only feature products that we hope you will love. We may earn a commission if you decide to make a purchase through our links, at no cost to you.
Turquoise is a gorgeous yet totally underrated color. If you're having trouble styling it, check out our guide to the best shoe colors to wear with a turquoise dress or outfit!
Turquoise might not be the first thing on your mind when you go shopping for clothes, but trust us when we say that it's such a gorgeous pop of color to add to your wardrobe – especially when you want to add a cute little pick-me-up on your overall outfit.
If you're looking to pair your turquoise dress or outfit with shoes, there are quite a few options. In fact, many people think that turquoise is just another name for blue, but in reality, it is its own color and comes from the same mineral family as lapis lazuli.
What Exactly is Turquoise?
Turquoise is a bright, yet muted shade of blue that has green-ish undertones. This beautiful color can be found in various shades of greenish-blue and is usually defined as the color between green and blue on the spectrum. In general, when people think of turquoise, they think of the following color:
However, it is worth noting that in the fashion world, these three colors (aqua, turquoise, teal) are often intertwined and are usually just lumped together into one name depending on the fashion retailer. It can be confusing, but it works somehow.
Now, we know what you're thinking: what shoe colors am I supposed to wear with turquoise? Don't worry—we have an answer for you no matter what your outfit looks like.
Below, we conjured up a quick style guide on what color shoes to wear with turquoise, whether you're going for a dress or an outfit that contains turquoise in it.
Some outfits and all of the shoes featured below are entirely shoppable, so if you see something that you fancy, simply click on the photo and it will take you right to the retailer's website for purchase!

What Color Shoes To Wear With A Turquoise Dress (Or Outfit)
1. Brown Shoes
Turquoise belongs to the blue-green color family, which means they are considered earth colors. So, it makes sense that another earthy tone, brown, would look great when paired with turquoise. The color combination works well with formal, business, casual wear and informal outfits – you name it, brown shoes will blend in seamlessly.
Brown can be a versatile color that looks good on most skin tones and many shoe styles. You can look for loafers or oxfords in brown leather if you want something more formal to go with your outfit, or you can find strappy sandals or in light shades of brown suede or leather that will work well with your dress.
We are totally loving the printed turquoise dress we featured above – it has brown accents on the dress, and the model is also wearing a brown hat – so chic!
2. Silver Shoes
Silver shoes are another great option, especially for formal occasions and events. The pop of color from your dress or other clothing will look amazing against the shiny finish of these shoes.
Silver heels are especially great because they work well at weddings, at formal events, and cocktail parties alike. Metallic shoes like silver and gold work really well with any color and outfit there is, so you can never really go wrong with by adding a pair to your wardrobe.
They're also perfect if you need to wear something more conservative at an event that isn't necessarily formal in nature (for instance, a special occasion like a birthday). Silver heels are elegant enough to match the occasion but still casual enough not to make anyone feel uncomfortable or out of place!
3. Black Shoes
If you want to go the good old-fashioned route, black is always a great idea. They're a safe choice to wear with any outfit, really, so it's a good idea to have a few different pairs at your disposal.
If you have a cute turquoise mini dress in your wardrone, you can wear it with a pair of black combat boots and a black leather jacket. For something a little bit more formal, you can wear your turquoise maxi dress with a pair of sleek, sultry black heels.
Which ever style you go for, just make sure to balance out your black shoes with black accessories, too: a black handbag or even a pair of cool black sunglasses would bring balance to your entire outfit. As you can see in the outfit we've featured above, the model is wearing a turquoise dress with black feather details (and a black purse) to complement her shoes. This makes the outfit flawless and cohesive!
4. White Shoes
White shoes are a great option to pair with your turquoise outfit for formal and casual events alike.
For example, if you're wearing a turquoise dress or outfit and want to add some pop to your look by wearing white shoes—you can! Just make sure they match the tone of your outfit (i.e., make sure they aren't too bright or bold).
As we previously mentioned, to make your outfit cohesive, it helps to add some white details in order to balance out your outfit and your shoes. In the outfit we featured above, you can see that the model is wearing a turquoise blouse with a white kimono decorated with paisley turquoise patterns.
Alternatively, if you're not a fan of high heels, you can of course opt to wear white sneakers with your casual outfits – easy and chic at the same time.
5. Gold Shoes
Gold shoes are a great choice for formal events. Gold heels and flats can be worn with a variety of outfits, but they're especially good for weddings and cocktail parties. If you have your eye on a pair of gold shoes, you can be rest assured that they pair up gorgeously with turquoise.
The warm tone of gold will pair well with the cool tone of turquoise. It doesn't matter if it's pale champagne gold or yellow-gold; any variation of gold will do.
To elevate your look even more, opt for a dazzling turquoise sequin dress (an iridescent dress will do well too). The glamorous look of the shiny dress paired with your equally glamorous gold shoes will definitely earn the admiration of people at the party that you're going to!
6. Nude Shoes
When it comes to shoes, nude/beige really is the ultimate versatile choice. It goes with every single outfit, never goes out of style, and work for all types of events, whether it be a wedding or a day at the office.
Plus, nude shoes will help give you the illusion of longer legs, as they will blend seamlessly on your skin tone. You probably already have a pair of nude heels or sandals in their closet, so there's no need to purchase a new pair of shoes just for your turquoise outfit.
So, if you're looking for a shoe to pair with your turquoise dress that really lets the dress shine, then why not try nude shoes? They'll instantly match without clashing with the rest of your outfit, or making you look like an Easter egg.
7. Turquoise Shoes
Monochrome outfits have been trending for the past year, and there are no signs of slowing down. If you're wearing an all-turquoise outfit (or at least some variation of it), then a fun way to dress it up would be to pair it with the same color shoes.
As turquoise shoes are quite hard to find in department stores unless you're really lucky, so maybe check them out on your favorite online websites, such as ASOS.
However, you don't need to go full monochrome: turquoise shoes look equally nice if you're complementing a turquoise statement piece in your outfit, like a shirt or a blazer.
Take the outfit we've featured above for example: the eye-catching turquoise blazer and shoes make the otherwise basic outfit completely unique and refreshing. The sultry turquoise lace-up heels add a fashionable touch, and the turquoise necklace brings further balance to the outfit.
This is a cute take that's easy to implement on any body type!
8. Yellow Shoes
If you're feeling particularly adventurous and you want to experiment with a completely different color scheme, why not wear your turquoise dress with a pair of yellow shoes? Yellow shoes are a great choice to pair with a turquoise dress, as long as they're balanced with other yellow clothing pieces or accessories.
Something as tiny as a pair of yellow earrings or even bangles will make all the difference. The world is your runway, and with this color combination, you're all set for your own personal fashion week!
You can choose from different shades of yellow, so you have plenty of choices when shopping online. We recommend wearing a turquoise blazer with denim jeans and a cute (and subtle) pair of thin yellow heels or peep toe shoes.
9. Multicolor/Floral Shoes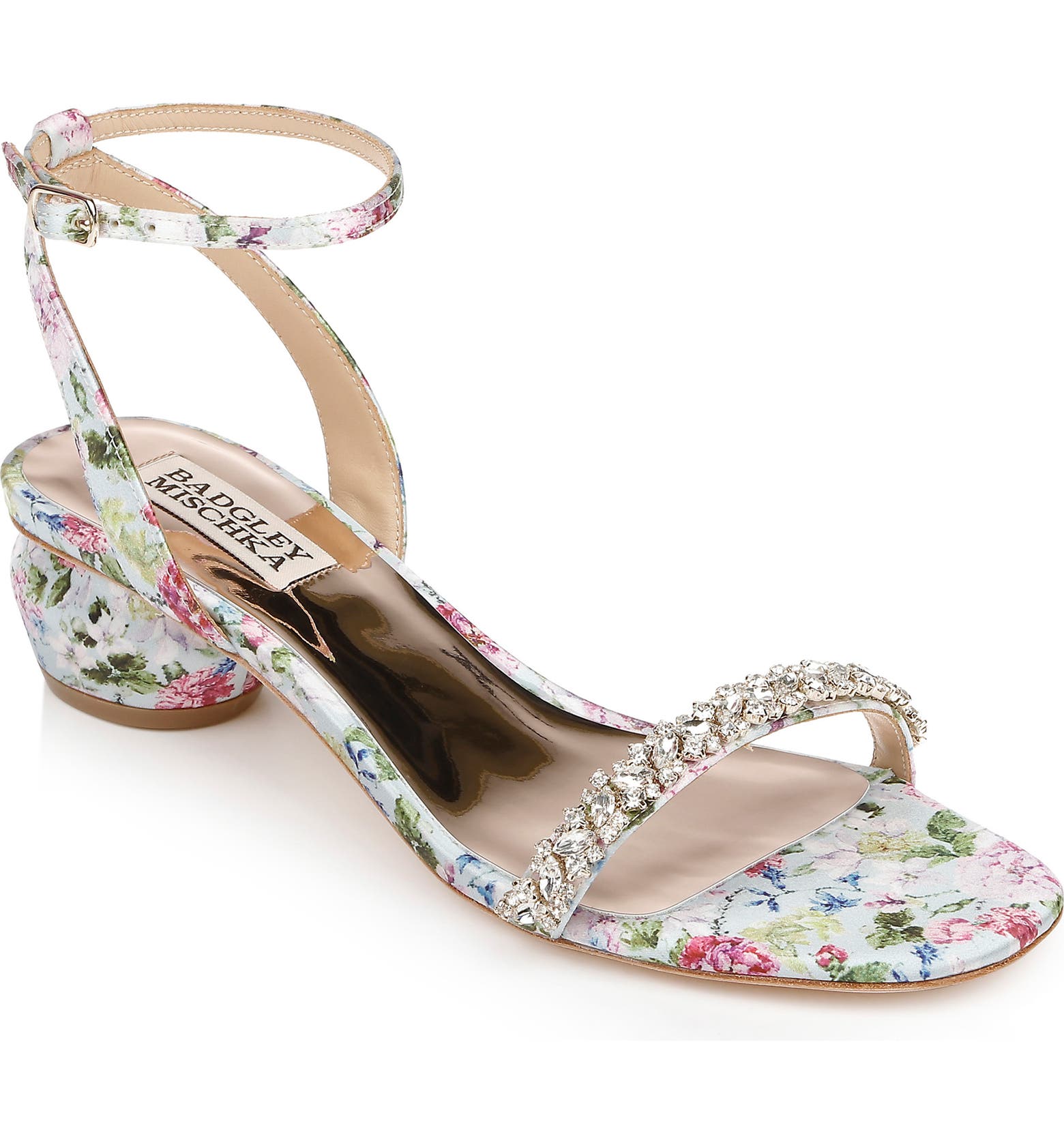 A multicolor or floral shoe is also a great option to pair qith turquoise for casual, resort-inspired outfits.
You can wear this type of shoe with any type of pants, shorts or skirts. Your best bet is to opt for shoes that include at least some similar tones to your top or dress – even if that means there will be just a hint of green, blue or turquoise on them.
Multicolor shoes comes in different patterns, but we love playing around with floral shoes. Again, they're pretty rare to find in department stores, so definitely check out retailers like Nordstrom or ASOS to find some super chic floral shoes.
Note: As these shoes are already a statement piece on their own, be careful when pairing them with your outfit. It's much better to wear something simple, like a plain turquoise dress (or blouse) when it comes to styling this tricky, yet fun pair of shoes.
Conclusion
We hope these tips on the right shoes were helpful! Of course, these 9 colors are our top picks, but don't let it stop you from experimenting with your own personal preference.
Did you have a favorite color from this list? Or is there another color that works well with turquoise that you want to suggest? If so, let us know in the comments section.
Get More Fashion Ideas
8 Must-Have Color Shoes To Wear With A Blush Dress
What To Wear With Yellow Shoes: Here's How To Style This Fun Color
Wearing Teal? Here Are The Best Shoes To Wear With This Color