Stilettos Vs Pumps: What's The Difference Between The Two?
We only feature products that we hope you will love. We may earn a commission if you decide to make a purchase through our links, at no cost to you.
Wondering what the exact difference between stilettos vs pumps is? Well, we have the answer for you!
If you're a true fashion girl, you know that the world of shoes is as chaotic as it is delightful. One of the things we love most about shoes (besides how they make us look) is how many different kinds there are. In fact, there's always a new style that seems to be trending!
However, if we're talking about classics, there are definitely two heel types that stick out: stilettos and pumps. Both shoes are often worn with dressier outfits, but they can also be paired with casual outfits like jeans and a t-shirt to bring instant glamour to your look.
With this said, at first glance, both types of shoes look pretty identical. So, is there a difference between stilettos vs pumps? Yes, there definitely is – read on to find out more!
What Are Stilettos?
The word stiletto is used to reference a thin, long high heel, and it is named so after the stiletto dagger. Stiletto heels also have a very high heel (usually 4" or taller), and they're usually what you think about when you imagine a really seductive shoe.
As stiletto heels are defined by the shape of the heel itself, they come in all styles: open-toe, closed-toe, boots, and more. With this said, usually, when people talk about stilettos, they are talking either about a sandal with a high, thin heel, or a closed-toe high heel with the same stiletto heel.
Examples Of Stilettos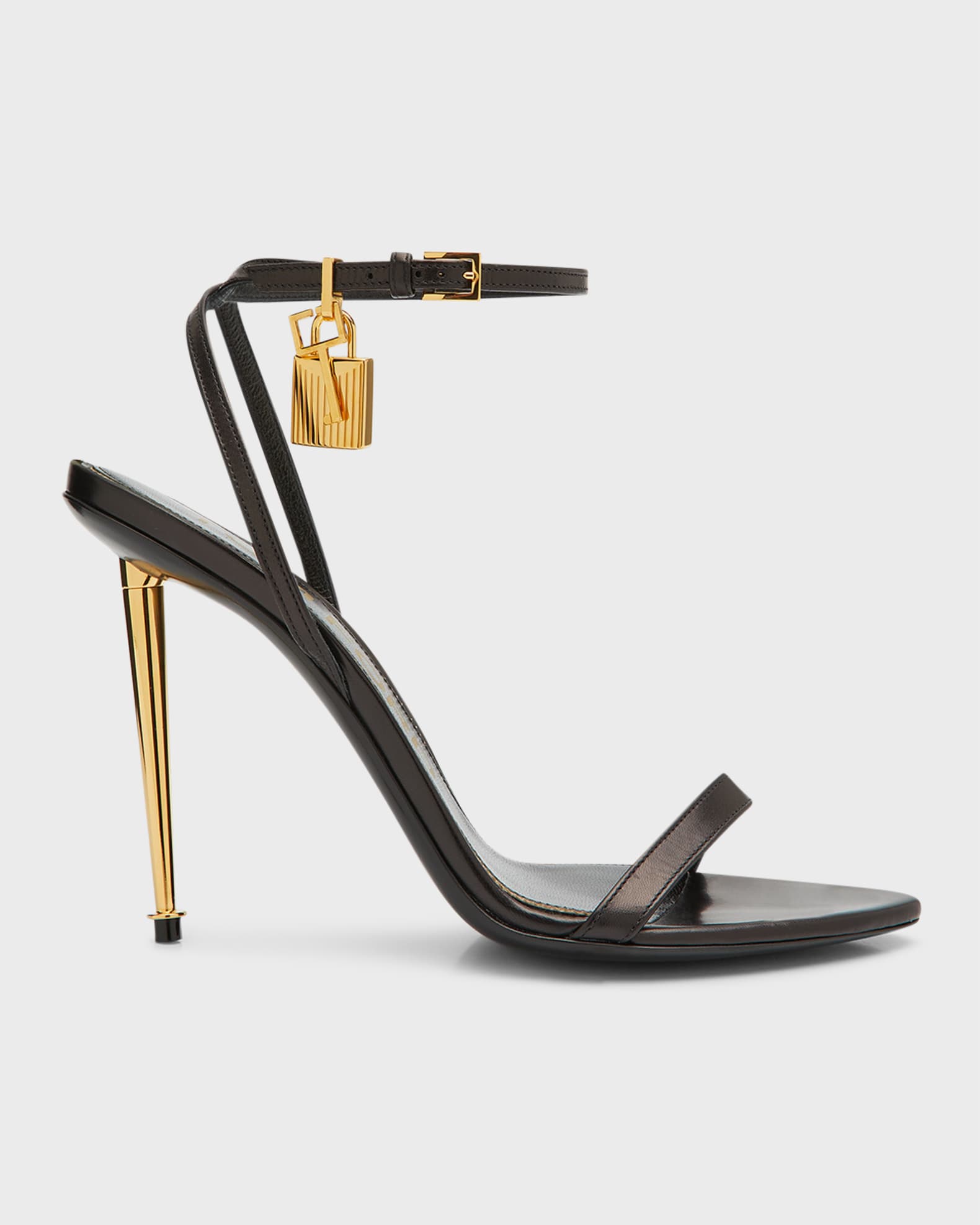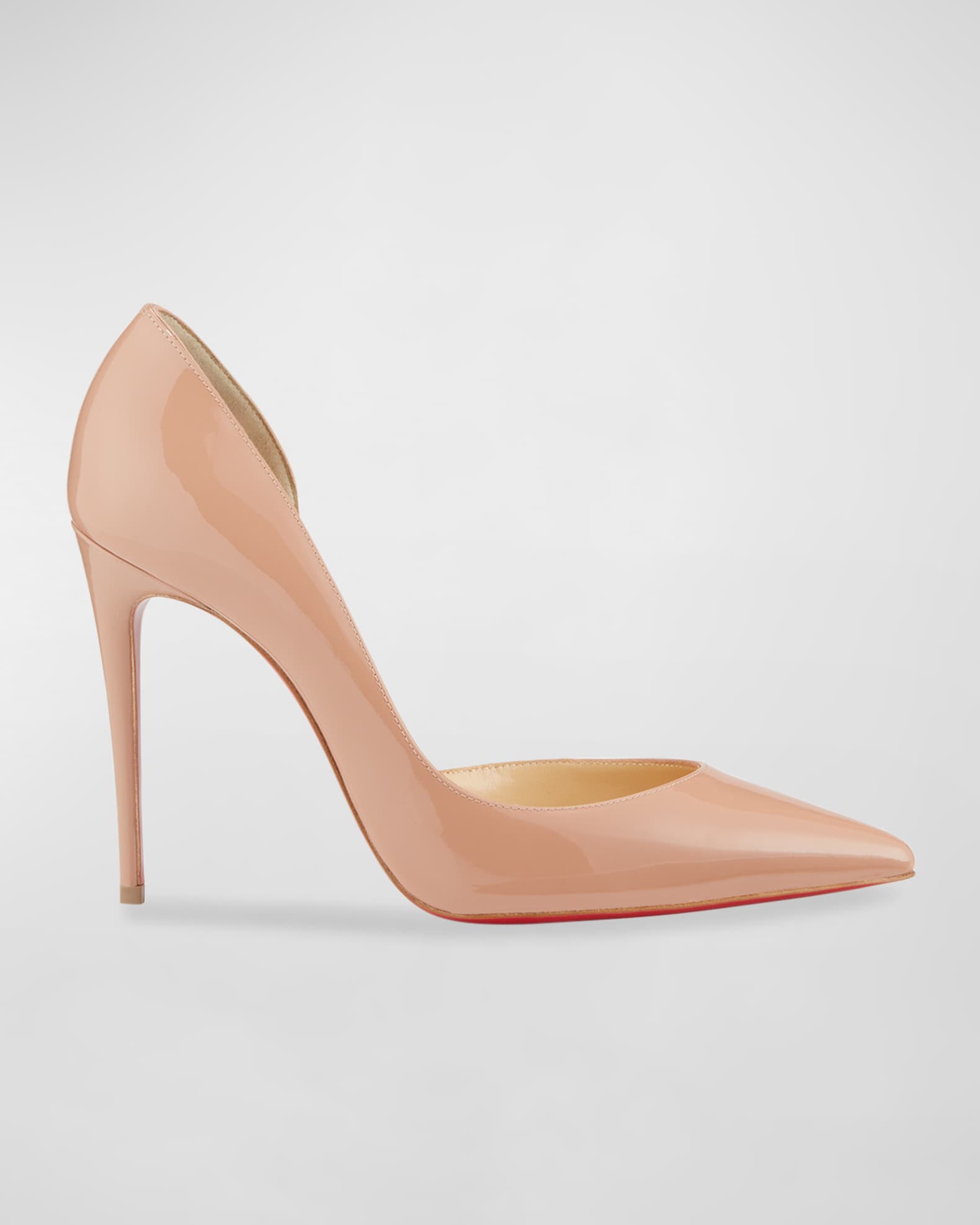 What Are Pumps?
As opposed to the stiletto, pumps are not defined by the shape or length of the heel. In contrast, pumps are used to reference mostly closed-toe shoes with a high heel. The heel and shoe type can vary vastly, but typically, the shoe will have a slightly thicker heel than a stiletto, and the heel can be shorter.
With this said, as the word pumps can be used to reference any shoes with a closed-toe or peep-toe design, sometimes you will see the word used to describe a platform heel, a block heel, etc.
It's interesting to note that in the UK, the word is often also used to refer to ballet slippers! However, in the US, pumps mostly refer to closed-toe heels, as mentioned above.
Examples Of Pumps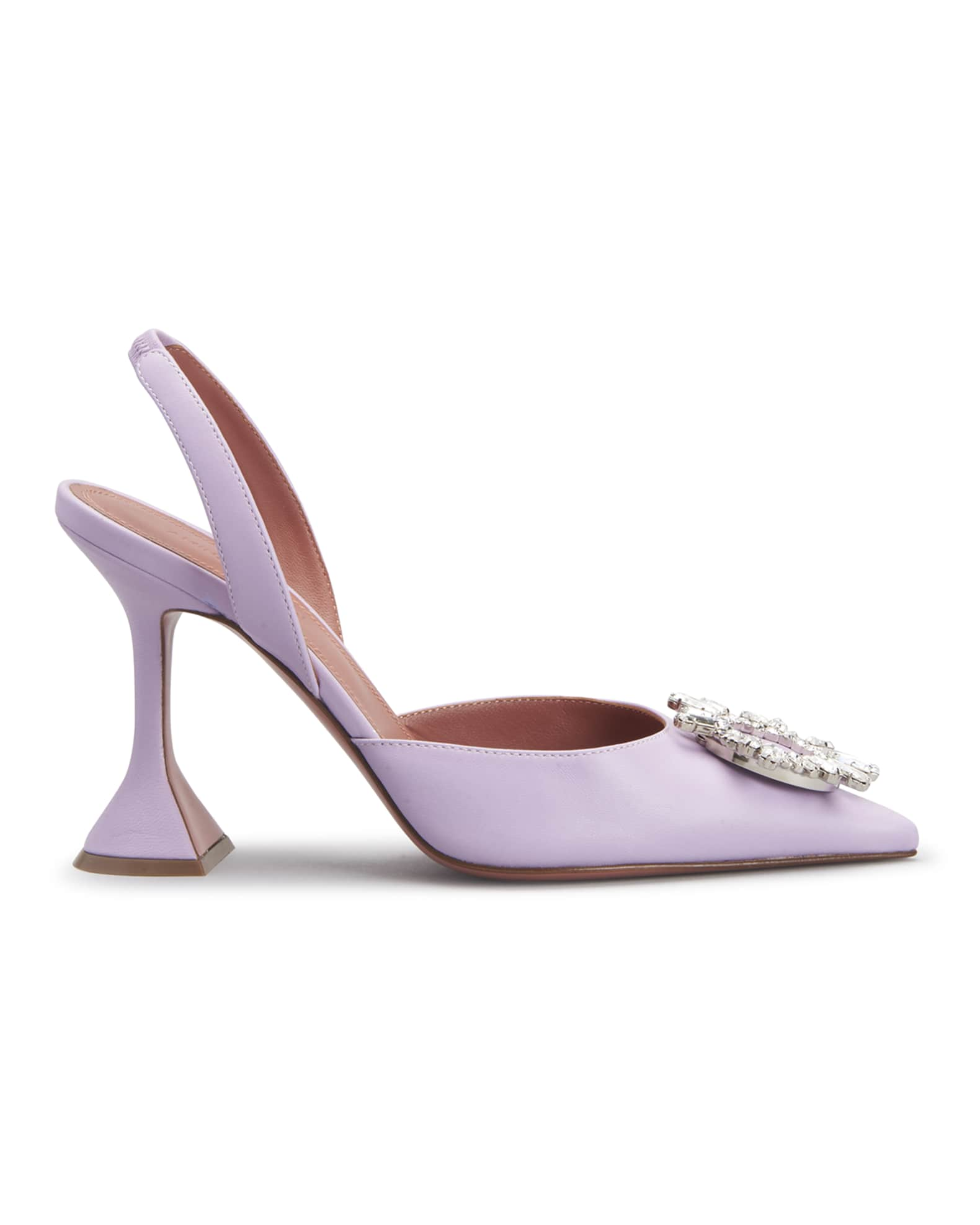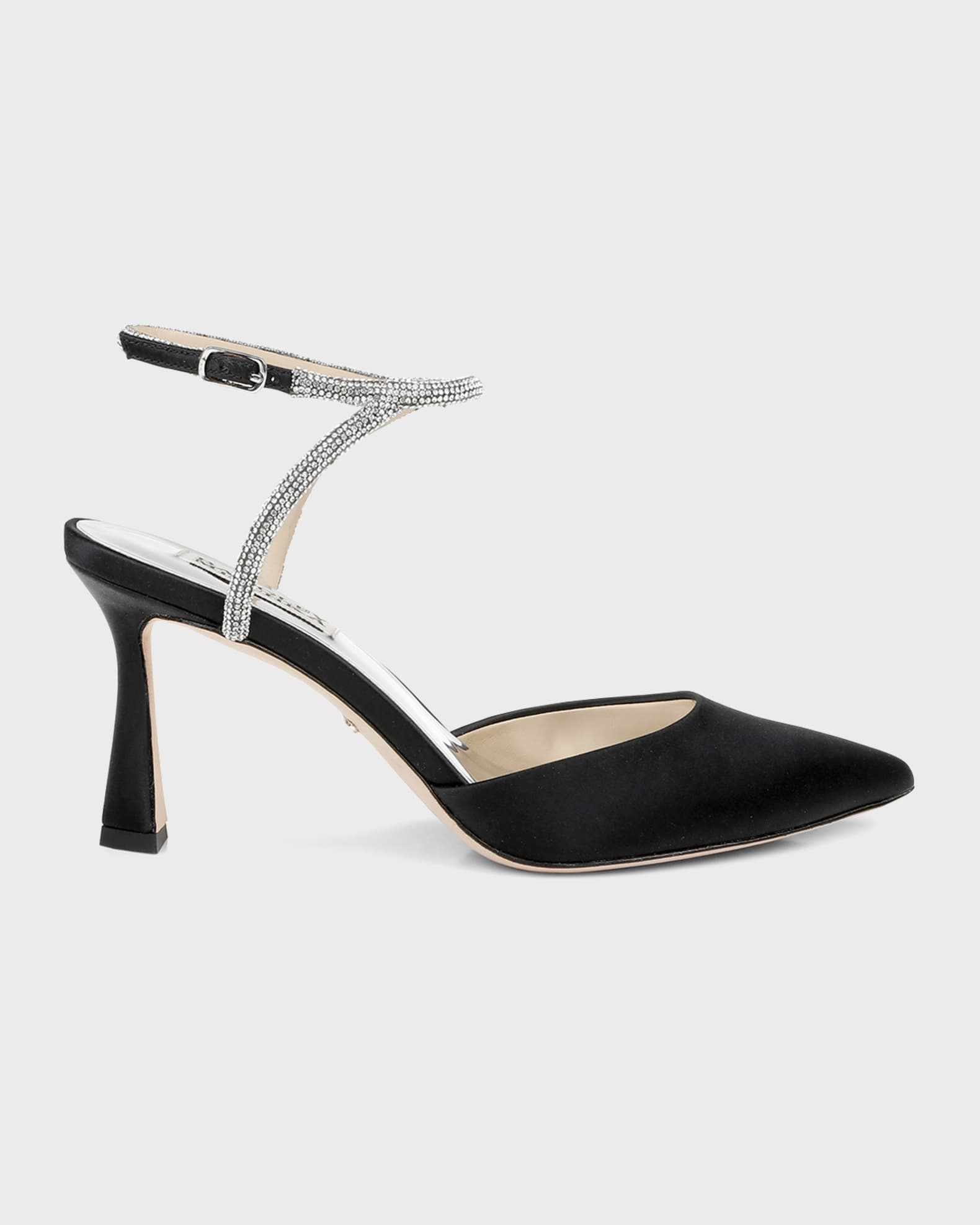 Stilettos Vs Pumps: The Main Differences
Stilettos and pumps are both women's shoes with a heel, but not all pumps are stilettos, and not all stilettos are pumps. Sounds tricky?
1. Thickness & Height Of The Heel
We've established earlier that stilettos are a type of very thin, very high heel, while pumps are a shoe style with a closed-toe. So this means that pumps can be called stilettos too, as long as they have a higher heel than usual.
However, there are also pumps that feature a low heel. Some have wedge heels, while some have a platform heel. As long as these shoes have a pointed, closed-off toe (or a squared toe), then they can be called pumps.
For example, the black Jimmy Choo lace-up pumps featured below qualify as both pumps and stilettos, but the block-heeled Louboutin shoes only qualify as pumps.

With this said, the reverse is also true: some pumps are stilettos, but not all stilettos are pumps. As stilettos are a type of thin heel, they too come in various designs.
This means that the style of your shoes can vary a lot, from knee-high boots to sandals, to slingbacks, etc. As long as they have a long, slender heel, then they are considered stilettos. For example, both of the shoes featured below classify as stilettos.

However, let's not kid ourselves – when most people think about stilettos, they usually think of high-heeled sandals or pumps – these are the "unofficial" faces of stilettos.
Our Favorite Stilettos Vs Pumps
We love stilettos and pumps. They're both beautiful, sultry shoes that can elevate your look from day to night. There's nothing more satisfying than getting your first pair of Louboutin pumps, or a coveted pair of sleek Tom Ford stilettos.
Below, we rounded up a couple of our favorite designer stilettos and pumps that deserve a spot in your wardrobe. All of the shoes are completely shoppable, so if you see something that has caught your eye (and your heart!), simply click the photo and it will take you to the retailer's website.
1. Stilettos
These Balmain sock ankle boots are no joke. While they may look too trendy at first, these ultra-comfortable boots are made with ribbed knit fabric that's designed to have a snug fit. Now that we're entering the colder months, there's no reason for you to sacrifice style by wearing an old, worn-down pair of boots.
Wear these with your favorite sweater dress and a crossbody bag of your choice, and you're all set – the world is your runway.
If you're looking for a more timeless, classic pair of stilettos, these purple velvet stilettos from Tom Ford are worth your consideration. They're elegant, upscale, and easy to style. They're called "barely-there" sandals for a reason: they feature really thin straps that will make your feet look dainty and sophisticated. The shoes feature a gold-embellished padlock trinket that matches the color of the heels.
Wear these shoes with formal attire, like a polished dress or a tailored pantsuit. Or, if you're feeling relaxed, you can also wear this to add elegance to your casual look. Whatever fits your vibe and your style!
2. Pumps
The great thing about pumps is that they come in many different styles and heel heights. We're absolutely obsessed with these pink platform pumps from Valentino; you'll really feel like a Barbie doll with these shoes! You can wear these chunky heels if you want to add a statement accessory to your look.
To style, we recommend wearing something simple and minimalist, e.g. a white or cream dress with little ruffles, to give these shoes their very own spotlight.
Of course, your wardrobe wouldn't be complete without classic red pumps, and this beautiful pair from Manolo Blahnik will deliver just the right amount of femininity that will complement both occasion dresses and casual jeans.
The History Of Heels & Pumps
You might think of pumps as the most basic of shoe style, but the humble, classic pump is actually the product of centuries of refinement. From classic leather styles to modern-day versions that can be worn with everything from jeans to a cocktail dress, pumps have stood the test of time, ever since their arrival on the scene somewhere in the 1500s.
At that time, the name was mostly used to describe a flat, strapless shoe akin to a ballet slipper. They were first designed for men, but were quickly picked up by women for their comfortable fit.
By the 1700s, high heels arrived on the European scene, and again, they were first adopted by men, specifically kings and noblemen. The impractical design was favored by these rich men, as it alluded to the fact that they did not need to work.
The trends caught on to womenswear, and by the mid to late 1700s, men's and women's high heels had different designs; women's heels had a thinner heel, whereas men's were thicker. Eventually, men's heels evolved to solely include more practical designs such as riding boots, whereas women's heels remained largely thin. Eventually this came to represent feminitiy in its own way.
The History Of the Stiletto
If there's one thing we learned from binge-watching all of the episodes of Sex and the City, is that Carrie Bradshaw is very, very fond of stilettos.
The stiletto, a.k.a. the blade of fashion, has been synonymous with the femme fatale trope in pop culture for decades. The shoe has also had a major influence on the world of high fashion, and has been a staple on the runway since its inception.
Iconic fashion designers Roger Vivier (known as the Fabergé of footwear), André Perugia, and Salvatore Ferragamo have all been credited with creating this gorgeous, seductive shoe between 1948 and 1954.
In the mid-20th century, stiletto heels became popularized by shoe designers who saw them as an opportunity to create a distinctive look for women's shoes. They soon became associated with femininity and sexuality because they accentuated women's legs (especially when worn on bare legs).
And there you have it! We hope that you found this guide helpful, and that you now know the difference between stiletto heels vs pumps. If you're still looking for more fashion inspiration and tips, check the posts down below!
Get More Fashion Ideas
8 Chic Lipstick Colors To Wear With A Navy Blue Dress
Pierre Balmain vs Balmain: Is There A Difference?
10 Best Shoe Colors To Wear With A Purple Dress