Gel Nails Vs SNS Nails: What's The Difference?
We only feature products that we hope you will love. We may earn a commission if you decide to make a purchase through our links, at no cost to you.
Looking for something that lasts longer than traditional nail polish? We've got you covered – read on to find the difference between gel nails vs SNS nails before your next manicure.
If you've gone on a recent trip to your local nail salon, then you've probably noticed that there are a lot of nail services out there. While regular polish still remains the most popular (and the simplest) choice for at-home manicures, it can be quite frustrating once it starts chipping off… about a day or two after you've painted your nails.
So if you're looking for a manicure that's hassle-free and lasts a long time, you've come to the right place. Gel and SNS nails are two nail services that give you perfect, polished, and beautiful nails for weeks at a time.
However, the question of which one is better is going to depend on what you're looking for. In this article, we'll cover all the information that you need to know about both types of manicures, so you can find out which one is right for you!
What Are Gel Manicures?
Gel manicures are one of the most popular nail services in salons. A gel manicure is a type of nail service that uses UV light to set or cure the nail coat.
The polish dries usually in less than 30 seconds and lasts longer than your regular nail polish, usually around 2-3 weeks or a full month, depending on your lifestyle.
Gel manicures make use of a gel-based polish that goes under a UV lamp to "lock onto" your nail bed, creating a hard and durable polish that doesn't take off easily.
If you're an office worker or otherwise you use your hands a lot, then gel manicures are a great option for you.
What Are SNS Nails?
The term "SNS nails" refers to a type of manicure that's not as popular as gel nails but is picking up speed. It's actually named after a brand of dip powder called Signature Nail Systems, but that's a little wordy so we'll just call them SNS nails from here on out.
SNS nails, also known as dip nails or dip powder nails are essentially a manicure in powder form. While dip nails refer to the umbrella term for this type of manicure, SNS is the leading brand providing the products, similar to how OPI is for regular nail polishes.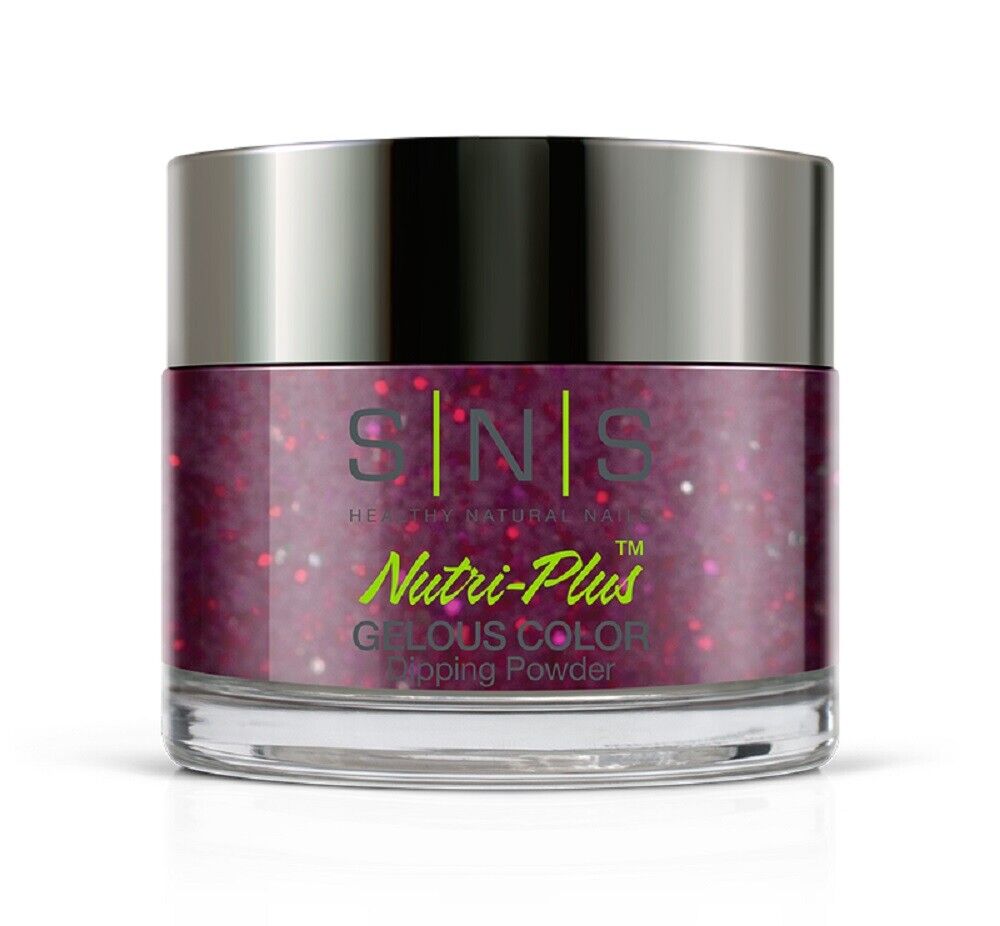 There are a couple of great things about dip powders, the first being that the base used to create the manicure has been fortified with minerals and vitamins, such as calcium, vitamin B5, A, D, and E, ensuring your nails won't chip or break. We love that you can have a beautiful mani that actually is also good for the well-being of your nails!
Secondly, dip powder manicures don't need a UV lamp to cure the mani; the powder just instantly sets in. This makes them super easy to use even at home – you don't need any additional equipment except the bonding base coat and the protecting top coat (which will be included in a dip powder nail kit), and the process is pretty straightforward to follow.
Dip powder is also durable enough to last up to five weeks without chipping or peeling off – just wow!
Gel Nails Vs SNS Nails: Pros & Cons
Now that we've covered what gel nails and SNS nails are, let's talk about the differences between the two.
1. Effect on Nail health
If you have sensitive skin or if you're conscious about your nail health, it's best to opt for SNS nails instead of gel nails, because dip nails are that much healthier, thanks to the nutrient-rich base that is used before dipping the nails into the colorful powder.
It really does make a difference for brittle, short nails that can't seem to grow, no matter what you try.
2. The Feel Of The Nails
SNS nails (and other dip nails) create a finish that is much harder than what you get with gel nails. This is also why the manicure typically lasts longer, and partly the reason why your nails are better protected when you have your manicure on.
However, some people tend to dislike the feeling of dip nails on their fingers: it can feel fake, almost as if you had acrylic nails. If you prefer a more natural feel to your nails, gel nails will be better for you.
3. Sanitary Issues
Some salons may use a communal dipping pot for dip manicures. If this is the case, it's best to bring your own dipping pot so that it can be used exclusively for you and not contaminated by other customers.
Additionally, some salons require clients to wash off their hands after applying or removing dips; this can lead to an increased risk of contamination because water may be splashed onto surfaces around the sink or soaked into towels used during washing-up procedures.
We really suggest bringing your own dipping pot – it requires some effort (and additional costs) on your end, but that's the price to pay for healthy nails and for peace of mind.
4. Price Difference
SNS nails are a bit pricier than gel nails since they last much longer than gels. The initial investment can vary depending on the salon or the nail tech, but it's usually somewhere between $50-$100 for a full set.
The cost is higher for SNS because of how long it lasts—an average of six weeks compared to about three to four weeks for gel nail polish. That said, if you're looking for something that lasts longer and doesn't chip easily, then this might be worth paying more for!
It's also worth noting that SNS nails and gel nails have about a $10-$20 price difference – this may be a huge figure for some, but low enough for others to make up for the convenience of dip nails.
5. Availability
While both gel nails and SNS nails take about equally long to get done at the salon, gel nails are by far more common, so it will be easier for you to find a salon that specializes in gel nails.
Application Process At Home
If you are looking to save a little bit of money, both manicures can be done at home quite easily. So, after you've purchased a gel manicure set or a dip powder nail kit, make sure to follow the visual video tutorials below.
1. Dip Powder Nails
In the case of SNS or dip powder manis, you apply a base coat to your natural nail. The nail is then dipped into the powder, after which you should brush the excess powder off.
This can be done repeatedly until you achieve the desired thickness or color for your nails – usually, about 3 dips are recommended. It is then sealed with a top coat.
2. Gel Nails
The application process for gel nails is similar, but a little different. First, you'll have to coat your nails with a gel primer to create a protective layer for your nail beds before curing them under the UV lamp. After it's done curing, you'll finally apply gel polish as well as your desired nail design.
After this has dried and hardened completely under UV light at its recommended time frame (typically 1-2 minutes), you can apply 1-2 more colored coats until full coverage has been achieved, curing each layer with UV light after application. Finish this off with a top coat (curing it under UV) and cuticle oil as a finishing touch!
Gel Nails VS SNS: The Verdict
So, now that you know the difference between gel nails and SNS nails, you're probably wondering which one is better.
While the answer would unanimously seem to be SNS nails, thanks to the fact that they last longer and are healthier for nails, in our opinion, it ultimately comes down to one crucial thing: availability.
The most important thing to consider is whether or not your preferred salon has experience with either technique—if so, then it will make sense to stick with what works best for them (and their clients).
After this, consider which aspects of your nails are most important to you: do you prefer the feel of natural nails, or slightly more "fake nails"? Do you want your manicure to last as long as possible, or would you rather pay less money every time you go to a salon, but have it last a shorter amount of time?
Only you will know the answers to these questions. If both options sound like they could work for your lifestyle needs and budget constraints, our recommendation would be to try out both styles before making any final decisions!
We hope you enjoyed this article about gel nails vs SNS nails! To get inspired for your next salon appointment, make sure to favorite a few of the designs in the posts below!
Get More Nail Ideas
50 Cute Pink Nail Designs That Go With Every Outfit
Gel Polish Vs Regular Polish: What's The Difference?
50 Cute Summer Nails You'll Want To Copy This Year