Cartier Vs. Tiffany & Co: Which One Is Worth Investing In?
We only feature products that we hope you will love. We may earn a commission if you decide to make a purchase through our links, at no cost to you.
If you're having a hard time deciding between Cartier and Tiffany & Co. for your next big jewelry purchase, check out our guide to Cartier vs Tiffany & Co. jewelry, including our analysis of Cartier vs Tiffany & Co. engagement rings.
Prestigious luxury jewelry brands Cartier and Tiffany & Co. are almost always compared to each other. Both brands have become household names across the world over the decades, and they're always neck-to-neck against each other when it comes to classic and stunning luxury pieces.
Both are some of the oldest luxury jewelry brands in the world and they're still regarded as the very best in the industry for very good reasons. Cartier and Tiffany & Co. are popular choices for diamond engagement rings, fine jewelry and costume jewelry, with both brands having iconic, instantly recognizable pieces.


Thanks to their classic and timeless designs, Cartier and Tiffany jewelry pieces remain dreamy and romantic over the year. Well, they are both among the most renowned top luxury brands for a reason.
Although engagement rings aren't considered good investments, certain highly coveted pieces from both Tiffany and Cartier do retain their value and often command a higher price on the second-hand market (partly due to the fact that both brands push their prices up on an annual basis).
The reputation of both luxury houses is why they are often the top bet when men are ready to invest in the best engagement rings. So, how did these luxury jewelry brands come to be, and which brand should you get jewelry or an engagement ring from?
History Of Cartier
Cartier, founded in 1847 by Louis-François Cartier in Paris, is a French jewelry conglomerate with a long history of sales to French royalty.
After King Edward VII of Great Britain ordered 27 tiaras from Cartier for his coronation in 1902, the jewelry house was soon awarded a royal warrant from the king. A royal warrant is issued to those who supply goods and other things to the royal court. Cartier also earned royal warrants from Spain, Portugal, Russia, and the House of Orleans.
History Of Tiffany & Co.
It's impossible to stop by the Tiffany & Co. store whenever you're in New York City. Put on your best little black dress, get a croissant and a coffee, and you're practically living your best "Breakfast At Tiffany's" life.
Tiffany is perhaps the most popular jewelry company in recent pop culture, and it is more widely recognized compared to Cartier. Did Breakfast At Tiffany's help it become popular? Maybe, but even before the iconic Audrey Hepburn movie, Tiffany has always been widely regarded as a top luxury jewelry company.
While Cartier hails from France, Tiffany & Co. is an American company (founded by Charles Lewis Tiffany in 1837) from New York City and they were the first company to bring French gemstones to the country after buying them from French aristocrats who fled the revolution. Tiffany rose to prominence (and value) after the company bought a large chunk of the French crown jewels.
Cartier's Most Iconic Pieces
Cartier's most iconic jewelry pieces are no doubt from its Love Collection: mainly the Cartier Love Bracelet and the Cartier Love Ring.
The Cartier Love Bracelet is a gold, bangle-style bracelet that has an iconic screw design. Unlike the usual or traditional bracelets that can easily be slipped over the hand, this one comes with a special screwdriver that can lock the jewelry in place. It's a symbol of being "locked into love". This screwdriver can also be worn as a necklace. Cartier boasts this as its most famous and classic piece.
For ultra romantics out there, the screwdriver necklace can be worn by your significant other, while the locked bracelet is yours. It's a symbol of love and commitment to the relationship.
The Cartier Love Ring, on the other hand, doesn't need a screwdriver to be worn, but it still has the same design as its bracelet counterpart.
The Love bracelet is offered in 18k yellow gold, 18k rose gold, 18k white gold, and (for a limited time) platinum. It also comes in two other variations, which include either 4 or 10 diamonds, with the latter being the most expensive one.
Over the years, the Love collection has evolved to offer more pieces like watches, necklaces, and earrings.
Tiffany & Co's Most Popular Pieces
If you're into romantic and iconic jewelry pieces, then you should also consider Tiffany & Co. One of the best pieces of jewelry that this company has to offer is the Tiffany & Co. Return To Tiffany Heart Pendant Necklace.
The iconic heart pendant is part of the Return To Tiffany collection, which is one of the most famous jewelry lines of tiffany. It's engraved with the words "Please Return To Tiffany & Co. New York 925", and the pendant comes in different sizes and design variations for your preference. It also comes as a bracelet if you want something beautiful and chic on your wrist.
If you're looking for an engagement ring, Tiffany & Co's Solitaire Ring is the number one most popular and most sought-after diamond engagement ring because of its simplicity and exquisiteness.
The famous Tiffany's robin's egg blue box has to be the most instantly recognizable packaging ever. The beautiful color is even trademarked as Tiffany Blue, and is listed as Pantone 1837 (the same year Tiffany's was founded). It soon became as desired as the Tiffany jewelry itself. Some online stores actually sell second-hand Tiffany boxes.
Because of its popularity, the Tiffany Blue box is now also sold as a wearable bracelet charm. It is made with sterling silver and a Tiffany blue enamel finish, so you can bring around your love for the iconic blue box.
Cartier Vs Tiffany Engagement Rings

So which one is the better option when it comes to engagement rings? Well, the simple but disappointing answer is that you'll have to go to an actual jewelry store to try them out for yourself.
The shape and size of your hand and fingers can affect how engagement rings look on them, so getting the right-sized diamond and the cut of the diamond can really be determined only by trying out the rings.
With this said, we'll try our best to give a brief comparison between Tiffany vs Cartier engagement rings.
While Cartier has gorgeous engagement rings, there are limited choices of diamonds to choose from. Another thing to keep in mind is that although they offer ring resizing services, this is only free in the first 3 months of the ring purchase.
Tiffany & Co., on the other hand, offers some iconic styles and the most beautiful diamonds that are desired by many women, such as the iconic Tiffany® Setting ring, which is considered to be the most famous engagement ring and has shine and brilliance second to none.
The diamonds on Tiffany's engagement rings tend to sit very high, which has come to be known as their signature style and contributes to the brilliance of the ring. Some women love the look, some don't. (Editor's note: Speaking from personal experience, they looked too bulky on my small-ish hand.)
Tiffany & Co. also has many other historic designs to choose from, and a wide range of diamonds and styles that you can see. Between Cartier vs Tiffany's engagement rings, we're partial to Tiffany's iconic designs as the prices for both brands are rather similar.
How Does Harry Winston Compare?

One other luxury rival worth mentioning is Harry Winston, if you want to broaden your options beyond just Cartier and Tiffany & Co. We mentioned earlier that Tiffany is regarded as the King of Diamonds, but Harry Winston embodies that title. Harry Winston has handled some of the world's most famous diamonds, colored gemstones, and other pieces of jewelry.


Harry Winston is a name that is most associated with engagement rings, and you probably wouldn't have heard of them unless you are planning an engagement or wedding. Like a true high-end jewelry brand, they operate on so-called "quiet PR", aka word of mouth, without relying on logos or trendy, instantly recognizable pieces.
Harry Winston is also popular with Hollywood celebrities, with their luxury jewelry being worn by notable personalities on red carpets. Price-wise, most of their engagement rings are simply out of reach for the common folk, with typical engagement rings starting around $20,000, and often costing much more.
A Word On Choosing Branded Engagement Rings

While we are all for cherishing love and getting a luxurious diamond ring to celebrate it, it's worthwhile to know that engagement rings aren't considered good investments and will actually depreciate in value. In addition to this, adding an iconic brand name to your engagement ring won't actually make it any different on the secondary market.
Why? This is simply because the pool of people buying engagement rings second-hand is so small. Think about it: it's typically the jewelers themselves who purchase second-hand diamonds, and they can fetch the rings for a steep discount because not many others will even consider the purchase.
So, in our opinion, you're better off looking to expensive jewelry brands for inspiration, but getting a similar design made by a non-branded expert instead. It's not uncommon to get the same quality diamond ring for about 30% cheaper. However, if you can afford a branded diamond ring and want to get it to celebrate the love between you and your partner, by any means,

Our Personal Picks from Cartier Vs Tiffany

Of course, we just HAD to make our personal picks between Cartier vs Tiffany! We couldn't help but gush at the gorgeous pieces as we were scrolling through their online store, and it's hard to pick just one. Maybe if we had a million dollars, we'd buy out the entire catalog! But for now, we picked out a few faves that you might just like.
Cartier vs Tiffany Necklaces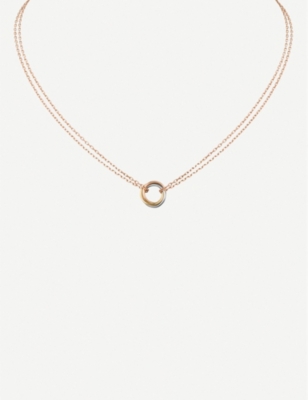 We are fans of dainty and elegant necklaces! Our personal favorites are the Tiffany Platinum Diamond Aquamarine Soleste Necklace and the Cartier Sweet Trinity Gold Necklace.
The Tiffany Diamond necklace is crafted of platinum and features a round-cut blue aquamarine center stone weighing approximately .50 carats, framed by a halo of round brilliant cut diamonds, approximately .11 total carat weight, all for the price of $1,995.
On the other hand, the Cartier necklace comes with an 18-carat 3-gold trinity motif on an 18-carat pink gold chain, with a length of 40 centimeters. This dainty necklace starts at $1,305.00.
Cartier vs Tiffany Everyday Rings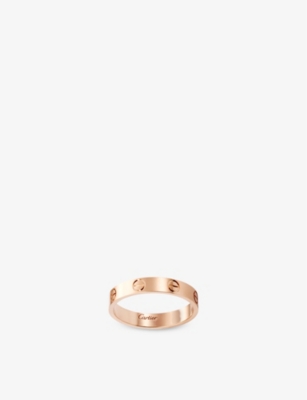 If you're looking for an engagement ring, both brands offer beautiful pieces. Tiffany, though, has a wider range of different designs and variations compared to Cartier, and are usually more preferred when it comes to engagement and wedding rings.
The Tiffany Platinum Diamond Flower Ring, which starts at $1,175, is crafted of platinum and features a whimsical flower motif with a center diamond weighing .20 total carat weight with G color and VS1 clarity. Framing the diamond ring are six additional round brilliant cut diamonds for a total approximate weight of .45 carats. This Tiffany ring is just simply beautiful.
If you want something simple (and can also double as a wedding band), you can never go wrong with a classic Cartier Love Ring. This rose gold ring variation retails for $1,165.

Cartier Vs Tiffany Bracelets
For the bracelets, we fell in love with the Tiffany Gold T-Square Bracelet and the Panthère de Cartier Bracelet.
The Tiffany T-Square Bracelet, which retails for $5,125, is crafted of 18 carat yellow gold and features two stylized T motif on either end of a hinged band, while the Cartier bracelet is an 18ct yellow gold, garnet, and onyx bracelet with a signature panther motif. This beautiful and fierce bracelet can be yours for $11,340.00.

Cartier Vs Tiffany Earrings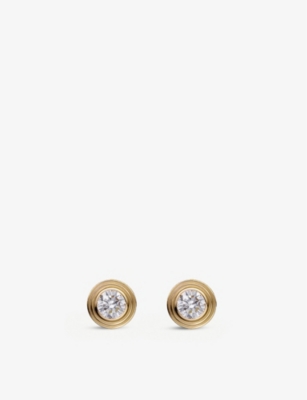 If you want to make a statement on your ears, these earrings Platinum Diamond Solitaire Earrings from Tiffany's and the Diamants Légers diamond earrings from Cartier.
Tiffany's Diamond Solitaire Earrings are made of platinum and feature two round brilliant cut diamonds weighing approximately .80 total carat weight, with G color and VVS2 clarity. These earrings retail for $4,595.
Cartier's diamond earrings are crafted with 18ct yellow gold and 2 brilliant-cut diamonds totaling 0.09 carats. This can be yours for $1,870.

Cartier Vs Tiffany Luxury Watches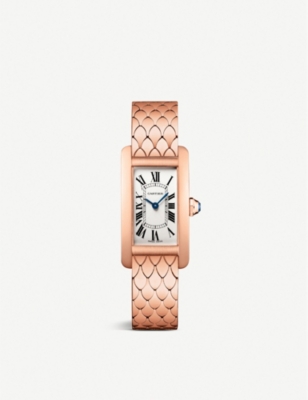 For timepieces, we would personally go with the Tiffany Stainless Steel Diamond Quartz Watch and the Cartier Tank Americaine Rose Gold Quartz Watch
The Tiffany Quartz Watch is crafted of stainless steel and features a black dial, diamond bezel weighing approximately .20 total carat weight, polished link bracelet, sapphire crystal, and a quartz movement, and this retails for $2,550.
The Cartier Tank Watch is made up of 18ct rose gold, with a sapphire crown and a silvered flinqué dial. Cartier watches are notoriously expensive, and this one can be yours for a whopping $27,615.00.

Price Points To Consider

Both brands produce high jewellery, but Cartier is definitely the more expensive option. Cartier has royal ties, so in a way, you're buying jewelry from a royal brand. Historically, though, Tiffany is the King of Diamonds after De Beers.
According to Angel Crossley from the Gemological Institute of America, Tiffany & Co. rejects more than 99% of gem-grade diamonds in the marketplace. Tiffany & Co. has a wider selection of price points compared to Cartier, and its standards for jewelry are off the roof.
So which is which for Cartier vs Tiffany? So if you want stunning luxury pieces from a high-end royal brand, Cartier is the best brand to go to. And if you want some high-quality diamonds that are very worth it despite their price tag (and because now you know that their standards for jewelry are very high), then Tiffany's is your best bet.
Tiffany makes more use of sterling silver, and Cartier is bigger on platinum and gold. Nevertheless, both brands offer the same variations and materials.
Conclusion

In conclusion for this Cartier vs Tiffany comparison, both brands are very industry experts and worth investing into. At the end of the day, which one you choose all depends on your personal preference, whether you want gold pieces, platinum colored pieces or diamonds.
If you don't mind splurging on very expensive pieces that hold their value better, Cartier is the one for you. If you're on a smaller budget and you'd rather go for diamonds and platinum gold/silver (and of course, the iconic Tiffany blue box), then head over to your nearest Tiffany's for a true luxury shopping experience.
We hope you found this article on Cartier vs Tiffany & Co. helpful! If you're still looking for more luxury inspiration, check the posts down below.

Get More Luxury Ideas
10 Luxury Engagement Ring Brands That You Should Consider
How To Spot A Fake Cartier Bracelet: Everything You Need To Know
10 Best Entry Level Luxury Watchers For Women In 2022