Burberry Vs Burberrys: What's Really The Difference?
We only feature products that we hope you will love. We may earn a commission if you decide to make a purchase through our links, at no cost to you.
Ever wondered what the difference between Burberry vs Burberrys labels are? Well, we've got all the answers and explanations you need to buy Burberry with confidence.
As one of Great Britain's oldest brands, there is a long history and heritage in the Burberry brand. Best known for creating the Burberry trench coat, this fashion house also produces incredible men's and women's ready-to-wear collections, bags, shoes, and beauty products.
If you are thinking of buying something from Burberry, but have seen labels that read both Burberry and Burberrys on some items, you may be a bit confused. This article will go through the difference between the two and how you can get your hands on genuine Burberry items rather than any fakes.
The difference between burberry Vs burberrys
The only difference between Burberry vs Burberrys is that Burberrys is the old name of the luxury fashion house and is no longer in use. This means that if you come across a Burberry trench coat or Burberry bag with the word Burberrys written on the label you may have found yourself a vintage treasure.
The name was changed from Burberry's of London to just Burberry in the late 1990s by the owner and design director of the brand, as a way of modernizing this historic label.
Although, it would be beneficial to check the authenticity of your Burberry item if it has a Burberrys label just to check the item is not fake. Fake Burberry coats or bags may have misspelled the name or tried to pass off counterfeit items as a vintage trench coat.
So it is well worth checking the quality of the stitching and fabric on your Burberry piece to make sure it is high quality and therefore genuine and authentic.
The history of Burberry
Thomas Burberry founded the Burberry brand in 1856 in the small British town of Basingstoke. Over 150 years later, Burberry is one of, if not the biggest luxury fashion brands in the United Kingdom.
Burberry first found success in 1879 when Thomas Burberry introduced gabardine to his popular outdoor wear collections. This is a durable, waterproof fabric that protects against the wet British weather, whilst remaining breathable during activities such as hunting and fishing.


In 1901, the Burberry equestrian knight logo was introduced and quickly became an icon of the Burberry brand and has remained an instantly recognizable part of the fashion house still to this day.
Burberry became the place to go to if you were looking for top-quality outdoor attire in the 19th century; in 1911 Roald Amundsen wore Burberry on his trek to the South Pole, while Earnest Shackleton was dressed in Burberry for his expedition across Antarctica in 1914.
Then in 1914, Burberry became an essential brand during the First World War, when British Army officers wore the gabardine Burberry coats in the trenches. Lord Kitchener endorsed the Burberry trench coat – which at the time was called the Tielocken and featured no buttons and just a belt – because of its practicality and durability.
After the end of the war, the brand continued to grow and introduced a ready-to-wear runway collection to the label and introduced the Burberry plaids and checks in the 1920s – which has remained an essential part of the brand to this day.
The Burberry brand was reinvigorated in 2001 when Christopher Bailey joined as creative director, making the iconic Burberry check and trench coat beloved worldwide and introducing the Burberry Prorsum label.
In 2018 Riccardo Tisci took over as creative director and reimagined the iconic logo, referencing the brand's founder Thomas Burberry and bringing fresh life to this historic British brand. Now, the brand is headed by Daniel Lee, who was previously the creative director at Bottega Veneta and is largely responsible for the brand's newfound popularity – something that Burberry is keen to replicate, for sure.
Our Top Burberry Picks
This fashion brand is known for incredible Burberry clothing, stylish accessories, and classic leather goods, so much so that it is hard to narrow down our favorite items from Burberry.
We've tried our hardest to pick just a few pieces from the new Burberry look under Riccardo Tisci, as well as pieces designed by Christopher Bailey to give you a wide range of choices.
1. Trench coats
Of course, you cannot talk about Burberry without mentioning the iconic trench coat. There are many different iterations but here are just two we think you should be aware of.
The Kensington Trench, in this mid-length form, is a stunning heritage piece that will remain eternally stylish. The archival elements such as the belted cuffs and epaulettes have been mixed with modern proportions for a contemporary version of this historic trench.
The coat is of course made from the signature cotton gabardine, while the buckles are calf leather, and the vintage cheque lining is 100% cotton.
The Sandridge trench is the slightly bolder cousin of the Kensington trench; this time fitted with oversized pockets, a storm collar, and the signature Burberry check does not just cover the lining of the coat, but also accentuates the front on the lapels.
The tonal belt and belted cuffs give this trench a sleek finish. The timeless style of a Burberry trench means this is a classic coat you really need in your wardrobe
2. Scarves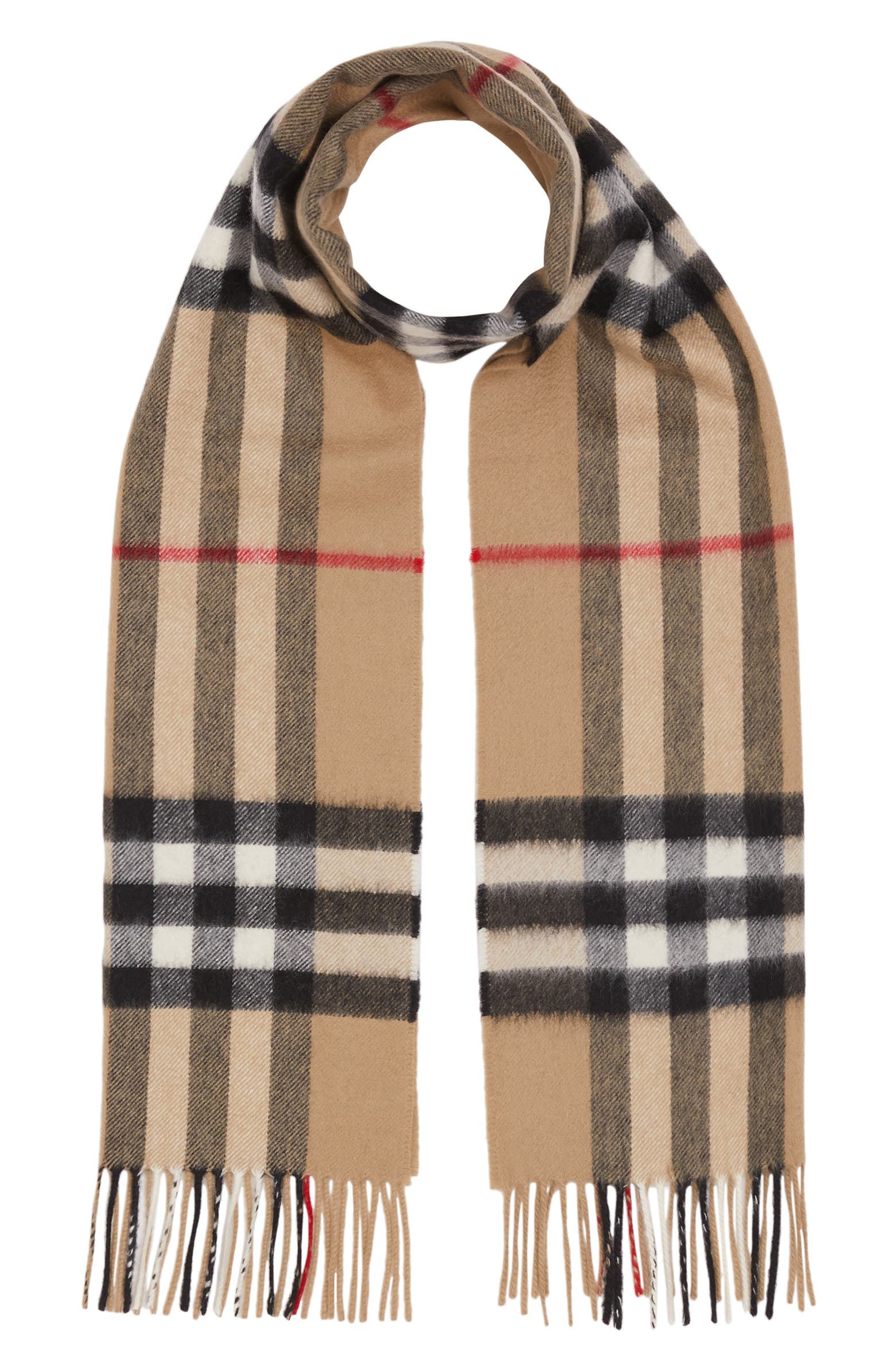 A Burberry scarf is an icon of the brand and these two luxurious and stylish options will keep you warm in cold winters.
This stunning scarf is a classic item that automatically imbues you with an effortlessly chic aesthetic. The scarf is made from 100% cashmere and is decorated with an antique yellow Burberry check.
No longer available through the Burberry site, the only way to get your hands on this vintage Burberry scarf is through resale sites such as Fashionphile.
For a more contemporary option, this Burberry scarf is available on the Burberry website or through high-end retailers. The 100% cashmere scarf is made in Scotland and is decorated with fringing at each end and an oversized edition of the signature Burberry check.
This long classic scarf is guaranteed to suit all your warm coats during the winter.
3. Office Bags
It's hard to narrow down the Burberry bags, so here are a few we think you'll love.
The Burberry Derby calfskin tote is a vintage bag designed under Christopher Bailey. The grained calfskin leather in this neutral beige color will suit a whole plethora of outfits.
You can also add the adjustable crossbody strap, which is decorated with the iconic Burberry check for an eye-catching element. The open top means easy access to the spacious interior with zipper and patch pockets.
The Frances Tote is one of Riccardo Tisci's newer bags that he added to the collection during his tenure. Available in several different colors, the Italian-grained leather has a simple design with only a contrasting topstitch and a gleaming gold Thomas Burberry monogram as decoration.
This tote bag also features a top handle and a detachable shoulder strap, while the interior has multiple pockets and a mirror charm for complete practicality.
4. Everyday Bags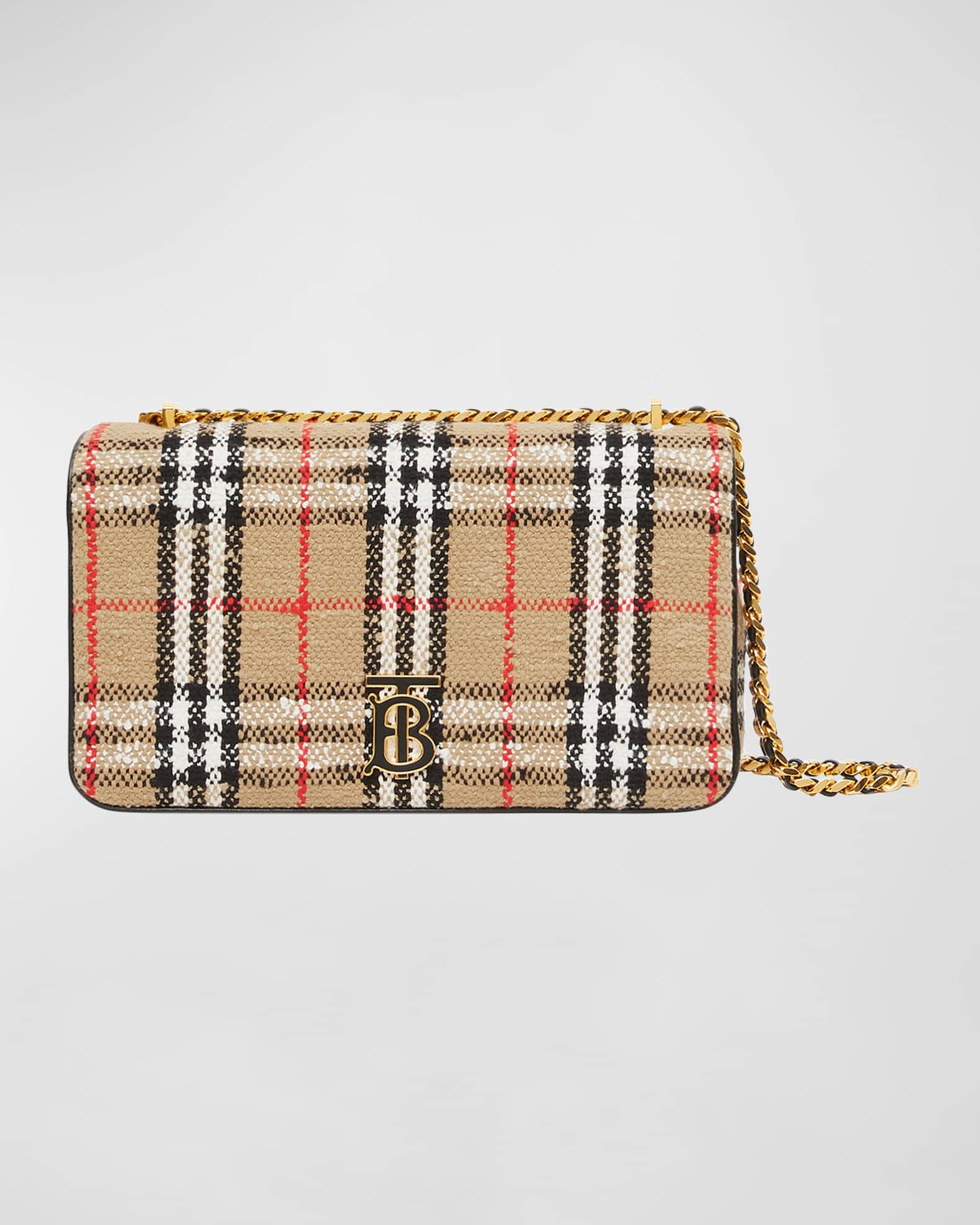 If a crossbody bag is more of what you are after then, this Haymarket Check crossbody is the perfect vintage option for you.
Made from the Burberry Haymarket check canvas, the bag is trimmed with a supple dark brown leather which also features as an adjustable crossbody strap. It's fitted with all the hallmarks of the fashion house under Christopher Bailey.
If you are looking for a modern equivalent, the small vintage check Lola bag is ideal. The soft structure of the Italian-woven cotton and wool blend bouclé is contrasted with the polished gold chain shoulder strap and black TB monogram.
This crossbody bag also features a check pattern, but this time it is created with rather unusual materials, giving an eye-catching feature to this small bag.
We hope you found this article on Burberry vs Burberrys helpful! For more luxury fashion content, check out the posts below.
Get more luxury fashion ideas
15 Best Burberry Perfumes For Women
Burberry Vs Louis Vuitton: Which Luxury Brand Is Right For You?
15 Best Dior Bags That Are Perfect For Any Style