The 12 Best Lancôme Perfumes That Are Elegant & Feminine
We only feature products that we hope you will love. We may earn a commission if you decide to make a purchase through our links, at no cost to you.
Fragrances are a way to express yourself, whether you're looking to make a good impression or just want to smell good for yourself. If you're looking for a new scent, check out the 12 best Lancôme perfumes for women!
Lancôme is a high-end French luxury cosmetics and skincare brand, well known for its high-performance products, including fragrances. In fact, Lancôme was originally a perfume house before it ever entered the competitive skincare market!


Today, Lancôme fragrances offer an incredible array of scents that range from florals and fruits to spicy notes and muskier scents. Whether you want something light and fresh for daytime wear, or something stronger for nighttime, Lancôme has several different perfumes that will fit perfectly into your collection.
Below, we rounded up the 12 best Lancôme perfumes for women that you have to try if you're looking for a new scent. There is something for everyone, including higher-end perfumes that you may have never heard of before.

The Best Lancôme Perfumes For Her
1. Lancôme La Vie Est Belle Eau de Parfum
La Vie Est Belle EDP is one of the most popular, instantly recognizable fragrances in the world, and for a good reason. It's a super feminine sweet scent with prominent praline and vanilla notes that are guaranteed to get you compliments.
The top notes of this intense fragrance are black currant and bold pear, which add to the overall sweetness of the perfume but give it a delicious fruity twist. At the heart, you'll notice powdery iris, jasmine and orange blossom, which are somewhat in the background of the overall scent but add a nice touch of florals.
Praline, vanilla, tonka bean and patchouli create a decadent base, which is also the most defining layer of this perfume – each of the notes is very prominent throughout the scent journey. Overall, if you enjoy intense sweet perfumes with fruitiness, La Vie Est Belle EDP is a fantastic choice.
It has amazing projection and near-eternal lasting power, creating a scent bubble around you that can even last until the next day. It's also a very versatile perfume choice that works for any occasion you can think of, from the office to the gym, to date night.
The only downside of this perfume is that, since it's a best-seller in nearly every country, you won't smell unique.
2. Maison Lancôme Ôud Bouquet Eau de Parfum
This oud-based fragrance is a crowd-favorite and a definite compliment-getter – don't wear this if you don't want strangers following you, asking you what you're wearing!
Part of Lancôme's higher-end range, Maison Lancôme Ôud Bouquet Eau de Parfum is an ode to the luxurious, rich, and refined rose, blending it beautifully with sweet praline and luxurious oud. It has a creamy vanilla note that mixes with the praline to create a scent that is so good you wish you could eat it.
If you are looking to get into oud fragrances but want something wearable enough for both daytime and nighttime, Oud Bouquet EDP is a scent you can't go wrong with.
It's decadent, sensual, and intoxicatingly addictive – a perfect blend of woody, syrupy rose with those sweet gourmand notes.
3. Lancôme Trésor Midnight Rose eau de parfum
Trésor Midnight Rose EDP is a beautiful fruity-rose fragrance that often goes under the radar. It's a wonderful mix of syrupy raspberry, cassis and feminine rose that come together to create a beautiful blend reminiscent of sparkling raspberry lemonade with some darkness.
It's uplifting, romantic and sensual at the same time, making it perfect for date nights, as its name suggests.
The fragrance opens with its prominent top notes of raspberry and rose, followed by fruity cassis, spicy pink pepper and floral scent notes of peony and jasmine. Vanilla, Virginia cedar and musk create a warm, sweet base that is smooth as silk.
While the fragrance contains many sweet, fruity notes, it's not cloying at all. If you're looking for a strong fragrance that is feminine, unique and interesting, add Trésor Midnight Rose EDP to your wishlist.
4. Lancôme Idôle Eau de Parfum
Idôle EDP is another crowd-favorite perfume from Lancôme. It's an utterly feminine fragrance that is all about empowerment and self-love, inspiring the idol within you to step forward.
The fragrance blends feminine rose with fresh, creamy pear reminiscent of the fruits found in an English garden, all laid on a bed of white musk. The result is a very pretty rose scent that is the perfect mix of fruity, floral, sweet and fresh – it's subtle and understated, making it the perfect scent for everyday wear in the office.
Its lasting power is moderate, but as the bottle is one of the thinnest in the world, it will slot right into your handbag, so you can easily get a top up whenever you want!
5. Maison Lancôme Peut-Être eau de parfum
Peut-Être Eau de Parfum is a soft, delicate and very clean-smelling perfume that smells like you've just got out of the shower. It's your skin, but better.
Peut-Être's scent composition is very simple; white musk, rose and benzoin come together to create a creamy, musky scent that is powdery in the same way that a lotion is. It's very nice and inoffensive, making it a great perfume to wear to the office, or when you just feel like presenting as your freshest self.
6. Lancôme Miracle Eau de Parfum Spray
Miracle EDP is a joyful fragrance that is super fresh with a hint of spice at the same time.
The fragrance opens with a fruity lychee note that is prominent throughout the perfume and then mixes with white florals like freesia, magnolia and jasmine. You'll also notice a burst of spiciness coming from the heart notes of pepper and ginger, which mingle with zesty mandarin orange that adds a welcome citrus note.
Jasmine, musk and amber create a warm, clean base to this fresh, fruity-floral fragrance with subtle spice. It's a great choice for any lychee-lover, especially in the spring.
7. Lancôme Oui La Vie Est Belle Eau de Parfum
Oui La Vie Est Belle EDP is the latest addition to Lancôme's La Vie Est Belle line, and this flanker is quite distinct from the original. It still has the same DNA, but some prominent notes that define the OG are missing, such as vanilla and praline.
Instead, what you will get with Oui La Vie Est Belle are a sweet iris note and a sweet raspberry note, which are enhanced with prominent sugary, gourmand accord. It's quite rare to have the iris expressed in such a sweet, warm way, but it works. Iris tends to be powdery and sometimes even a little old-fashioned, but here, the sweet accords modernize it and inject youthfulness into it.
Apart from these prominent notes, you may also notice sparkling pink pepper and fresh bergamot at the opening, rose and ylang-ylang a the heart, and of course, patchouli at the base, which gives the perfume great lasting power.
All in all, it is a very feminine, very sweet and floral fragrance that is quite different from the original, but definitely worth checking out. As its name implies, when you wear Oui La Vie Est Belle, you'll be reminded that life is full of pleasant surprises.
8. Lancôme Magie Noire Eau de Toilette
Magie Noire translates to black magic, which perfectly describes this femme fatale fragrance.
The original version of the fragrance was launched in 1978, a year after YSL's Opium made its debut and reigned supreme. The OG Magie Noire was heavy, edgy, murky and spicy, inspired largely by medieval alchemy. If you've smelled YSL's original Opium, you know the kind of heavy, mature vintage smell that we're talking about.
With this said, Magie Noire has since been reformulated, and the new eau de toilette version is noticeably less bewitching, and more made for modern times. Still, it retains the heavy darkness of the original, and is old-fashioned, mature, and intense, without having an "old-lady" scent.
Its most prominent notes are woody oakmoss, and earthy galbanum, which are made a little sweeter with a prominent honey note. These are followed by pungent, musky civet, spices, and incense, which add an element of dark magic. You also get some lighter notes in the background, like cassis, hyacinth and dark rose – but these do not take center stage.
The overall result is enchanting and seductive – it's a badass scent perfect for special occasions, especially during the fall and winter months.
As the perfume is quite vintage-like, it can be quite polarizing. We would recommend trying it in a store first before purchasing!
9. Lancôme Trésor Eau de Parfum Spray
Tresor EDP is another vintage release from Lancôme, this time from the 90s. In the typical 90s fashion, this perfume is big, bold and beautiful, blending fruity and floral notes in a very feminine way.
The predominant notes are fruity peach, apricot and rose, which come across as strong and syrupy. You'll also notice prominent base notes of vanilla, sandalwood, and amber, which lay underneath a very floral heart, filled with lilac, iris, heliotrope and rose, among others.
This is one of those fragrances that never gets old — it's quite mature, but it has an underlying sophistication that won't go out of style any time soon.
10. Maison Lancôme Figues & Agrumes Eau de Parfum
Figues & Agrumes translates to fig and citrus, which is exactly what you are getting with this fragrance. It's a sparkling, light fragrance that is incredibly revitalizing from start to finish.
The fig note is present throughout the scent experience and is reminiscent of walking under a real fig tree – the fragrance is alive, fresh and green. Top notes of black currant and mandarin give you a burst of zesty citruses in the opening, which then mellow out to a more fruity-floral heart filled with fig, jasmine and orange blossom.
The base notes of tonka bean, cedar wood and white musk help to bring the vision of a real fig tree to life, and give the perfume a little bit of a unisex character as well. Overall, the perfume is a wonderful ode to the fig tree.
11. Lancôme iDole Aura Eau de Parfum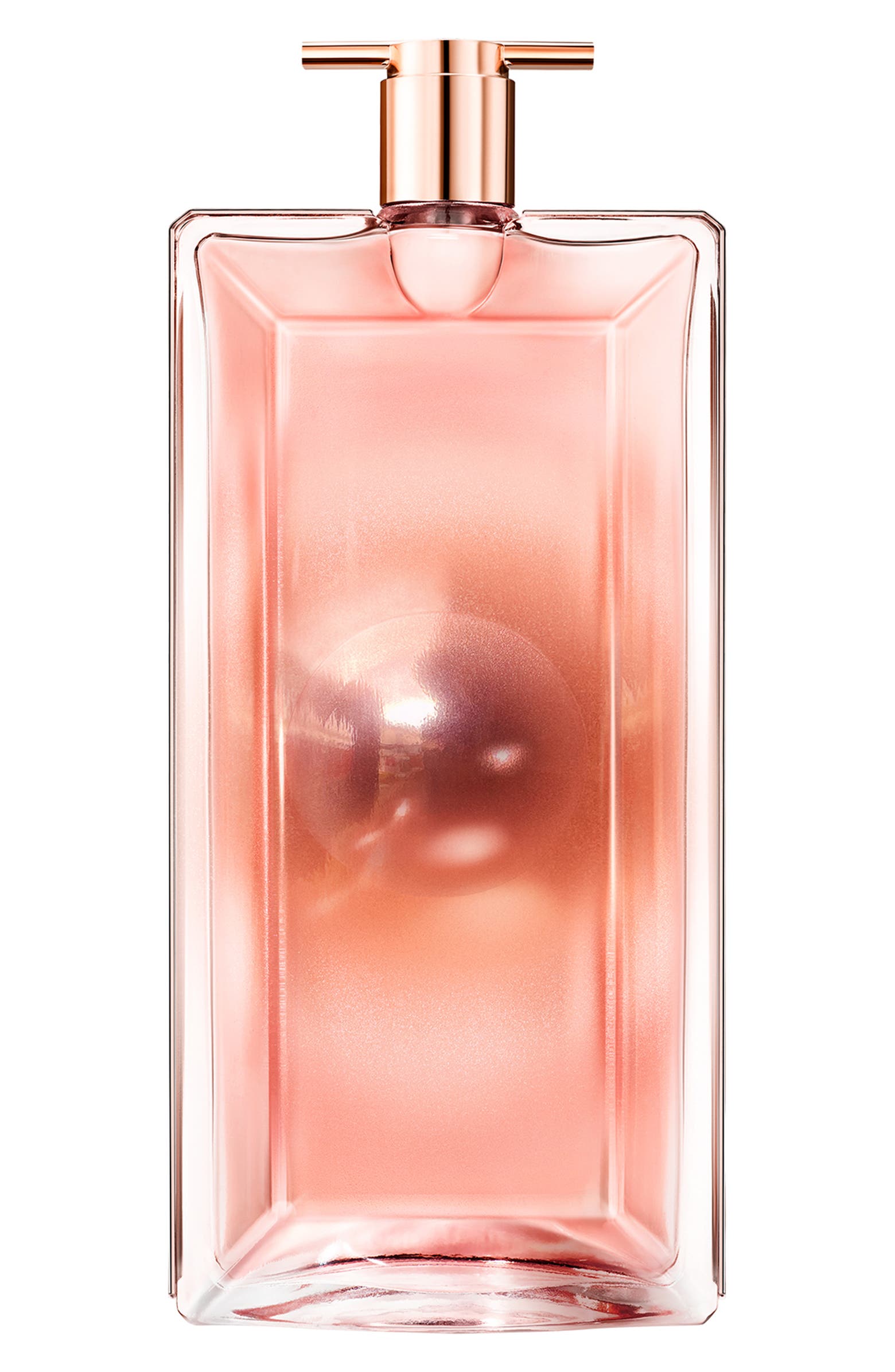 While Lancôme Idole Aura is part of the brand's Idole range, it smells nothing like the original. Idole Aura is much more of a warm vanilla scent with crisp salt notes, and while it has a hint of rose, it's much less prominent than in the original.
The fruity notes of pear, bergamot and pink pepper note that defined the OG have been taken away completely, and while both perfumes share a base of vanilla and musk, as well as floral notes of jasmine and rose, they are balanced completely differently.
The result is a warm, comforting salted vanilla scent that is quite creamy and unique. It's versatile and elegant enough to be worn for both evening and daytime, regardless of the season.
12. Maison Lancôme L'aure Oud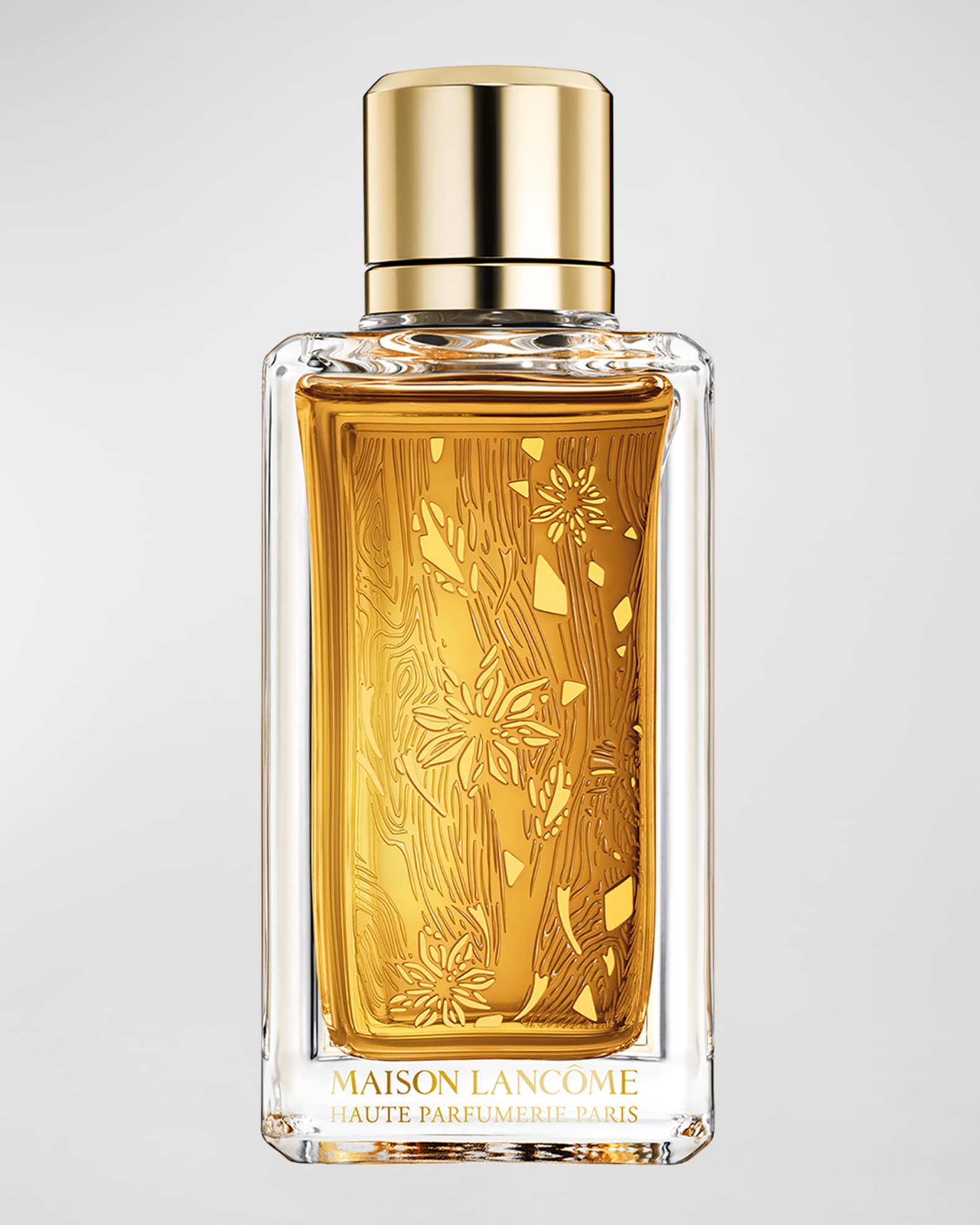 L'autre Oud is a classic, traditional oud fragrance that is beautifully blended with a syrupy Bulgarian and Turkish rose, and has warm, smoky undertones from myrrh and incence, a touch of spice from saffron.
It's a very unisex perfume that leans heavily on the oud, meaning it's quite woody, quite opulent and elegant, with touches of balsamic notes. If you're looking for a rich, sensual evening scent and love oud, this is the perfume to opt for.
We hope you enjoyed our round-up of the 12 best Lancôme perfumes! Did we miss any? Let us know in the comments below!
Get More Perfume Ideas
10 Bond No. 9 Perfumes For A Quintessentially Luxe New York Vibe
8 Best Smelling Mugler Perfumes, Ranked
10 Head-Turning Clive Christian Perfumes That Guarantee Compliments