The 10 Best Armani Perfumes That Smell Incredible
We only feature products that we hope you will love. We may earn a commission if you decide to make a purchase through our links, at no cost to you.
If you're looking to add a new luxurious scent to your collection, Armani has a lot to offer – here are the 10 best Armani perfumes you should try for yourself.
Armani is a name that has become synonymous with luxury. Te Italian luxury fashion house has been creating ready-to-wear designs for men and women since 1975. However, it was in 1980 that the company began developing perfumes after signing a partnership with L'Oreal for the production and distribution of cosmetics and beauty products.
Today, Armani is perhaps best known for not just its high-performance foundations, but also its opulent scents, that range from everyday scents to perfumes for special occasions.
If you're looking to add a new luxurious fragrance to your vanity, we've done the hard work for you and put together 10 of the best Armani perfumes for women that are worth checking out.

The Best Armani Perfumes For Women
1. Si Eau de Parfum
Armani Si Eau de Parfum was made for the modern woman who is strong yet feminine and knows what she wants. It's an entirely unique fragrance, somewhat reminiscent of sweet red wine with dry, warm vanilla.
Perfect for date nights and special occasions, Si EDP opens with a fruity top note of blackcurrant nectar, which blends together with prominent white woodsy notes, vanilla, and patchouli at the base. You'll also notice a sharp floral heart with freesia and May rose, which add a classy, refined touch to the scent experience.
While the sweet notes of blackcurrant nectar and vanilla are most prominent throughout the fragrance, the musky wood notes are also always present in the background. So, if you're looking for a fruity chypre fragrance, this one is a great option.
It's very warm, and very feminine – the perfect option for when you want to feel sexy or boojie. With this said, we wouldn't necessarily recommend this as a signature scent – you have to be in the mood for it.
2. Vert Malachite Eau de Parfum
Armani Prive Vert Malachite EDP is part of Armani's higher-end range, in particular, the "Les Voyages" range which takes inspiration from different countries and cultures that Armani himself is inspired by.
Vert Malachite pays tribute to Russia with its vast, vivid lands and welcoming culture. It's a beautiful white floral fragrance somewhat reminiscent of a creamy, milky dessert with an underlying sweetness from ylang-ylang, vanilla and benzoin.
Although the perfume's white floral notes are lily and jasmine, the scent is somewhat reminiscent of tuberose with green stems. It also has a prominent tropical vibe in the most elegant, floral way possible.
This Armani perfume has lots of depth to it which makes it great for both daytime and evening wear throughout the seasons.
3. Acqua di Gioia Eau de Parfum
Inspired by several summer holidays Giorgio Armani spent on the Italian island of Pantelleria, Acqua di Gioia captures the essence of joy, serenity and optimism. It's an ode to nature in all its forms, honoring the Mediatterenean summers in its scent composition.
The most prominent notes of this fresh aromatic fragrance are its top notes of lemon and mint, which make it ideal for spring and summer days. However, the fragrance has a rather unique dry down: you may notice hints of jasmine, with more unisex cedar wood and French labdanum, along with the sweetness of brown sugar.
Overall, Acqua di Gioia EDP is an uplifting, calming and fresh scent that's perfect for warm weather. It's a modern classic, perfect if you're looking for a light daytime fragrance that feels feminine, but isn't overly floral.
4. Armani Code For Women Eau de Parfum
The ultimate in feminine seduction, Armani Code For Women Eau de Parfum is sometimes described as a "man-eater" fragrance – men love the sweet honey and vanilla notes that are so expertly mixed with its feminine floral and citrus notes.
The opening of the fragrance is very citrusy with prominent top notes of Italian orange, zesty bitter orange and beautiful jasmine. As the fragrance settles, you'll also notice a warm, spicy kick from ginger, as well as sweet orange blossom coming through, all laid on a bed of sandalwood, and of course, prominent honey and creamy vanilla.
Armani Code is the ideal date night perfume, and as it is cozy, warm, and gourmand-leaning with a little bit of spice, we would recommend it more so for colder fall and winter months. Its lasting power is also great, meaning you get to enjoy this classy, feminine fragrance for hours on end.
5. Rose D'Arabie Eau de Parfum
Part of Armani Prive's "Mille Et Un Nuits" collection, Rose d'Arabie EDP takes inspiration from the Middle East – the tales of 1001 nights, to be specific. It's Armani's take on a deep, dark, full-bodied rose that is heavy, rich and sweet at the same time.
Like many fragrances that are inspired by Arabia, Rose d'Arabie has prominent oud in it, which gives the scent its unisex character. However, it's not overpowering at all; instead, it supports the rose, giving it an earthy, strong character along with the perfume's prominent patchouli note.
You will also be able to smell a hint of vanilla, which adds to the jammy quality of the rose. The result is very pleasant and familiar, albeit strong and dense at the same time. The lasting power of Rose d'Arabie EDP is incredible and near eternal, perfect for nighttime wear, especially during colder months.
6. My Way Eau de Parfum
Armani My Way Eau de Parfum is Armani's answer to a classic white floral fragrance that is oh-so-popular right now. This perfume contains three different types of white florals, with the most prominent one being tuberose, which is slightly sweet and youthful in the blend.
It also has prominent orange blossom and jasmine, which add to the feminine vibe of this pretty perfume. You may also notice bergamot at the opening, as well as white musk and Virginia cedarwood at the base, although these are less prominent and serve primarily to round up the perfume.
My Way is fresh, with an aura of sophistication – perfect for young professionals looking for a delicate, safe office fragrance for everyday wear.
7. Thé Yulong Eau de Toilette
Thé Yulong EDT is part of Armani Prive's Les Eaux collection, which pays homage to natural wonders and brings together delicately contrasting ingredients that create a unique, memorable scent experience.
Thé Yulong EDT is inspired by the Yulong mountains of China which are famous for their tea trees. As the fragrance's name implies, tea is at the heart of this scent.
While the fragrance opens with a burst of citrusy freshness, it soon settles into a refreshing blend of fresh, slightly astringent green tea and intense, smoky black tea.
You will also notice pretty white florals like jasmine and orange blossom, which add to the feminine freshness of the scent, as well as a touch of petitgrain, musk mallow and a whisper or cardamom and iris.
The result is a perfect spring scent that is light, uplifting and clean, while still having a bit of complexity that keeps things interesting. If you're looking for a great office-friendly unisex fragrance to wear with your crisp white shirts, Thé Yulong is an excellent choice, especially if you love unique notes in your fragrances.
8. Rouge Malachite Eau de Parfum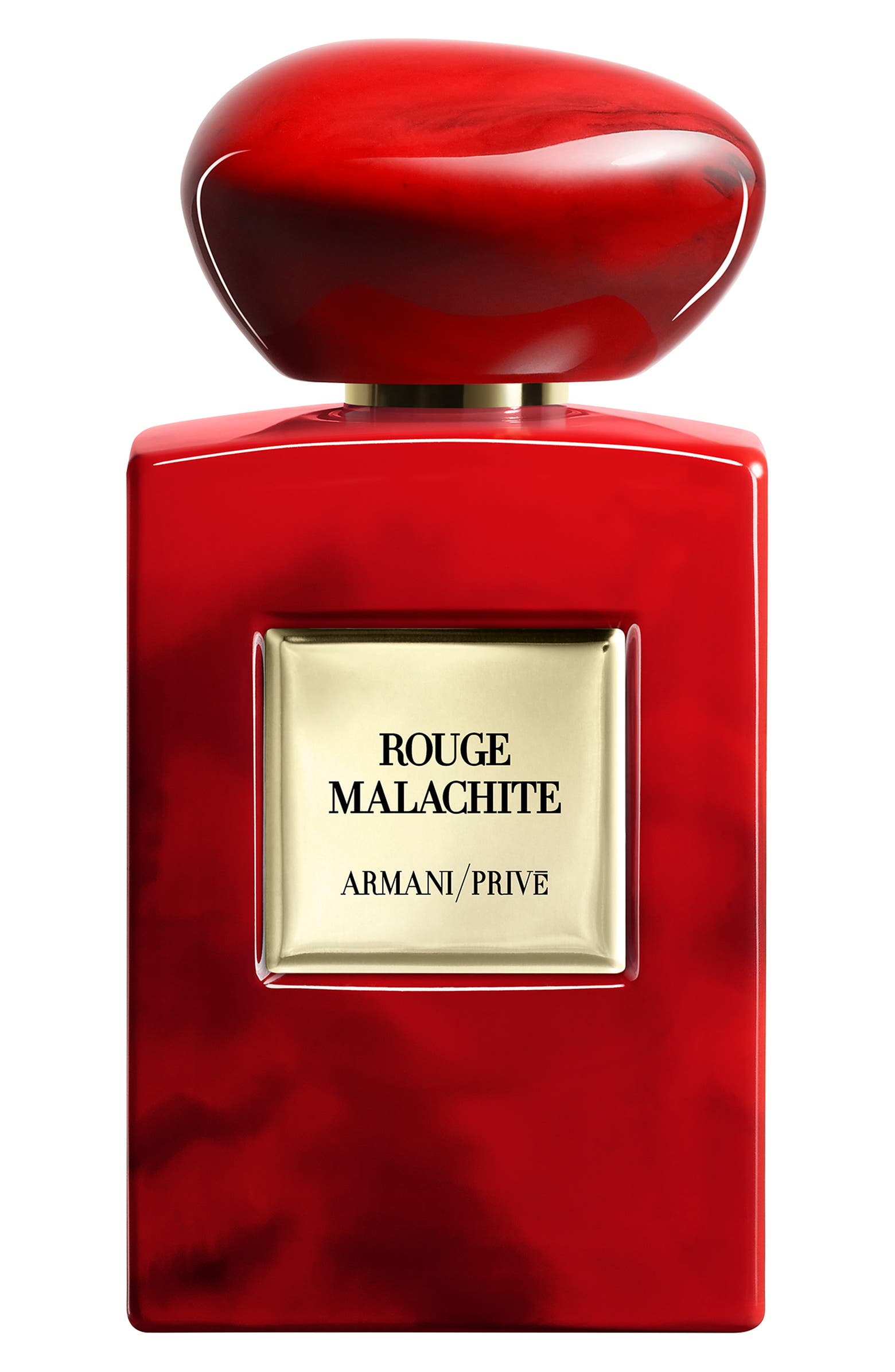 Rouge Malachite EDP is a sister fragrance to Vert Malachite, and is likewise inspired by Russia – a land of contrasts. At the heart of this fragrance is opulent and voluptuous tuberose, which is perfectly toned down with warm amber, peppery spices and sweet ylang-ylang.
The result is a light modern tuberose that is sexy, sophisticated, and creamy, with a warm base and a hint of soft spice. It's the perfect scent to wear on a dinner date, but as it's pretty light, it's a great candidate for a signature scent as well.
Apart from carrying tuberose throughout the layers of the fragrance, the fragrance has top notes of clary sage and pink pepper, middle notes of jasmine sambac, benzoin, cashmeran, orange blossom and jasmine, as well as amber at the base.
9. Si Passione Eau de Parfum
Sì Passione Eau de Parfum is the fruitier version of the original Armani Si, with multiple sweet and delicious notes like fresh pear, blackcurrant nectar, pineapple, grapefruit, and pink pepper very present in the opening. These juicy notes give the perfume a bit of a shampoo smell, while still being utterly feminine and sexy.
At its core, this flanker of the original is quite different, but it still has some notes from the original's DNA, mainly rose, patchouli, vanilla, and woody notes, which are toned down, but present in the dry down. The fruity notes definitely take center stage in this scent experience!
Sì Passione is perfect for the red lipstick-wearing woman who wants to feel like she can take on the world with her beauty, brains, and charm.
10. Pivoine Suzhou Eau de Toilette
Inspired by the legendary gardens of Asia, Pivoine Suzhou EDT is a celebration of one of China's most beautiful flowers —the peony— as well as one of its most enchanting cities – Suzhou, or the Venise of the East.
The delicate, feminine peony accord is made even more beautiful by adding a sweet, juicy opening with notes of raspberry, mandarin orange and pink pepper.
As the opening settles, you'll smell the most gorgeous bouquet of peonies, May rose and rose, which are incredibly dewy and crisp as if you were taking a stroll in Syzhou gardens on a beautiful spring morning. You may also catch a whiff of earthy patchouli at the base, which adds a touch of soil-like groundedness, perfectly bringing the garden to life.
At the base, you'll also smell musk, which adds a luxurious clean vibe to the perfume, giving it a shampoo-like quality, reminiscent of relaxing in a hotel spa.
Overall, Pivoine Suzhou is elegant, classy, and incredibly luxurious. It's the perfect fragrance for daytime wear during the spring, especially if you are looking for a serene, calming scent.
These are our top 10 picks for the best Armani perfumes for women! We hope you found a few great contenders, whether you were after a classic scent, a woody fragrance, a breezy fragrance or something more feminine. Did we miss any must-haves? Let us know in the comments!
Get More Perfume Ideas
15 Best Creed Perfumes That Are Worth Splurging On
15 Best Dior Perfumes For Women, Hands Down
20 Best-Smelling Jo Malone Perfumes for Women